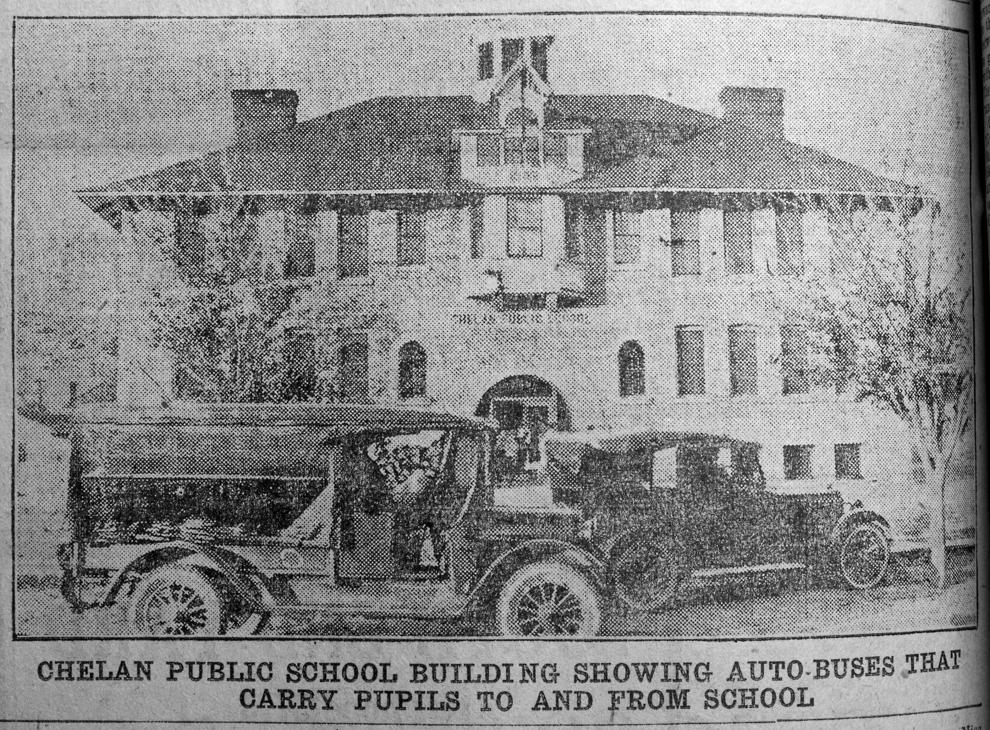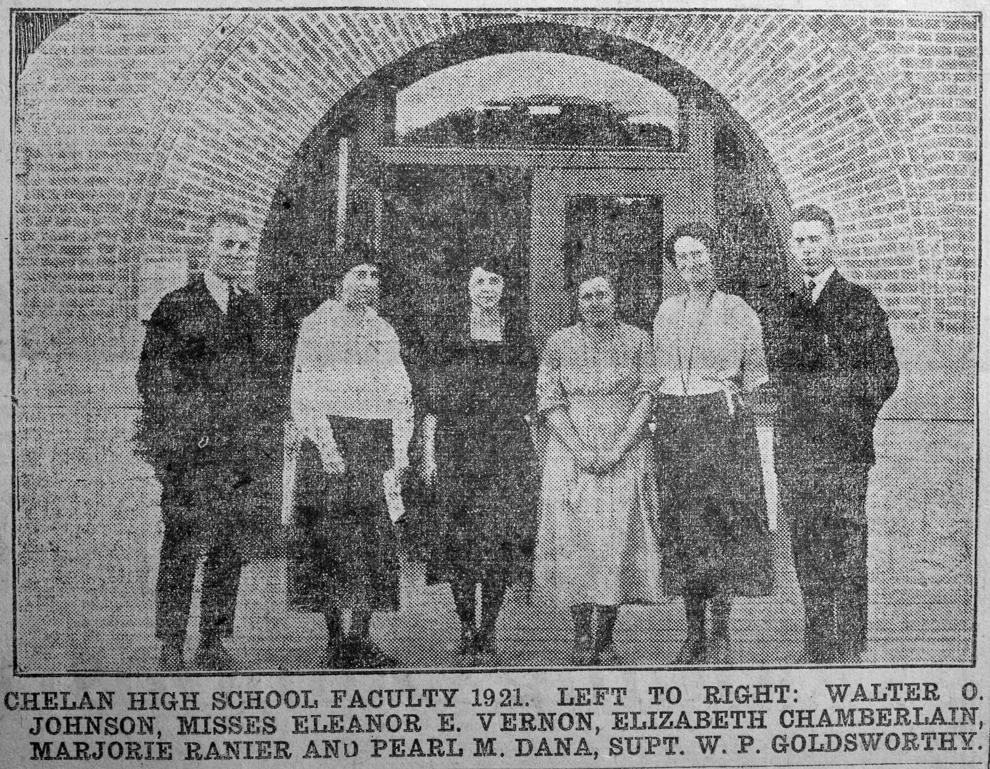 115 years ago —1906
Cashmere area pioneer William Briskey left on the afternoon train for LaFayette, Alabama, to visit with relatives and friends. Others accompanying him were Mr. and Mrs. George Briskey and son, William, of Leavenworth, and Mr. and Mrs. David Treadwell of Cashmere.
Stag trousers, "the best wool pants on earth," sell from $1.50 to $6 at the Wenatchee Department Store. Billy Buster steel-bottom shoes with "a sole that won't wear out" are sold at The Toggery in Wenatchee.
George H. Farwell left Monday on an extended trip to visit relatives in the eastern states and Quebec, Canada. Farwell, a pioneer of the Wenatchee Valley and well-known expert on fruit growing and packing, has not been back to his old home in Canada since moving to Washington state.
Members of the Wenatchee First Baptist Church will hold a reception for their new pastor and his wife, Rev. and Mrs. Edwin O. Jessup, next Wednesday evening at the home of Mr. and Mrs. A. MacNeil on Wenatchee Avenue.
A mechanical failure was said to be the cause of the recent incident where the steamer Enterprise ran aground on the reef at Entiat Rapids. The Waterville Milling Co. had 200 barrels of flour bound for Seattle on board but reports say little damage was done to it.
65 years ago — 1956
Peggy Long was crowned queen of Entiat High School's carnival last week. Her princesses were Linda Miller, Linda McQuistion and Cherry Cannon.
Topaz Club members this month observed the 20th anniversary of their organization. Heading the group of 27 women is Mrs. James D. Taylor.
Wenatchee Ladies of Elks observed their 35th anniversary. Mrs. George Jones is president.
The Rev. John Finkbeiner of Kennewick has been called to the pastorate of the Orondo Community Church.
Junior and senior high school teachers held a panel discussion at the Cashmere PTA meeting Tuesday at Vale School. Participating were Ardella Ferry, Ruth Carantzas, Hank Coplen and Glenn Fleming, high school principal. Ray Cronrath, junior high principal, was chairman of the event.
Radio KUEN is now on the air, located at 1410 on the dial. Staff members include Dale Woods, general manager; Bill Moeller, program manager; Wynn Cannon, sales manager; Meryle Thompson, assistant sales manager; Jim Johnson, news director; and Barbara Hutmacher, continuity director.
The Wenatchee College-Community Orchestra presents its first concert of the season Sunday. Dr. George Bower will direct.
Trophy winners in the women's division of the Wenatchee Golf and Country Club were announced recently. They were Mrs. J.T. Abraham, Mrs. Art Ramsey, Mrs. A.L. Ludwick, Mrs. Hubert Thomas, Mrs. Paul Thomas, Mrs. Lud Solberg, Mrs. Lehm Brown, Mrs. John Battan and Mrs. Guy Coe.
Frank Kent provides television repair services at Johnson's Incorporated, next to the Vitaphone Theatre.
Mrs. R.E. Colpitts of Wenatchee was elected president of the Chelan County GOP Women's Club. Other officers named were Mrs. S.A. Nelson, vice president; Mrs. William Penhallegon, corresponding secretary; Mrs. Charles Wollborg, recording secretary; and Mrs. Thomas McKoin, treasurer.
Our Savior's Lutheran Church in Ephrata will be dedicated Sunday.
40 years ago — 1981
An extensive remodeling and expansion project is now under way at Plaza Super Jet grocery, 106 Okanogan Ave. Co-owner Gary Sinclair said 2,000 square feet is being added to the store along with a new front.
Lance Abelsen is the new manager of the North Wenatchee Branch of Seattle-First National Bank. Former manager Chuck Riedinger has moved to the Wenatchee Valley Branch downtown.
Raymond Colbert of Oroville was re-elected chairman of the Tree Top board of directors for the coming year.
Future Farmers of America members Brad Fitzhugh of Brewster, Gene Roth of Eastmont, and Gene Welton of Wenatchee received high honors at the FFA 54th national convention in Kansas City earlier this month.
Following in his father's footsteps, Timothy J. Ledbetter, who has been serving since July as minister of Christian education at Wenatchee's Brethren-Baptist Church United, will be officially ordained by the American Baptist Churches of the USA Sunday. His father, the Rev. James T. Ledbetter, past area minister for American Baptist Churches and pastor of the First Baptist Church of Redding, Calif., will preach the ordination sermon.
A roast turkey dinner with all the trimmings for $4.50 is served Sunday at Siraco's Restaurant, 17 S. Mission St.
Barry Cox celebrated his 100th birthday Nov. 4 at the Senior Citizens Hospitality Center.
Peshastin United Church of Christ's new minister, Scott Pinegar, will be officially ordained and installed Sunday.
The first joint meeting of the Chelan-Douglas County American Cancer Society was held Monday. Formerly separate organizations, the two counties have merged to better coordinate their activities, according to Lillian Morrow, president.
Dr. Russell Congdon recently retired from the board of directors of Wenatchee Mountain Inc., after serving on it for nearly 20 years.
Lynn Heminger last week retired from the Eastmont School Board after 12 years of service.