115 years ago — 1906
Decoration Day (May 30), will be formally observed in Wenatchee this year and the G.A.R. has requested that the young men of the town take charge of the arrangements, as was done last year. A committee to organize events and activities will include J.E. Ferguson, S.C. McCready and Rufus Woods.
Articles of incorporation were filed this week for Chelan Irrigation Co. by R.H. Lord of Chelan and Arthur Gunn of Wenatchee. The company is capitalized at $10,000 divided into 1,000 shares with a par value of $10 each. Besides Gunn and Lord, the company's trustees are C.F. Brown, Frank Reeves and Fred Reeves.
W.S. Wilson has purchased the cigar stand on Wenatchee Avenue.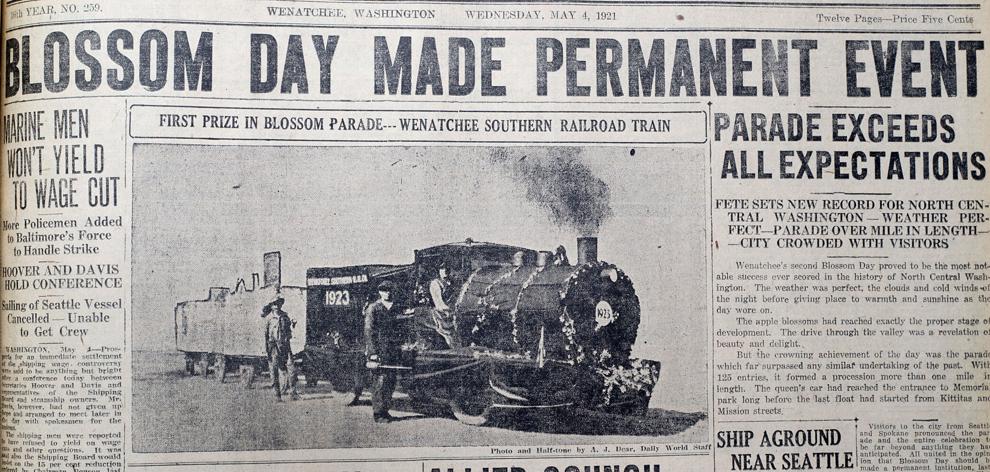 Guy C. Browne, of Columbia Valley Bank, has received a letter from Lt. Gov. Alden Anderson of California thanking the residents of Wenatchee for their generous contributions toward the victims of the San Francisco earthquake.
Leavenworth area residents have voted unanimously to incorporate their town. A committee will now draft a petition to be presented to the county commissioners outlining the limits of the proposal.
Mr. and Mrs. Noah Brown will assume control of the Elberta Hotel June 1.
Seattle businessman Samuel Rosenberg arrived in Wenatchee this morning with completed plans and blueprints for his new building to be constructed at the corner of Wenatchee and Orondo avenues. Rosenberg has abandoned his plan of building a hotel and will instead erect a business block.
Chelan County commissioners will meet next Monday at the courthouse to sign a contract for construction of a wagon bridge at Leavenworth, connecting the town with the Cascade orchard tracts.
Mrs. H.B. Smith of Seattle has purchased the lease on the Wenatchee Hotel.
G.W. Stetson, co-owner of Stetson Post Mill Co. which recently sold its real estate holdings on the Seattle waterfront, has arrived in Wenatchee and is proposing to building a hotel here if he can secure a suitable location. The Wenatchee Commercial Club has endorsed his plan.
65 years ago — 1956
April goes down in city records as the biggest building month in history. The city engineer's office has recorded permits during that 30-day period with a valuation totaling $1,647,641. The factor that built up the total was the start of construction of Wenatchee's new junior high school at a cost of $1,455,715.
Elaine Springer, daughter of Mr. and Mrs. Frank Springer, heads the senior class as valedictorian at Peshastin High School. Her father was valedictorian of the class of 1932.
East Wenatchee's new shopping center will open its doors May 31, E.D. Gensinger announced Tuesday.
Mrs. Roy Moore was elected chairwoman of Mary Woods Circle at its April meeting. Other officers are Mrs. Ira Hinthorne, vice president; Mrs. C.A. Hall, secretary; and Mrs. Norris Gills, treasurer.
James Simmons has been named director of the Wenatchee Civic Chorus for the coming year.
Mrs. Paul Furgeson is the new president of the Orthopedic Guild. Other officers are Mrs. James Speir, vice president; Mrs. Charles King, secretary; and Mrs. Thomas Stockstill, treasurer.
40 years ago — 1981
More than 18 months of Civil Air Patrol cadet training and outstanding performance have paid off for Mark Preheim, a Wenatchee Composite Squadron member, who has received CAP's Gen. Billy Mitchell Award. Preheim, a cadet warrant officer, attends Cashmere High School.
American Legion Auxiliary announced delegates to Girls State at a tea on April 12. They are Laura Robertson, Eastmont High School; and Christy West and Sue Schindele, both of Wenatchee High School. Alternates are Ruth Jacobs, EHS, and Sandra Jones, WHS.
Don and Deanna Smith have purchased Joel's Restaurant, 300 Douglas St., and have changed the name to The Greenhouse. The Smiths purchased the business from Joel Warner. They have also sold their kitchen and housewares store, The Cupboard, in the Wenatchee Valley Mall to Joe and Ann Gaspers of Wenatchee, but remain owners of Chief Cook and Bottle Washer in the Valley North Shopping Center.
The district Future Farmers of America leadership competition was held in Chelan recently. At an awards banquet, Rob Rice of Eastmont High School was named Star District Farmer and Robert Guess, also of Eastmont, was named Star District Agri-businessman. Ron Davis of Chelan was selected Honorary District Farmer.
Six Wenatchee men have been appointed members or alternates on the Washington Cherry Marketing Committee. Appointed committee members were John Files and Tom Mathison. Appointed alternates were Rone Zimmerman and John R. Sagerser. Appointed as a handler member was T.M. Zacher with James G. Fulleton, alternate.