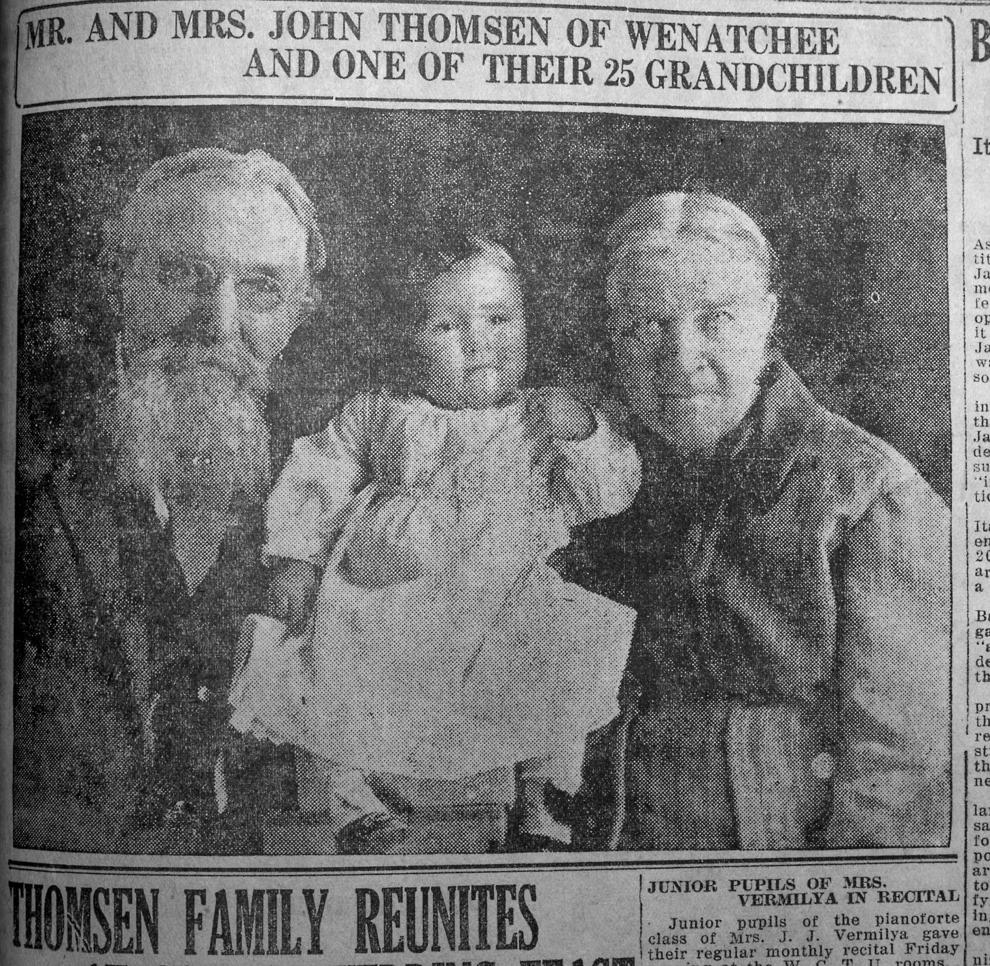 115 years ago — 1906
Burkey Bros. this week purchased half interest in the Vendome Cafe from Jock Treholm. They will operate the restaurant in partnership with F.E. Ping.
Mr. and Mrs. Conrad Rose are visiting friends in Spokane for a few days.
Alta Clayton has accepted a job with jeweler Howard Thomas.
G.C. Calentine returned Monday from a business trip to Seattle.
Harvey Mills of Mills Bros. Haberdashery returned Monday morning from a business trip to Seattle.
Teachers and officers of the Baptist Sunday school will meet this evening at the home of Mr. and Mrs. E.F. Sprague.
The Ladies Aid of the Baptist church will meet tomorrow afternoon at the home of Mrs. C.A. Battles.
Sylvia Smith has resigned her position as central operator for the Farmers Telephone Co. and Caroline Hampton has been hired to replace her. Mabel Carden will also leave the company next Saturday. Her job will be assumed by Ada Grant.
The Wenatchee Furniture Co. will receive three car loads of consignment merchandise from stores back East.
A piano solo by Grace Wiester was featured during an assembly at Wenatchee High School.
Red Apple Real Estate offers a house and three lots on Yakima Street for $800.
65 years ago — 1956
Edward G. Noyd was elected to the board of directors of a newly formed sales and advertising club at Washington State College. Noyd, the son of Mr. and Mrs. Edwin Noyd of Wenatchee, is a junior majoring in economics.
Dewey Crimmins is the new master of West Wenatchee Grange. 
Viola Painter is newly elected noble grand of Mt. McKinney Rebekah Lodge in Winthrop.
After 26 years of creating music, Fred Cripe of Wenatchee has broken the sound barrier into the world of popular music. His song, "Tell Me the Lies," has just been recorded and although Cripe isn't making any predictions, the reaction indicates that it may beat a path to juke boxes all over America. Recorded by Dick Noel of Don McNeil's Breakfast Club, the song has already been heard on coast-to-coast radio several times.
Gordon Isaacson was honored as Man of the Year of Wenatchee American Legion Post No. 10. He was presented with a gold pin by Irwin Jones, past department commander.
Ted Zacher was re-elected master of Beacon Hill Grange for his third consecutive term.
Lillian Grace Brown, Wenatchee High School drama instructor, attended the recent meeting of the Washington State Drama Association in Seattle.
Mrs. W.J. Stanley of Waterville was honored on her 99th birthday with a dinner at the Columbia Hotel in Wenatchee.
Woolworth's at 35 N. Wenatchee Ave., which has been in the process of remodeling for several months, will reopen for business Thursday. The store originally opened Aug. 13, 1921, according to manager Bert Bonfadine.
40 years ago — 1981
Geoff Waterbury Wednesday night captured the season's first 700 series — a 720 — in the Major Classic scratch bowling league at Columbia Lanes.
Representatives from 14 Kiwanis Clubs from throughout North Central Washington turned out Thursday to help celebrate the Ephrata and Moses Lake clubs' 35th anniversaries. Presiding over the meeting were Oliver Watson, president of the Ephrata club, and John Walsh, Moses Lake club president.
Chuck Underwood and Dr. Gerry Nielsen were photographed with the Apple Cup, symbolic of the annual University of Washington-Washington State University football clash being held this weekend. Underwood, a local businessman, is a follower of the Cougars and Nielsen, a local dentist, is a follower of the Huskies. The Washington Apple Commission-sponsored trophy was in Wenatchee for some maintenance work at Haglund's Trophies.
Candee To Go is the new name of the candy shop in Wenatchee Valley Mall in East Wenatchee. James and Doris Lindley purchased the business, formerly known as the Candee Corn Shop, from Wayne Jones.
Yesterday's, an old-fashioned ice cream parlor and sandwich shop, has opened at 1610 Grant Road in East Wenatchee. The parlor is a family operation owned by Ed Seeger, his son Gary Seeger, and son-in-law and daughter, Charles and Charletta Beath.
Ten employees of Hanna Mining Co. received their 30-year pins at the fourth annual Hanna service recognition dinner Friday at the Wenatchee Center. They were Otto Radach, Claud Shamley, G.E. Dyment, Donald W. Monesmith, Harley M. Barber, E. Bailey, F.J. Jackson, Johnie W. Shell, D.L. Porterfield and V. Smith.
Dr. Stanley Hoyt, entomologist at the Washington State University Tree Fruit Research Center here, was an invited speaker Wednesday at a top-level agricultural meeting in Basel, Switzerland.