WENATCHEE — The empty kayak was stuck in a whitewater rapid, its straps wrapped around a log. Kyle Mahuika and two of his friends were on the shore of the Wenatchee River, trying to find a way to recover it.
Ron "RJ" Ripper saw the scene and walked down to help. He grabbed a rope, climbed out on the log and freed the kayak.
"He didn't have to help us at all. He could have just let us struggle but he didn't," Mahuika said. "He voluntarily came out to us and said, 'How can I help?'"
It's a story that embodies the kind of person Ripper strived to be, his family says. He had a rough past that included crime and violence, but more recently he spent time trying to better himself. He started going to church and sought out better friends, his family says.
Ripper drowned on that river one month later during a tubing trip. His pet pig, Jack, fell into the water and he dived in to save him. The pig was wearing a life jacket and swam to shore. Ripper wasn't wearing one and died.
He's one of at least 33 people who have drowned in the Wenatchee River in the last 25 years, according to a Wenatchee World analysis of news archives, police information and rafting accident records.
Of the 33, only five people were confirmed to be wearing life jackets. Twenty-one people were not and it was unclear in seven cases.
But these are only the known incidents. There could be more drownings that either weren't known to authorities or weren't reported on at the time.
Each circumstance varied — swimmers have gotten caught in logjams, casual rafters have fallen in and gotten swept away, and canoes have hit rocks and capsized.
The drownings occurred from Plain all the way down to Sunnyslope and the victims' ages ranged from 6 weeks to 69 years.
But one thing is consistent — most were not wearing life jackets.
"When you look at the deaths we've had on the Wenatchee River, it's (personal floatation devices)," said Sgt. Kent Sisson with Chelan County Emergency Management. "I mean, it really comes down to that in the end. The people who die on the Wenatchee River are not wearing a PFD."
The deaths are scattered along the river and tended to occur in the hot summer months when the river is low, said Deputy Mike McLeod, who's led the Chelan County Swift Water Rescue Team for the last decade.
"The bulk of our rescues and deaths are always related to lower water flows because the water's perceived as being safer and it's really not," McLeod said.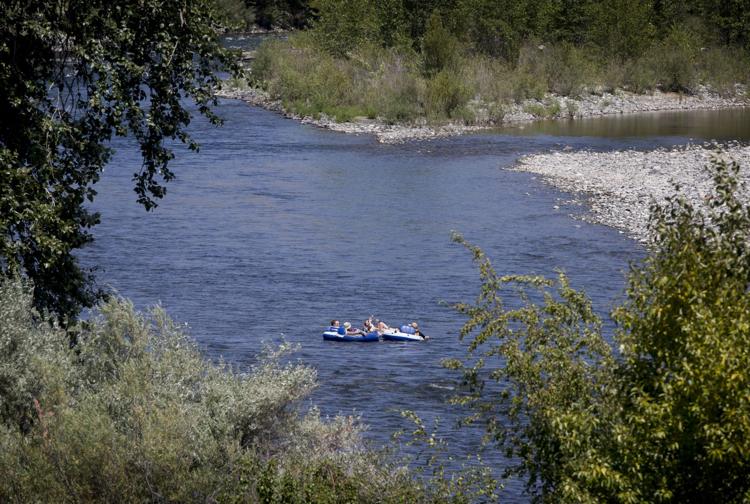 The river is highest when snow melts in the spring. Flows are measured by cubic feet per second, or CFS.
McLeod considers anything higher than 6,000 CFS "high water." For context, the river was highest this year when it topped 11,000 CFS in mid-May.
"River levels will change, but typically with higher water flows people are scared of the river," McLeod said. "And so the people who don't know how to swim well or aren't equipped or really don't know what they're doing, tend to stay out of the river."
Of the 33 deaths reported on the river, 25 happened when the river was below 6,000 CFS, according to an analysis of U.S. Geological Survey data.
Matt Black, manager of Osprey Rafting Co., cautioned that the public shouldn't judge danger solely on CFS levels because hazards and obstacles appear and disappear at different water levels.
"The biggest thing is the CFS part of the changing element of the river and it can fluctuate a lot in a 24-hour period, so it can create hazards quick," Black said. "For me, that's one of the biggest takeaways on CFS. It can change the environment greatly and make a situation today very different tomorrow."
His advice to river users is always wear a life jacket that's certified and fits properly; go with one or more people; scout the river beforehand; and know where you're entering and exiting the river.
Inner tubers who miss their exit — particularly at Barn Beach in Leavenworth — account for the majority of river rescues, McLeod said.
He explained that after Barn Beach, tubers often get caught in a fast section of river called Hobo's Gulch which leads into a dangerous set of rapids called Boulder Bend on the east side of Leavenworth.
"Boulder Bend is where it gets ugly," McLeod said. "There's rocks, there's wood debris, there's holes, there's hydraulics, there's pretty much anything you could ask for in a dangerous rapid in Boulder Bend."
While it's an easy place for things to go wrong, actual deaths in Boulder Bend and other areas of the river are mostly avoidable, he said.
"As long as you don't drink and you wear a PFD, you're probably going to live through the day," McLeod said. "Even if your boat flips and you wind up swimming and you climb out somewhere you hadn't planned on, you're probably going to be OK."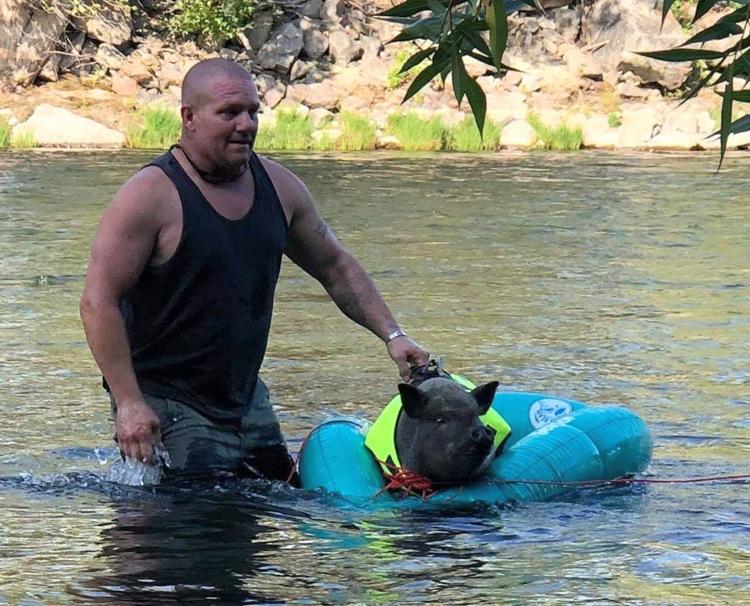 Life jackets available for everyone
Ripper and Jack the pig were inseparable from the moment they met, said Ripper's 24-year-old son, Brendyn.
When Ripper rode his motorcycle, Jack would ride in a backpack. And when they went to the farm-goods store Jack would sit in the shopping cart.
So when Ripper and Brendyn floated the Wenatchee River on July 7, it only made sense that Jack came along.
Then Jack jumped into the water and Ripper followed to help Jack — but he went under and didn't survive.
Now Brendyn and his mother, Tiffany Douts, are on a mission to prevent a similar situation. Their goal is to build boards in Monitor and Sunnyslope with life jackets available for everyone.
None of the known people who have drowned in that area within the last 25 years were wearing one, according to The World analysis.
"We're still in the starting process and just talking about it, but I think to get the word out there, it's going to help bring awareness and things will start coming together," Douts said.
Their goal is to set up boards similar to the ones used by the Chelan County PUD in parks along the Columbia River that would hold life jackets for people — and pets — of all ages. They've set up a GoFundMe page that has already raised $900.
"Originally it was for the funeral expenses but then we had somebody donate and said they'd pay for that completely," Douts said. "So then we switched the fundraiser when Brendyn had the idea (for the life jackets.)"
The pair is also looking for volunteer contractors to help build the structures and for people in the community to donate life jackets.
A life jacket would have helped Ripper, and they want to make sure other people have the option to wear them, Brendyn said.
"My dad died and if he had a life vest, it's not for sure that he would have survived, but the possibility is greater," Brendyn said. "I wasn't wearing one and I went under for a second. I watched him go under and the life vest would have helped."