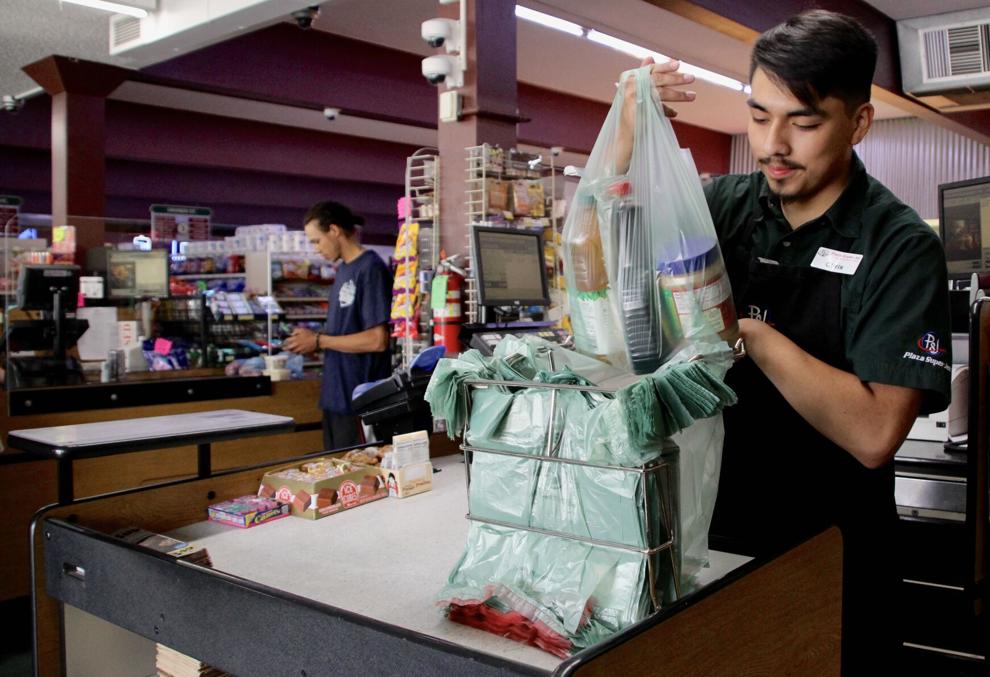 WENATCHEE — A statewide ban on single-use plastic bags will go into effect Oct. 1, but local business owners say the transition may be rocky.
The ban was initially scheduled to begin Jan. 1, but Gov. Jay Inslee delayed it through a proclamation due to the limited availability of compliant bags, according to a press release from the state Department of Ecology.
Local businesses owners' concerns about the ban include supply chain issues, cost increases and customer reactions. The ban will apply to restaurants, grocers, retailers, convenience stores, farmers markets, food trucks, temporary stores and home delivery services. Food banks will be exempt.
Under the new law, stores can use paper bags made with 40% recycled content and plastic bags made with 20% recycled materials and that are a minimum of 2.25 mil thick. Both plastic and paper bags will come with an 8-cent charge. According to the Department of Ecology, there will also be no restrictions on customers bringing in their own bags.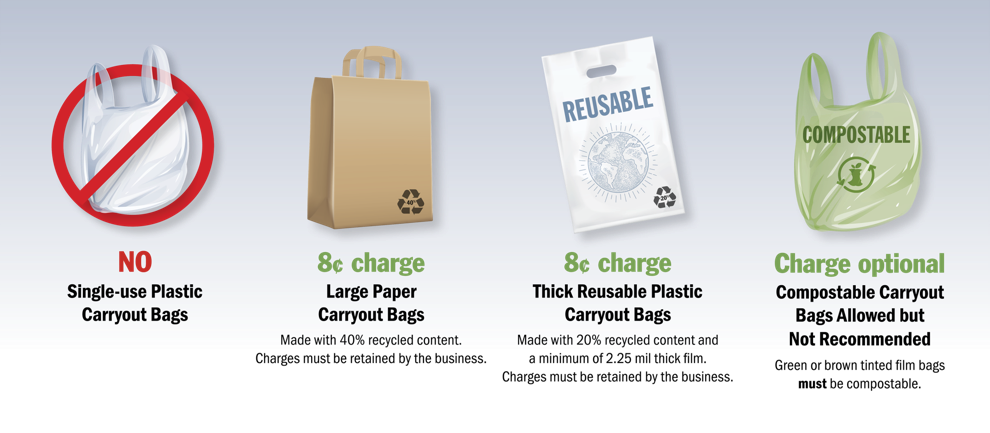 Francisco Cuevas, the owner of Futbol-Era Soccer Store on South Mission Street, is concerned about where he will find bags that are compliant with the new law. He is currently looking into plastic and paper bags and hopes his current bag vendor — Costco — will sell ban-compliant bags.
"I have no idea who sells the bags," Cuevas said. "I don't know where to get them and how much it will cost me."
Depending on the cost, he said he may end up not giving out bags at all. He's hopeful that customers will understand the ban and its implications for small businesses: "This is a well-educated community. Maybe at the beginning it will be a problem, but later on I think they will get used to it."
Victor Garcia, the general manager of Original J's Teriyaki in East Wenatchee, is also concerned about bag pricing.
"It's gonna be a little frustrating at first, but there's no choice. We have to deal with it, you know?" Garcia said. "The cheaper you can get it, the cheaper you can keep the food."
He said the restaurant is evaluating ways to absorb the increased cost of bags, including discontinuing specials, switching plates or changing prices. Unfortunately, Garcia said, higher bag costs will come in conjunction with other increased supply costs. Just this week, for example, their chicken went from $68 a case to $110.
Original J's Teriyaki is also still researching what kind of bags it will use. As a restaurant that relies heavily on takeout, Garcia said the staff is concerned about how paper bags would handle possible food spills. They have not yet looked into plastic bags that are compliant with the ban.
Although the bag ban law mandates that businesses charge 8 cents a bag, that may not be enough to offset the higher costs of bags that are compliant with the law.
"That doesn't even put a dent in the cost of the bags a small business pays," said AnaMaree Ordway, the owner of Ye Olde Bookshoppe. "Large companies, because they order them by the pallet, it probably covers their costs...There are no 8-cent bags that we can purchase."
Ordway already uses bags that would be compliant with the ban. They range from 12 to 54 cents a bag, but she's unsure whether prices will go up as demand for them goes up under the ban.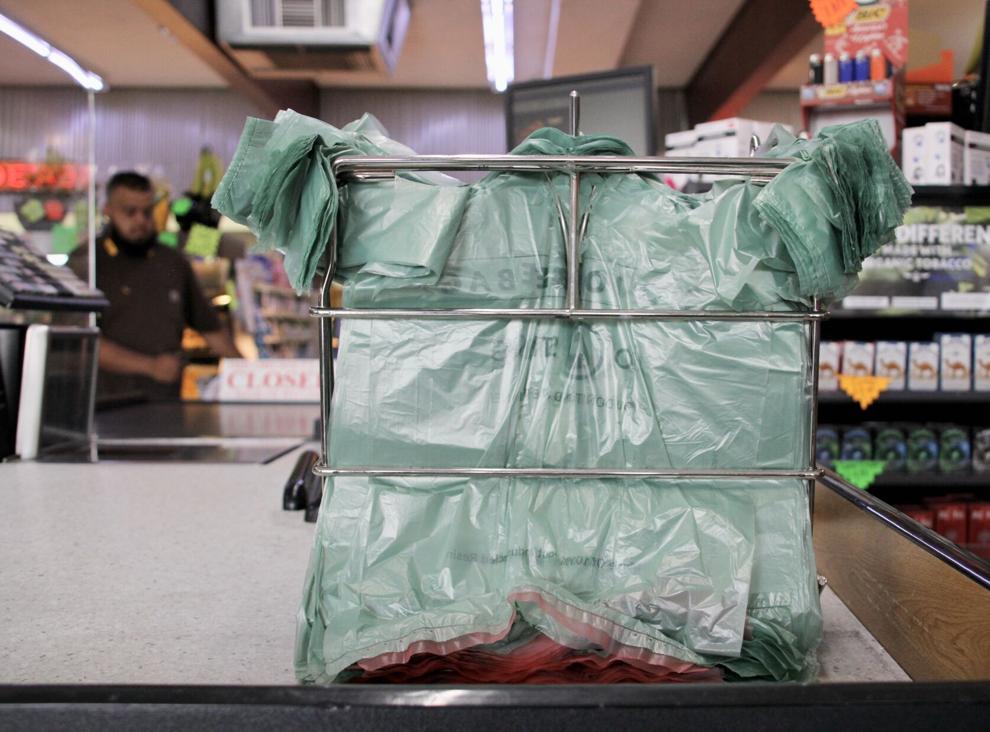 Super Plaza Jet owner Jeff Lau also worries about how an already strapped supply chain system will handle the transition. He has yet to see paper bags that comply with the law. He added that with supply costs fluctuating so much, it's difficult to know what the new bags will cost. But he anticipates the store will be able to absorb the cost in sales.
It will be harder, however, for the store to adapt logistically to the new law. The ban exempts customers using food assistance programs like WIC from the bag fees, even if those customers are also using another purchase method. Customers only need to show some proof of their program benefits to be exempt for the entire purchase, according to Shannon Jones the material coordinator for the state Ecology Department, which oversees the implementation of the new law.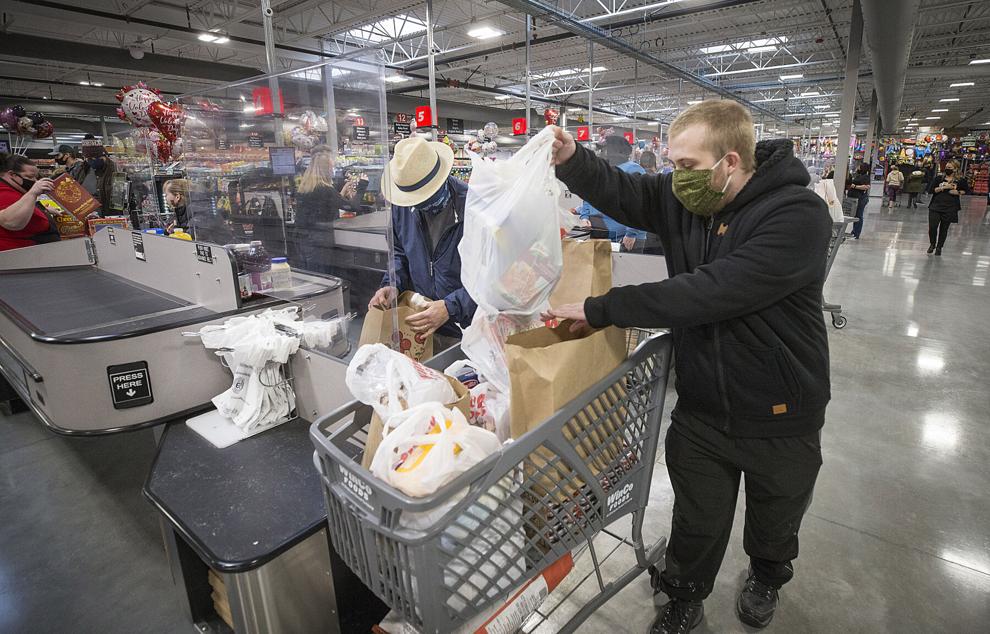 Lau said that the ban's exceptions for WIC and other programs will present some logistical problems for the store as it revamps its checkout systems and technology. He is also concerned about customers' reactions. He said when the ban was originally slated to go into effect in January, he received a number of emails asking if the store would really go through with the ban.
"It's not a choice for us; it's the law. And we have to comply," Lau said. "I wish they'd have gone after something different. There are lots of things I see out there that are pretty wasteful. I'm not sure bags are number one. But it's a step in the right direction."
Linda Haglund, executive director of the Wenatchee Downtown Association, has been working toward helping businesses prepare for the ban. She said at this point, after more than a year of changing COVID regulations for businesses, the ban is just one more thing owners have to navigate.
"So much information has been thrown at them," said. "I'd call it a firehose of information."
She is currently focused on getting clarity for businesses about how the ban will impact them and where they can source ban-compliant bags. She hopes to partner with other organizations, like the Chamber of Commerce to ensure businesses are read to go once the ban begins.
"Right now, October seems a long ways away — but it really isn't," she said. "I think that together, we'll all figure this out."