WENATCHEE — If you're skiing near the summit of Mission Ridge this winter and see what appears to be a mystical mountain creature, your eyes aren't deceiving you.
It's a sculpture built by Wenatchee artists Kasey Koski, Zeb Postelwait and Thad Brewer. The Yeti is made of steel tubing, covered by a thick layer of chain and stands 11 feet tall on a 2-foot base.
They've been working on the art project for the past three years and installed it on the mountain two weeks ago.
It all started — as many great projects do — after several late-night backyard summer discussions. The year was 2016 and it was Mission Ridge Ski & Board Resort's 50th birthday.
"We all thought 'Wouldn't it be fun to make it as a birthday present for Mission Ridge?' So we kicked it off in the fall of 2016," Koski said.
The trio had experience with a variety of art mediums and had some fabrication experience, so they saw "Project Yeti" as an attainable goal, Koski said.
"We have a whole variety of different skills, so this wasn't so far-fetched except for the scale," she said. "We've never worked on anything this tall before."
So, they began gathering materials and raising money, Koski said. A little under $3,000 was collected in a public GoFundMe account.
"The funds we raised from the public pretty much paid for the structural armature; the new, solid tube steel we had to buy for it," she said. "The chain was gathered up over the entire period we were talking about it, three years worth of chain-gathering."
Wenatchee Valley Salvage and Recycle in East Wenatchee was a major source of the secondhand chain, Postelwait said.
"They were a huge help. We got lots and lots of chain from them," he said. "They totally donated it and never expected anything out of it."
They spent months cutting the chain and attaching it to the skeleton with a MIG welder. Postelwait estimates they used 80 pounds of welding wire.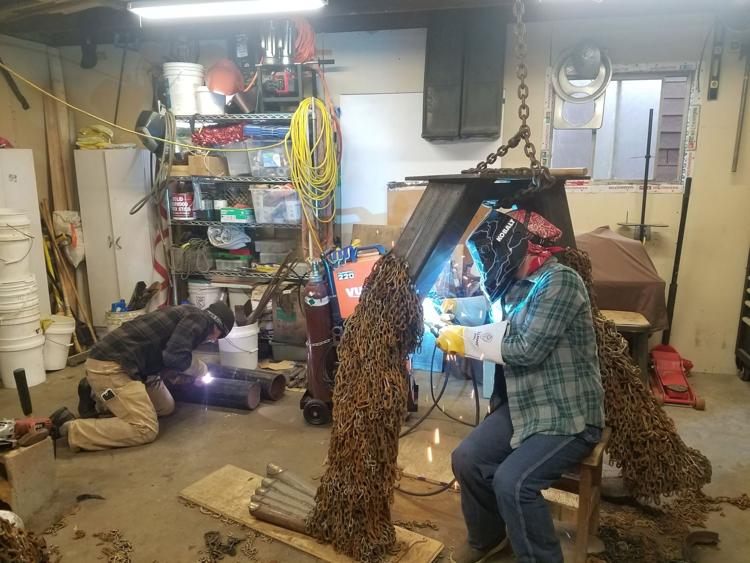 The Yeti, which weighs between 1,500 and 2,000 pounds, was finished this spring and transported to the Mission Ridge parking lot by Randy's Towing.
Then on Sept. 19 a crew from the resort helped the artists haul it to the top of the mountain, next to the top of chair 2.
"It was very rewarding throughout, including the culmination of it and how it got placed, where we ended up getting to put it," Brewer said. "The whole thing ended up working out beautifully."
The sculpture was installed just in time for the resort's first snow of the year, which will transform it from a rusty summer Sasquatch to a wintery white Yeti, Postelwait said.
"Sometimes we're going to go up there and it's going to be a totally different sculpture: a big, fat, fluffy white Yeti," he said. "So it's kind of a two-for-one sculpture. It's going to be really fun to watch it change throughout the year."