WENATCHEE — With events throughout the Wenatchee Valley, Saturday marked the 31st annual Make a Difference Day.
Pinnacles Prep, AmeriCorps volunteers and Parque Padrinos collaborated to help clean up Kiwanis Methow Park, the Pinnacles Prep campus and the nearby community center. Roughly two dozen people from the three groups came to help Saturday morning.
From raking leaves in the park to cleaning up trash on the Pinnacles Prep campus to adding to a parking lot mural, the three groups came together to assist in a variety of tasks.
Sara Rolfs, co-founder and board secretary of Pinnacles, said the groups wanted to help clean the spaces they often share.
"Parque Padrinos uses the Pinnacles Prep community center at the campus quite a bit, and we use the park every day," Rolfs said. "And so we wanted to collaborate and help each other maintain our spaces and get to know each other a little bit better."
Rolfs said an AmeriCorps volunteer is also a staff member at Pinnacles, which is how the group joined in on the festivities.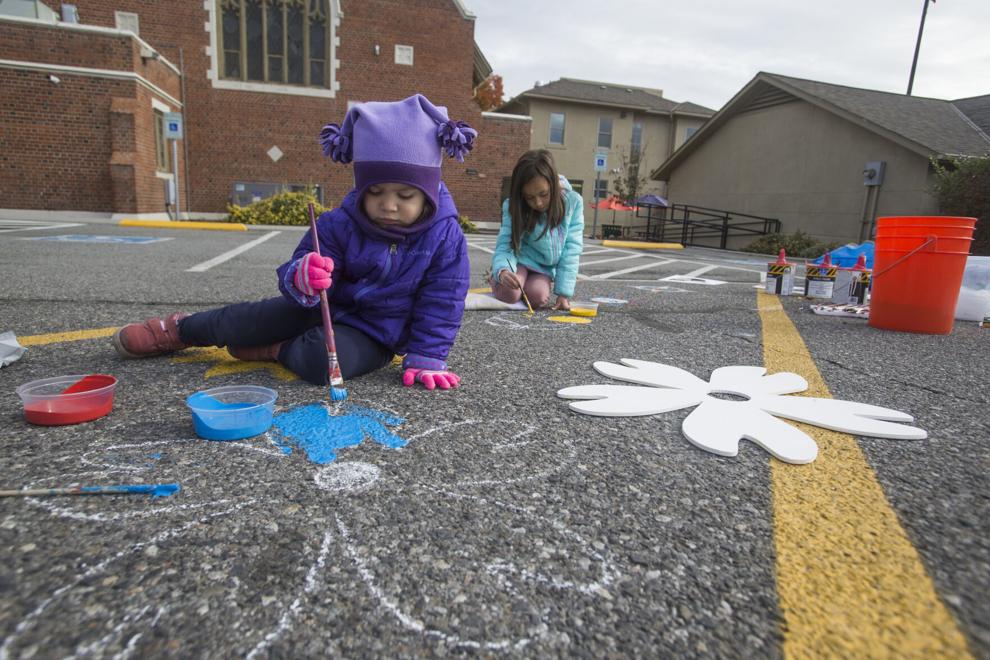 The groups made papel picado during the event and also added to a pathway mural on the Pinnacle Campus. Papel picado is a form of art made through cutting elaborate designs in tissue paper.
Rolfs said it was important for Pinnacles Prep, which is in its first year, to be involved in the community.
"It's taking care of the spaces that we use, it's that responsibility. It's also a great opportunity for us to get to know each other, the different organizations, more," Rolfs said. "And I think it's just a way for people to give back, intentionally, to their community."
Geisha Killgore, an AmeriCorps volunteer, said the collaboration was a great way for AmeriCorps volunteers to be involved in the community.
"I think it's just a great way to get out and help the community," Kilgore said.
Killgore said AmeriCorps also had a group of volunteers at Pybus Public Market to help educate people on opioids and food insecurity.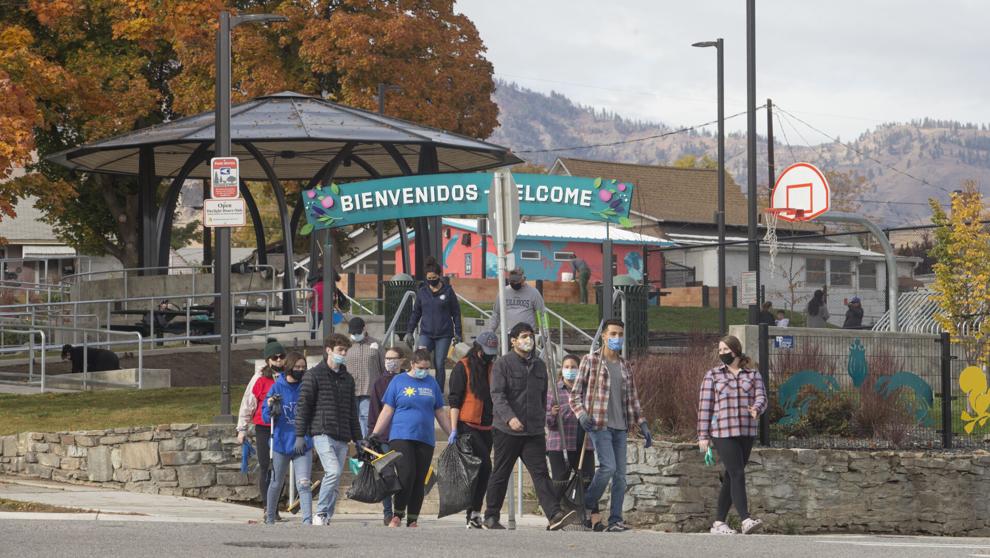 Teresa Bendito-Zepeda, a co-founder of Parque Padrinos, said it's important for people who frequently use the park to be involved in its maintenance.
"I'm just extremely happy to see participants of Zumba classes that happen here two to three times a week, and it's beautiful to see them out here cleaning up as well, cleaning up the park," Bendito-Zepeda said, "and bringing their husbands who don't necessarily participate in Zumba but are now participating in some way and contributing back to the community."
Bendito-Zepeda said having community members participate in the area's upkeep will help build a community connection with the space.
"It'll help with keeping it clean. So it's important to provide these opportunities for neighbors and users to also be involved more than just the moment they're here using the space," she said. "It can help in that long term taking care of, and meaning of the park."
Saturday wasn't the first make a difference day for Bendito-Zepeda, who helped organize a neighborhood cleanup for make a difference day two years ago. She said knowing people around the city are participating in similar events makes volunteer work even more special.
"I really think a lot of the volunteers who are out here today, and in all of the places in our community, make a difference every day," Bendito-Zepeda said. "But there's something beautiful about knowing that in different places in our community, everyone is doing something."