CHELAN — Aletha Cusick walks with a cane. She has neuropathy in her lower legs, which makes her unsteady.
She also turned 100 years old this month.
Not a candidate for skydiving? Think again.
Last Saturday, she made a tandem jump from 11,000 feet above Chelan with Skydive Chelan.
"It was wonderful, but it was smoky," says the 1940 graduate of Wenatchee High School. Smoke had been filling the air from wildfires around the Northwest.
This was not her first jump. She did that in 2011, when she was 90. That year, she said in an interview with The Wenatchee World: "I've always wanted to fly. In my high-school yearbook, I said my dream was to be the second Amelia Earhart."
Becoming a pilot never worked out, but she was eager to try skydiving, saying, 'I've always been active and independent, and usually willing to do anything."
Saturday was her eighth skydiving experience. She missed the last two years, first because of wildfire smoke, second because of COVID.
The best part, she says, wasn't the jump itself. "It was seeing all the family and friends who turned out to cheer me on."
About 40 of them formed a two-sided, hands-in-the-air tunnel for her to walk through as she headed for the plane.
"I was astounded at how many people came out on a 105-degree day, with smoke, to support her," says her daughter-in-law, Susan Cusick of Wenatchee. "It was so touching."
Seven other family members jumped into the sky that day too, all after Aletha.
As a "veteran" skydiver, Aletha says, she was not nervous, just excited.
"You're strapped all over your body to this other person so you feel really safe," she says. "You feel like you're one person."
On her first jump, in 2011, she learned the hard way not to have her mouth open when the free-fall happens. The whooshing air fills the cheeks and dries out the mouth.
But she has never mastered the art of keeping her eyes open during the free-fall. She says it isn't nerves, just some kind of natural instinct.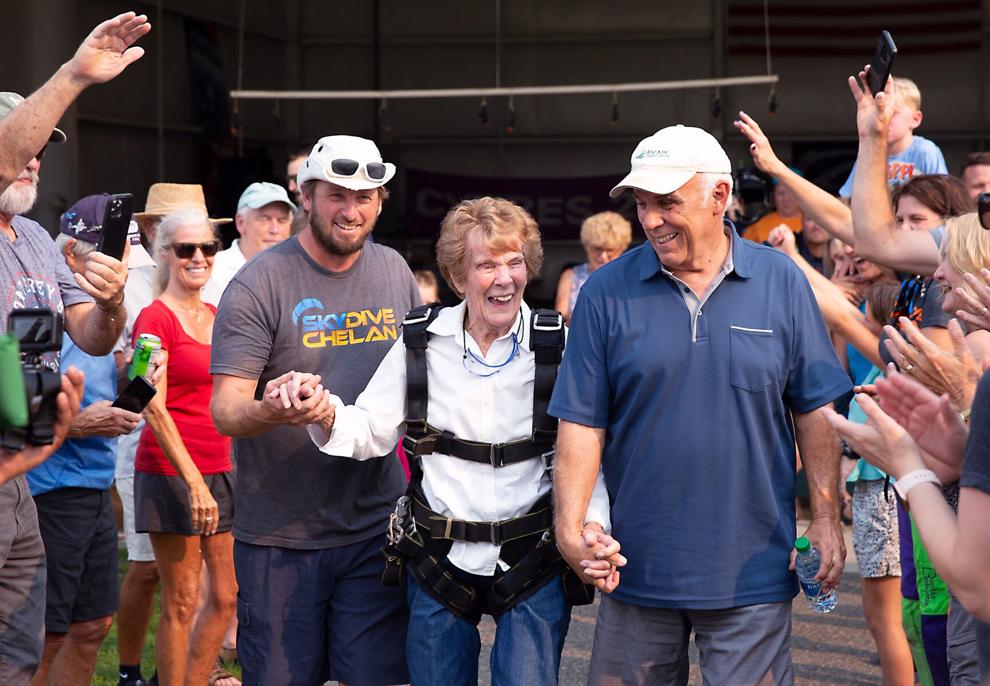 But, once the parachute fills with air, her eyes pop open. The free-fall stops, and the slow descent begins. The view, she says, is always amazing.
Susan Cusick says the professional strapped to Aletha, Tim Marable, brought her down gently and safely. His feet touched the ground first, while Aletha held hers up high.
The only difference this year was what Aletha described as a marked loss of flexibility in her body. Once on the ground and unstrapped, "I still had to hang on to somebody to walk off," she says.
Another big difference: Ten years ago, the straps did not leave a mark on her body. This time, she says, she is bruised all over. "Old skin," she scoffs. "It's just too fragile."
Until the past few years, Aletha has been a big hiker and a longtime member of the women's hiking group, The Mountain Dears. While it once numbered in the teens, only Aletha and one other hiking member is still alive. Both have too many health concerns to hike now.
Aletha, a widow for 14 years, has two children, five grandchildren and eight great-grandchildren. She loves reading about history, watching sports on TV and working out on her stationary bicycle.
Will Aletha skydive again, maybe on her 101th birthday? Not likely, she says. "It's time to leave it to the younger people."
But Aletha loves challenges. What will come next?
And insists she is joking.