What does a herd of 300 goats contained to an acre look like?
That was the question in the back of my head as I photographed the release of the first 100 in an effort to rid the backside of the Broadview neighborhood of weeds and brush that could fuel another fire like that of 2015.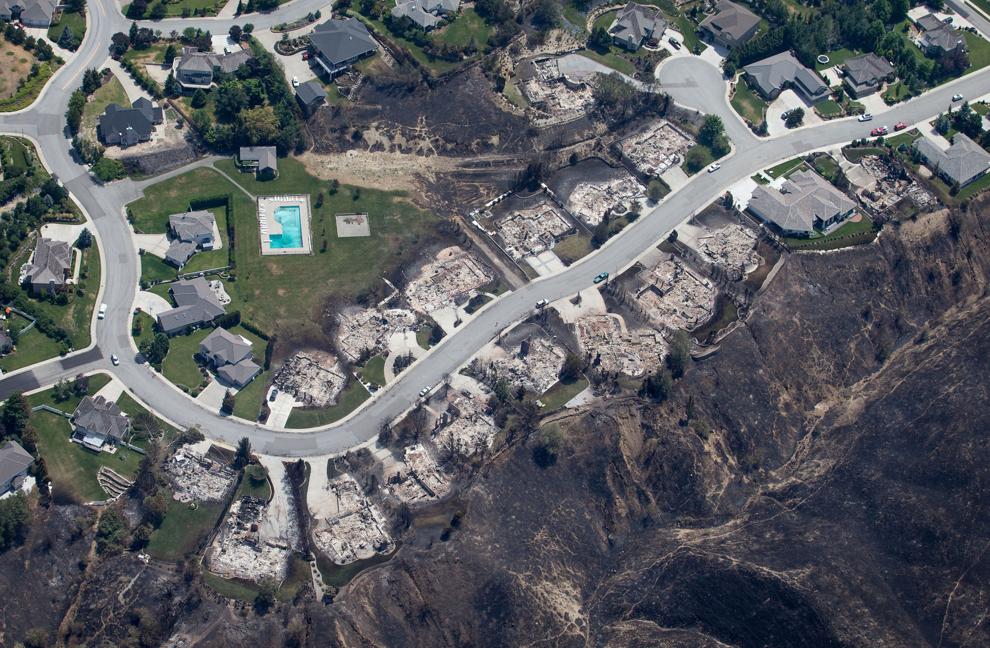 I negotiated a location with the fire department to be able to photograph the first release as the goats entered the weeds and captured the Ephrata rancher and his ranch hand as they set up fencing. The rancher's name was Billy Porter (yes, we both laughed at the billy goat tie-in) and he and his helper Todd Waite were perfect subjects. They would answer questions yet were focused on what they were doing.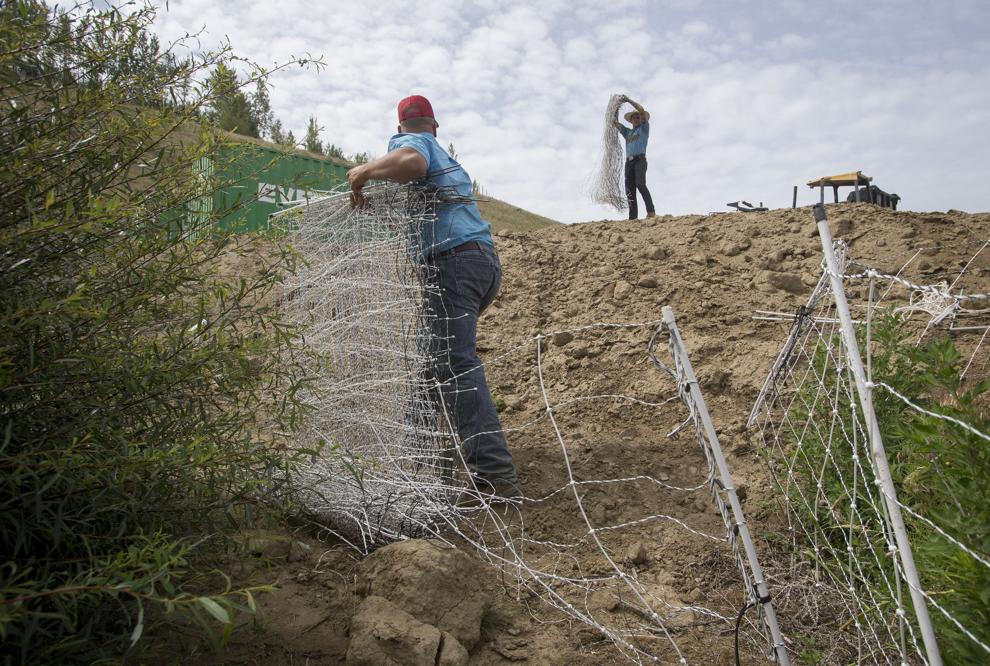 The animals moved as a group into the area and immediately began munching away.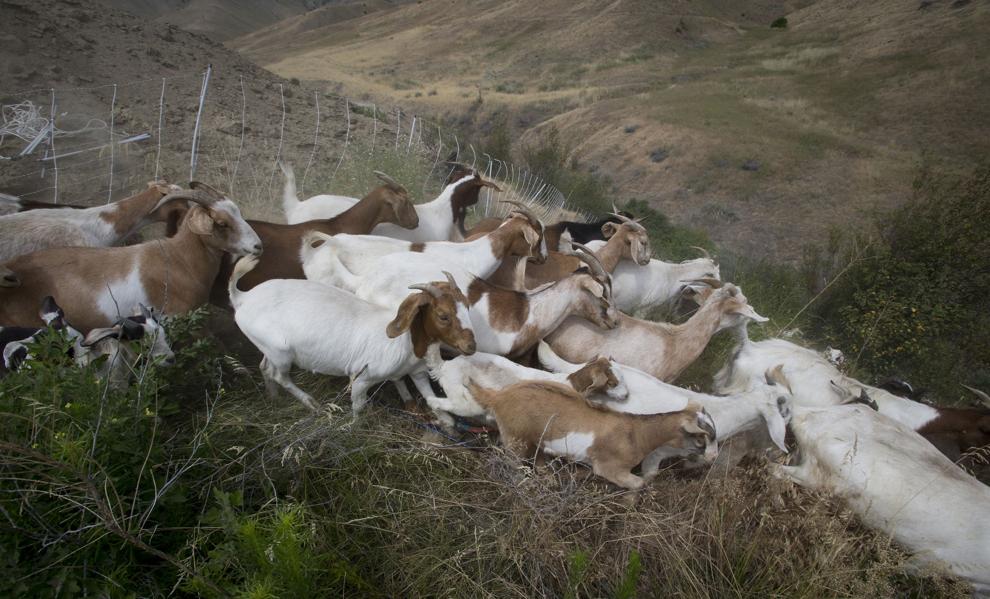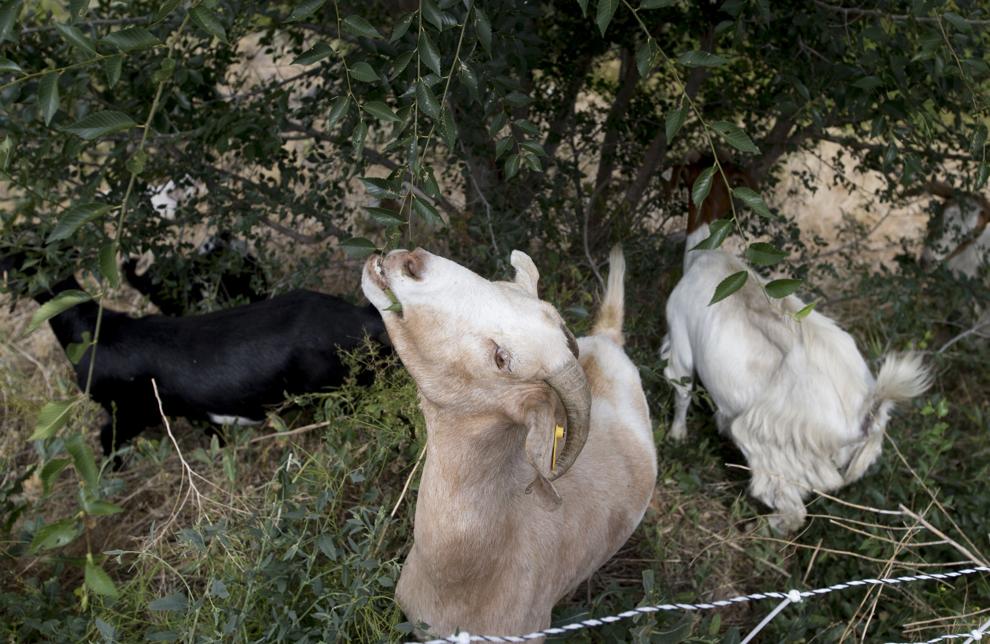 This was the early pick for the front page photograph. It showed the steepness of the canyon the goats would be eating as the ranch hand struggled up the slope in the foreground.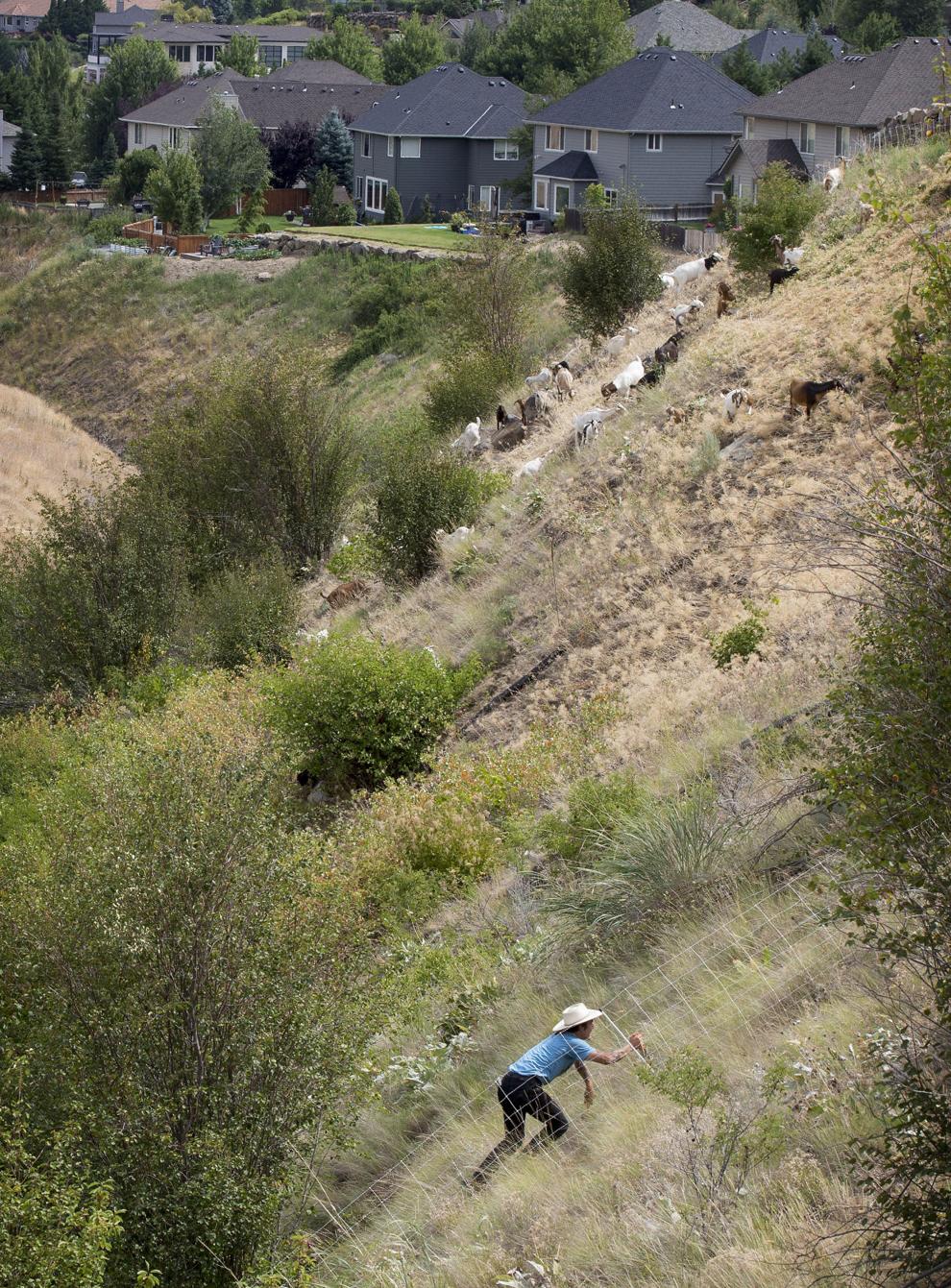 But I still wanted to see what 300 of them looked like so I called the rancher a few hours later to see what time he would be bringing the rest of the herd in from Ephrata. It was going to be close to deadline but possibly worth the trouble to rush it onto the page, so I headed back to the site and waited for the final two trucks to arrive.
I figured the best vantage point would be across the canyon so I hiked through the canyon and up the far side keeping my eye out for anything slithering on the ground and eventually all of the goats were released – in time to make my deadline and substitute out this photograph as the lead one on the front page.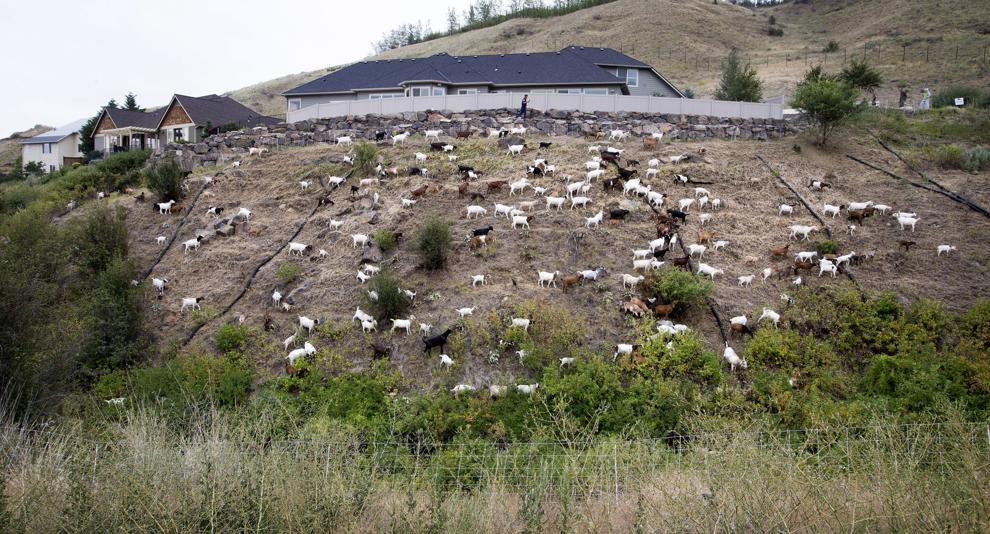 While waiting for all 300 to arrive, the rancher's dog, Junebug, was distressed at one end of the fenced area and I saw why —- a goat was caught in fencing nearby. The ranch hand couldn't see why the dog was upset from where he standing but I yelled across the canyon what was going on and he raced down to release the goat.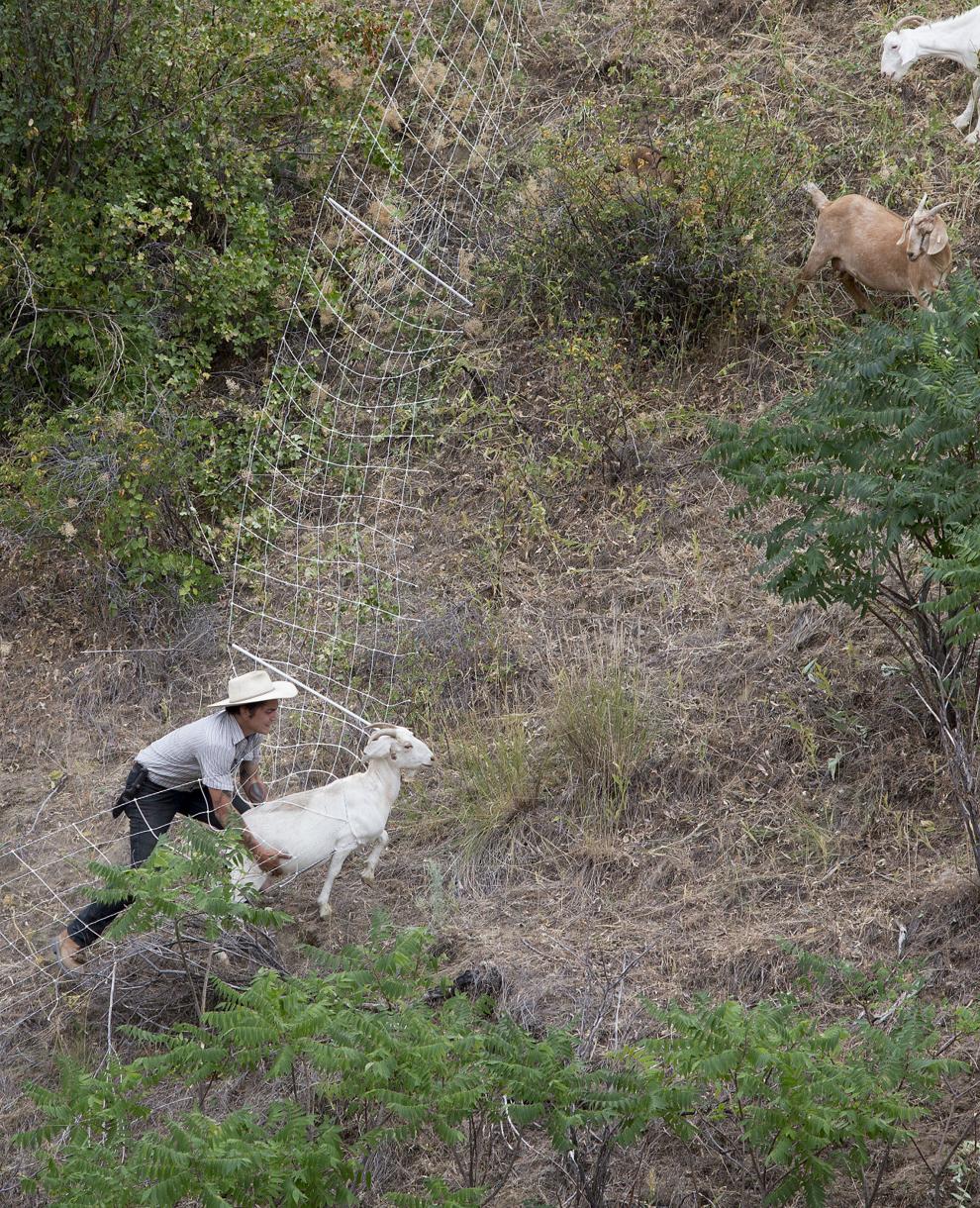 I'm glad I listened to my instincts to come back and see just what 300 goats looked like. I think the resulting photo gives a better idea how the goats will make a difference in the fire-prone canyon.
UPDATE: I went back on Wednesday, July 17, to see what the canyon looked like. I came back with this photograph.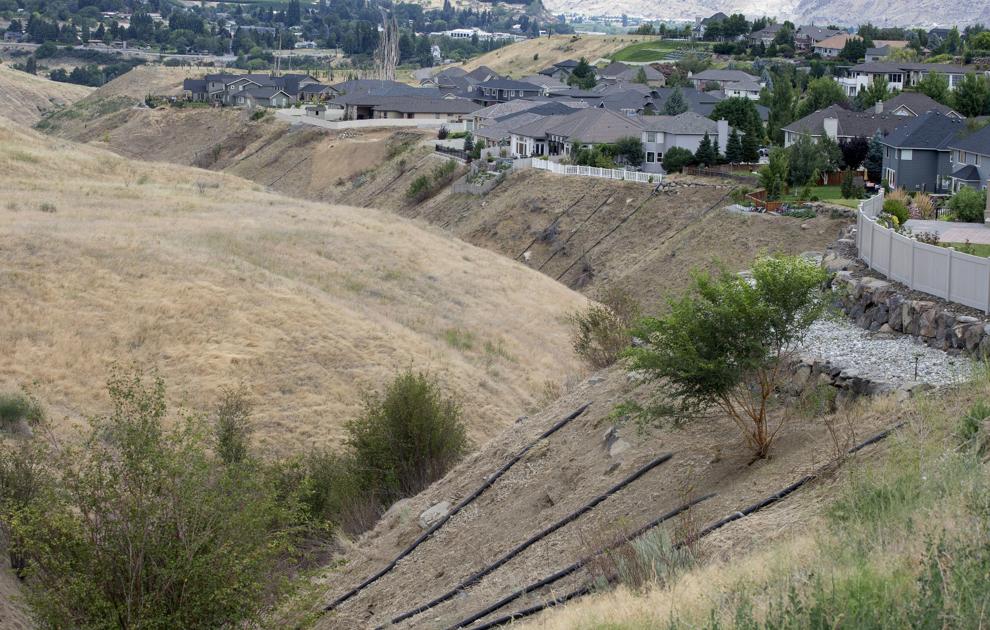 Ranch hand Todd Waite was still there as the goats worked on eating through the last section. He said with relief that he was heading home with the goats on Thursday.