And I thought my yard had weeds.
Fellow photographer Mike Bonnicksen mentioned Wednesday that he had seen the PUD's milfoil harvester traveling on the highway the day before so that led me to call PUD spokesperson Kim Craig to find out if and where the annual cutting was going on.
She quickly found out they were at Beebe Bridge Park and I headed up north to photograph the crew at work.
When I got there, the unusual looking machine, called an Aquatic Weed Harvester, was busy cutting weeds in the swimming beach area of the park while fishing boats were just downriver for salmon fishing. The season opened the day before.
I photographed Holly Lindsay as she maneuvered the harvester around metal pillars in the river protecting the beach but then she moved upriver a bit to an eddy that was full of weeds matted on top of the water.
I hiked up a hill to get a good view of what she was doing, wanting to show the volume of weeds she was cutting.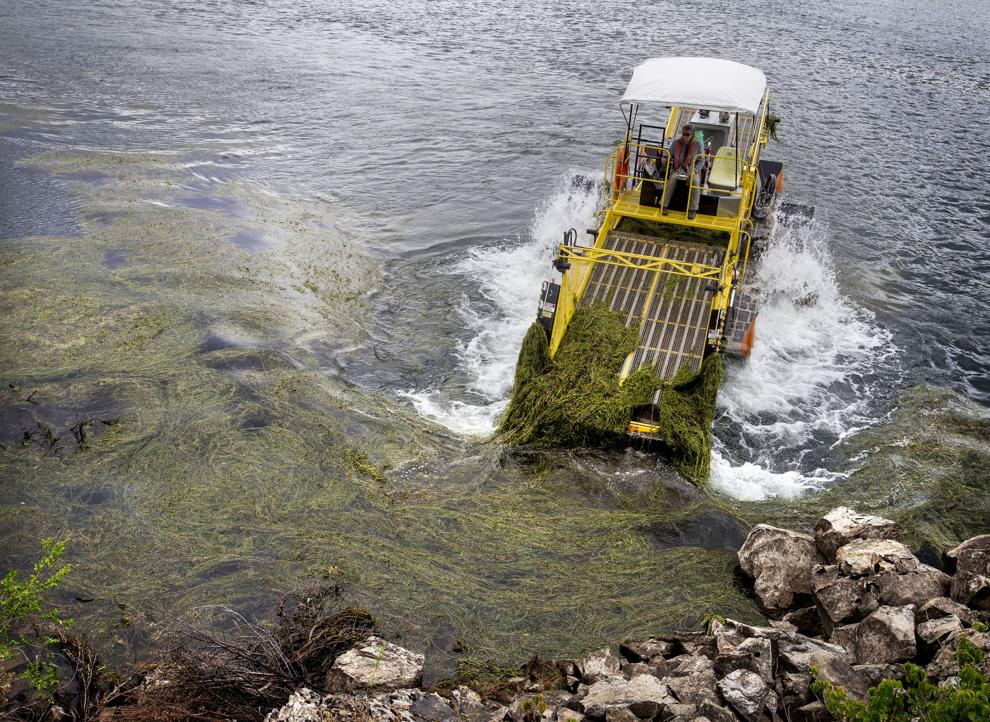 I liked the overhead view but was worried the weeds wouldn't show well on newsprint. I moved down to the water's edge to get a better perspective with weeds on rocks and floats in the foreground. This worked out well because the floats give the idea that the area is used for public swimming.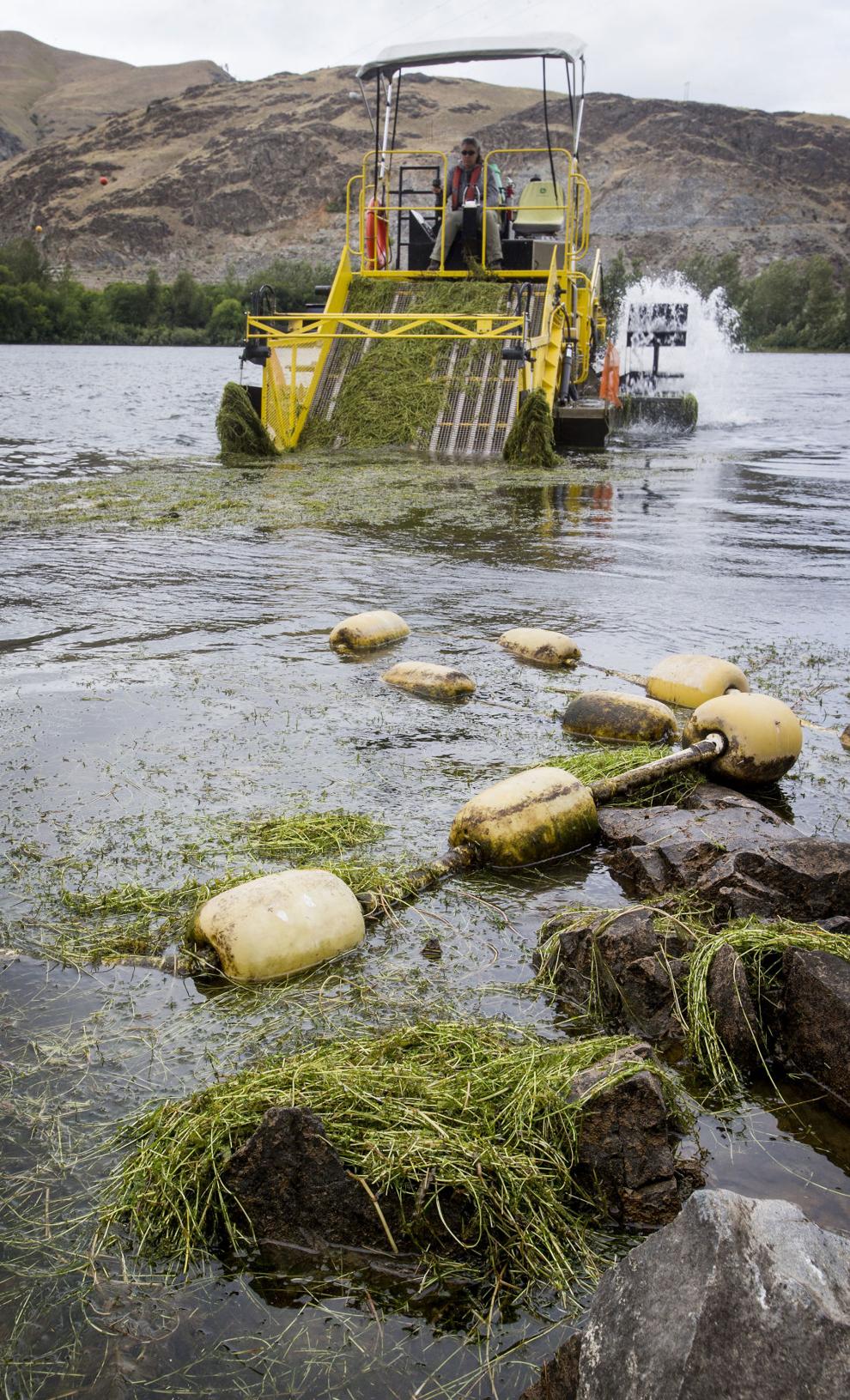 While Lindsay continued cutting weeds, I drove to the boat launch and talked to Gabino Sanchez who was in charge of getting the weeds from the harvester to a pile he was adding to in the park. He gave me some basic information on the harvest as we waited for Lindsay to drive the harvester to the launch. Once she got there, they had to wait as fishing boats used the boat ramp.
When it was their turn, Sanchez backed up a long trailer into the water and Lindsay pulled the harvester so it hung over the trailer. Lindsay started a conveyor belt that slowly dumped a 10,000 pound load of weeds – mostly milfoil – onto the trailer.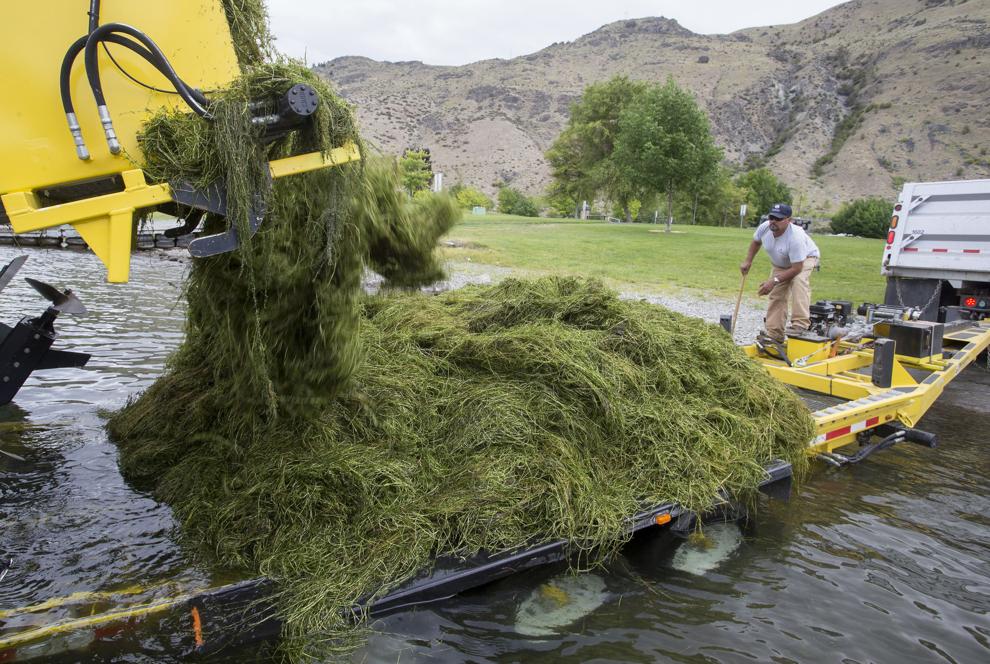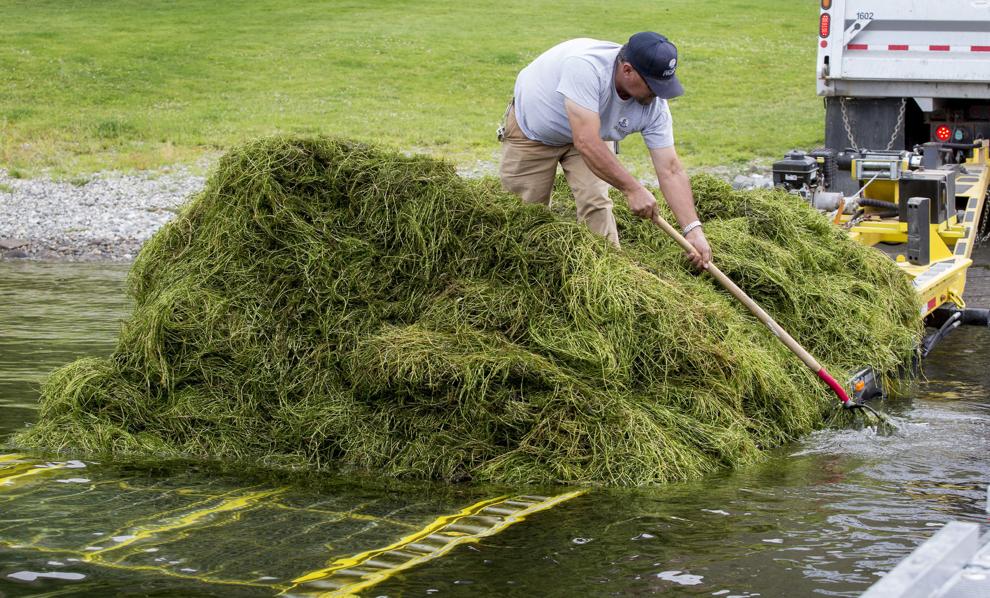 I was trying to tie in the fishing with the weed collection in a photograph but all I could get was the fisherman's reaction to the pile of weeds as Sanchez pulled his load up the boat launch.