I've been to three elementary schools in the last couple of weeks, covering assemblies and special events. One thing I've noticed while looking back at the final edit of photographs is that the more creative pictures need a supporting image to bring context to the photo story.
When the Reptile Man visited Abraham Lincoln Elementary School, I realized the children's reactions were a big part of the story. Whenever Scott Petersen would pull out one of his animals, excited — sometimes terrifying — screams would come from the kids seated on the cafeteria floor.
I attempted to capture a photo with an animal in the foreground and the students' reactions behind but there was too much space between them so I focused on a group of children who visibly showed their emotions.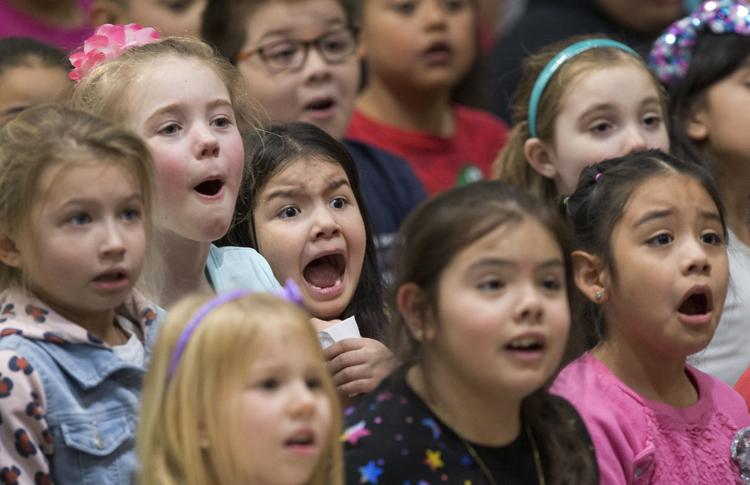 The photograph is what I had hoped for but without an image of a reptile, it lost its storytelling value. When Petersen put a lizard on Elyna Nguyen's arm, I waited while she turned for the moment I could see both her face and the animal. Elyna was conflicted in wanting to look at it but also didn't want to.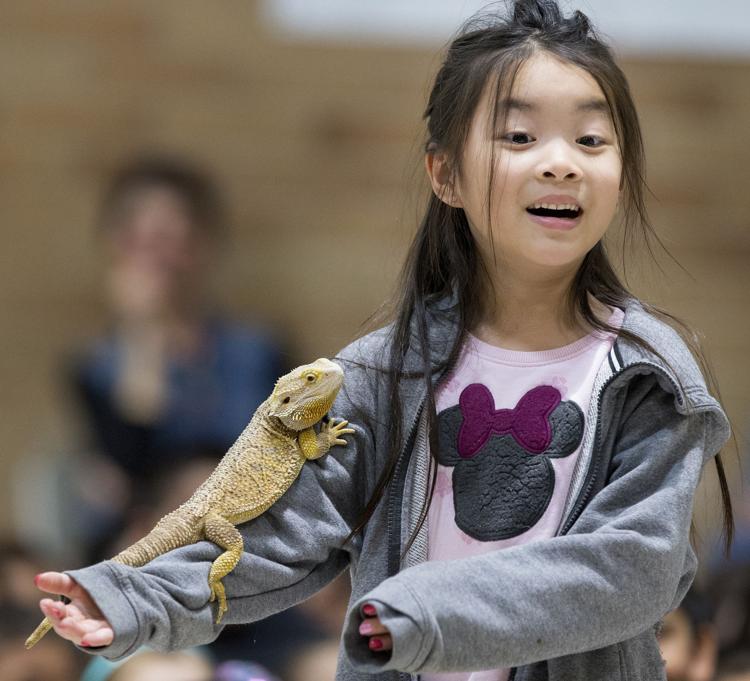 At an assembly at Vale Elementary School in Cashmere, I found James Hendrickson dressed as George Washington waiting for people to come listen to him talk about the first president at an annual Wax Museum exercise for third graders. He struggled to keep a salute, resting his arm on his hat.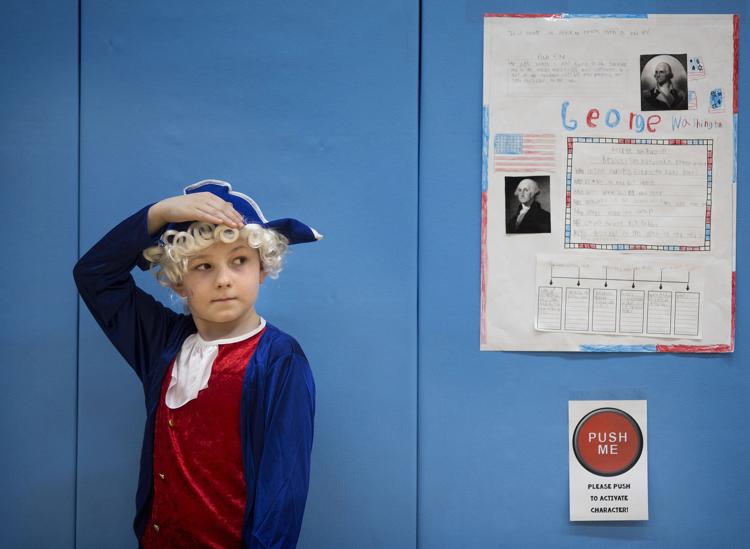 Shooting this photograph wide to show the "Push Me" button gave the image context to the story. It allowed me to photograph Ayden Gasbar as Sacagawea as a close-up portrait.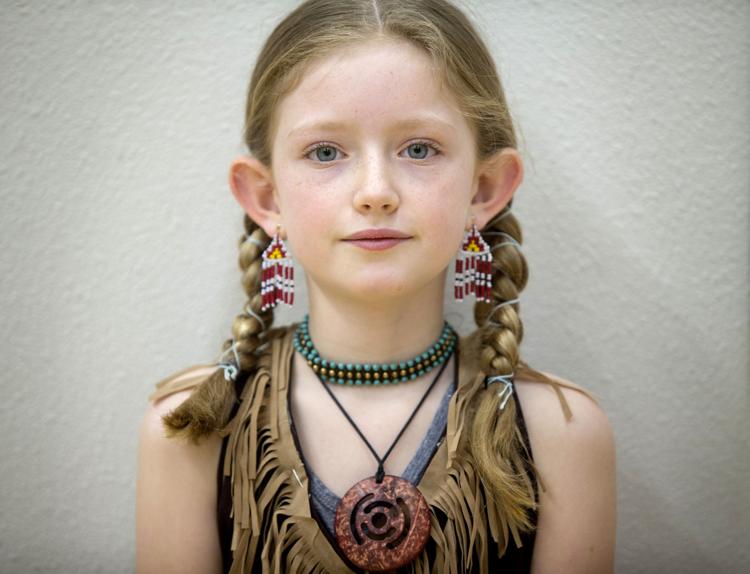 And on Monday I went to Columbia Elementary School for an annual Dr. Seuss reading. I picked Sheriff Brian Burnett to follow, thinking his uniform would help tell the story of community members reading stories to the children. I photographed him entering the room, ducking down to get through the doorway.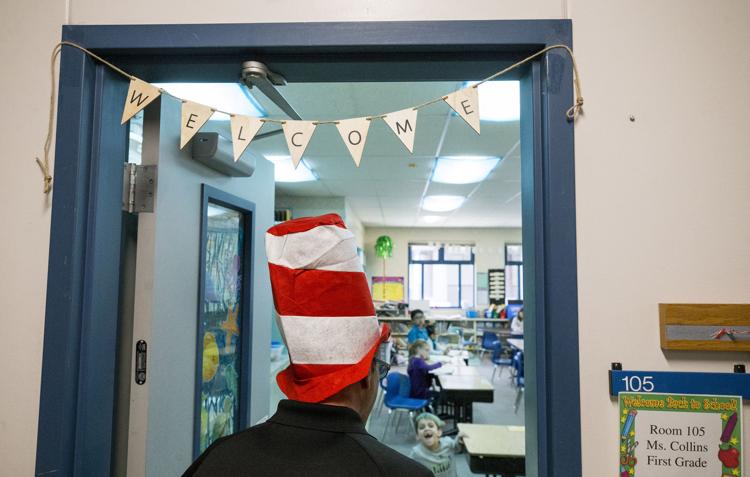 This had great elements to the photograph with the welcome sign, the sign at right saying it was a first-grade classroom, and the bright colors of the Cat in the Hat hat. But by itself, it couldn't tell the complete story of what was happening.
As Burnett read the book (and I'll say he is great with the kids), I was hoping there would be something in the book that tied into who he was. Fortunately, he got to the letter "P" and a policeman was featured and pictured.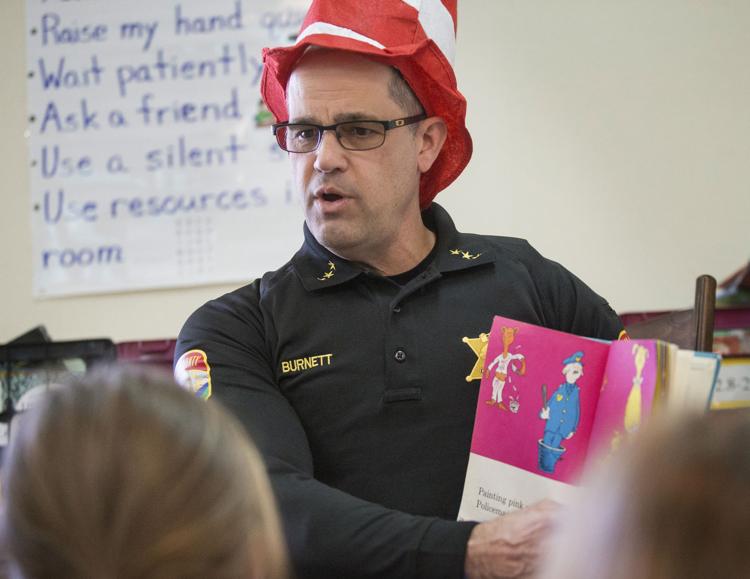 This photograph, along with one of a girl watching him read, finished the story.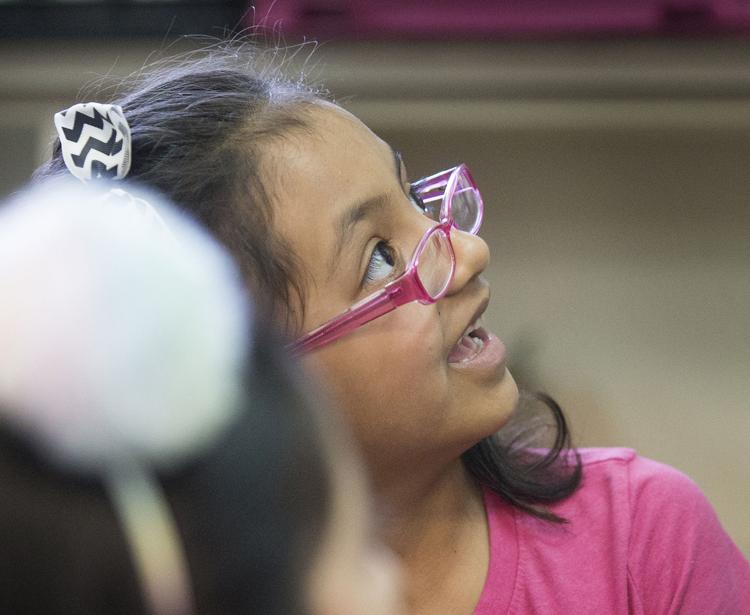 At The Wenatchee World, I've been blessed with editors who see the importance of giving space to photo stories so interesting, creative photographs can be used, along with the images that complete the stories we tell.