The newspaper received an email from a friend of Karlyn Mitchell's telling us about Mitchell's upcoming attempt at hiking up Saddle Rock on the one-year anniversary of her coming down with a paralyzing illness to her spine.
My first contact with Karlyn was a phone call to ask about any therapy she was undergoing before her hike. I then called Confluence Medical Center's Physical Therapy department to get the OK to photograph her there the following Tuesday, June 11.
Meeting her and photographing her during the therapy was important for two reasons: First to show a glimpse of what she had undergone to get to the point of being able to climb the mountain trail and second, to meet her, and get her used to being photographed before the hike.
At the therapy session, she worked with Dr. Patricia Collins using the hospital's Exoskeleton, a device that helps her improve her gait or process of walking.
She walked through the halls inside and the doctor suggested she try it outside for the first time. I like this photograph because it shows her using the machine and the care the therapist and her aide were giving her. I also like how the pillars outside the department frame the group and give structure to the scene in contrast to her tenuous walking.
The next week, I showed up to the trailhead expecting a few people who would walk with Karlyn on her trip up Saddle Rock. I was surprised when a crowd of 30 started in the parking lot and followed her as she slowly made her way up the trail using a walker. The photograph shows her intensity and set the scene as the group around her also hiked the trail.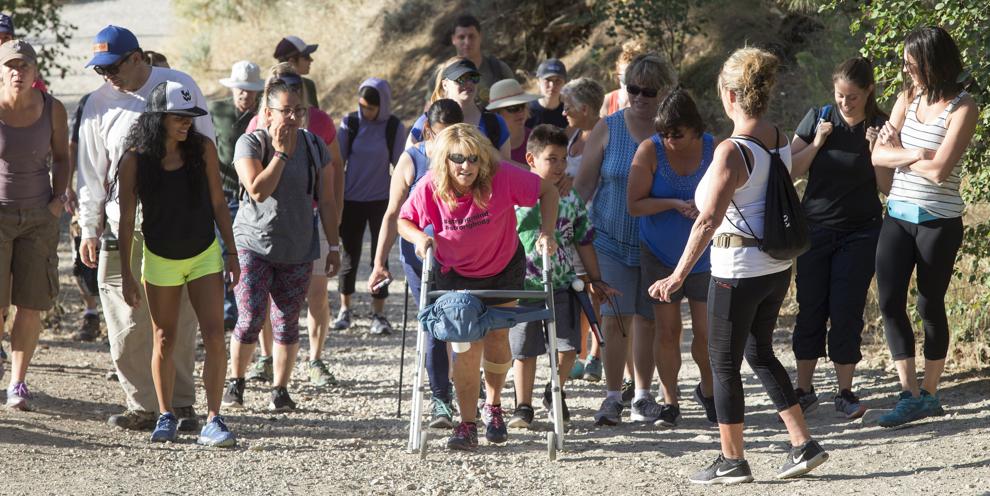 About 45 minutes later, she reached a point in the trail with a severe grade and rough footing. It would be her stopping point and when she turned to the people and told them she was finished hiking, they gave her an ovation. This was the moment I had set out to capture with my camera — the iconic mountain behind her as she faced the morning sunlight, people around her applauding.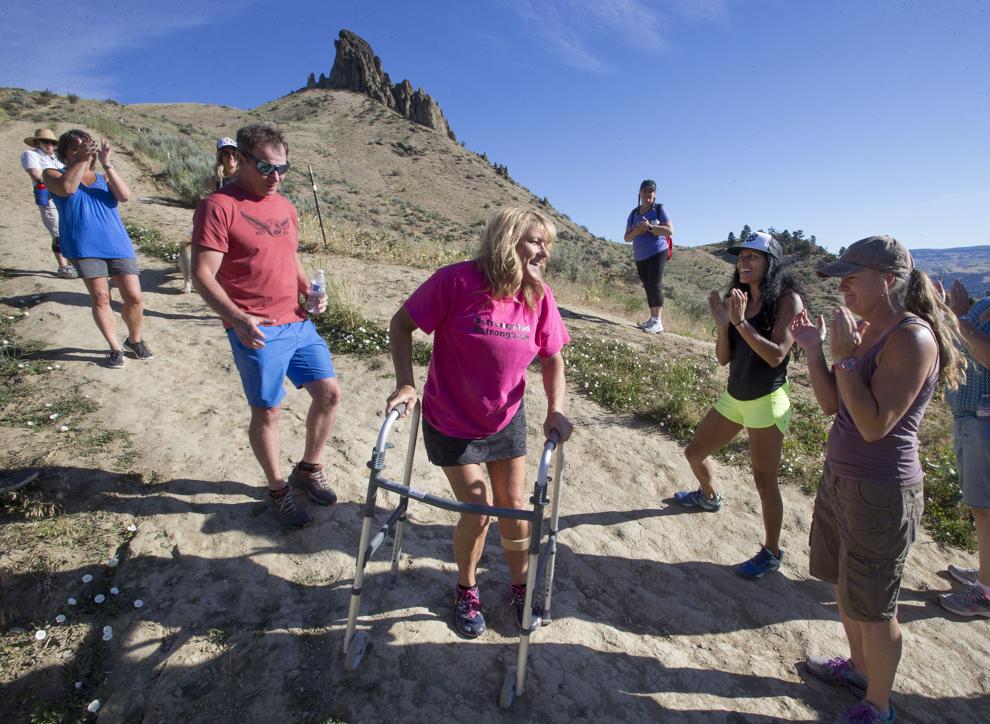 The ending photograph would come as she finished her hike and celebrated with champagne. This is the image of the person who achieved one of her important recovery goals. Turning to her friends with champagne in one hand, the walker in the other, parked in a handicapped spot, with Saddle Rock in the distance, she shouted out a strong hurray!