A defining part of a photojournalist's job is that we are consumed with capturing moments in time that tell a story in an interesting way. Planning, intuition and anticipation are the tools I use to be at the right place at the right time.
Reporter Pete O'Cain was working on a story about the Chelan County Fire Department's move to its new station a couple of weeks ago. I had photographed the move of the historic fire bell earlier but this was the move of everything needed to respond to fires from the new location.
Photo gallery: Historic bell moved from fire station
Photo gallery: TW Clark Construction moved the fire bell from atop Wenatchee's historic fire station Wednesday. The bell was moved to the new station on Wenatchee Avenue where it will be on display when it opens later this month. The bell weighs 1,100 pounds and is 32-inches wide at its base. It has a date of 1909 stamped on it as well as "Meneely & Co., West Troy, N.Y."
I arrived at the old station on Chelan Street as movers, firefighters and firefighting trainees were packing up boxes and taking stuff to trucks to be moved to the new North Wenatchee Avenue station.
One of the first things that caught my eye while looking around was a firefighting dummy used in training. It was laying on the ground but being ignored by the movers so I shot this photo and put it in the back of my mind to hopefully be there when someone was moving it out of the building.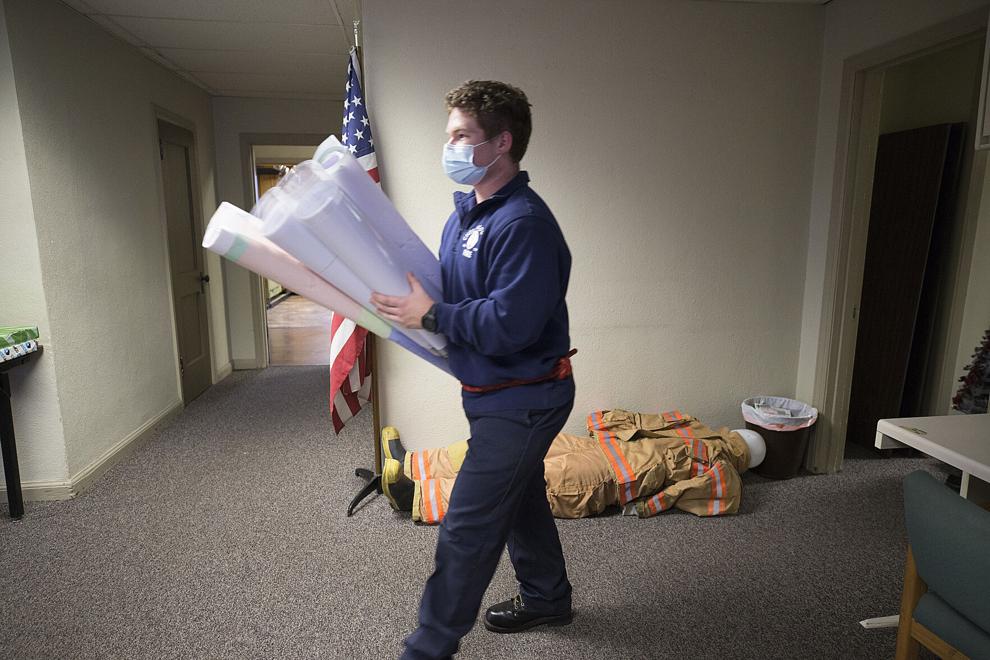 I walked into the kitchen and noticed how outdated everything was, so I hung out there until a crew of trainees was told to pack up everything in it. The volunteers were dumping kitchen gadgets from drawers into a cardboard box and I positioned myself to capture this with the old stove in the background. The firefighters had mentioned to me earlier how much they were going to miss this stove and the grill on top.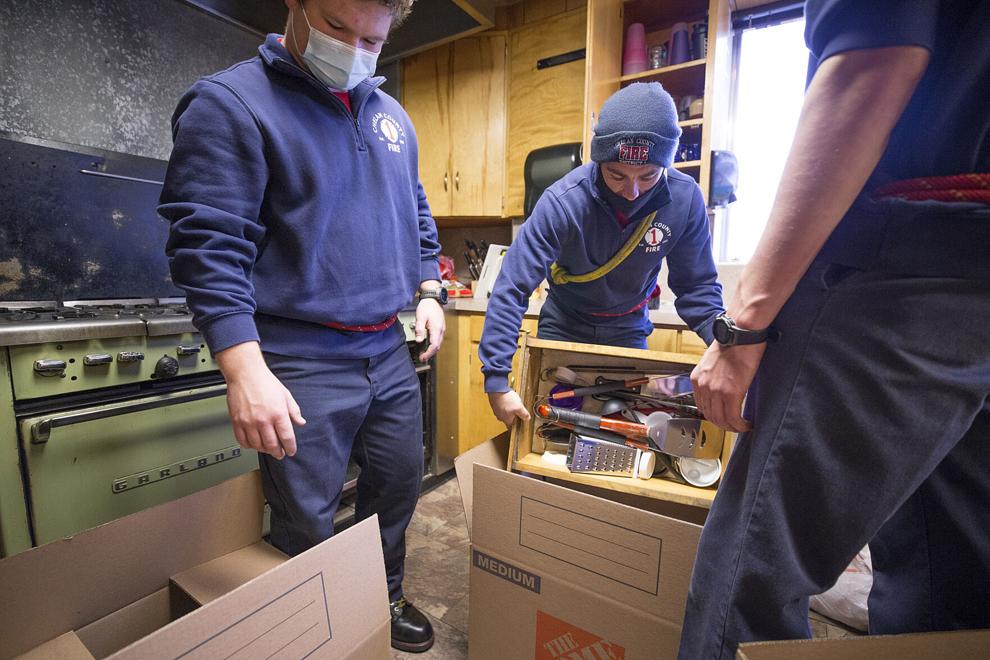 I decided to head to the new station. Not much was happening when I arrived but after a time the fire chief showed up in his truck and began moving supplies into the building. He had parked right in front so it was a chance to get a photograph of the exterior. When he pulled out maps of the county, I stayed back to shoot an overall.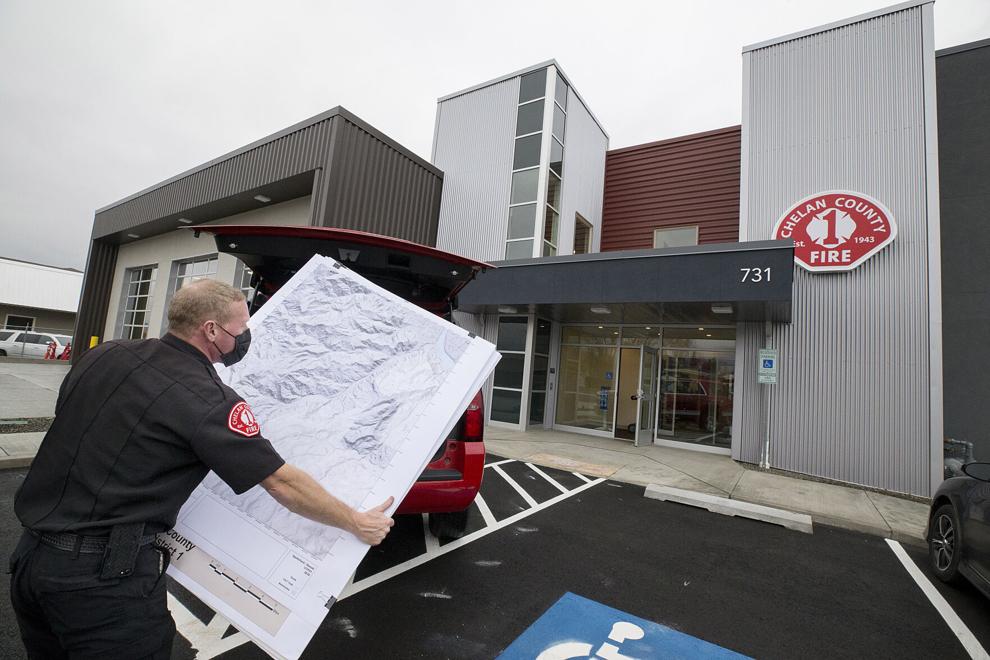 I spent nearly an hour waiting there for the moving people to arrive but when that wasn't happening, I headed back to the old station and was there when that training dummy was moved out.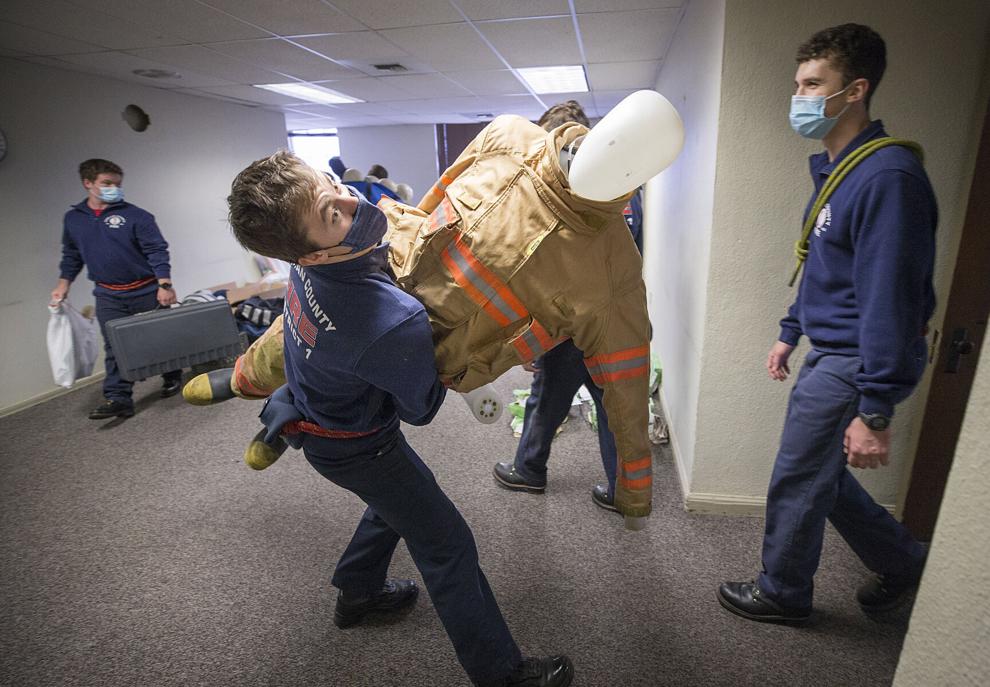 I saw Sparky in the truck bay window and waited for a moving person to walk by in the background with a load.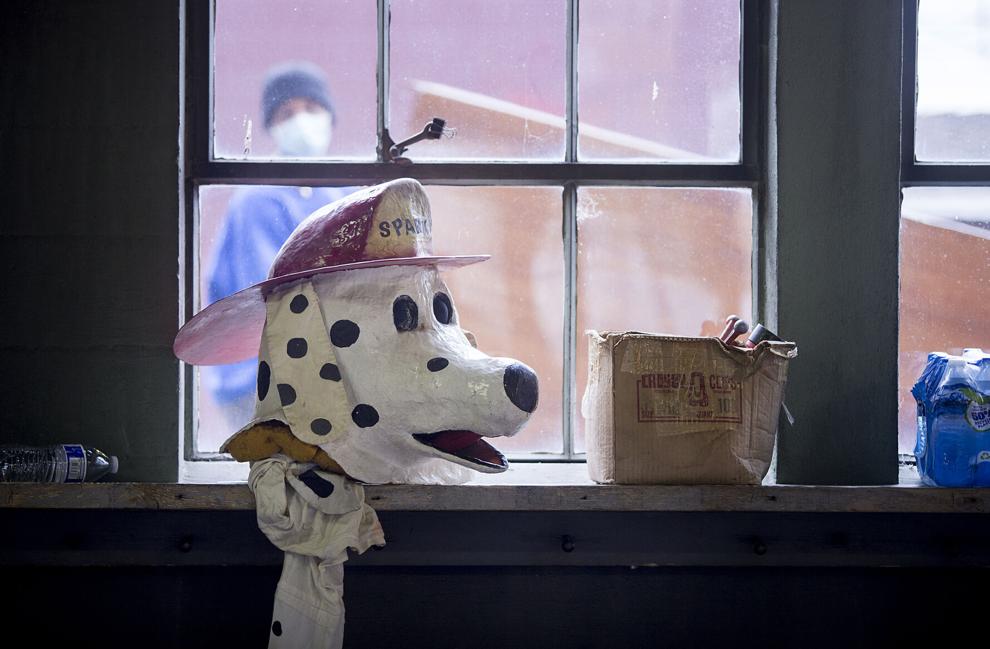 The hose-drying tower caught my attention and I climbed up the stairs, set my camera on all manual modes — including focus — and held it out over the center opening. I waited for someone to come underneath moving something and was blessed when a mover pushed a file cabinet directly underneath me while taking it to a truck. I thought it looked like an M.C. Escher drawing I'd seen in college with the spiraling stairs on the outside edges of the frame.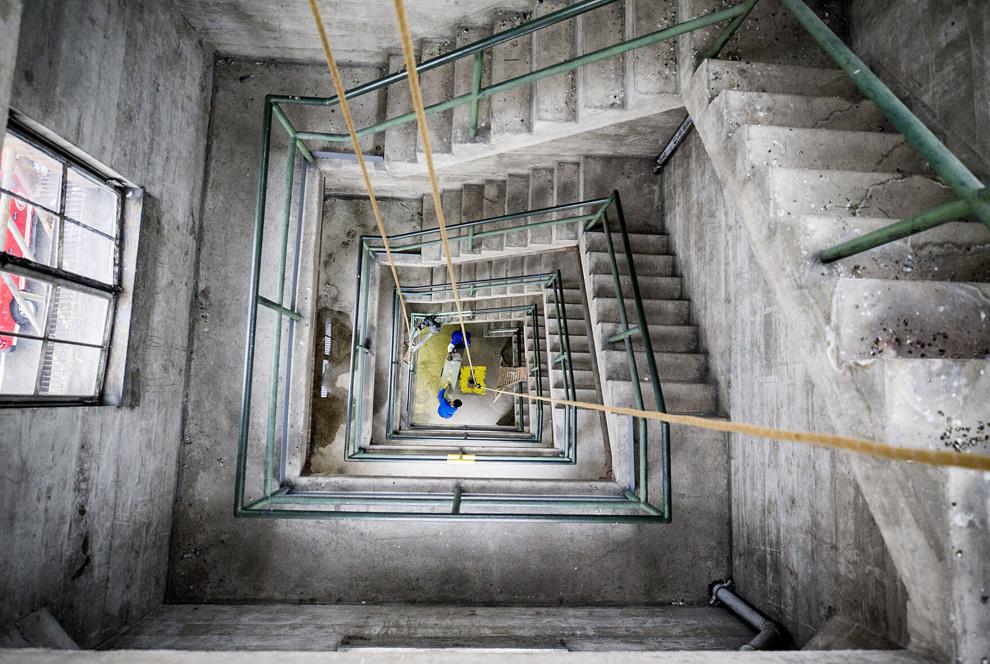 I hadn't captured an image of the exterior of the old building that would work good in a layout with the new building so I found a good spot to wait for a mover to descend the exterior stairs.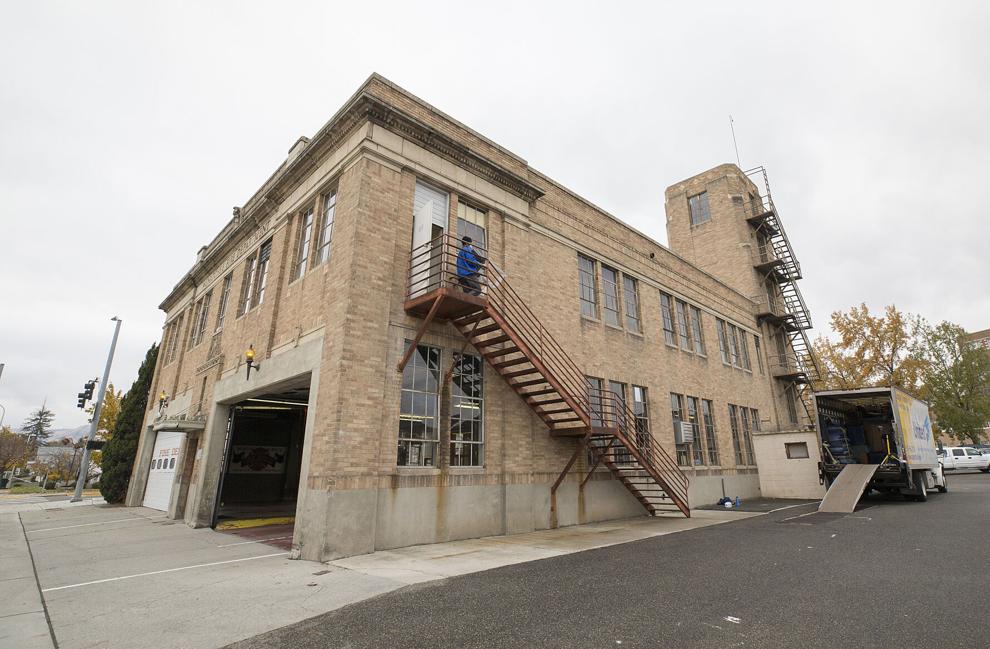 Because nothing was happening inside the new building on my earlier visit, I headed back there after lunch. I found a fire crew installing window shades inside an office but still needed something to happen in the new engine bays.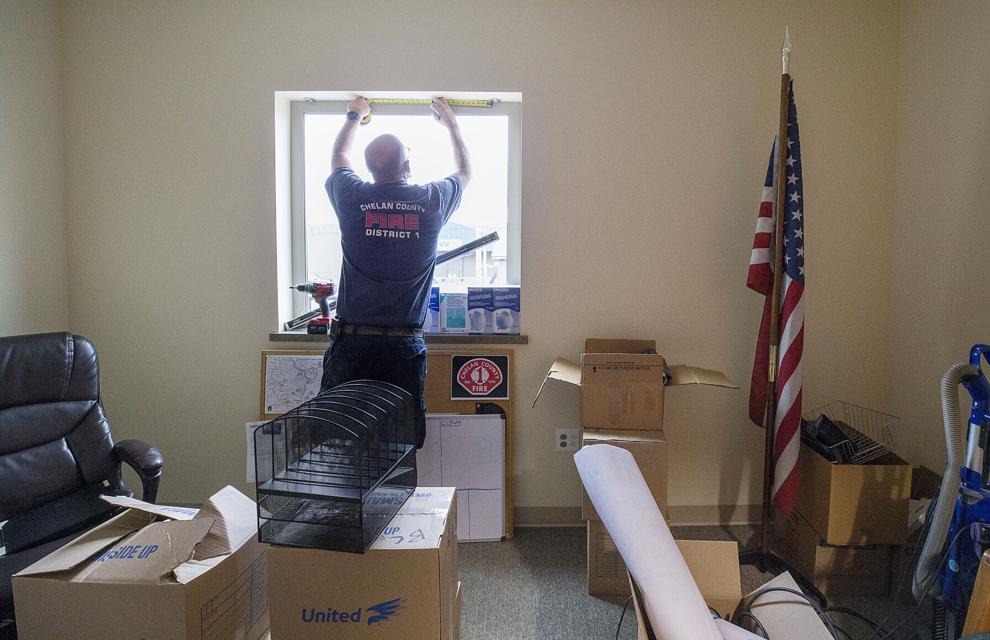 Eventually, movers came and hauled equipment cabinets to spots on the outer edge of the big garage, having to cross through the center of the building.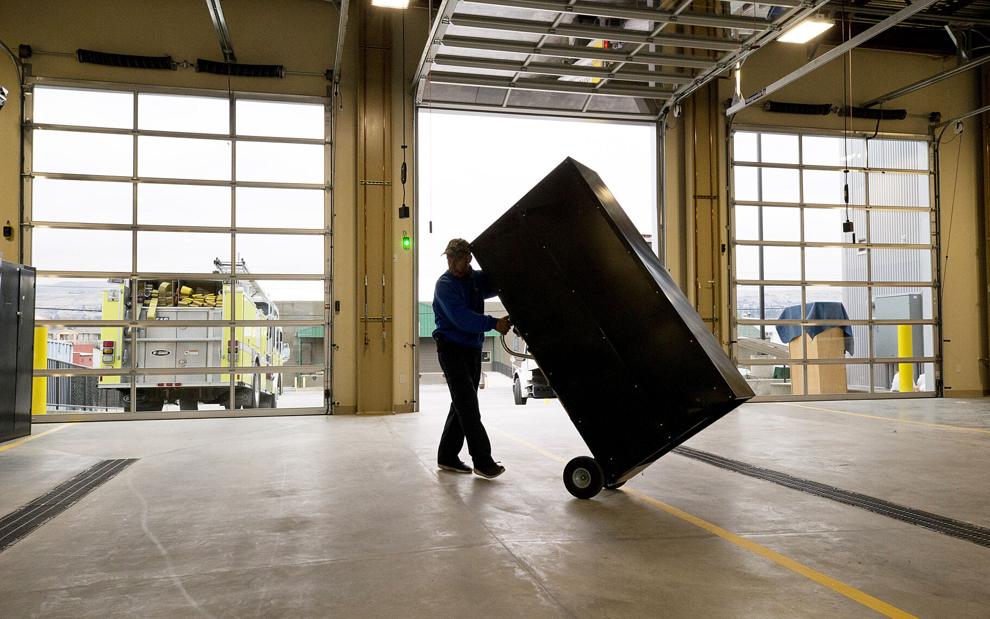 I'm sure there were many moments that were missed but I think I came away with some interesting, storytelling images of the move.