Looking back over a year's worth of work is a daunting challenge. With thousands of moments I've seen and been able to capture with this thing called photography, it makes me nervous to say, "these are my best." I know there are many more stories and people and interactions I've made that I wish I could include, but our time is valuable, and so here are 36 of those chosen glimpses of life in the Wenatchee Valley. I've written a paragraph after each image for context.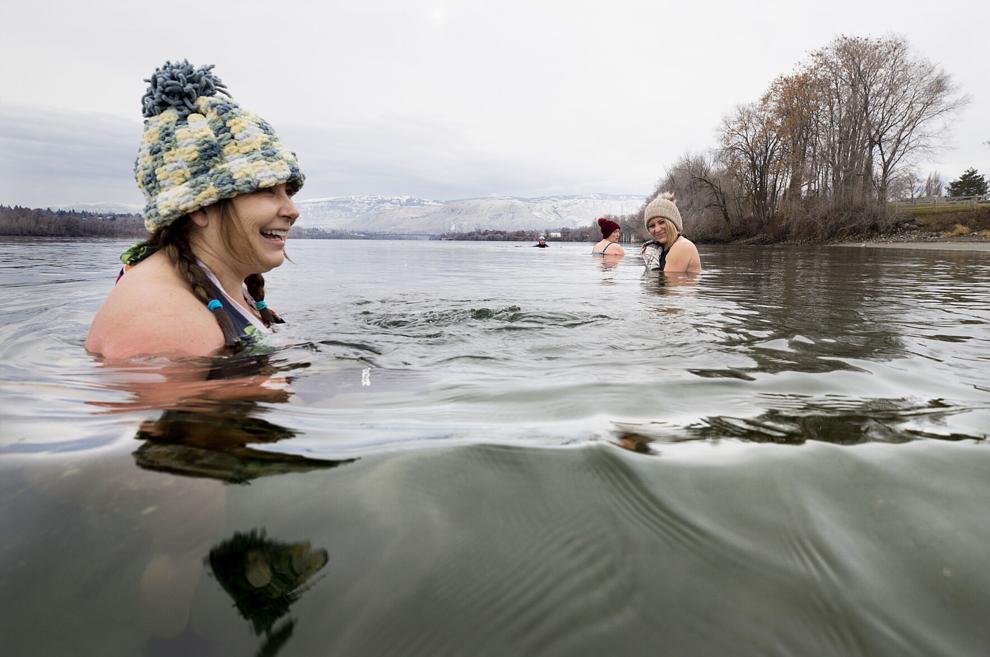 I approached this story at the start of the year ready to get cold and the Columbia River didn't disappoint! I'd been to numerous Polar Bear Plunges in the past, but the women who walked into the Columbia River didn't quickly run out. They stayed for many minutes talking about what they had going for the rest of the week. My teeth were chattering and my legs were numb as I trudged out to my towel.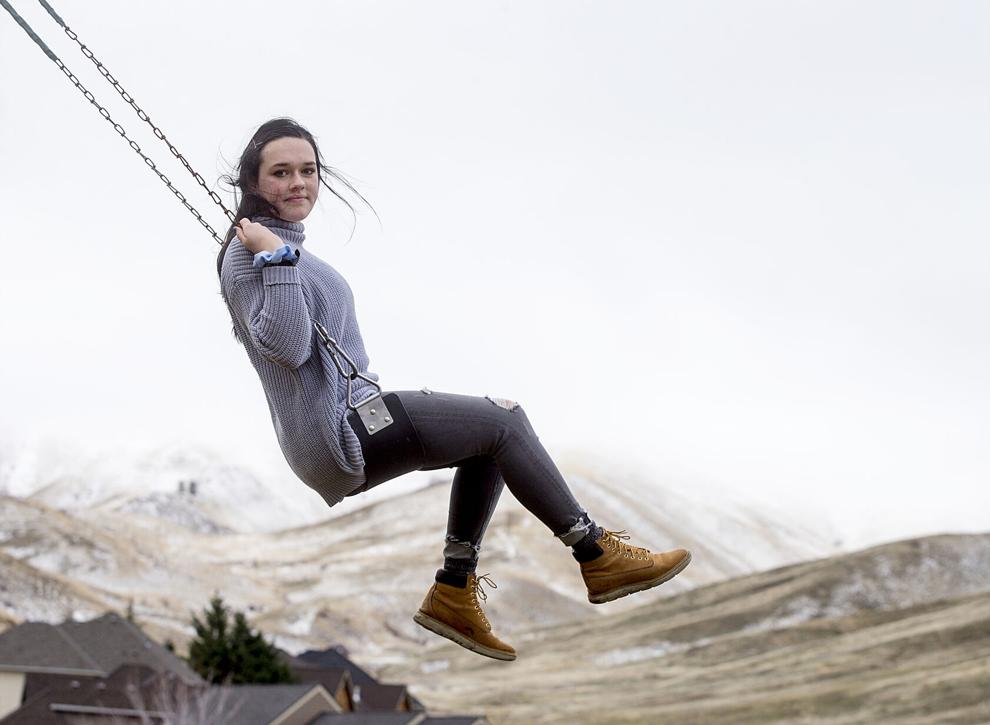 This large swing had caught my eye before while driving through the Broadview development. It sat in the backyard of a house, sending you out over the side of a hill. I'd hoped to photograph the children in the house using it. I was surprised when I met Kamryn at her home — the same home with the swing. As a documentary photographer, I can only tell people what I'd like them to do in a portrait situation so I had her use the swing while looking back at me.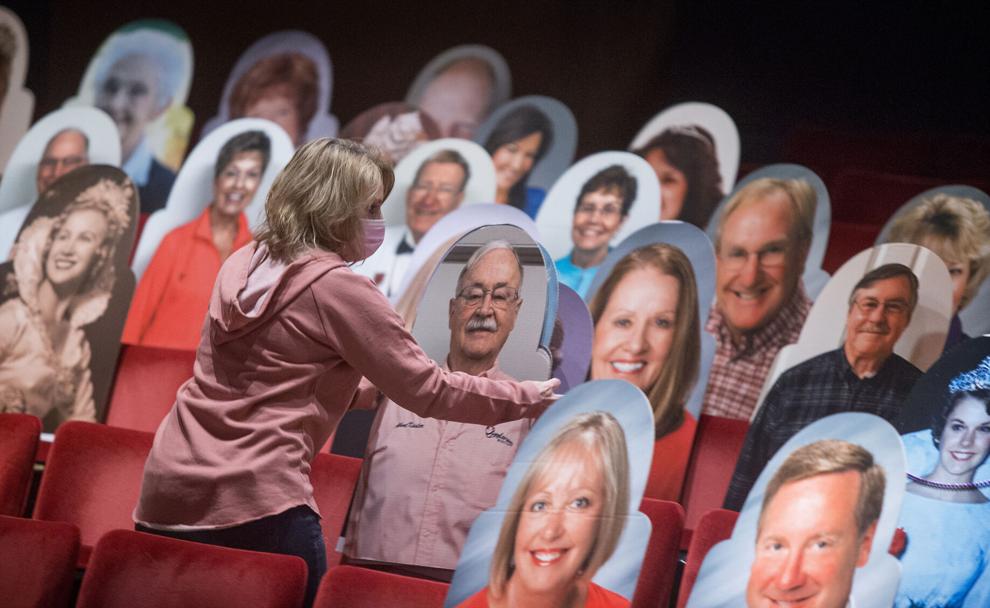 When I learned that the cardboard portraits would be moved to accommodate live spectators, I found a spot from the PAC's balcony to photograph Darci collecting them from the seats.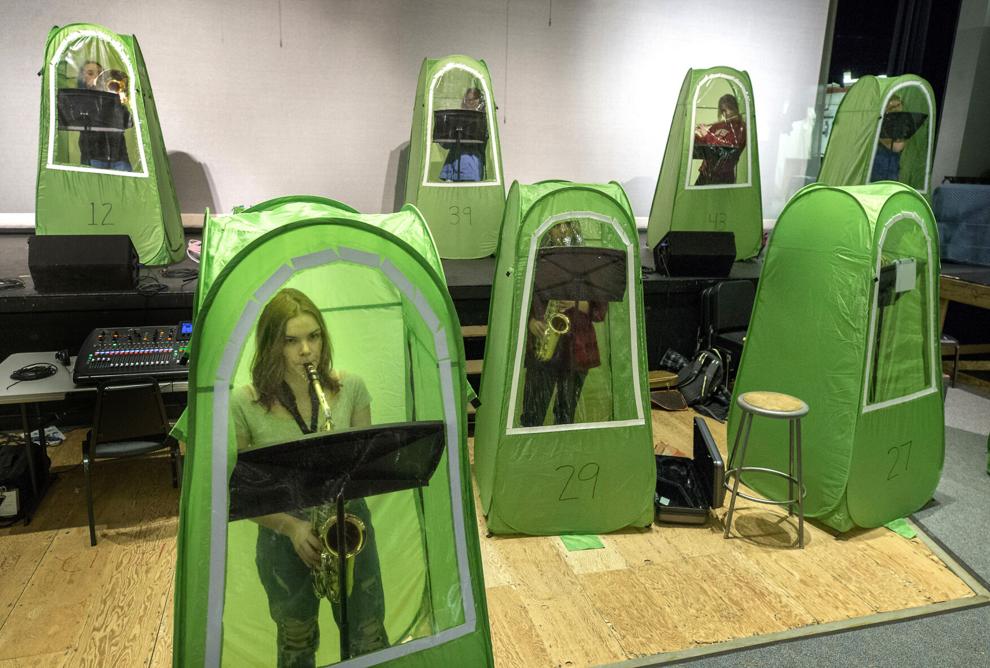 While taking a tour of the high school, photographing what it was like with students back in classes, I noticed the green tents in the auditorium and found out when they would be used next — during a band practice. I returned to find band members getting themselves and instruments inside to play. The resulting photograph received international attention.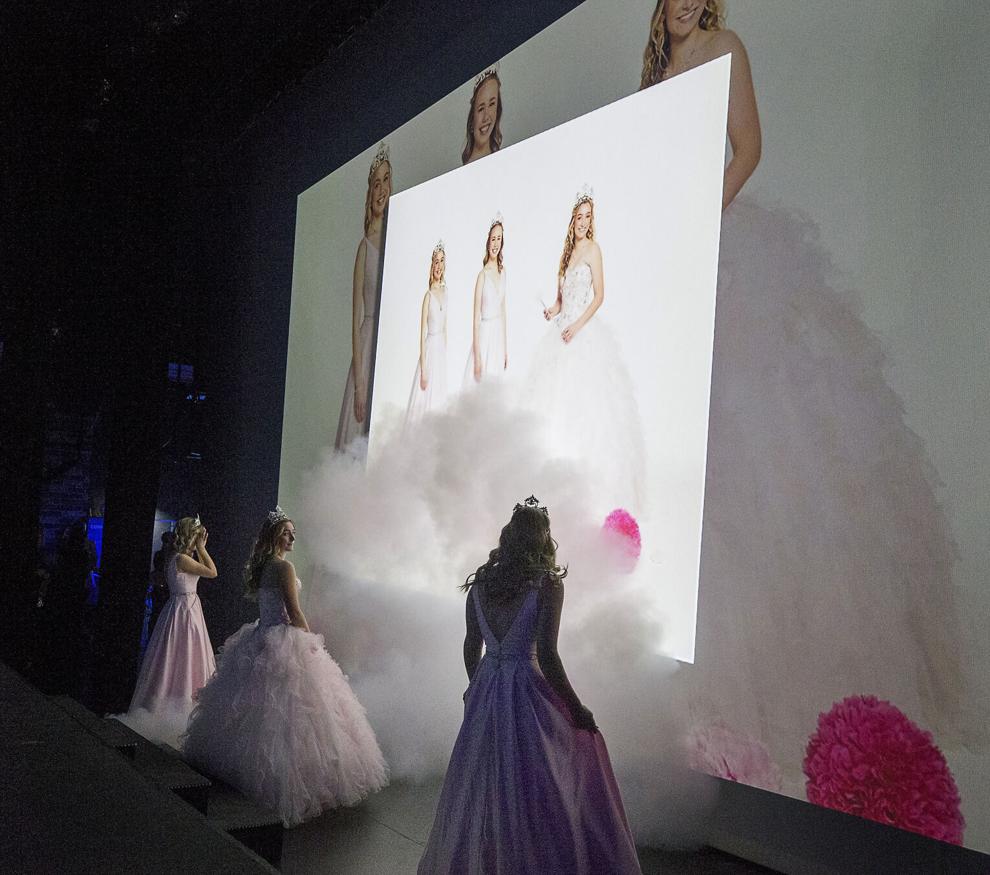 I like to spend some time photographing what happens backstage during performances and found this scene as past royalty prepared to take the stage. The see-through screen used at the theater is about as clear from behind as it is from the seats.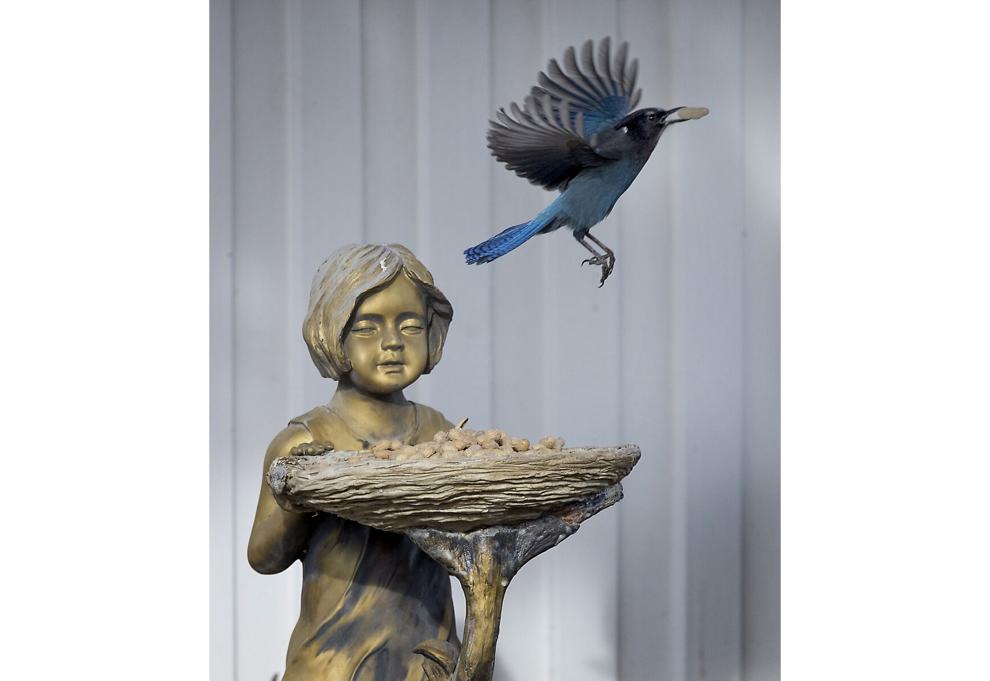 Driving around residential Cashmere, I spotted a jay eating peanuts from yard art. I shot the photograph from inside my truck, timing the shot as the bird flew away, peanut in beak. Having the simple background helped isolate the bird and statue.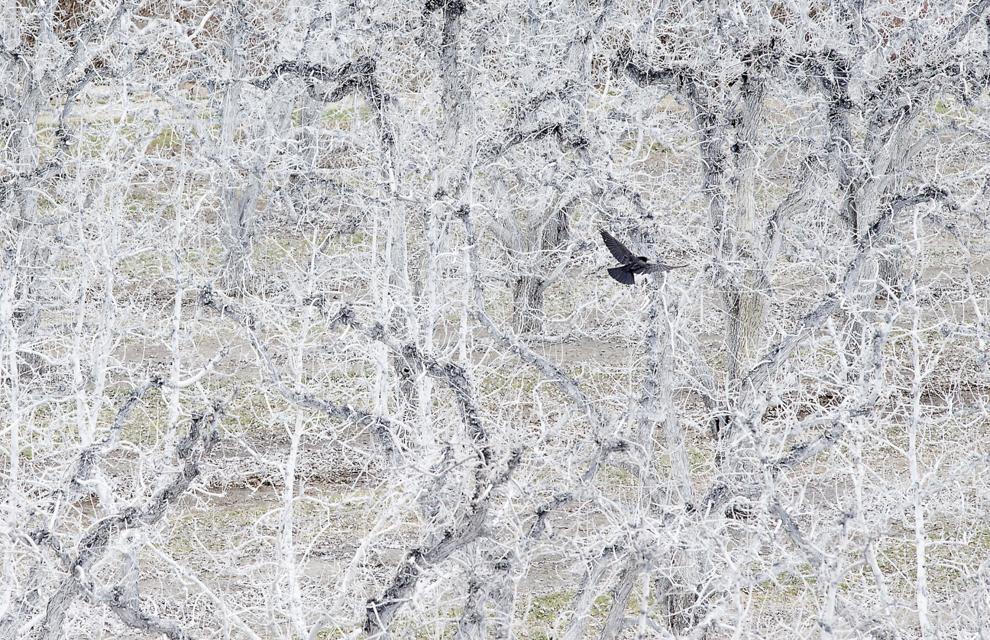 I've wanted to photograph the stark orchards after they've been sprayed with kaolin for some time but needed an element of contrast to show how white the trees look. I noticed a flock of crows near an orchard below my viewpoint along a road and followed one as it flew over.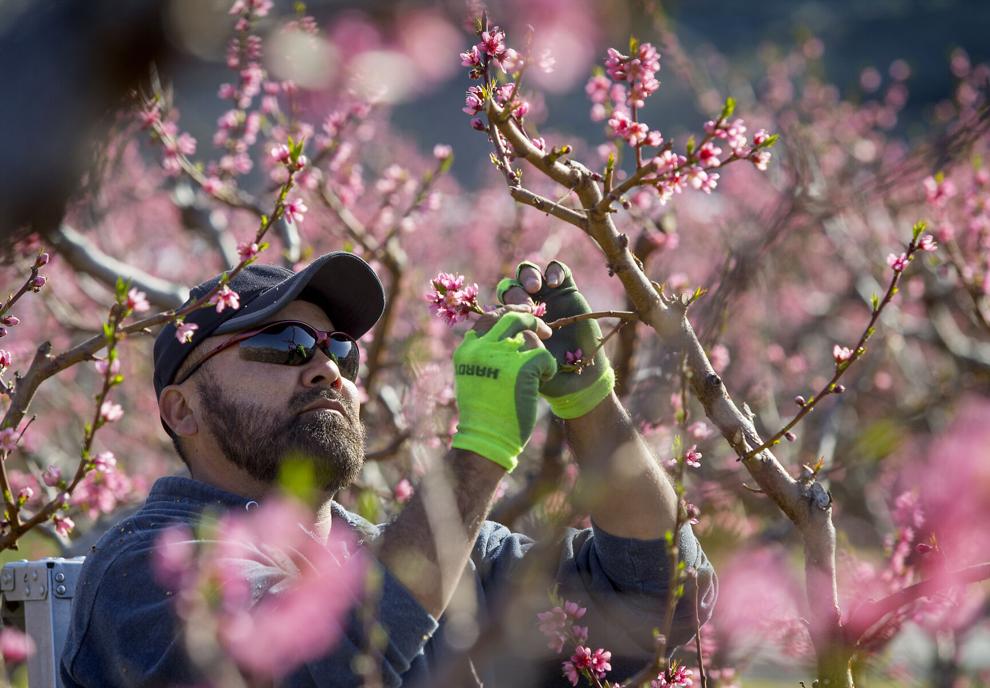 A ladder provided a higher vantage point as I followed a crew of blossom thinners as they worked through an orchard. The backlighting of the flowers made the colors pop out.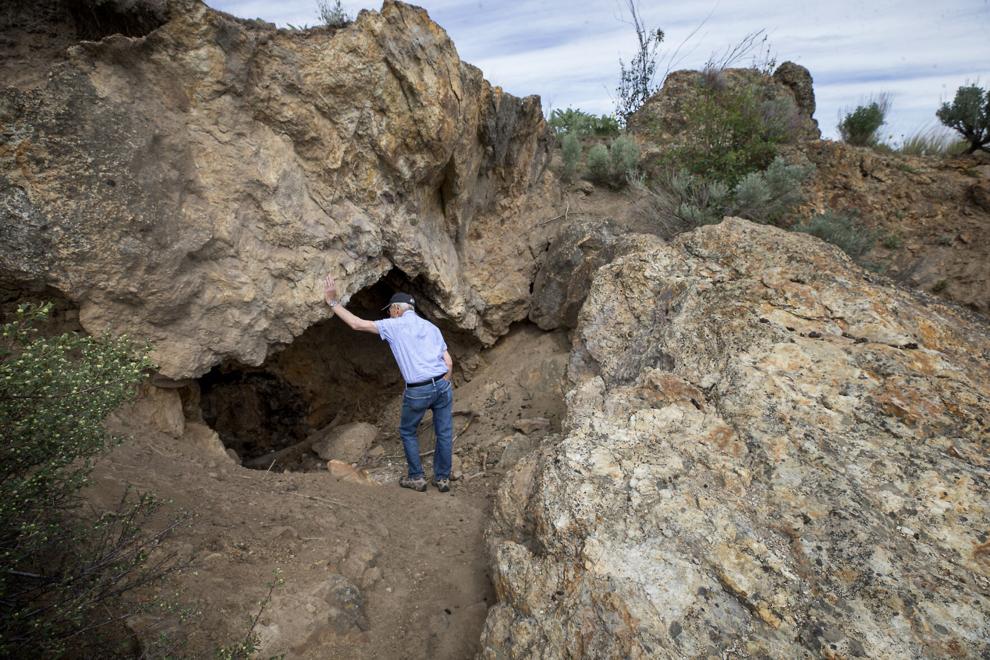 I went hiking with Jim and a friend of his last April as he used a divining rod to show me where mineral deposits were in the hills overlooking Wenatchee. He stopped to show me this old test site and the rock that was blasted from the ground. After years of investigating mining in the area, he is still interested in exploration.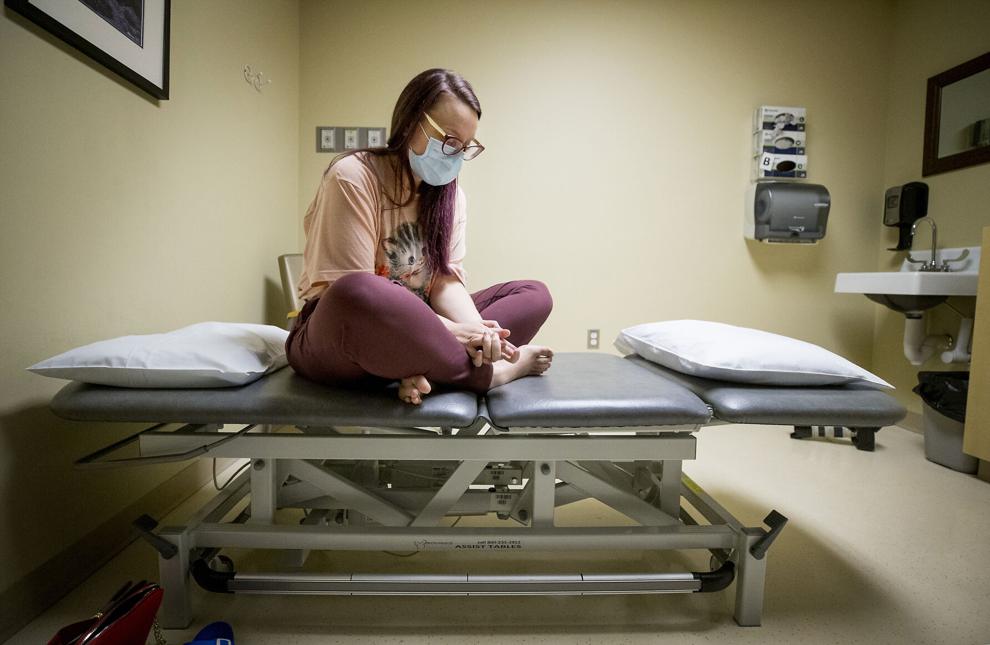 I've known the Blair family for many years and while talking to Katie's father, found out that she was going through health issues that resulted from COVID-19. Katie allowed me to spend a couple of days with her at home and then at a physical therapy appointment as I documented just a part of what life has become for her.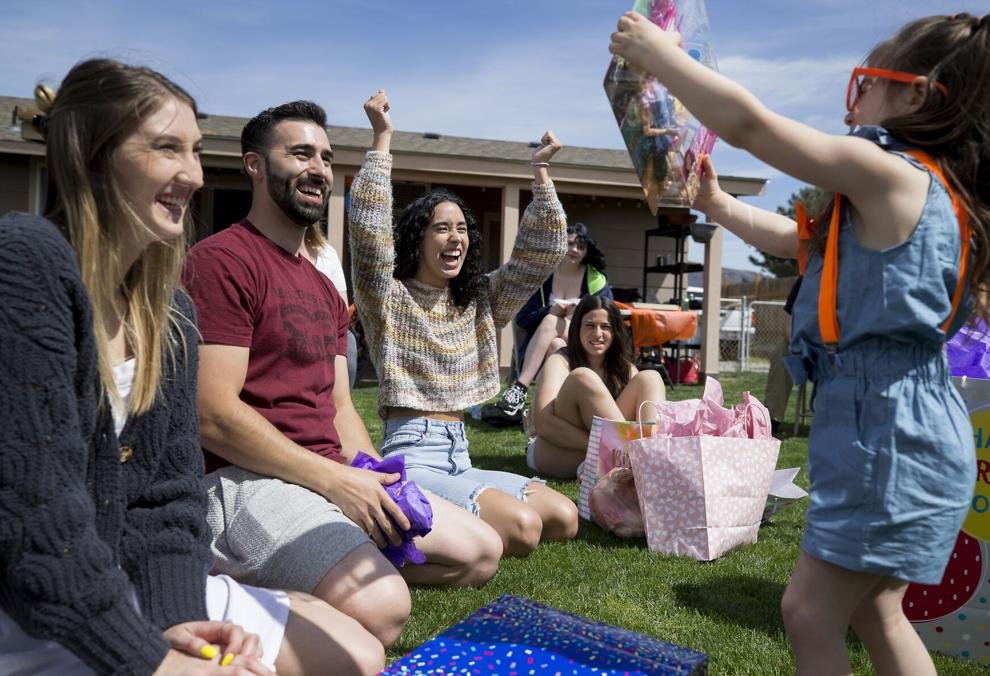 A closer look at the life of the Apple Blossom Queen has been a feature since I followed Darci (Henke) Christoferson in 1985. This year's queen Brooke Perez told me family was an important part of her life so I joined her at a birthday party in May. It wasn't until I heard someone at the party say in a normal year, they would be watching Brooke in the grand parade that I understood the importance of the day.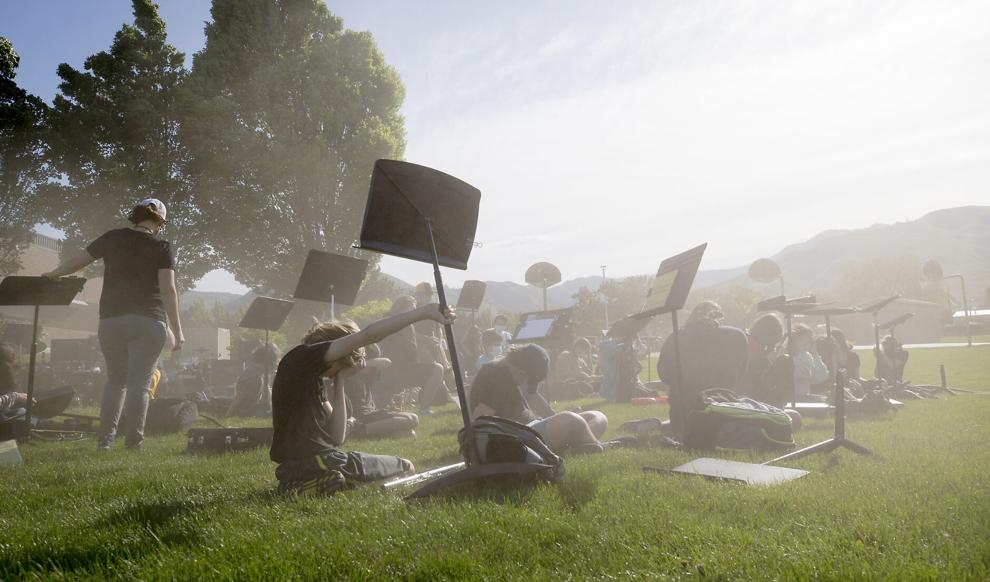 This was going to be a photograph to show how the music departments of Wenatchee middle schoolers worked together during COVID, but when a huge gust of wind blew through, I grabbed a camera and shot without looking as the kids braced themselves.
I had been looking at this scene for months as fences were built separating rows of houses from each other. I anticipated parents buying a trampoline and their children bouncing above the fence line. On one of my drives by to check on it, I saw instead a playhouse had been erected. After photographing the children playing, I went to the house and introduced myself.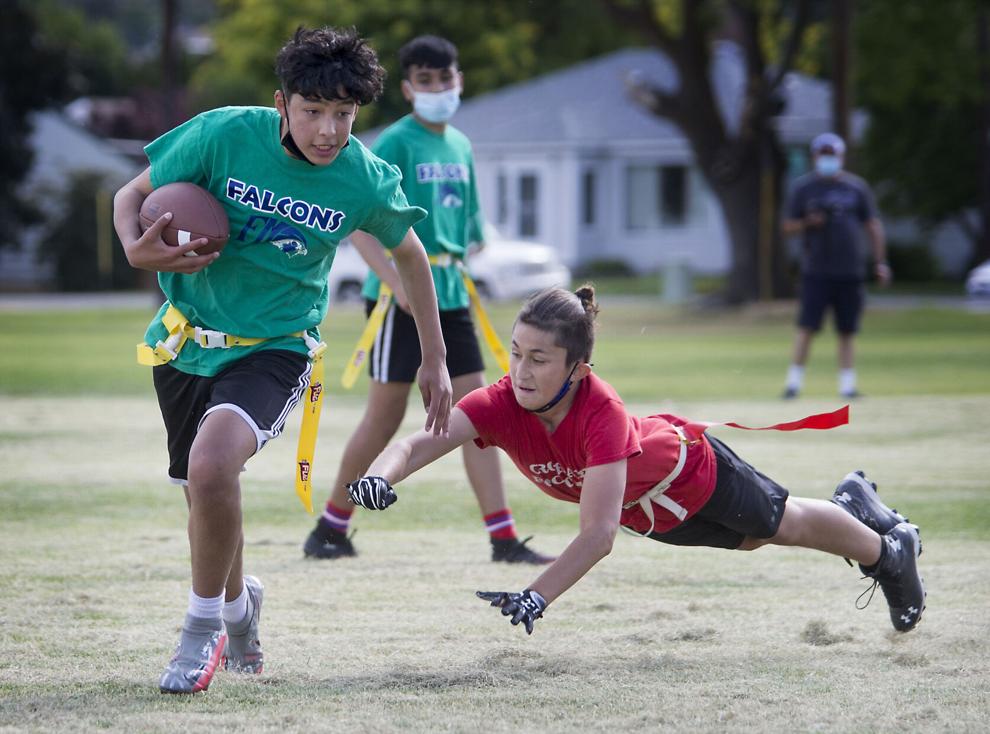 A multitude of middle school kids playing flag football caught my attention and I stopped to talk to parents about what was going on. This photograph captures the intensity of the games.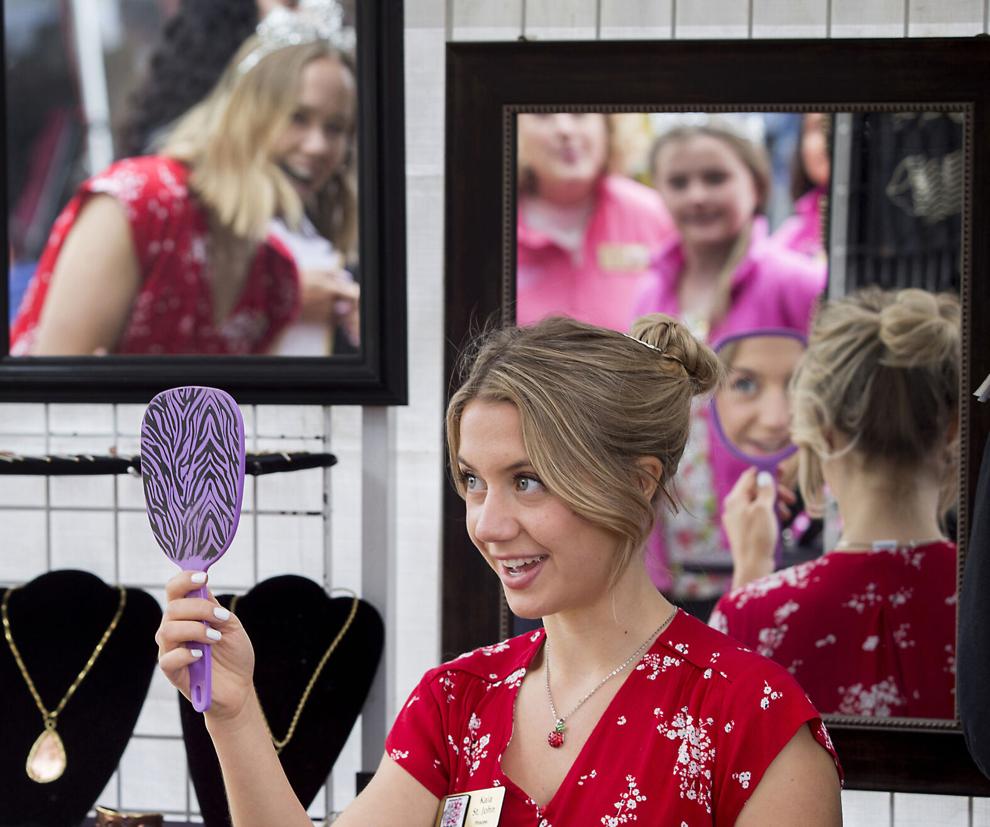 I was looking for a feature photograph of the past two years of royalty as they explored the Arts and Crafts Fair. The girls seemed enthralled with this booth that was selling hair combs. I found a spot with a few mirrors in the frame and waited for something happening in each one.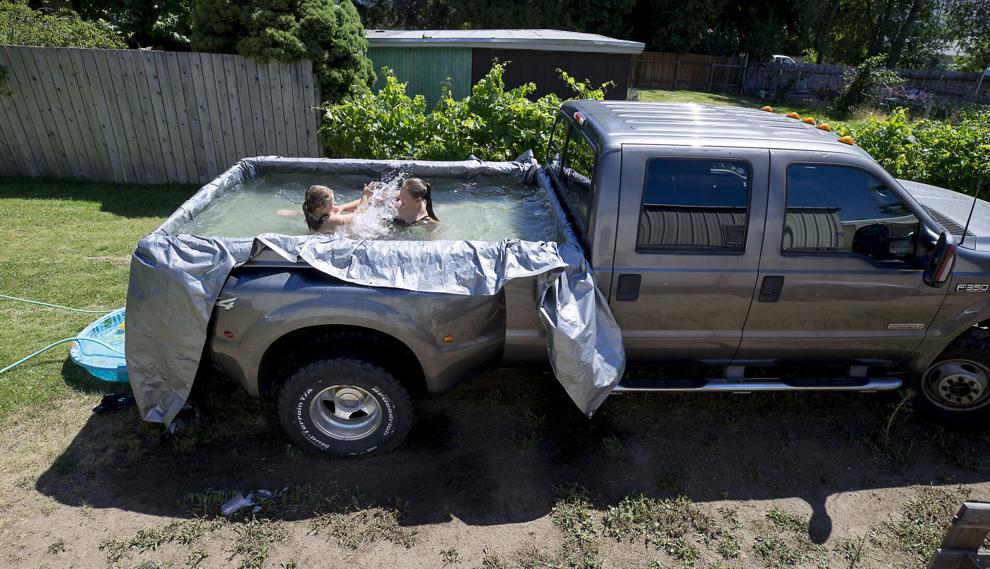 A post on Facebook made by some friends mentioned the truck and homemade pool that one of them had put together. I arranged to be at their house when they got in for a "swim." The photograph fit well with the heat wave the Wenatchee Valley was experiencing.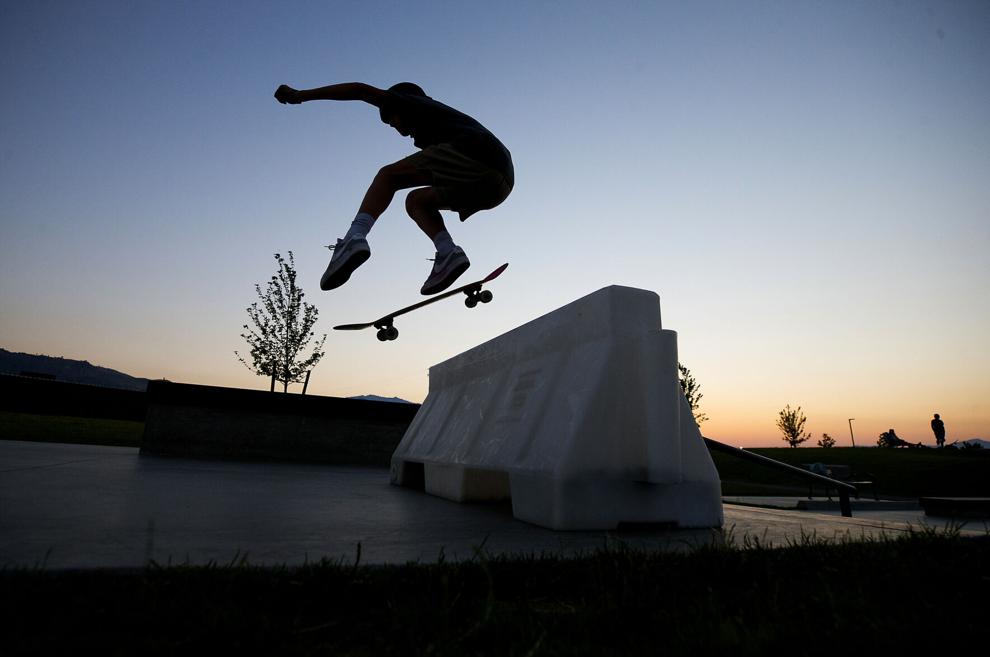 I met Sam and Tina at Hale Park near closing, not really sure what I'd come up with, but I knew I wanted to show darkness in the photograph. Sam's one of the few kids I know who can actually finish a skateboarding move and I followed him as he practiced jumping over one of the skate park features while the sun was setting.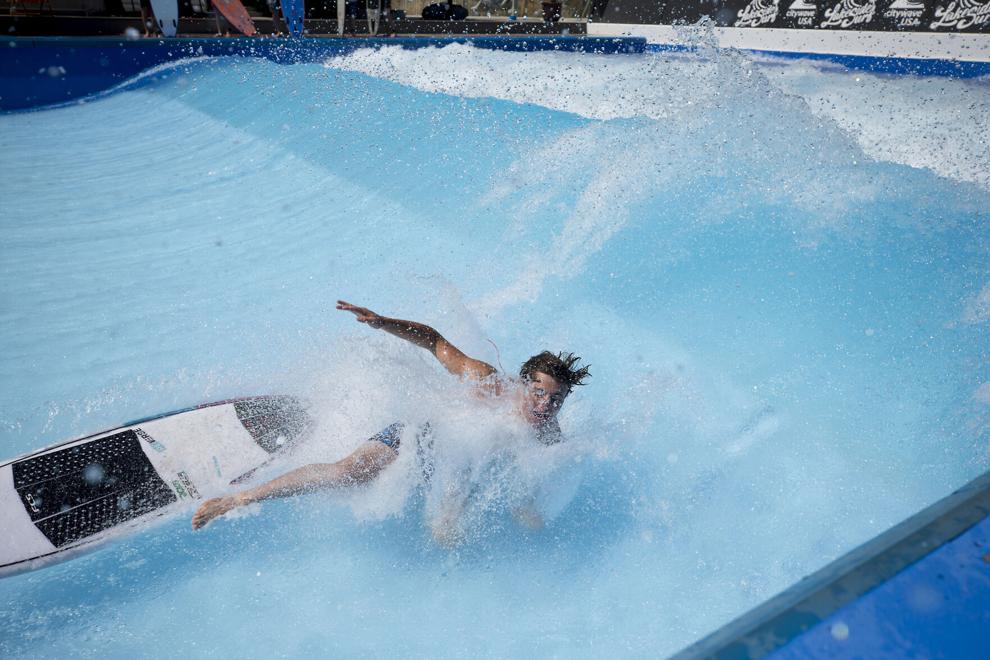 When I went to Chelan to photograph the river wave at Slidewaters, one thing that struck me was that the only way you finish your ride is dumping off the board. Even the best riders would eventually tumble. That's what I concentrated on as people enjoyed the newest water feature at the park.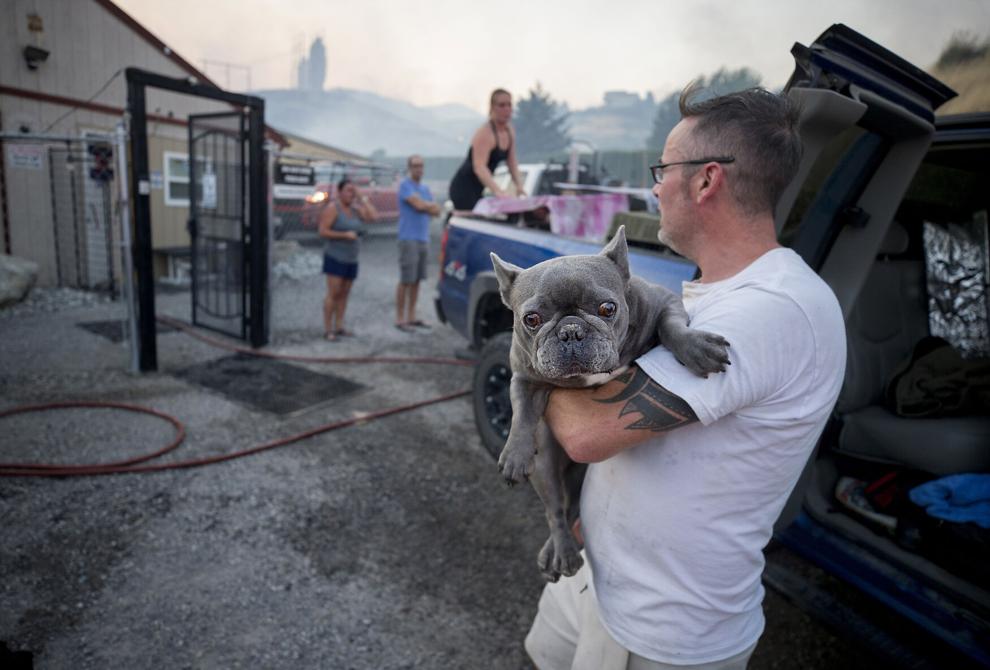 On the first day of the Red Apple Fire, I found access on Lure Lane near Monitor and photographed firefighters working and people watching from their homes. I also spent some time with Anthony and his friends as they were getting dogs ready to evacuate. I liked the bewildered expression on this dog's face that conveyed what everyone was feeling.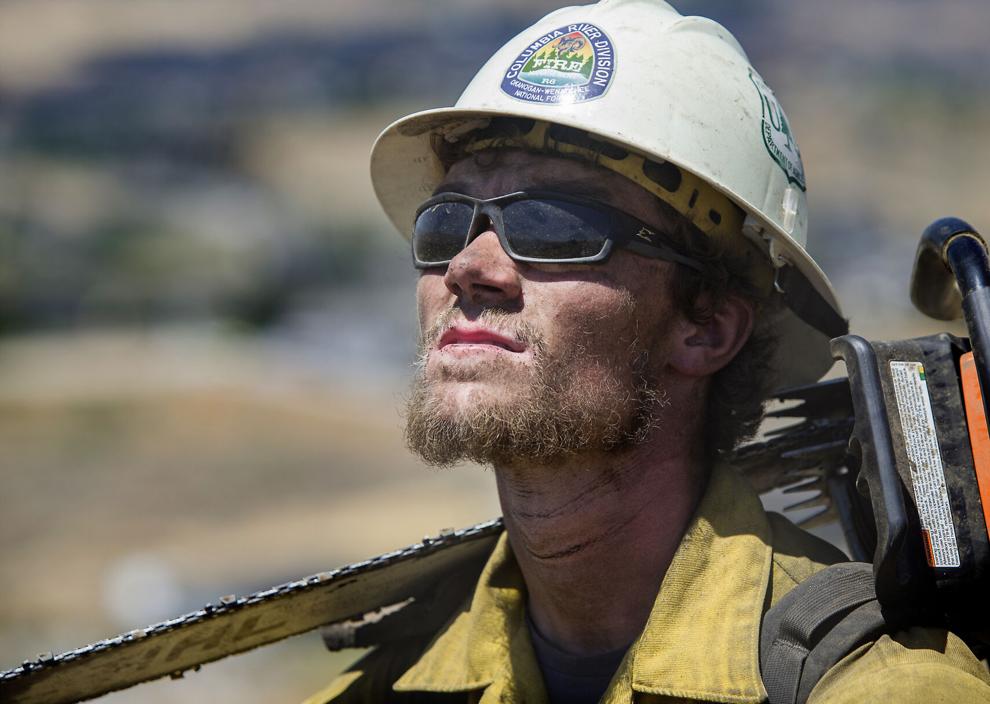 On the second day of the Red Apple Fire, I followed a crew up above Ohme Gardens as they cleared fire lines. Working in the dirt and heat of the day, I found Cody watching helicopters dump water on the fire.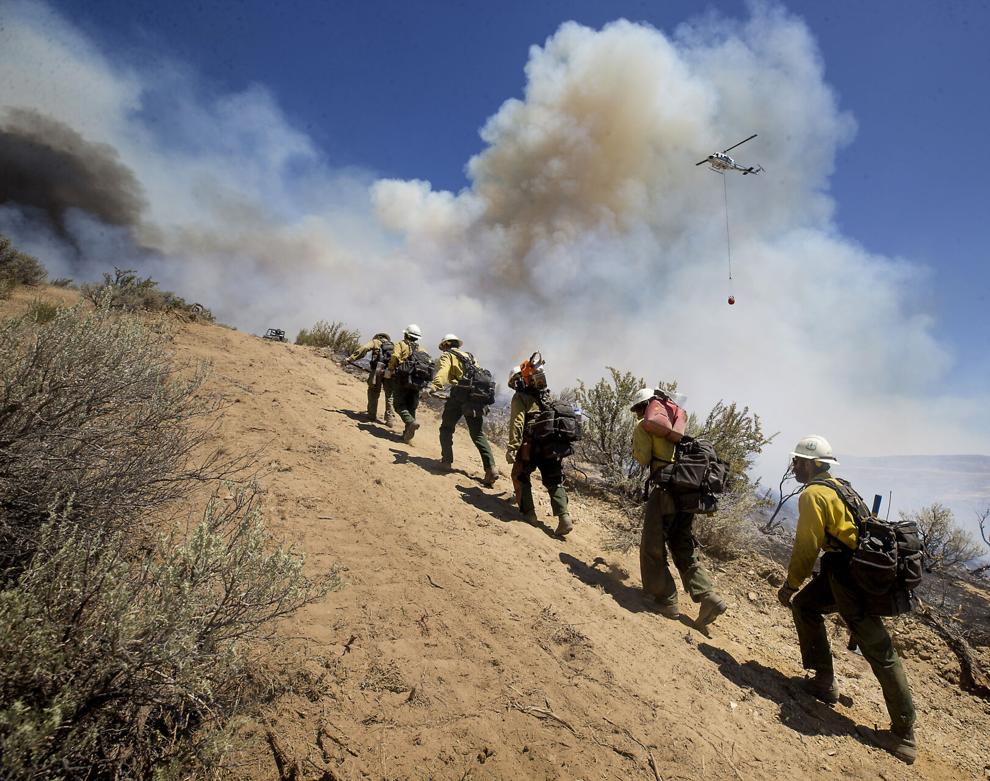 I was getting near the top of a hill overlooking Highway 97A when a fire crew came beside me and I heard a helicopter about to make a drop. I crouched down in the dirt as smoke billowed up and the helicopter flew by with its bucket.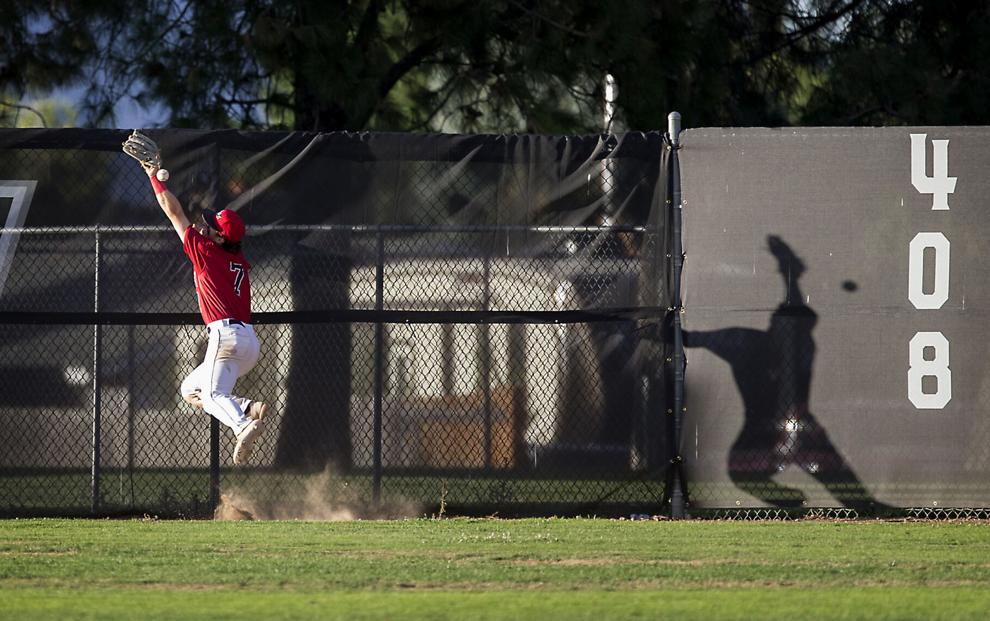 I like the composition of this photograph and its title: 'The Shadow Knows.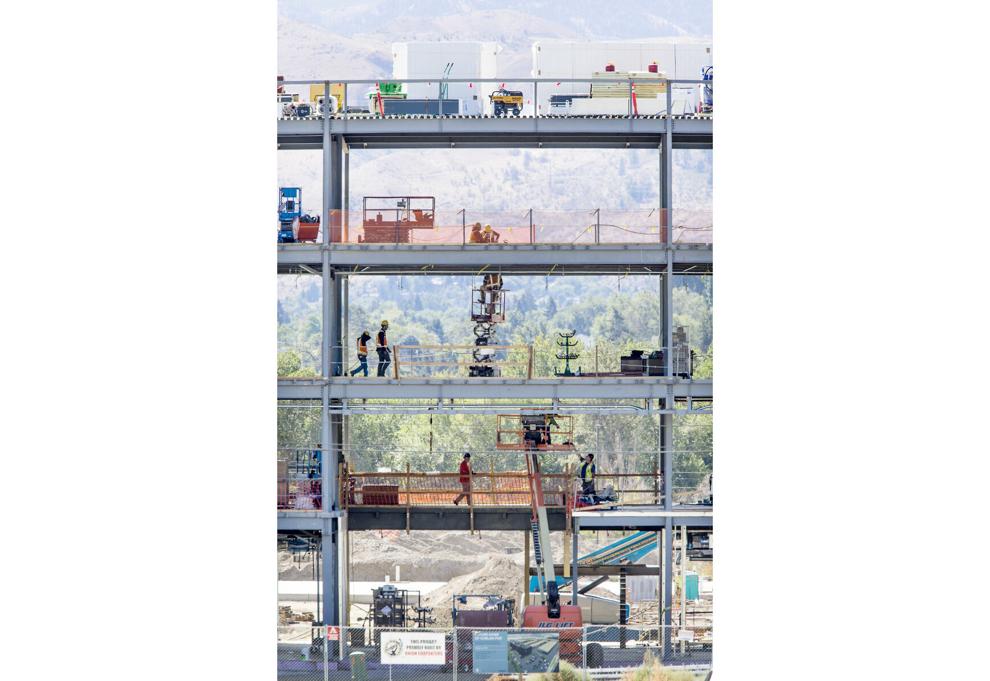 I was struggling coming up with an image of the construction. I'd gone back and forth looking at this scene for weeks. I finally discovered that the viewpoint I was trying to make with a mountain top in the background only added unnecessary detail and the simplified background in this image made it work. It was then a waiting game until workers were on different levels.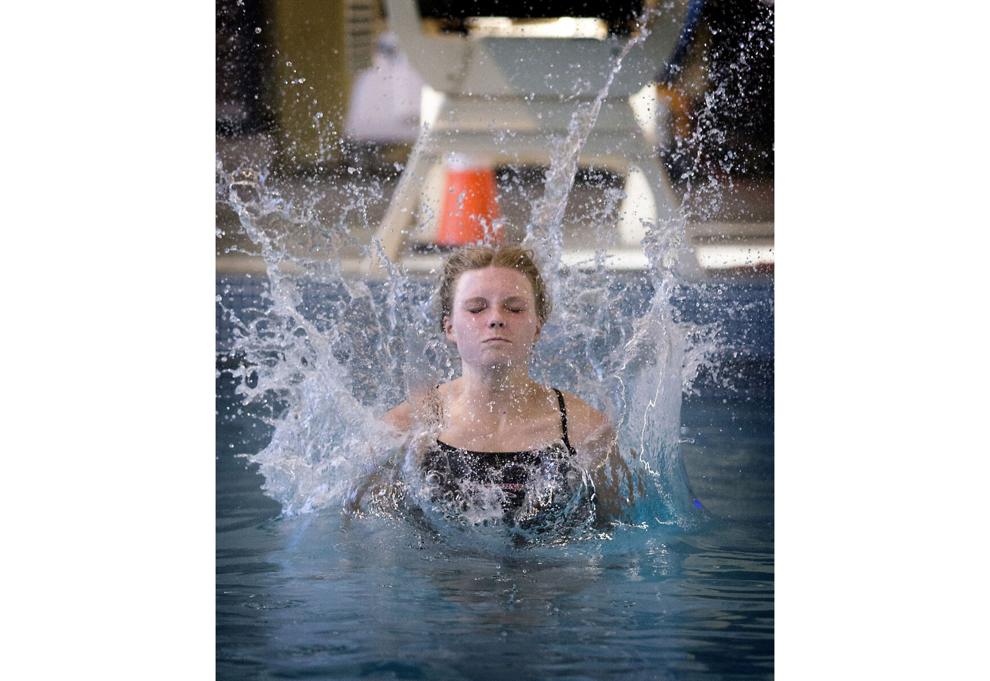 This image is all about timing, a fast shutter speed, and trying to photograph the winning diver. The newly remodeled swimming pool has better light now and for interested photographers, this image was shot at ISO 4000, f/2.8 and 1/3200 second.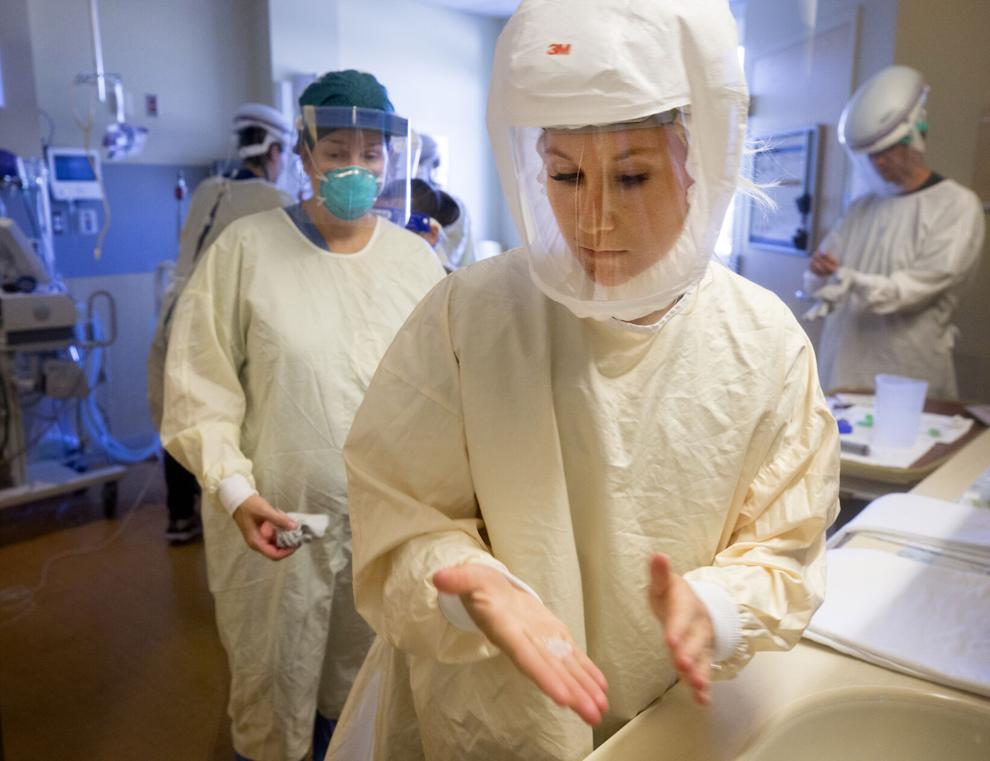 We were able to get access to the Intensive Care Unit at Central Washington Hospital and it was important to me to show the safety procedures the staff goes through and the emotions they deal with. I thought this image does both of that. I shot this photograph through a window of a room from the ICU hallway.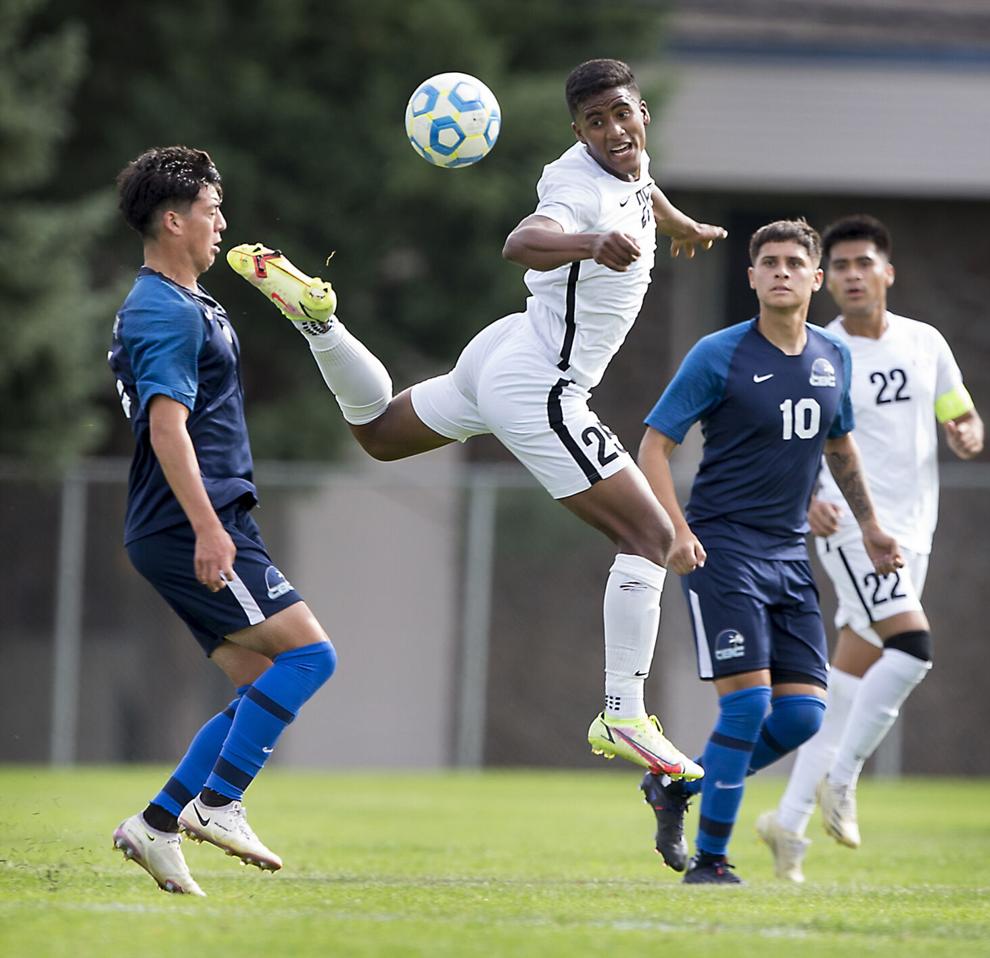 Most good sports photographs show the peak moment of action.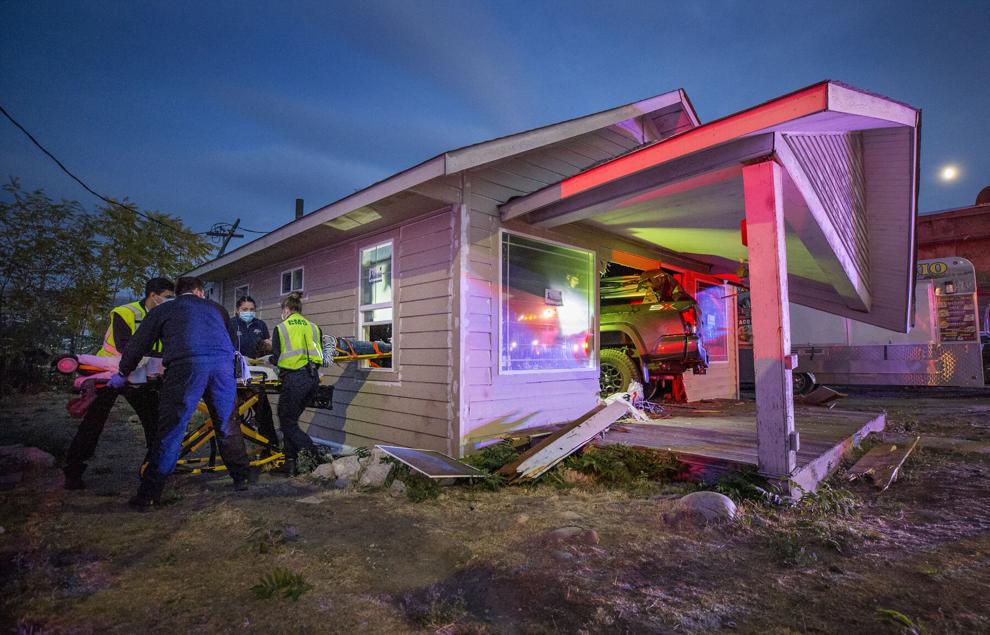 I was driving to my office when I came across this accident scene just after it happened. The interesting parts of this photograph to me are the partial car in the front doorway and medical personnel helping the victim out of a side window. The lighting is coming from emergency vehicles nearby.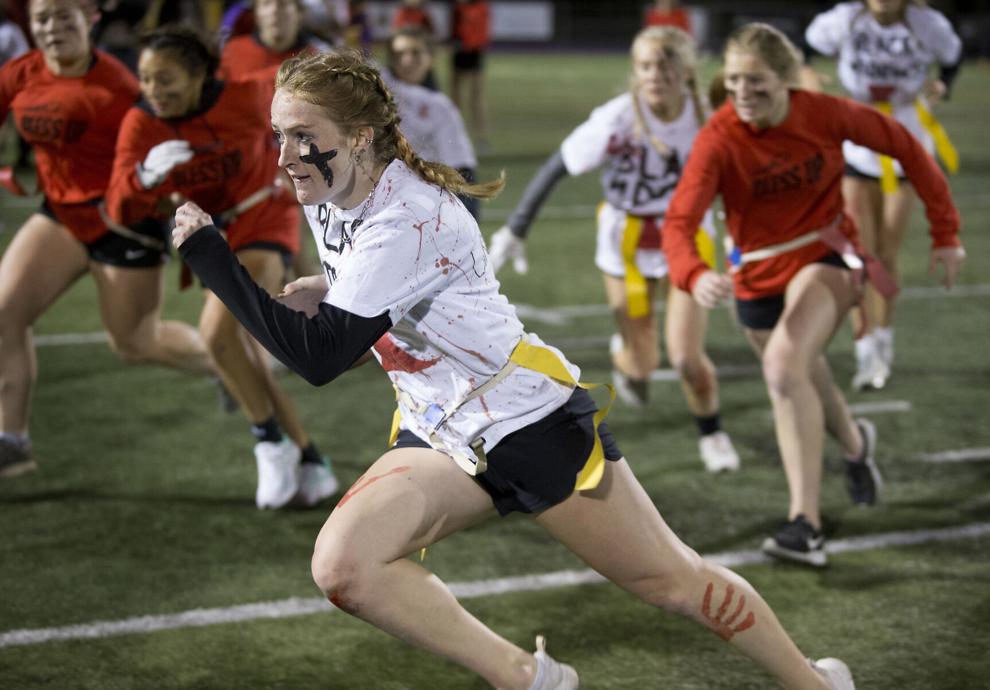 These powderpuff football games have gotten more intense year after year. The great thing for me about flag football is the facial expressions that are out there to capture and tell the story.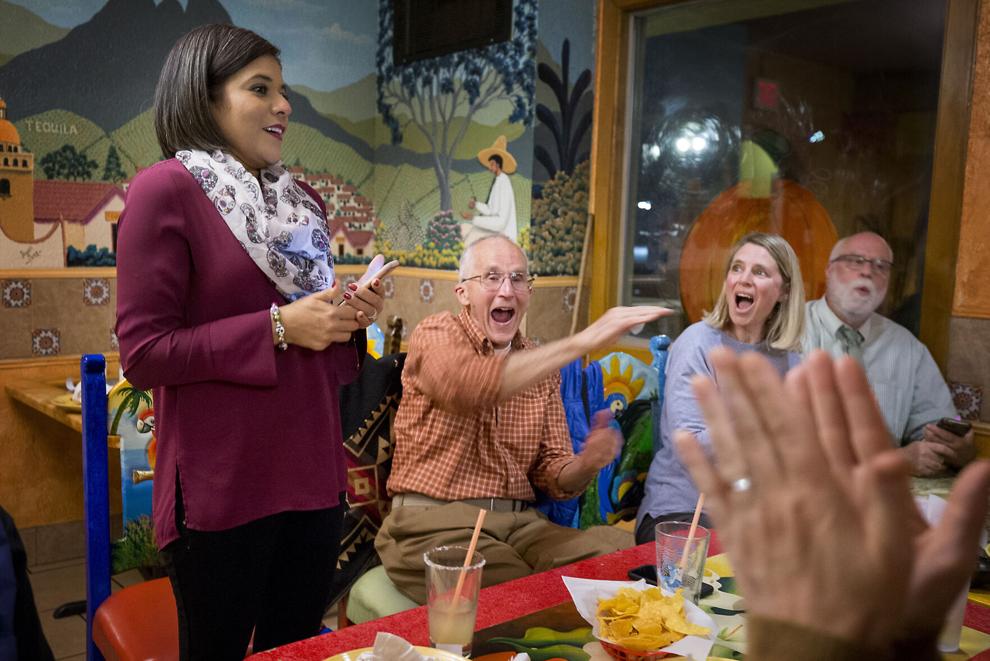 It's a crapshoot figuring out where to be on election night and I ended up going to a local restaurant, welcomed by Maria. Then I waited with her group for results that were texted to her by a supporter at the courthouse elections office. I didn't expect the great reactions from her supporters as she took a deep breath of relief.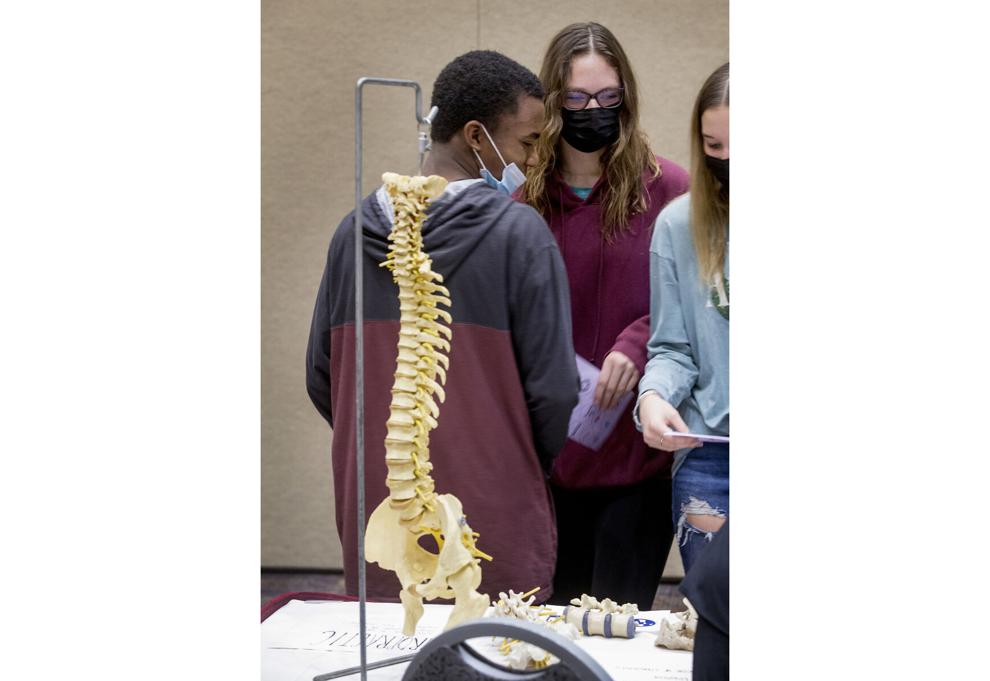 I saw this event on a school calendar but wasn't sure I'd stay to try to get a photograph. I decided to do a walk through and immediately saw the spine and knew what I wanted to try to capture. From there, it just took patience to wait for a student to be in the right position.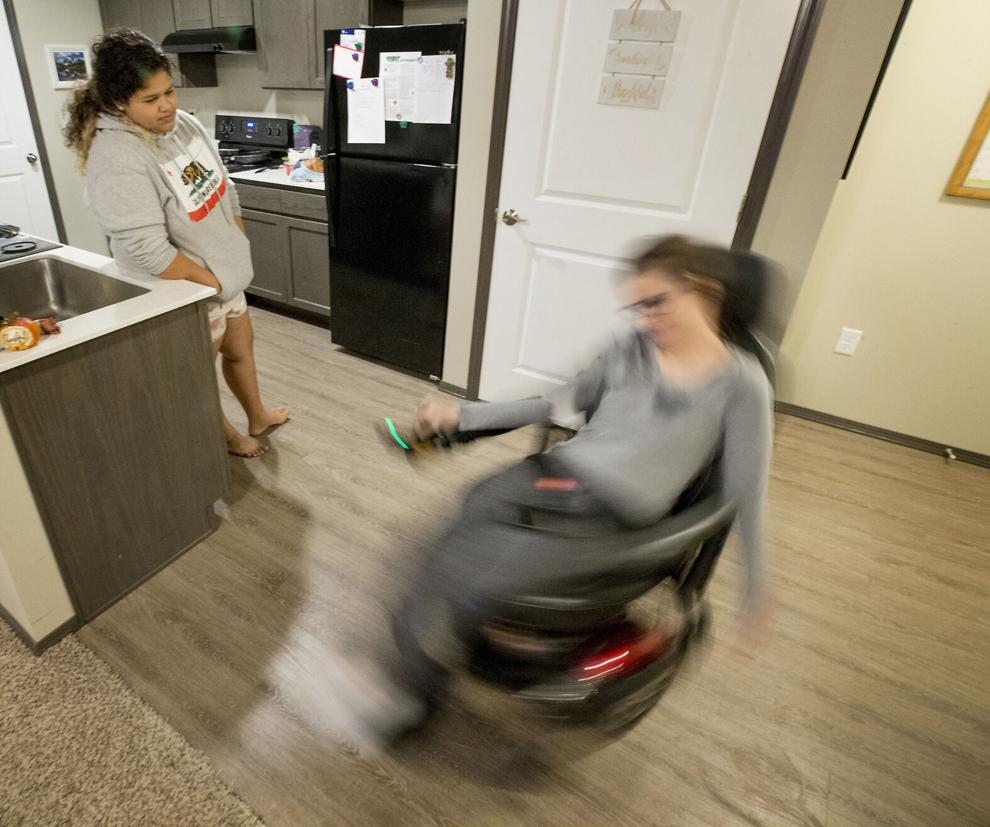 This is the first evening I spent around Hailey. Her grandparents introduced us — I had actually met her when she was much younger — and I photographed her interaction with her caregiver Ginger. At one point she put herself in a spin and I slowed down the shutter speed of my camera to catch the motion. To me, it conveys the freedom that she tries to have even when in a wheelchair.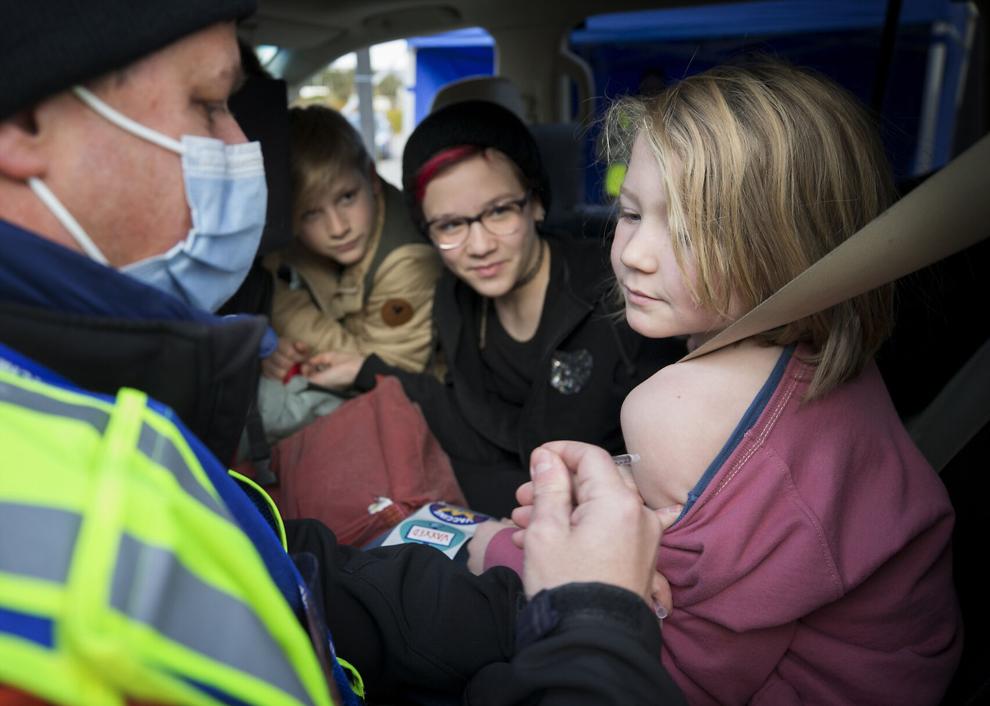 I asked these children's mother early in the car lineup if I could photograph them getting a COVID vaccine then waited for them at the inoculation site. When the two siblings leaned in to watch their sister receive her shot I knew I had a good image.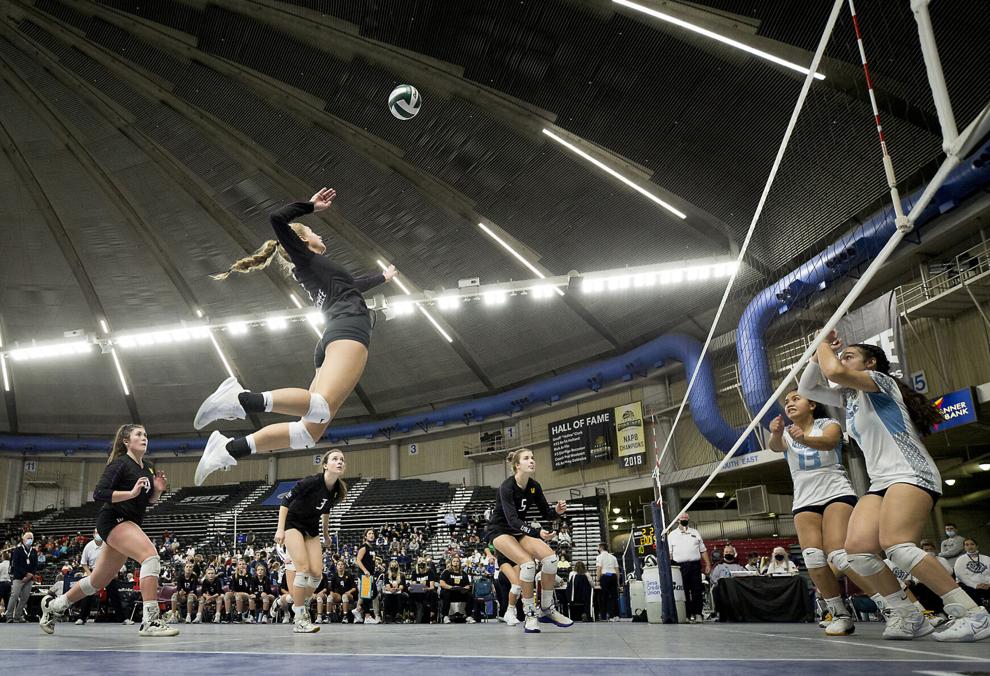 I wanted to show the height Abby gets on the volleyball team so I used a wide angle lens with my camera on the ground, pre-focused and tried to capture her spiking a ball. I was also using another camera with a telephoto lens to capture action around the court. I like how it conveys the importance of the match by being at the Sundome in Yakima.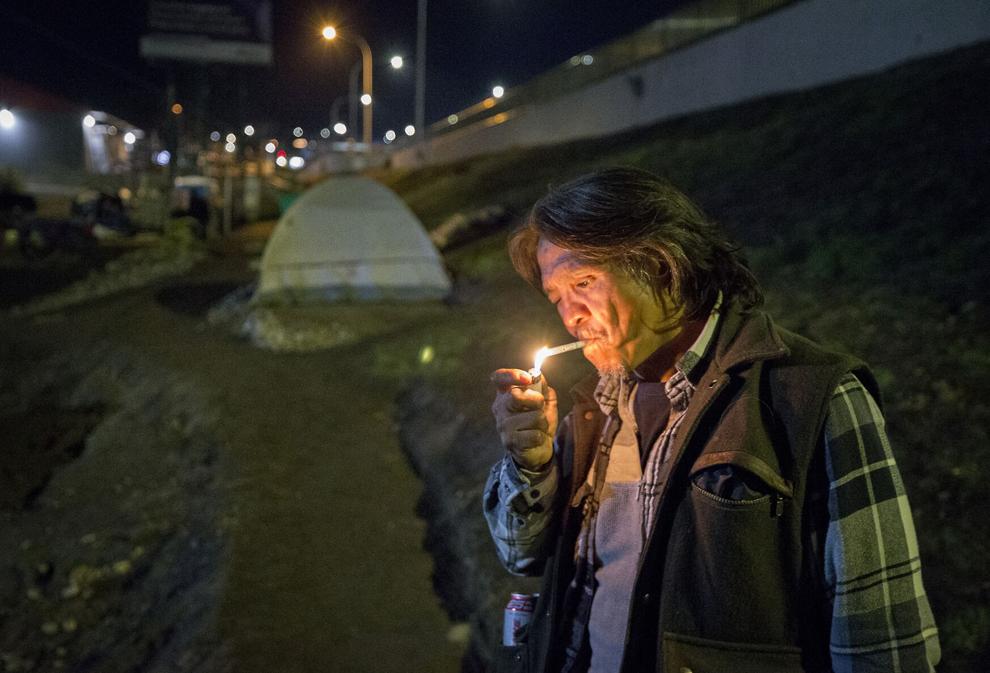 A reporter and I visited a homeless camp that I had been told about on a different assignment. While there, we struck up a conversation with Evan and I noticed him fidgeting with a cigarette. After the reporter's interview, I hung around, waiting to see if he was going to light it. When he did, I had a fraction of a second to get the moment the flame lit up his face.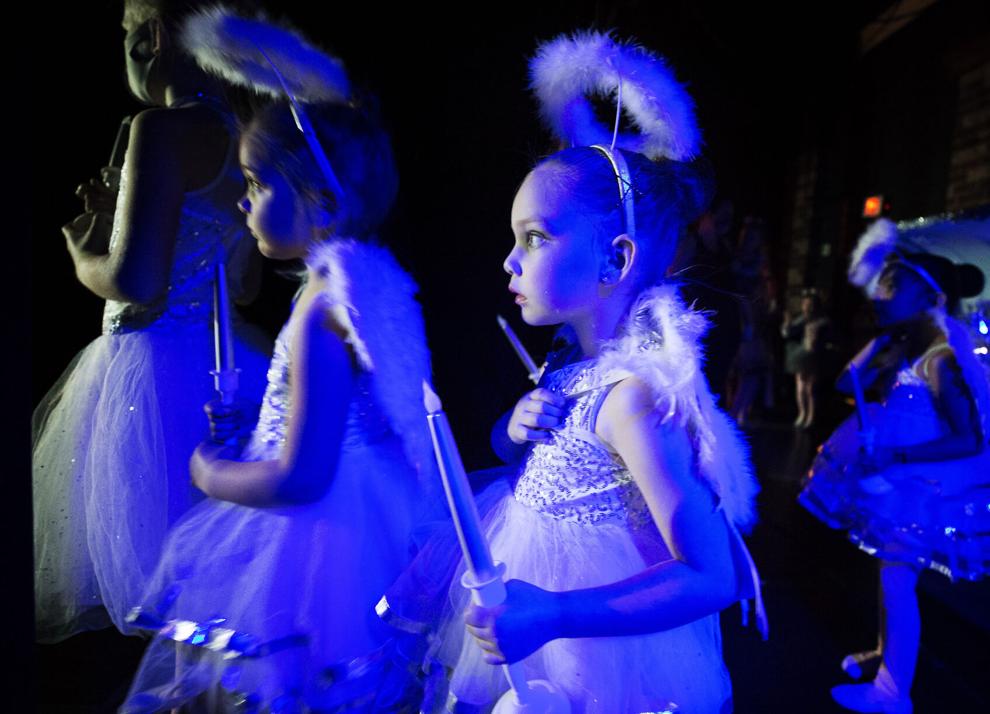 These little angels captured my attention as they were sitting on a bench in a hallway getting a few bites of potato chips. I was backstage when they were led in to wait for their scene. I dropped to my knees and tried to capture their faces as they looked out toward the light of the stage. I shot this at 1/30 second at f/2.8.
For a story on what Leavenworth looks like during a weekday now that the chamber is emphasizing visiting then instead of weekends, I found this mother and son having a snowball fight. Lorelei was very animated as she battled her son with an umbrella as a shield. This was the last of 150 photographs I took of their exchange.