Mike Bonnicksen came to the photography department in February of 1984. Like former photographer Kelly Gillin and myself, he was hired with the recommendation of then darkroom technician John Barta to do his job on Saturdays. Mike's talent for capturing a story-telling moment propelled him to become a staff photographer for the department.
Not too long after Mike was hired, he was given the assignment to photograph the Olympic torch ceremony on July 4, 1984, from the press box at the Apple Bowl. Kelly and I were photographing the event from other angles but Mike's resulting photograph beat out our efforts and may be the only one ever published over the entire front page.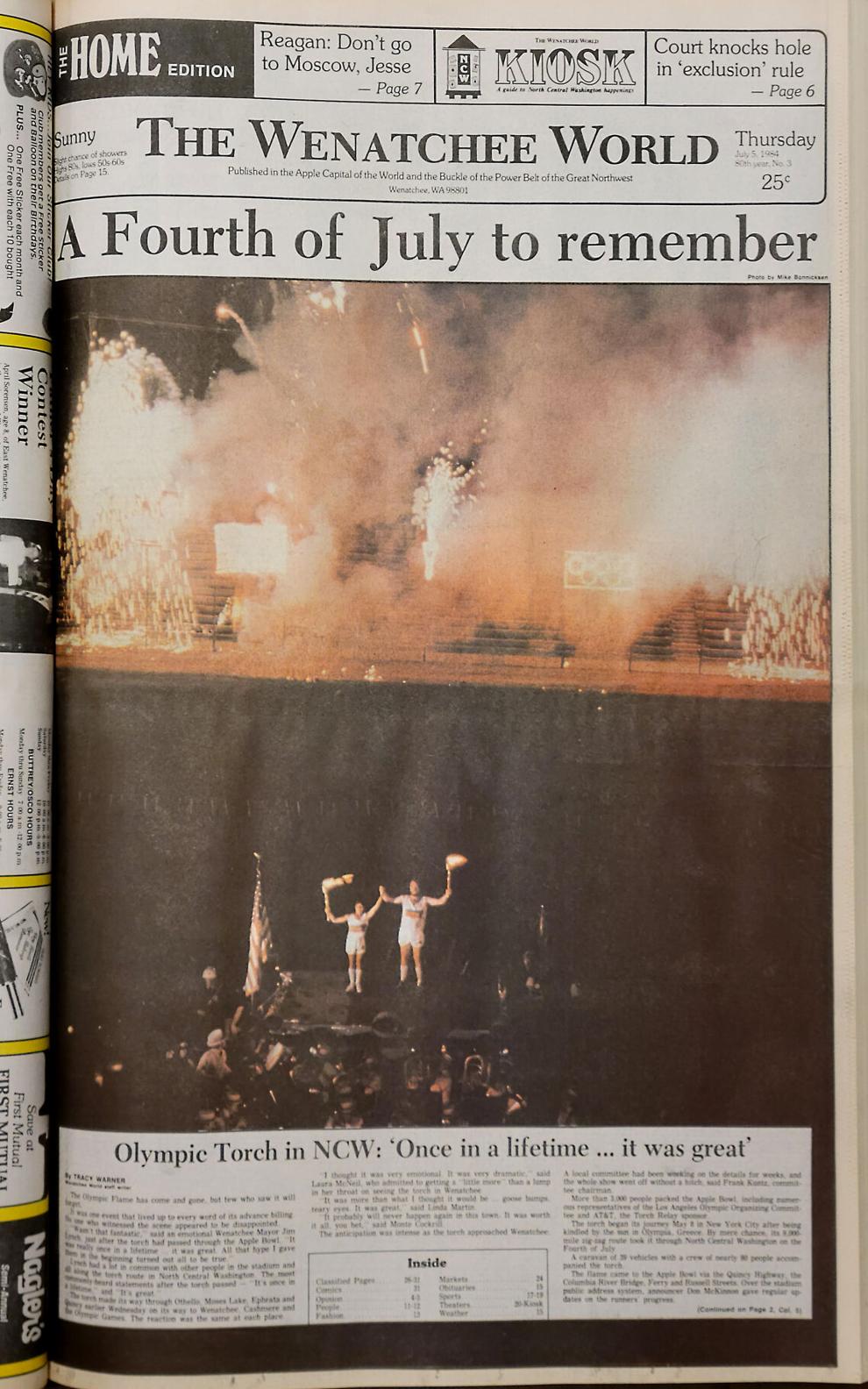 That was the first of many, many photographs — 37 years' worth of photos — that Mike produced and gifted our readers with throughout his career in the photography department.
Mike is moving into a full-time Information Technology (IT) position for the Wick Communications chain of newspapers that owns The Wenatchee World along with over 20 other publications.
He has always been the person to try new things at The World. When the newspaper decided to go into producing a television news program on CNN's local feed in the late 1980s, he was the one who volunteered to be the video guy. Many times he would be hauling the very heavy video gear and tripod alongside me as we covered the same assignments – me in stills, Mike in video. I was given the chance to see first-hand how dedicated he was to capturing moments that told stories of the people in Grant, Okanogan, Douglas and Chelan counties.
The television gig ended a few years later and he transitioned to a full-time staff photography position.
He has always had an interest in technology and would keep up with all things computer. He's the guy people in the newsroom ask for tech advice.
Even on his personal time, Mike enjoys exploring new hobbies. I remember he bought a remote-control helicopter – not having flown anything else before – and crashed it on its maiden journey.
Mike is into motorcycles and has traveled across and around the country more than once. He's also explored many areas of the world. He traveled to Indonesia when he took up diving and underwater photography.
He's traveled to Asia and Europe and his experience in the Cinque Terre in Italy drew me to visit the same areas. Hiking and mountain biking became a passion for him later on.
Most recently, he immersed himself into the drama world and has traveled more than once to Broadway in New York City for a week of theater-going.
At work, his talent for understanding computer systems caught the eye of management; a few years ago, he started working part-time as the local IT person. Like with earlier staff reductions, I lost his hours for three days of the week but was able to keep him in my department for Friday evenings and Saturday.
In the last decade, Mike became the only other photographer at The World and is the person I've relied on to help me edit challenging assignments. He is the person I've been able to have conversations with and unload on when I find myself at a roadblock with access or just dealing with difficult people. He genuinely cares for his work, his friends and me.
So I'm going to miss Mike. At least his IT office is less than 50 feet from mine and he keeps his door open for visitors. When I pass by, I'm praying he'll still feign at least a little interest in the trials and tribulations of this photographer — but I know he will, he's just that kind of person.