I am happy to report that there is reason for optimism. I am an infectious diseases doctor that has been treating hospitalized COVID-19 patients in the North Central Washington for the last year. This pandemic has taken a toll on all of us personally and professionally. However, there are now three safe and effective COVID-19 vaccines authorized by the FDA. More than 2.5 million vaccine doses are being administered PER DAY in the U.S., with almost 1 in 5 adults fully vaccinated so far, and 3 out of 4 adults aged 65+ have received at least their first dose of vaccine. Getting vaccinated is now having immediate practical benefit for us individually; four weeks ago, the CDC released initial guidance on what individuals can safely do (masked and unmasked) AFTER vaccination as represented by the house graphic below. This is positive news and this guidance will continue to evolve as more of us get vaccinated.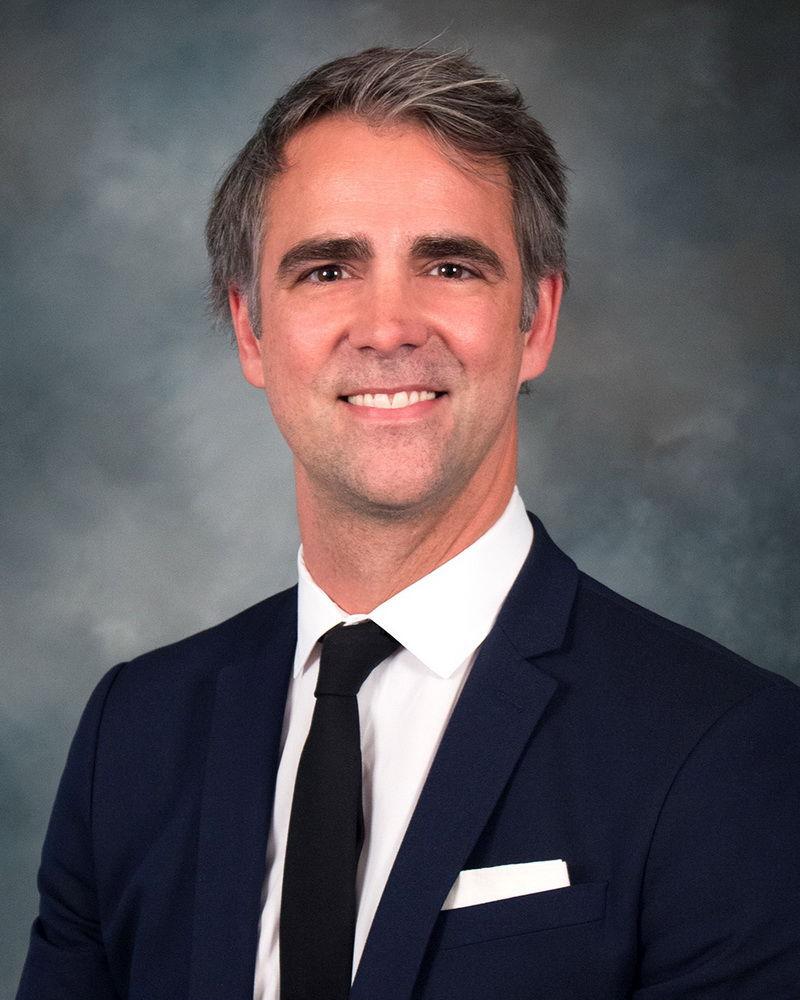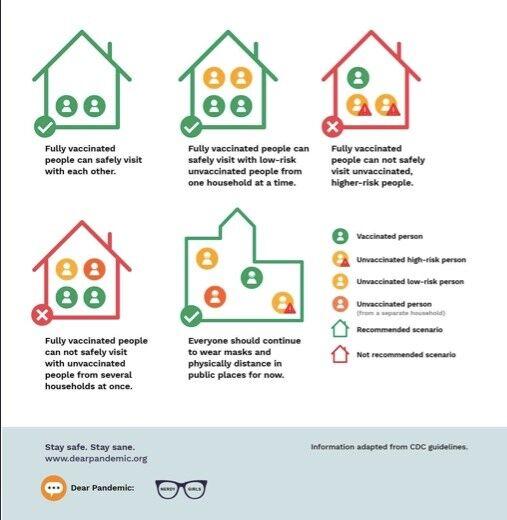 Masks are affording us some degree of freedom to safely get out in public, but getting vaccinated will confer additional freedom to be help us be safer, and help us get to that ultimate freedom we all crave by getting us to the end of the pandemic. I want you to get vaccinated because I don't want you to get sick with COVID-19 or to spread a potentially deadly illness to family, friends, and co-workers. The long-term benefit of getting vaccinated is ending the pandemic. But also, those who are vaccinated can return to the grocery store or the hairstylist with less worry of bringing infection home to their family. For starters, if I am fully vaccinated, I could safely visit a fully vaccinated friend in their home without a mask. But regardless of whether you have been vaccinated or not, you should still wear a mask in public. As more of us get vaccinated, and as we further define to what degree vaccines also reduce risk of transmitting this virus, we can expect the existing CDC guidance for fully vaccinated individuals to continue to evolve. In other words, getting vaccinated matters.
For this optimism to continue and our freedoms around COVID-safety continue to expand, the next three months are CRITICAL. It hinges on all of us getting vaccinated as soon as it is available to us. The threat of variants is real. Viruses are smart and will try to adapt and survive. They do this by changing/mutating. Our vaccines are formulated for the type of virus that was first sequenced or identified at the initial outbreak of the pandemic. We MUST reduce the spread of any virus as quickly as possible with community vaccination to maximize the vaccine's benefit to us. The virus cannot change if it is not replicating or growing inside someone. If the virus changes too much, our current vaccines may no longer be as effective in the near future — this is called "vaccine breakthrough".
Vaccines are not a "free-pass" unfortunately yet. The threat of VACCINE BREAKTHROUGH is real and why getting you vaccinated ASAP is critical to ending this pandemic. This is what the CDC director and infectious diseases physician Dr. Rochelle Walensky was referring to during her press conference earlier this week urging continued caution. Cautious optimism is my current motto. The more we physically travel around the earth, the more we "stir the pot" of variants and risk bringing them back to our community and loved ones. That being said, getting vaccinated does matter, so the CDC is cautiously updating its domestic travel guidance for fully vaccinated individuals within the U.S. on April 2.
About vaccines
Vaccine availability will continue to improve over the next 6-8 weeks. The vaccine prioritization phased rollout was designed by the Washington state Department of Health to maximize immediate benefit by prioritizing those most at risk of severe disease or those most at risk of being infected while vaccine supply was more limited. Our state moved to Phase 1B Tier 2 on March 17, and moved to Phase 1B Tier 3 and 4 on March 31. This means that currently, all individuals aged 16 years old and up with 2 or more high risk medical conditions are eligible. On April 15, all individuals aged 16 and up will be eligible. We can expect that getting scheduled for and then actually getting vaccinated will continue to be easier. Vaccination for children is on the horizon, but not immediately, as we await data from ongoing clinical trials.
The vaccines are safe. None of these vaccines contain live virus, so the vaccine can't infect you with COVID-19. Continued close monitoring by the CDC vaccine safety datalink reinforces the reassuring safety of these current COVID-19 vaccines after more than 148 million doses in the U.S. and 574 million doses worldwide, with well more than 6 months of data from the original vaccine clinical trial participants who began receiving vaccine on July 27, 2020.
These vaccines are effective. No vaccine recipients of any of the authorized vaccines have died from COVID-19. Preventing severe illness or death due to COVID-19 is the goal. It's not appropriate to compare head-to-head this more recently authorized Janssen (Johnson & Johnson) COVID-19 vaccine than the two mRNA COVID-19 vaccines (Pfizer and Moderna) authorized more than 3 months ago, since the studies were performed at a different calendar time and in different geographic regions, where different circulating SARS-CoV-2 variants were circulating and there were a higher number of daily infections. I consider all three of these authorized vaccines to be safe and effective.
At the current rate of more than 2.5 million vaccine doses administered per day nationally, we can expect at least another 100 million vaccine doses across the U.S. to be administered over the next 45-60 days. As of March 29, nationally 73% of seniors aged 65+ have received at least their first dose, 36% of all U.S. adults have received their first dose, and 50 million are fully vaccinated. In our four-county region, approximately 20% of our entire population is now fully vaccinated and more continue to be vaccinated every day. For example, in Chelan County, more than 27,200 residents of an entire population of 78,420 have received at least one dose of vaccine. We'd like to see increased vaccine supply to allow all American adults to be fully vaccinated by July 2021.
This is good news. We have so much reason for hope. Just this week, we are starting to get data on longer-term (six months) vaccine efficacy in preventing COVID-19 illness, some early data on vaccine impact on reducing risk of spreading infection, and we're making real progress in vaccinations in our four-county region.
We are headed in the right direction. But we can't slow down. Prevention is our best treatment of COVID-19. Vaccinations save lives. With a fast-moving pandemic, no one is safe until everyone is safe. I understand that it is difficult to display optimism while simultaneously exhibiting continued caution. But that is what I am asking you to do. I so want this pandemic to be over, as I'm sure you do, and we are so close. With 16% of the U.S. population fully vaccinated so far, millions remain unvaccinated and at risk, and the next 3 months of this vaccine roll-out are critical to successfully ending this pandemic while we keep case counts low with masking in public and being safe in our private spaces. It will take all of us re-committing to public health prevention strategies now while we vaccinate eligible individuals just as quickly as possible. We don't have the luxury of inaction.
Having three safe and effective vaccines provides more flexibility in a coordinated regional and national vaccine response, and not all sites will have all three types. Vaccine availability is increasing significantly. The best COVID-19 vaccine for you is generally whichever one of the three authorized vaccines is available when you are eligible. If you still have questions about these vaccines, please ask your trusted medical professional to help you confidently get vaccinated.
Let's beat this virus! Now is our chance.
Dr. Mark Johnson is an infectious diseases physician at Confluence Health