WENATCHEE — Some of the 145 stranded Amtrak passengers delivered to Wenatchee hotels by school bus Thursday night spent another two and a half days on the train before making it to Seattle Sunday morning.
They had high hopes when they arrived back at the train station on Friday, passenger Alan Komrosky said in a telephone interview Monday.
He had boarded Amtrak's Empire Builder at 1:30 p.m. Wednesday in Williston, North Dakota, for a return trip to Seattle, scheduled to arrive at 10:25 a.m. Thursday. It rolled into Wenatchee at 7:30 a.m. Thursday morning in the midst of a record-making snowstorm.
Passengers spent the day waiting for the go-ahead.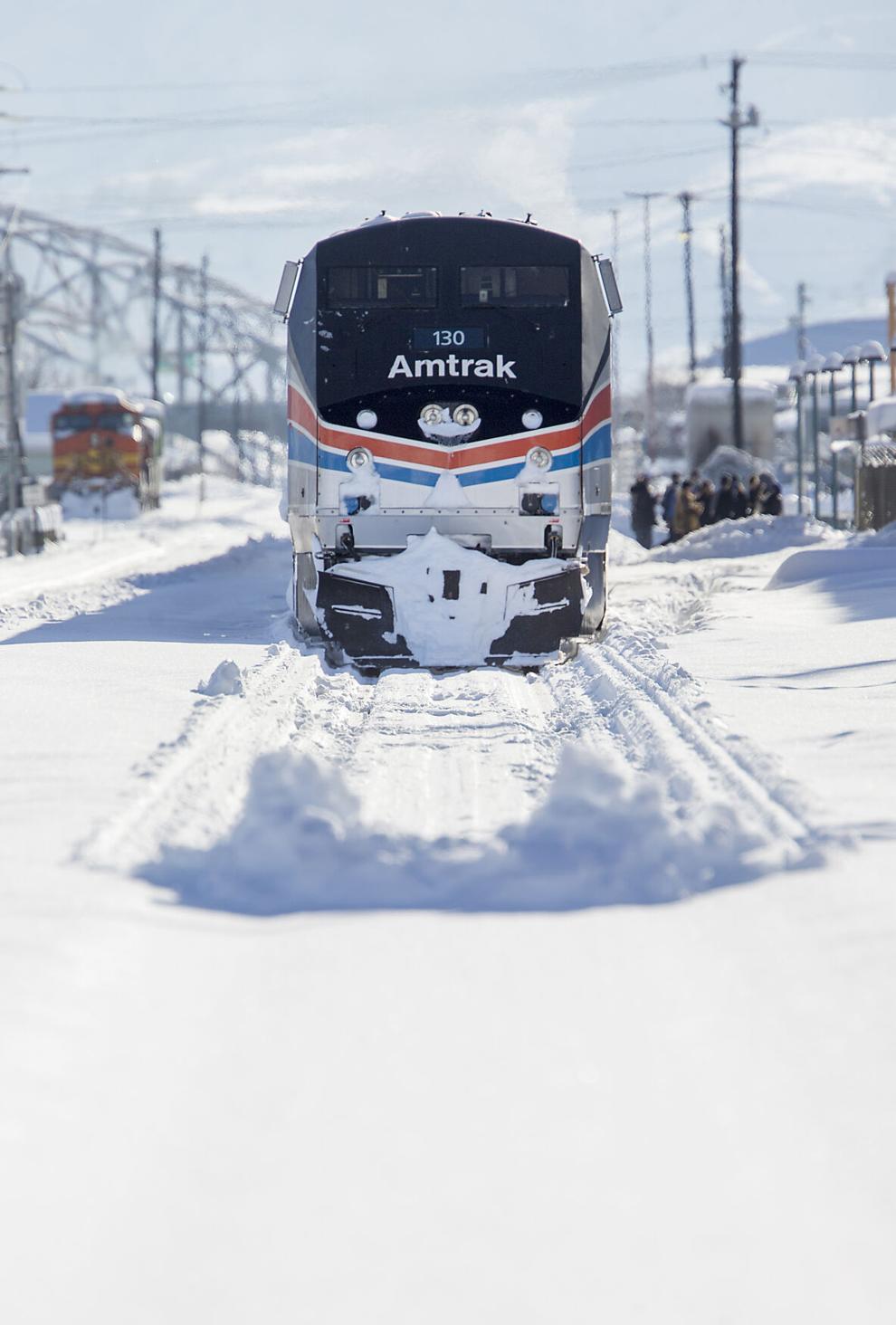 "At 3:11 p.m. they announced a derailment ahead of us needed to be cleared," Komrosky said. "They ordered us all Godfather's Pizza from a local vendor."
At 8:41 p.m., he said, referring to his text messages to confirm times, the school buses arrived to take the passengers to Wenatchee hotels for the night. They were then delivered back at the train for an 8 a.m. Friday start.
They left about 11 a.m., heading west. Two hours later, they stopped.
"It was announced that we were going to back up to get a run at a hill," he said.
By 4:03 p.m. all forward motion had stopped.
"I did not feel any jerking or jostling around. We attempted to back up, but they stopped that effort quickly," he said.
Looking back, he said, it may have been a slide.
"It was an area with no lights. It was very dark and several times the engine had to power down to reset the circuit. The snow was surrounding the cars up to the windows and several times the power went out briefly," he said.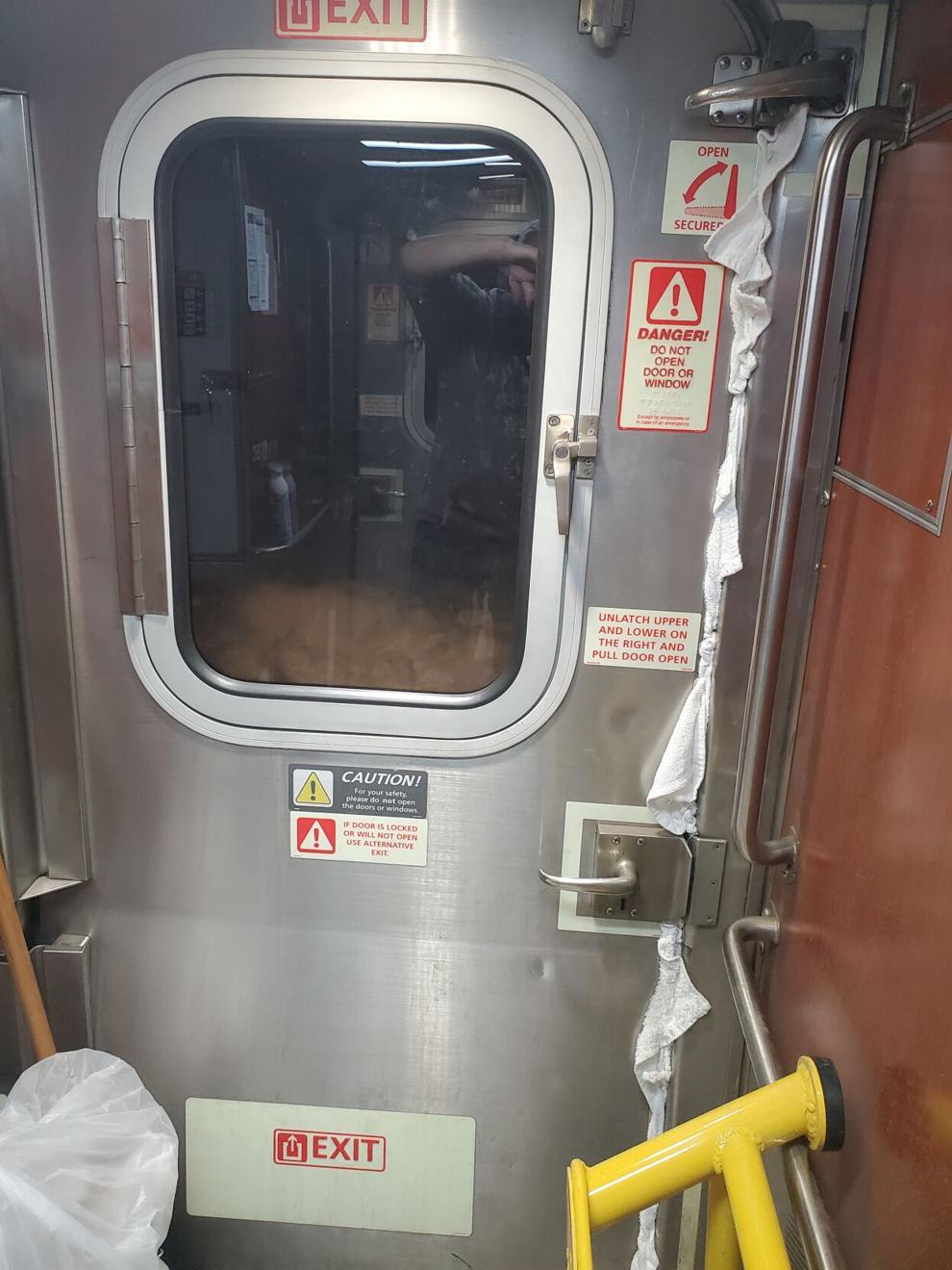 The passengers remained calm, if a little tense.
"The snow was up on the side, to the lower level of the windows. It had to be pretty darn deep," he said.
"At 4:41 p.m., we were told two engines were on the way to help us back out," he said. "We were not in any immediate danger, but you knew the potential was there. What if the lights didn't come back on? What if the extra engines couldn't reach us or what if they couldn't get us pulled out? What if it got cold and we started running out of supplies? All things that cross your mind."
The crew served a supper of pancakes and sausage, he recalls. When on a train for days, the meals become notable.
By 8:34 p.m. Friday, they were on their way back to Wenatchee and made it to hotel rooms by 10 p.m.
The state of the mountain snow and passes prompted a new plan for Saturday morning — return to Spokane.
"Customers had the choice, at Amtrak's expense, to fly on commercial air carriers or to take a train to our designation," Amtrak spokesperson Olivia Irvin said in an email Monday.
"We reached Spokane at 4:15 p.m.," Komrosky said. They had a choice: a hotel and a ride to the airport in the morning or catch the next train for Portland.
Komrosky stayed with the train, ate fast food and reached Portland at 7:30 a.m. Sunday. After some rearranging of train cars, they reached Seattle in the late late morning — three days late.
It was a trip he won't forget, he said.
"When we were waiting in Spokane to board for Portland, some people started calling it the ghost train," Komrosky said. "Because it was under such unusual conditions, the train did not have a number and it did not show up on the Amtrak website. Also, none of us were issued tickets," he said.
It went as well as could be expected.
"The staff was very accommodating and professional. I've taken Amtrak many times. This was highly unusual," he said. "It may be awhile, but I would do it again."
Irvin said all Empire Builder trips were canceled Monday and westbound trains 7 and 27 would also be canceled Tuesday. Tuesday's trains 8 and 28, heading east, would originate in Spokane.
Details on track conditions provided by BNSF Railway were not available, but the state Department of Transportation freight report on Saturday said crews had reported 208 snow slides across Highway 2 in Tumwater Canyon — about 25 slides per mile.
An updated WSDOT report Monday estimated reopening Tumwater Canyon and Stevens Pass sometime Wednesday.