BREWSTER — One farmworker described being awoken in the middle of the night and told to grab a blanket and his important documents. Another showed photos he took of flames cresting a hill behind their communal housing.
The Cold Springs and Pearl Hill fires were bearing down on Bridgeport Monday night and, in a normal year, these migrant farmworkers would have been evacuated to a nearby Red Cross shelter.
But concerns about communal sleeping in the pandemic, persistent power outages and the emergency unfolding across the region meant there was no official shelter available. Instead the farmworkers were among hundreds of evacuees who fled to a park in Brewster, where they slept for the night. 
"It would have totally been different, we would have had a physical shelter set up if it wasn't for COVID requirements," said Maurice Goodall with Okanogan County Emergency Management.
But during the pandemic, traditional communal shelters are a last resort for the Red Cross. Instead the organization strongly prioritizes providing people with vouchers to stay in hotel rooms, spokeswoman Betsy Robertson said.
Coordinating with local officials, the Red Cross spent Monday trying to find a suitable hotel. Those plans fell through and a communal shelter — the only one in the state — was finally opened in Brewster late Tuesday evening.
"Ensuring that people have a safe place to stay during a disaster is a critical part of our mission. That includes safety on all fronts, safety from the fire, safety from the pandemic — we just want to make sure that if we are hosting people in our care that we are doing the very best service we possibly can for them," Robertson said.
"In this environment we are going to prioritize, whenever possible, individual hotel rooms or dormitory-style rooms to ensure that safety. When those options were finally exhausted, we opened the shelter as quickly as possible."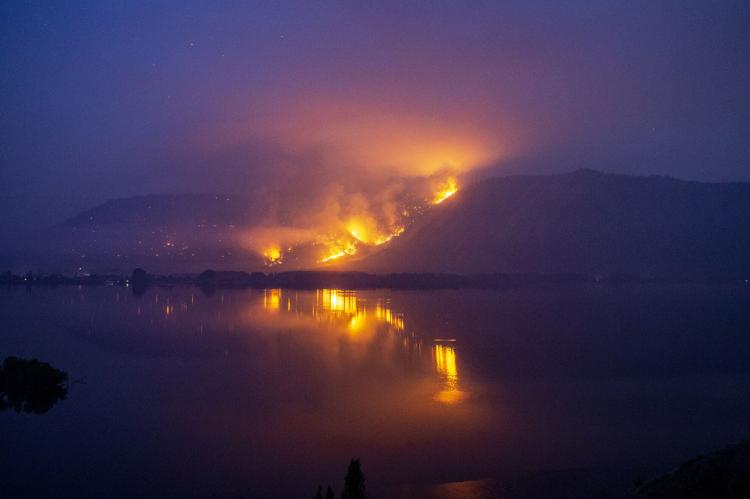 Evacuations were already in place and just after 4 p.m. Monday the Brewster School District contacted the Red Cross asking to set up a shelter at its high school, Robertson said.
"At that time we explained that the Red Cross position right now is that we are prioritizing individual hotel rooms or dormitory-style rooms to make sure that people have a safe place to stay," she said. "That's for the safety of evacuees, as well as the safety of any volunteer workers in the pandemic environment."
First the organization looked to Wenatchee, where there was already a hotel accepting evacuees with Red Cross vouchers, Robertson said.
"It was clear that they were not happy with that idea of traveling that far," she said. "And so we started working with emergency management and the county to figure out 'What is another alternative?' The idea was to look at hotels either in Omak or the city of Okanogan. As the process started, that's when the power went out and put a pause on the effort."
By Monday evening more evacuation notices were issued and people from the Bridgeport area traveled into Okanogan County. They kept arriving through the night, most headed to Brewster and a few to Pateros, said Goodall with Okanogan County Emergency Management.
He estimates around 300 people — both farmworkers and other community members — ended up in a park across from Brewster High School that night. By 6:30 a.m. Tuesday the temperature in Brewster dropped to a low of 47, according to the National Weather Service.
Brewster's mayor called him Tuesday morning to tell him about the evacuees. Working with several community groups, they quickly organized for food to be brought to the park. A centralized donation drop-off and pick-up is still operating there.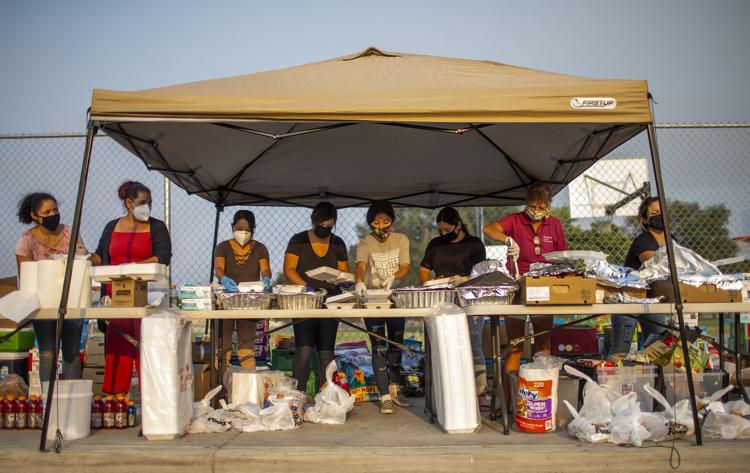 Goodall also went back to the Red Cross.
"So we requested (the shelter) and we kind of had to go up the chain a little bit. We had to figure it out with the Red Cross, they held a meeting, and we said 'We need this. We know there are COVID issues but we have to meet it,'" he said. ".... I was talking to them the day before but we were really pushing on them on Tuesday. And they got it open."
Red Cross workers arrived around 6 p.m. Tuesday and opened the shelter later that night, Robertson said.
The delayed opening has drawn criticism from some community members, Goodall said.
"We dealt with it. This probably wasn't as quick as most people would like to have, but they need to understand that emergencies are emergencies and you got to deal with things," he said. "We don't have a crystal ball to say 'This is going to happen.' Yes, the fire had been burning for a couple days but things change. When we saw the need we asked for it, we got it, but it took a little bit."
Even as the shelter was being set up, many farmworkers still in the park Tuesday were uncertain where they would sleep that night, said Erandy Montiel, a Brewster resident and farmworker advocate who visited them in the park Tuesday evening.
"There were like nine or 10 buses and crowds and crowds of workers. You could just see them pushing and shoving because I think some people were bringing blankets," she said. "… They said they had spent the night prior to that at the park with no shelter and they pretty much were cold all night because they didn't have any blankets or anything that was provided for them. At the time they didn't even know if they were going to have shelter."
Throughout the day Tuesday, many evacuees were able to find other places to stay, but a core group of 91 migrant workers remained. They were from Highland Orchards in Bridgeport, the farmworkers and Red Cross staff members said. The company declined to comment for this story.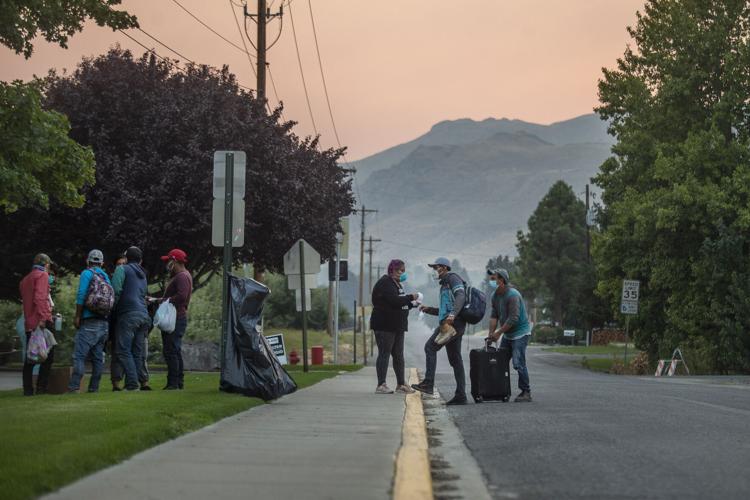 While the Red Cross served 400 meals on Tuesday night, the 91 workers were the only people who slept in the shelter that night. They stayed again Wednesday night.
Their residences near Bridgeport were still under an evacuation notice Wednesday evening and much of the town was without power, said Shelter Manager Cheryl Provorse.
"We don't know how long we're going to be here, it all depends on how long they're evacuated for," she said.
Many of the farmworkers returned to the orchards to work under smoky skies Wednesday. That night they arrived back at the shelter around 6:30 p.m. Each is screened by a Red Cross nurse for COVID-19 symptoms before being allowed to enter.
As they arrived, they picked up a hot meal and stretched their legs before heading into the high school's gym to find a cot for the night.