BRIDGEPORT — Bridgeport Mayor Janet Conklin was among the few town residents who didn't evacuate Monday when the Pearl Hill Fire swirled through northern Douglas County.
She counts herself lucky to tell her story.
"We were actually running for our lives last night," Conklin said Tuesday outside her home. As the fire approached, "we were trying to get our RV out so we could at least have a house to live in. We figured we'd lose the house."
Winds from the north had pushed the Cold Springs Fire in Okanogan County over the Columbia River and onto Pearl Hill in Bridgeport where it burned south 30 miles to Highway 2. Combined, the two fires have burned 337,000 acres, according to the incident management teams overseeing the fires.
By Conklin's estimate, at least 15 homes were destroyed in Bridgeport. More were damaged near Mansfield but it's unclear how many, Douglas County Fire District 5 Chief Tyler Caille said.
The Pearl Hill Fire had burned 174,000 acres by Tuesday evening — most occurring on Monday — and was considered 10% contained Tuesday night, according to the Southeast Washington Incident Management Team.
Photographer Luke Hollister and I set out Tuesday to see how the massive fire affected those who lived in its path. We started in Mansfield.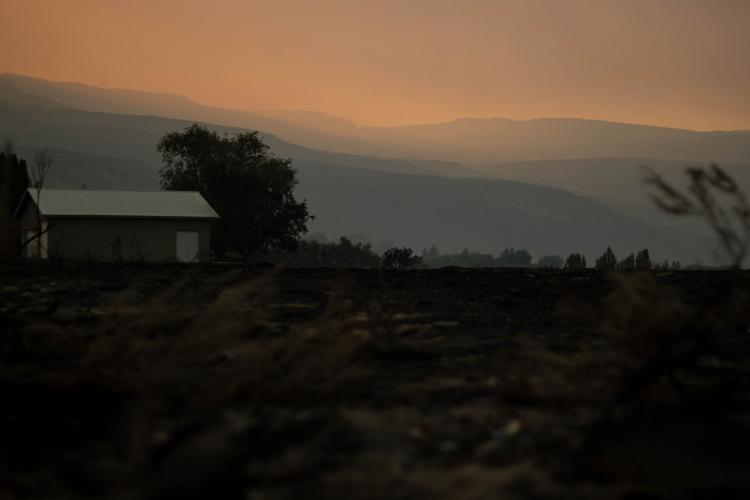 'The fire was moving so quick'
I'd seen a map of the burn scar earlier in the day and it appeared the fire passed over Highway 173 between Mansfield and Sims Corner. In person, the scar was a mix of brown and black, and almost blotchy in some spots — different than the neat swath of black I was expecting.
That made sense later when I talked to Caille. He also serves as undersheriff at the Douglas County Sheriff's Office.
"For five minutes it would be coming from the east to the west and then the next thing you know it'd be going back to the south and it would literally just do full circles around us," Caille said. "Which ended up pushing the fire all the way around the region."
He later added, "The problem with this fire was you could not just go to the fire and put it out. The fire was moving so quick, changing directions so rapidly, you couldn't ever get ahead of the fire."
One crew was nearly overtaken by fire.
"They had nowhere to go. They couldn't see where they were going. They knew they were in a safe ground around them that wasn't going to burn but they had no way to go," Caille said. "They had to wait in the truck and let the fire burn around them and the smoke to clear."
It was a few minutes before the fire passed them by, Caille said, adding, "Which in that situation is an eternity."
Those unpredictable winds pushed fire from Pearl Hill in Bridgeport south to Jameson Lake and into the Wells Wildlife Area in Bridgeport Bar. Ultimately, the sheriff's office issued Level 3 evacuation notices — get out now — to everyone in the area.
But for Mansfield, evacuating wasn't a safe option. Roads and highways were closed due to low visibility from smoke and dust, along with a fast-moving fire front, Caille said. Instead, the Mansfield School Gymnasium was used as a shelter. It was a first and at one point there were about 50 people in the gym.
"They did not wait around. There were several people there shortly after receiving their notice," Caille said. "And anybody could look out the window and see what we were facing. This wasn't a case of clear blue skies and they could see a smoke column five miles away. This was a case of some minutes you couldn't see 100 feet in front of you outside your window due to smoke and dust."
He continued, "Due to the visibility, we didn't know where the fire was most of the time. It was hard to track the different heads of the fire, which there were multiple points the fire was burning no matter which way you looked."
As if nothing more could go wrong, the town lost power just as the gymnasium doors were opened to evacuees. The outage affected the function of the town's wells and brought its water supply down to a "critically low" level before power was restored Tuesday morning, Caille said.
There were no reports of injuries caused by the fire in Mansfield and Bridgeport.
"Personal property, as hard as it is to be lost, it can always be replaced," Caille said. "But our biggest thing is people's lives are maintained and safe."
As of Tuesday afternoon, the fire's toll in Mansfield was still being counted. The town itself was unharmed — the closest the fire came was about three miles — but the fire did destroy homes, outbuildings, farm equipment and vehicles elsewhere.
Caille suggested we head to Bridgeport, where there were reports of destroyed homes.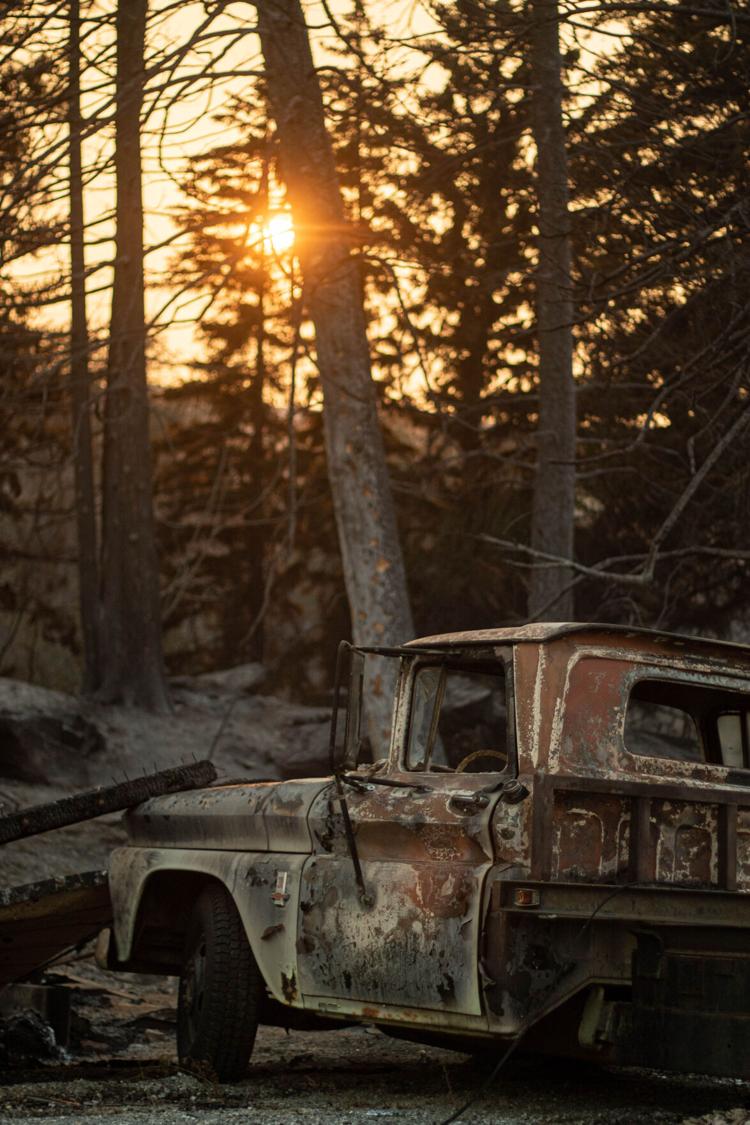 'It was their first home and now it's all gone'
We took county roads to Highway 17 and into Bridgeport. On 21 Road NE, it became clear that this section of fire burned more intensely near Mansfield. At least, from our view on the road.
Hills were blackened on either side of the road. Smoke rose from burned fence posts and sage. In some places, metal guardrail was on the ground, bent and twisted because the wooden support posts had all burned away.
We passed a couple properties where it appeared structures burned before we came upon Jim Socci, who was sitting in a golf cart as his son and grandson worked to fix a damaged water pump.
As the fire moved his way Monday, Socci said his plan was to stay put and fight the fire himself with a garden hose, but he lost electricity and his water pump quit working. So that was that and he left.
He returned to the house mid-afternoon and the fire had reached a nearby hillside. Socci didn't think it would spread to his home, but he ended up staying in Bridgeport that night.
"After I got there at 8:30 p.m. I went and asked one of the firemen if he knew anything about my home," Socci said. "He says, 'Yeah, it looked like it burned to the ground.'"
That was all he needed to know from the firefighter, he said.
"So this morning I got up, came out here, and well, my house was still here and that corner had burned. Then I seen all this," Socci said.
The fire stopped at the green grass surrounding his home, but nicked the edge of his work shop and burned apple bins filled with mechanical parts. Turns out the fireman mistook Socci's for one east of his that did burn to the ground.
"So I was pretty lucky," Socci said.
We continued into Bridgeport where the fire jumped the 1,000-foot-wide Columbia River.
On Maple Street, two homes were reduced to mostly ash. In a mobile home park directly across the street, another home was destroyed as was the west half of a home belonging to the Gildo family.
Flames breached a row of arborvitae trees and scorched one section of the home of Ignacio and Araceli Gildo and their daughters, Montserrat and Citlally.
Another daughter, Elizabeth Gildo, talked with us as the family worked to salvage the home the elder Gildos bought only a year ago.
"Right now we're just cleaning up as much as we can because they're going to see if the city permits them to fix it," Elizabeth Gildo said. She added: "It was their first home, and now it's all gone."
The Gildos evacuated to Wenatchee about 2 p.m. before the fire tore through parts of the city's southwestern edge. She added they were ready to leave at 10 a.m.
"We grabbed the most important things and we left," Elizabeth Gildo said, like birth certificates, passports, Social Security cards. "Pretty much everything else burnt up."
Elizabeth Gildo lives in a different part of Bridgeport and her home wasn't damaged. Her displaced family members are staying with her.
We left the Gildos and drove west out of town on Highway 173 where crews worked to repair power lines and restore electricity to Bridgeport.
(At 7:26 p.m. Tuesday, the Douglas County PUD reported that power was restored to its 700 customers in Bridgeport, but around 9 p.m. the PUD said fire again damaged a transmission line and Bridgeport would likely be without power overnight.)
We circled back through town and by chance met the mayor as a tree service company was cutting charred branches from a tree in her yard.
The fire had burned a storage shed and destroyed tools, two four-wheelers, two lawnmowers, a motorcycle, trailers, a 1963 pickup truck and a 1929 Ford Model A purchased new nearly a century ago in Bridgeport.
"Oh, it just goes on and on," Conklin said.
She described how the fire jumped over the river and spread west from Pearl Hill to their home two miles away. Like Caille in Mansfield, she was exasperated by the changing wind directions.
"That's what was so bad. When it would go east you would go 'phew' and then it would go west and then it would go north and then it would go south and up here it just started coming west and then it turned and come down," Conklin said. "It's like, 'Well, there's Conklins, let's go get them.'"
As the fire eventually bore down on her property on the west end of Bridgeport, Conklin's husband Ed and their daughter pulled their RV around the house.
"They had fire all around them by the time they grabbed it and pulled it out," Conklin said. "They couldn't even see; they ran off the roadway. Yeah, it was pretty hairy there for a while."