WENATCHEE — Sitting in his usual spot in Riverfront Park on Monday, Darrell Gann could hardly make out trees across the Columbia River. "This spot is beautiful on a sunny day," he said.
Gann's view was obscured by persistent wildfire smoke that has settled into the Wenatchee Valley and is expected to remain at least through Friday.
It's created one of Wenatchee's worst periods of poor air quality in over a decade.
Saturday and Sunday accounted for two of the five worst 24-hour stretches of air quality since 2007, according to data from the state Department of Ecology. The other three days were recorded during peak fire seasons in 2012, 2017 and 2018.
Most of the smoke in North Central Washington is being funneled in by southerly winds, said Charlotte Dewey, a meteorologist with the National Weather Service in Spokane.
"A lot of the smoke is coming in from Oregon and Northern California," she said. "With the winds coming out of the southwest, anything upstream from us in the southwest is being pulled in. We do have effects from our local fires near Omak and areas just west of Spokane."
Meteorologists had hoped a weather system coming into the state Monday would offer some relief. But the smoke remained and the next opportunity for favorable weather isn't expected until Friday, Dewey said.
"We are looking at a potential weather system to move through Friday and into the weekend that should bring some precipitation and a little stronger winds to help mix out some of the poor air quality and the smoke," she said.
The Department of Ecology's air quality alert for the area was extended until noon Friday. Residents are advised to limit outdoor activity until then, according to the alert.
North Central Washington may notice some change in conditions during the week, but it's not expected to be significant, Dewey said.
"We're not going to see a whole lot of improvement over the next couple days," she said. "It may be a little bit better during the day, just enough to where you could see a little difference. I don't know that you'll see enough of a difference to tell that the air quality has improved a lot."
The hourly readings from a weather station on Fifth Street in Wenatchee grew slightly worse throughout Monday. By the afternoon the air quality was hovering around 380 on the index — well above hazardous. It remained high overnight before improving to 271.7 early Tuesday morning.
The air quality canceled some of the few events Monday that weren't already postponed due to the pandemic, including NCW Libraries' planned resumption of curbside service.
It also left many of Wenatchee's parks and public spaces quiet Monday afternoon. But a few braved the smoke to get outdoors.
Dave Stender worked his metal detector across the grass of Triangle Park, looking for lost treasures. It's valued quiet time, he said as he continued off into the haze. Across the street, a pair of kids hopped on a backyard trampoline.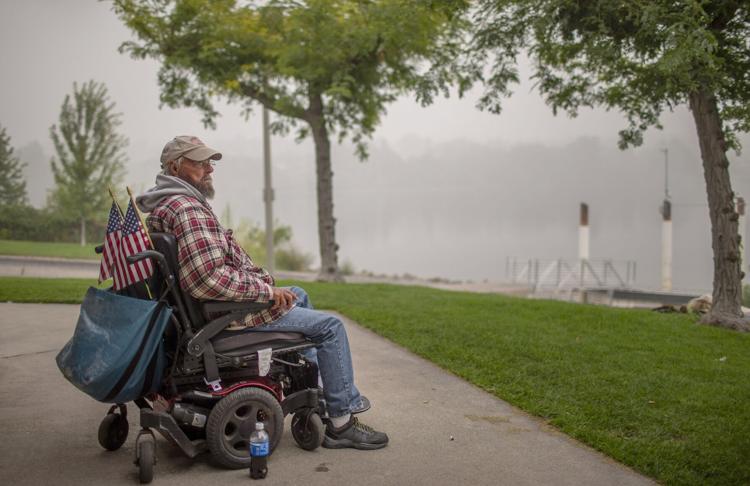 For Gann, the man sitting in Riverfront Park, there were few other options.
Gann has lived in Gospel House, a shelter for people experiencing homelessness, for the past two years. After leaving the shelter in the morning he often heads to the park and waits for it to reopen in the evening, stopping for breakfast and dinner at Lighthouse Ministries.
"This is the only place I really have to hang out," he said of the park.
Monday was no different, despite the smoke. Gann arrived at the park around 8 a.m. and was still there by 3:30 p.m. He planned to stay a couple more hours before heading back to the shelter.
Around him the park was nearly empty, save for a worker mowing grass and a couple people who ventured out for a walk.
Gann said he has asthma but hasn't been too bothered by the air quality. Per the state mandate, he has a mask for visiting stores and going indoors, but wasn't wearing it in the park Monday.
"The smoke just doesn't seem to bother me too bad," he said.