WENATCHEE — Jarvis Alston is right where he wants to be, leading his team into the playoffs in pursuit of a championship. The Skyhawks quarterback has dazzled fans this season with his remarkable athletic ability, running and passing.
While scanning through the Skyhawks game program, you note that Alston did not play college football. How can this be? He was an all-around athlete at Haines City High School, playing safety, receiver, running back, linebacker and quarterback. He was certainly a college prospect.
But he got into some legal trouble his senior season of high school, which cost him a potential college career. When he got out of jail, he was a new father at age 18. He needed to grow up fast and turn his life around.
"It helped me grow up and get on the right track. I got involved in coaching youth sports. I wanted to be a mentor for kids back home," Alston said. "I was able to turn my life around and get back on course. I put myself in a position to possibly succeed one day in football.
Alston, 32, said he never lost hope, nor his passion for the game.
"I had that mental lapse at an early age. It pretty much groomed me into the man I am today. I am appreciative of it because everything happened for a reason," he said. "I saw myself in the NFL. I know I was capable of playing in the NFL, but one wrong decision cost me."
The path has not been easy, Alston said. There were many days he wanted to give up, but he couldn't give up. His dad would not have wanted that. His father died of congestive heart failure about a year ago.
"He motivated me even though he was terminally ill. He told me to go out there and do what you love to do. He always told me he was proud of me. I always carry that in my heart," Alston said. "It is still fresh. This season is all about him and the man he raised me to be. It wasn't easy but it was definitely worth the journey."
Alston has two sisters, one who recently retired from the U.S. Army and another who just started her own elite cheer competition group. His younger brother is a promising softball player. His family has been his greatest support.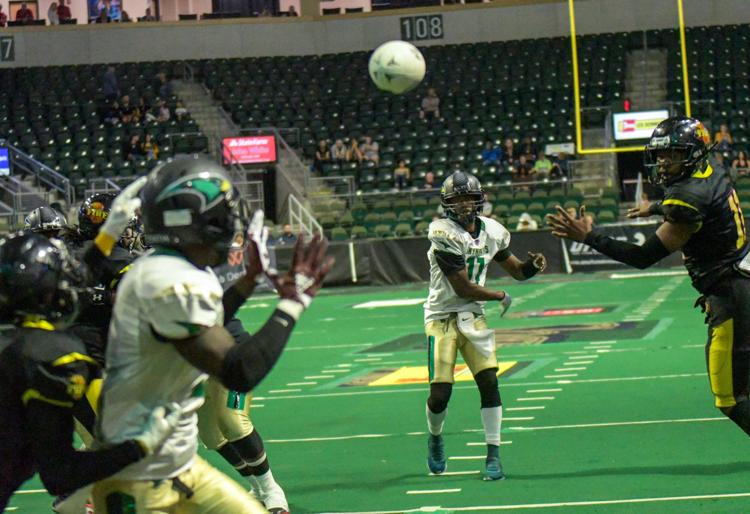 He wants to make them proud. Alston credits the kids he coached for inspiring him to play football again. He started training with two close friends, DeAnte Fielder, and Jerell Penny. Another friend, Anthony Johnson, played professional basketball overseason. He taught Jarvis how to be a pro.
"I told DeAnte and Jerrell, I want to get back into football but I don't want to just go out there and play. I want to be competitive and show people I still have it," he said. "I still carry that chip on my shoulder. I was always doubted since I was a little boy. No matter how many touchdowns, interceptions or tackles, me and brother were always doubted because we were so much smaller than everybody else."
There were many days when he did not want to train, but something kept pushing him. He wanted to do this for all the guys who lost hope.
"For the guys that lost belief. I want them to understand they can still make it, no matter what mistakes they've made," Alston said. "Your past doesn't define who you are. Keep your head high. I never lost hope. That's why I'm here today. I'm thankful for Coach Keith."
Skyhawks Head Coach Keith Evans coached in Florida in 2015. Evans said Jarvis reminded him of a former dual-threat quarterback he coached, Charles McCullough, who went on to win MVP of the league and the championship.
"When I had Charles in Kent in 2011, he was not the player he is now. When I saw the film (on Jarvis). He can do everything. Just talking to him, I knew I had to get him here," Evans said.
Alston started playing quarterback full time when he was playing semi-pro ball. He never wanted to play quarterback but his team was struggling with a poor offensive line and not very mobile quarterbacks.
He asked the coach if he could play quarterback, feeling he had the arm from playing centerfield in baseball. It turned out to be a great fit as Alston was scrambling around making plays. Now, he loves playing quarterback, giving his team the best chance of winning the game.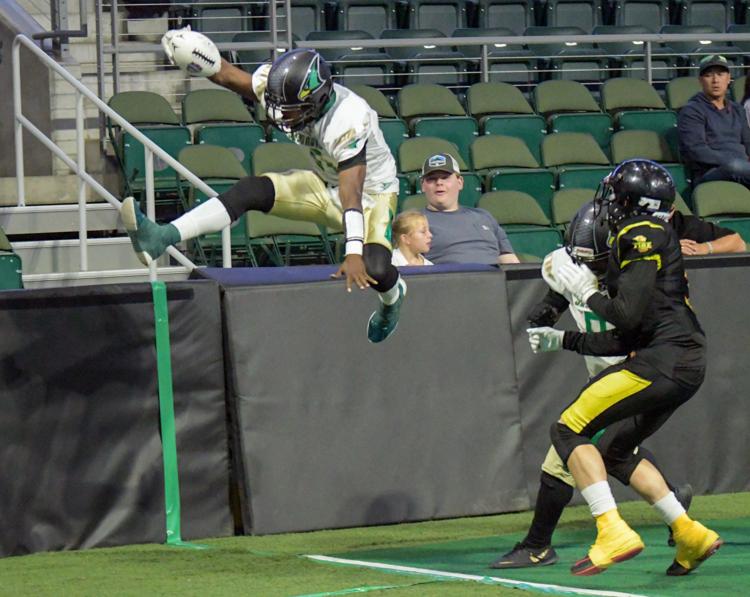 Alston was playing arena football in Sacramento but it was not working out. He was put in touch with Coach Evans, someone he remembered from back home. Once Evans called back, he wanted to know how quickly he could get to Wenatchee.
Coming to Wenatchee from Florida was a shock, for many reasons.
"It was a big difference. Coming from an urban area to pretty much a white community. I've grown up around white people but it was just a different culture," Alston said. "Back home, it's a lot of fried foods. Here it is cuisine, Mexican, Thai, and Chinese. It's different from back home where you get mostly southern food."
Playing for the Skyhawks this season has been kind of rocky, Alston said. There were days he wanted to go home. The team dealt with a lot of adversity, but they dealt with it out of their love and respect for the game and the coaching staff.
"The road has been rocky but I love playing for the Skyhawks. I look forward to being back here next season doing some great things for this franchise and community," Alston said.
Evans said he has seen Jarvis become more comfortable, especially being away from his family. Dealing with the colder weather was a challenge too. Now, Alston is locked in.
"The last five weeks, he is locked in. I'm locked in too. I was rusty, not wanting to be away from the family since 2015. I was rusty with play calling and the whole bit. It was a transition being away four years. He's locked in and I'm locked in too," Evans said. "It is clicking. I know what I want to do. He's noticed I've sped up with the play calling. I was a little rusty at first."
The Skyhawks finished the season 6-6, tied with Reno for second place in the American West Football Conference. Idaho won the regular season with a 12-0 mark. Wenatchee hosts Reno in a first-round playoff game at 5 p.m. this Sunday at the Town Toyota Center. The winner moves on to play at Idaho for the AWFC Championship.
Alston said he is excited about the game.
"I have a chip on my shoulder. I've battled so much to get here and get this team in this position, to go out on Sunday with a chance to compete for a championship. That means a lot to me. I don't take this opportunity for granted. It could easily be someone else," Alston said. "I take great pride in leading this team into the semifinals. There is no better place to do it, in the Town Toyota Center amongst a great group of fans. It's going to be electric in here Sunday, loud and very exciting."