On Saturday I sat on the edge of a lake, at the bottom of a basin, surrounded by a cathedral of distant waterfalls.
Every 10 degrees that I turned my head I saw another waterfall cascading down the hillsides, below white-capped peaks. All I could hear was the roar of the falls and twitter of birds through the trees around me.
I did a three-day backpacking trip to Hart Lake by Holden Village. It was one of the best backpacking trips I've ever done, but I did feel like I got lucky with the time of year. I encountered very few insects and on my second night, I was completely alone.
I suspect in a few weeks the area will be crowded with both bugs and people.
It was my first big backpacking adventure this season. It was an interesting trip that required a boat ride and a bus ride before I even got to the trailhead.
The adventure started with me boarding the Lady of the Lake in Chelan, which dropped me off three hours later at the Lucerne dock. I proceeded to take a bus from that point to Holden Village.
We arrived in Holden and a woman got on the bus. She explained that if people were staying in the village that lunch was ready for them.
A line of people then offloaded the bags like they were carrying pails of water to save the village from a fire. One girl grabbed my hiking bag and said, "Oh my gosh that's heavy!" She was right.
I decided to bring a tripod, a wide-angle lens and fishing gear with me on my hike. My pack was supposed to be about 36 pounds but ended up closer to 50 pounds. It was a mistake.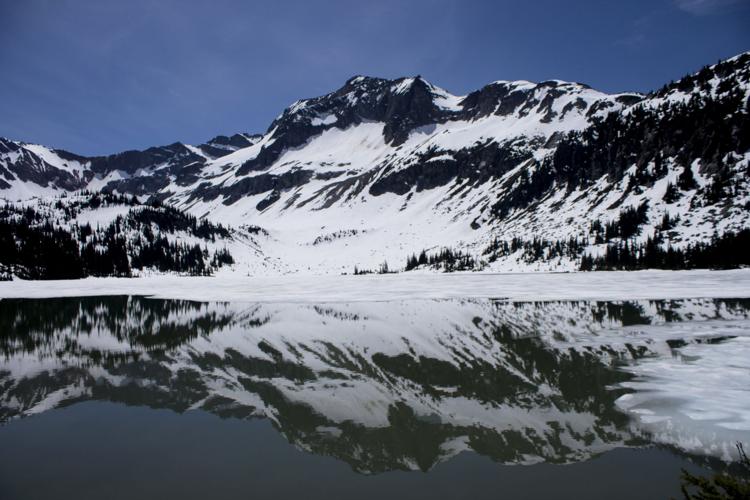 But I was not staying in the village so I headed straight out to the trailhead. I followed the road due west and came to a little hut that said, "hiking" on the side. A row of clipboards hung there for people to indicate where they were going and when they'd return. I signed myself out.
I met a woman with the Forest Service at the hut, who looked to be headed to lunch. We chatted a bit about the condition of the trails. My original plan was to go to Lyman Lake, a 10-mile trip.
It was likely still snowed in, she said. I decided to change my plans to go to Hart Lake, a 5-mile trip. It turned out that was a wise decision.
Getting to the trailhead I marched straight up the road due west and past a meadow. The trail winded alongside Railroad Creek. At one point it split and a sign pointed toward Holden Lake, but I continued straight toward Hart Lake.
The trail felt fairly flat most of the way to Hart Lake. Little lizards basking in the sun scurried off the trail as I passed. But the 50 pounds in my pack were starting to kill me at this point and I was glad I was only going 5 miles.
I crested a ridge and caught my first glimpse of Hart Lake. Railroad Creek was beating itself into a white froth through a set of rapids as it left the lake. In the distance, I could see that the valley was completely sealed in by cliffs on all sides. An enormous waterfall, called Crown Point Falls, fell at the very end of the canyon like an exclamation point.
I turned around and the valley curved behind me, headed back toward Holden Village. It was stunning.
I reached the shore of Hart Lake shortly afterward and found a camping spot. A couple was already there camping nearby. I later discovered that it was actually the Holden Village pastor and her husband.
I set up camp, grabbed my fishing pole and went to the lake. I wasn't sure if I was going to catch anything, but to my surprise, I caught two nice trout within an hour. The fish were practically jumping onto my hook.
I took the fish back, found a morel mushroom growing by my camp and cooked up the whole mess with a packet of basil olive oil from Safeway and some seasoning. It was one of the best meals I've ever eaten in the woods. I was so full I didn't bother eating my freeze-dried dinner.
That night the pastor and her husband got a fire going. I sat with them and talked about the village before I crawled into bed, relaxed, full and happy. It was a great day.
Lyman Lake
The next day I got up early and decided to do a day hike to Lyman Lake. The pastor and her husband set out back to the village to go to work.
I decided to go shirtless to work on my tan, which was a big mistake.
I ended up with an x-shaped tan line on my chest from my camera strap and very burned shoulders.
On the first leg of my journey, I had to ford Railroad Creek as it poured into Hart Lake. The water was too deep to jump across, so I used my Chaco sandals and my hiking poles.
The water pushed against my thigh and threw me a little off balance, but I pushed through and got to the other side.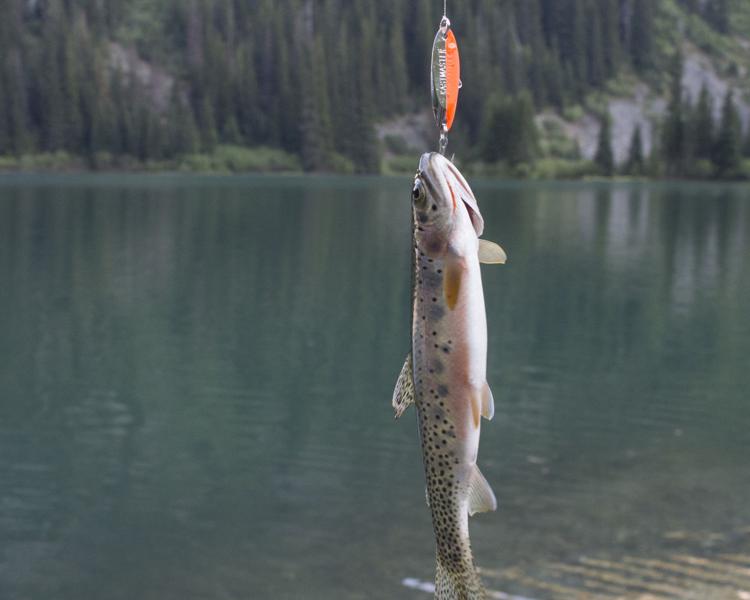 I got back into my boots, continued on my way and entered a field of bushes that I believe might have been wild blueberries or huckleberries. But they were not bearing fruit.
I looked up at a distant cliff and caught a glimpse of a mother bear and her cub walking along a ridge. They were heading away from me, though.
On my walk, I encountered a stag munching on a few bushes. It ignored me and didn't want to let me pass. I had to wave my hiking sticks at him to move. We did this dance a few times before I finally got past him.
I then hit a series of switchbacks and took them up the hill, next to Crown Point Falls. I counted almost 20 streams that cut through this trail. Most of them were small enough to jump over, but there was one that required me to ford it with my Chacos.
I encountered very little snow until I was almost to the top. About less than a mile away from the lake the snow got a few feet deep and I eventually lost the trail.
I was at the bottom of a snow-covered hill and I suspected the lake was at the top. I strapped on my micro-spikes that I brought and marched straight up the hill.
At the top, I came to a small wooden bridge crossing a stream, which let me know I was going in the right direction. I wandered around the hill a little before I found what looked like a path and followed it.
It led me straight to lower Lyman Lake, which was still covered in ice and snow. Chiwawa Mountain rose above the lake and reflected perfectly upon its surface. It was breathtaking.
The trip back from Lyman Lake was uneventful except for a western tanager that I spotted. The beautiful yellow and red bird stood out like an exotic rarity amongst the brush.
Stargazing
I made it back to the campground, grabbed my fishing pole and headed to get some dinner. The fish weren't jumping today, though and it took me an hour and a half to catch one fish. I caught a second an hour later, but it was so small I released it.
I then got ready to do some star photography. I climbed up a hill to find a good location, set up my camera and sat down to wait for the sun to set.
I watched as the last rays descended behind a distant cliff and stars started to wink on, one by one. Then the night sky filled with thousands of twinkling lights.
I started taking pictures and it was spectacular. I couldn't seem to take a bad shot. Everywhere I pointed the camera it was amazing.
I was taking pictures for about 20 minutes when my headlamp died. I swore a little and started to get nervous because I was on top of a pretty big slope. I made my way down the slope in the darkness with my camera gear over one shoulder.
I was near the bottom and almost back to my camp when something stirred in a nearby bush. I jumped 10 feet in the air and let out a yell when a large toad hopped out of the shrubbery. It croaked angrily at me.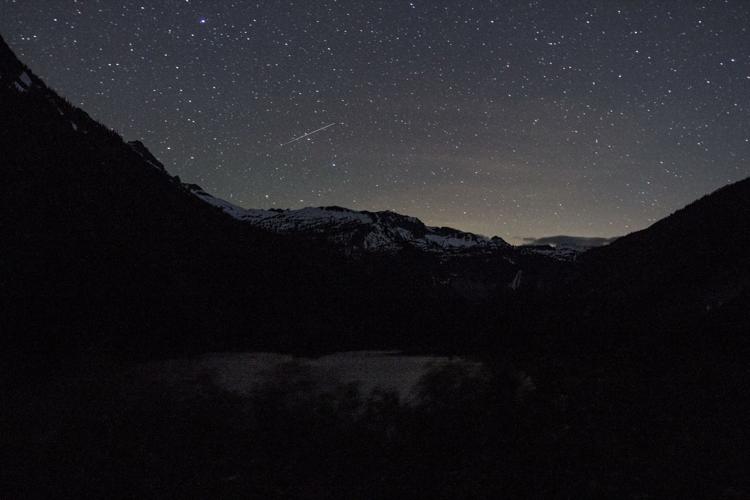 I let my heart rate descend back to normal, made it to my tent and went to bed.
My return trip went well but was a bit stressful. The only bus leaving Holden Village was at 10:45 a.m., that morning.
I started packing up camp at 6 a.m., but was running late. I started hiking out of the woods as fast as I could. Two hours later, though, I realized I was making good time and stopped worrying.
I got to Holden Village by 9:30 a.m. with plenty of time to spare. The village was having church service outside so I decided, "When in Holden," and joined them. The pastor waved hello at me in recognition from the night before.
During the middle of one of their songs a pine marten showed up and killed a chipmunk right behind the congregation. It then dragged the dead chipmunk off to a nearby open shed-like structure to eat it.
It was the first time I've ever seen a pine marten in the wild before.
We then grabbed the bus and reached the dock by 11:30 a.m. As we were waiting, another person and I decided to jump into Lake Chelan off of the dock.
The icy cold water hit me like a punch as I plunged beneath the water. But after the long weekend and considering my sunburn, it was refreshing.
It was then that I realized that my ticket was for 2 p.m. But the express boat would be there by 12 p.m. for only $21 more.
I was exhausted from the weekend so I paid the extra $21 and felt a bit like a sucker.
I slept a bit on the boat ride back and then got to my car bruised, battered and burned, but grinning from ear to ear.