The committees have spoken.
Both Eastmont and Wenatchee got hosed with their first-round state draw Sunday night.
Despite finishing the season (9-1) and winning their second straight Big 9 title, the Wildcats will travel nearly five hours on Saturday to play Camas, the No. 2 ranked team in 4A, at their place. Wenatchee, who finished two spots behind Eastmont in the rankings, gets the No. 1 ranked Kennedy Catholic Lancers Friday night.
Considering Eastmont played the easiest schedule — as rated on MaxPreps — in the top-20, the strength of schedule had to have played a part. As did the fact that a Big 9 team hasn't won a state tournament game since 2015 — even though the league has had two representatives in four of the last five years.
There is no question it's going to be a stiff test for both squads coming off their tiebreaker win Saturday against Sunnyside.
Camas is balanced offensively, with quarterback Jake Blair tossing 15 touchdowns and running back Jacques Badolato-Birdsell rushing for 907 yards and 17 TDs. But defensively is where the Papermakers have played their best ball, holding teams to an average of just 10 points per game.
Carson Tally, Austin Popoff, Corbin Keys and Austin Ruffins, who between them combined for nearly 3,000 rushing yards and 29 TDs, are all going to need to have a big game on the ground for Eastmont to have a chance. The winner of Eastmont and Camas will get either Puyallup or Eastlake.
The Panthers, on the other hand, will have the arduous task of trying to contain one of the state's most prolific offenses.
Aside from their two opening games against Bethel and Bothell, Kennedy Catholic has breezed past their opponents, winning by an average of 42 points. Junior quarterback Sam Huard has thrown for 3,048 yards and 43 TDs and the Lancers have a trio of receivers (JR Alexander, Reed Shumpert and Justin Richard Baker) with over 600 receiving yards and double-digit touchdowns.
If Wenatchee can contain them through the air though, they will have a shot with Camden Sirmon, who's as good as anyone slinging the ball down the field, and workhorse Nathan Blauman.
Whoever wins will face Skyview or Woodinville in the second round.
Saturday
It was all smiles for Eastmont and Wenatchee after both the Wildcats and Panthers beat the Sunnyside Grizzlies in a tiebreaker game Saturday afternoon at Lions Field, earning the two lone state bids out of the Big 9.
Eastmont played first and won 3-0 on a 36-yard field goal from Oscar Mago and then Wenatchee took the field and outlasted Sunnyside 14-7. 
For Eastmont, it's their second-straight year they've advanced into the final 16 while for Wenatchee, this will be their first trip to state since 2014 – when the Panthers made it to the quarterfinals.
"It's a great feeling we accomplished our goals two years in a row; league title and onto state," Eastmont head coach Mike Don said after the win. "It's (also) nice to come back and get a little retribution after we lost a close one to them."
The Wildcats weren't exactly firing on all cylinders offensively, but they were able to do enough to move down the field and control the clock, limiting the Grizzlies to just three possessions.
Sunnyside couldn't get anything going against the Eastmont defense and didn't even run a play in Wildcat territory.
"Our defense played lights out today," Don said. "That was awesome to see them rebound. Offensively it wasn't our best effort, but Sunnyside did some things that caused us some problems."
The Grizzlies started the second half in the hurry-up and got a few first downs but they stalled out at their own 40. On a crucial 4th-and-2, senior linebacker Jeremy Gregerson filled the hole perfectly and stuck the Grizzlies running back right at the line of scrimmage to force the turnover-on-downs.
Eastmont marched down the field on the ensuing possession and got into range of Mago, who converted the 36-yarder with plenty of room to spare.
"That was a great kick by Mago," Don said. "I should have probably kicked one at the end of the first half but it was great to get him the opportunity at the end."
The Wildcats salted away the win with a final defensive stop on the Grizzlies' next possession.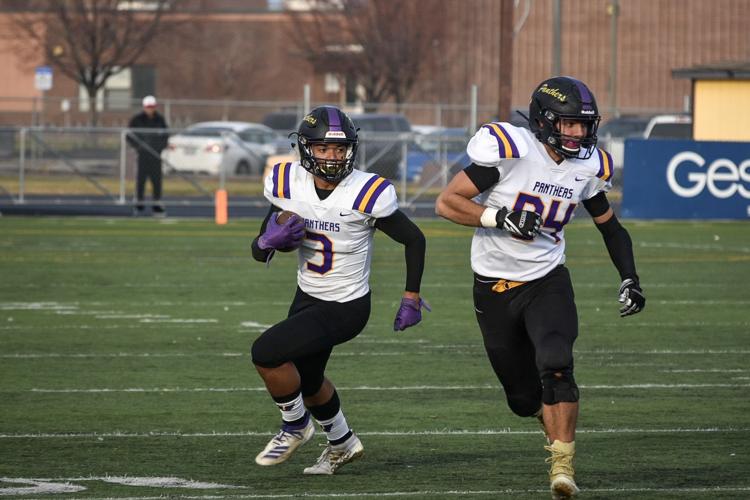 After a short 20-minute break, the Panthers came on and got the ball first.
Both Wenatchee and Sunnyside were forced to punt on their first possession but the Panthers then orchestrated a long drive to get down the field, capped off by a 24-yard touchdown pass from Camden Sirmon to Obadiah Young.
Wenatchee left only two minutes on the clock for Sunnyside, but a pair of personal fouls allowed Sunnyside to drive down the field and tie the game just before half on a 14-yard run by Devin Escamilla.
But because one of the Grizzlies captains inadvertently said they wished to kick after winning the opening toss – as opposed to deferring – they were forced to kickoff to start both halves.
Fortunately for the Grizzlies, their defense was able to force a Panther three-and-out on the opening drive, but after their offense couldn't muster anything, Wenatchee got the ball back and put together a solid drive. After chewing six minutes off the clock, Sirmon punched in the TD on a 3-yard QB keeper.
And that was all she wrote as the Wenatchee defense came up big with another stop. Though they played just 20 minutes the Panthers defense recorded four sacks – two of which by Camden Loidhamer.
"It feels good, it's a strange way to get there and we got there the hard way, but we're going," Wenatchee head coach Scott Deveraux said postgame.
Though Young got popped on a deep cross, he had himself a game, reeling in the opening touchdown and making a nice snag over the middle that set up the final score.
"He's a gamer," Deveraux said of Young. "Everyone is beat up right now but he came to play."
Sirmon finished 6-for-11 for 91 yards and a TD and running back Nathan Blauman churned out 59 tough yards on 14 carries.