SEATTLE — They dot the stands, a virtual throng of Mariners fans, in silent and perpetual vigil throughout this oddest of baseball seasons.
If you're able to forget, for a moment, that they are made of synthetic material, and really stretch your imagination, you can almost remember what it was like when real people made real noise at T-Mobile Park. Instead, with live fans banned from attendance due to coronavirus, we get cutout replicas, more than 13,000 of them.
"In this bizarre world we're living in, and this very different sports world, it's kind of nice to see fans in the seats, even if they're only a quarter of an inch thick and made of Styrofoam," said Jim Copacino, co-founder of the agency that has long produced the Mariners' commercials.
"Another thing _ they stay 'til the last out, right?"
People paid $30 each for the honor (with a portion going to charity). For some, it's a lark. But for many, it's deeply personal, the cutouts representing a beloved family member, a fond memory, a departed relative.
Oh, and lots of cherished animals, too.
To paraphrase a television show from the 1950s, there are 13,000 Styrofoam stories in the naked ballpark. Here are six of them.
Tucker Schreckenghost
Tucker was thrown a curveball in the first inning of life. He was born with hydrocephalus and spina bifida. It hasn't dampened his spirit, however.
"I think anyone who meets Tucker, he is such a ray of light," said his mother, Liane. "He doesn't let anything get him down."
Not even brain surgery. Tucker's condition requires a drainage tube inserted in the brain, which needs to be replaced periodically. Tucker's most recent such procedure was a year ago. One of the things that keeps him going is his beloved Mariners, with whom he is "pretty obsessed," his mom says.
Tucker's 9th birthday was July 27, which in the Schreckenghost family has meant a celebratory trip from their Auburn home to T-Mobile Park for a ballgame.
"This year, it was not an option," Liane explained. "So we were trying to look for, how could we still celebrate with him and have it involve his favorite team? My husband found the cutouts and said, 'Oh, my gosh, that's the greatest gift for Tucker.' So that's what we did."
Going to a game for a birthday treat is fun for the Schreckenghost family, which includes father Ricky and Tucker's 6-year-old brother, Brecken. But this gift, located in the front row on the third-base side, is one that keeps on giving.
"The first time Tucker saw himself, literally a little tiny glimpse of himself on TV in one of the games, he was freaking out," Liane said. "I think it's such a great way for us to be able to celebrate with him. It's really exciting when we're watching the games to look out for his face. And it's not just us; it's our extended family, too. Everyone is looking forward to it. He has quite the following."
Barbara Losey and Carl Pritchard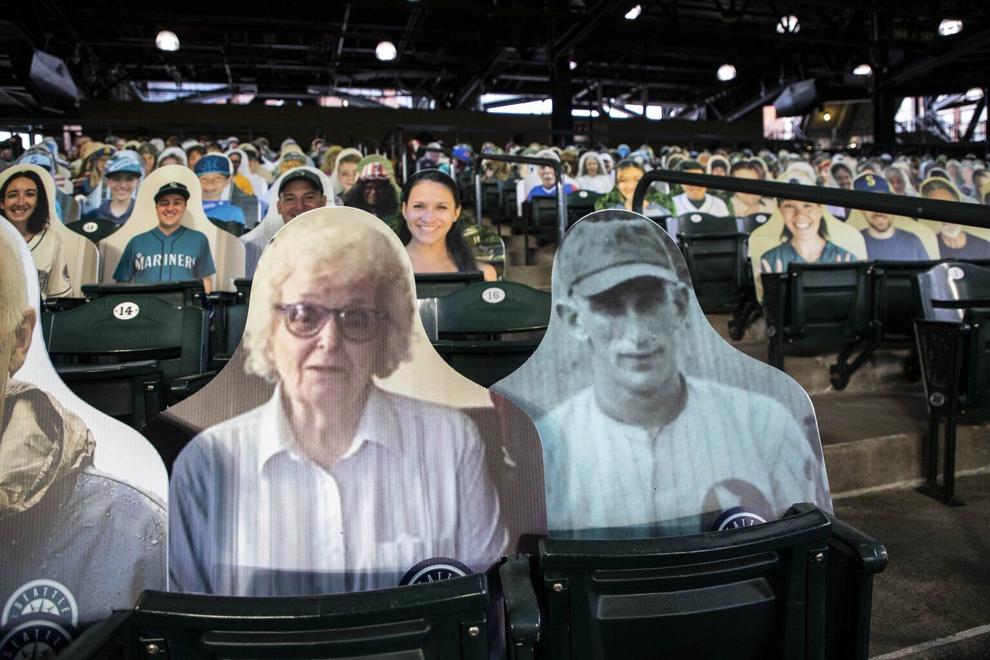 Kirk West wanted to do something special for the 92nd birthday of his mom, Barbara Losey, still going strong in Kelso. He remembered that Barbara had said she always wanted to take her father, Carl Pritchard, to a Mariners game. He died in 1980 before that could happen.
But West, living in Australia since he went there to teach school in 1974, saw a chance to fulfill that dream for his mother, a staunch baseball fan. Word of the cutout program filtered to him in Australia. He found a picture of his grandfather, a standout semipro pitcher in his youth, decked out in his baseball uniform. Pritchard grew up in Nebraska but moved to Kelso after serving in World War I. He went on to become a sheriff and stalwart of the community.
"They say he's one person who has never had an enemy," said West, a graduate of Kelso High School and Eastern Washington University. "Even the guys he locked up, they still respected him."
Pritchard's daughter, meanwhile, "is a very good baseball fan," West said of his mom.
She visited West in Australia in 1981 and noisily rooted at a winter league game in Sydney. She traveled to Illinois in 2001 when West's son, Matt, represented an Australian team, the Dingos, in the Cal Ripken League World Series. Losey is still living independently at age 92 _ "she wields the garbage can across the road every Tuesday morning," West said fondly.
So West submitted Pritchard's picture to the Mariners, along with a photo of his mom. Now dad and daughter sit side-by-side in section 144, finally watching a ballgame together. Thirty of them, to be precise.
"We got it sorted out so they could spend the season together," West, age 70, said from his home in Queensland, Australia, where he is studying to be a lawyer.
"She's very happy with it, very touched. It all came at the right time. It came together perfectly."
Steve Cunetta
As account manager for the Mariners' advertising campaign with Copacino+Fujikado, Steve Cunetta masterminded the "Sodo Mojo" slogan that still resonates with fans.
No one loved baseball more than Cunetta, who grew up a rabid Mets fan in Brooklyn and later become a devoted coach for Seattle PONY Baseball. Cunetta was a New Yorker through and through, described by Jim Copacino as a cross between George Costanza and Mr. Rogers.
"He had a heart of gold, but was kind of a quirky, semi-neurotic Brooklyn guy," Copacino said of the Yale-educated Cunetta.
When Cunetta died of cancer in 2013 at age 55, the Mariners held a moment of silence in his honor at Safeco Field, which amused the grieving Copacino. They were close friends who shared Mariners season tickets in Section 137.
"At his memorial service a few days later," Copacino recalled, "I said, 'You know, the Mariners had this moment of silence for Steve at Safeco Field. It was so touching, so poignant _ and so ironic; a moment of silence for a guy who never stopped talking.' "
When the Mariners announced the cutout plans, Copacino got a call from a former colleague, Joe Gerlitz, who suggested they submit one of Cunetta. Copacino loved the idea. Gregg Greene of the Mariners thought Copacino should be there, too, and arranged for him to be seated next to his old buddy, Cunetta _ reunited in Section 137.
"I think Steve would love it," Copacino mused. "He sure would. He'd have something to say about it, though. He'd have an opinion that would surprise you."