Gems and Busts is Zach Johnson's Fantasy Football pre-draft column, showcasing which players fantasy owners should target in their Fantasy Football draft over the weekend. The 2020 NFL season begins next Thursday with the defending-champion Kansas City Chiefs taking on the Houston Texans.
The Fantasy Football league that I manage with a group of my old high school buddies is fairly exclusive.
Obtaining an invite to the league is like receiving the e-version of a Golden Ticket; not everyone that wishes to get in is permitted access, and even after getting accepted, there is a strict code of conduct every owner is expected to adhere to.
Any malfeasance that's deemed unacceptable — not setting weekly lineups, offering one-sided trades, stalling payment of the $50 entry fee or auto-drafting — could result in banishment from the league. So far, it's happened twice over the past decade.
In a Dynasty League, which we've been doing over the past couple of years, there isn't room for one-foot-out-the-door fantasy owners. Because there isn't really much of an offseason. It's a year-round gig, with everyone constantly trying to get a leg up on the rest of the league by executing trades or swapping future draft picks.
For those of you who are new to fantasy football, in a standard ESPN fantasy league, teams fluctuate from year-to-year; players are only held onto for that season before falling back into the draft pool. But in a dynasty league, most players are retained from season-to-season. Theoretically, you could hold onto guys for their entire careers.
So, doing your research on incoming rookies and the team that selects them is crucial. What kind of situation did they get drafted into? Did they have an injury history during college? How did they perform against quality opponents? Are they going to start immediately or are there guys ahead of them in the depth chart? How are they performing in Training Camp?
Our league isn't a typical fantasy league, it's more like a second job.
Which is precisely why we enjoy it so much.
For years, the league would gather outside my childhood over Labor Day weekend and position a giant wheeling whiteboard against the garage. With pencils and a multitude of cheat sheets in hand, we'd sit out there for hours discussing every draft pick at length and jabbing each other with pointed criticism — just like every other private league comprised of friends.
We all believe we're experts but ultimately, it's just a crapshoot.
That's the beauty of Fantasy Football though. It doesn't care if you are a skilled 20-year veteran or 10-year old logging into his first fantasy league. Everyone is brimming with optimism Week 1. And we all sweat through weekly flex options, cringe when a touchdown is called back because of a penalty, and bite our nails while watching Monday Night Football, hoping one of our guys will bail us out and secure a win. Fantasy Football is the greatest equalizer.
And yet, this season will surely be different than any other in year's past.
Will the NFL be able to hold a full season? Will games get postponed, similar to the MLB? What happens if a star player contracts COVID-19 and is forced to miss time? Everything is fluid at this point.
But one thing for certain, the Texans and Chiefs will kick off the 2020 NFL season next Thursday. And with it, we'll at least return to some sense of normalcy.
Football is finally back.
Quarterbacks to target for 2020
Kyler Murray, Cardinals: Murray, the 2019 Offensive Rookie of the Year, is poised to have a strong sophomore campaign. Right now, he's the sixth or seventh quarterback taken off the board but with the addition of DeAndre Hopkins, who's one of the best receivers in the league, Murray could make a similar second-year leap as Lamar Jackson. I'm not saying Murray is going to rush for over 1,200 yards, take the league by storm and win MVP, but he is a dynamic runner and could score 30-plus touchdowns this season, with a handful coming on the ground. Even during an up-and-down rookie season, Murray averaged nearly 20 fantasy points per game in 2019 and finished as a top-10 quarterback. He has the tools this year to finish within the top-5.
Tom Brady, Tampa Bay: I know, I know, Brady is an old-man and for the first time in his storied career he'll be without the assistance of Bill Belichick. But "Tompa Bay" is absolutely stacked this season. Brady has never had the quality of receivers he has now with Chris Godwin, Mike Evans, and the now unretired Rob Gronkowski, all lining up together. And with Leonard Fournette in the backfield, the Buccaneers have to be viewed as one of the Super Bowl favorites out of the NFC. Brady is going to sling it all over the yard this season and he'll push toward 35 touchdowns. You could do a lot worse than Brady as your QB.
Quarterbacks to avoid for 2020
Deshaun Watson, Texans: It's not like I'm saying avoid Watson at all costs, I just don't think he's worthy of a third or fourth-round pick, which is where he's being drafted (on average) across ESPN leagues. Watson is a stud, don't get me wrong, but I think his numbers will suffer a little bit without DeAndre Hopkins acting as his safety-valve. Hopkins rarely drops a pass and has a tremendous catch radius; anything near him and he reels it in. As good as Brandin Cooks and Will Fuller are as receivers, neither is half the receiver as Hopkins and both have an injury history. Again, if Watson is still available in the sixth round, grab him. Just not early on.
Aaron Rodgers, Packers: (Cue the Stephen A. Smith voice) "He's a bad man," a first-ballot Hall of Famer, and one of the most tantalizing quarterbacks to watch each week. But Rodgers is coming off his worst fantasy season in his career; a season in which he finished as QB13 in points-per-game, had 10 weeks where he scored lower than 15 fantasy points. From Week 9 on, Rodgers averaged just one touchdown per game and threw for 300 yards only once. Since Devin Funchess opted out of the season, the only targets Rodgers has is Devonta Adams and running back Aaron Jones. But that's it. Green Bay transitioned into a run-first offense last season under head coach Matt LaFleur, and there is no reason to suspect they don't continue it after using a second-round pick on the 250-pound running back AJ Dillon. Steer clear of A-Rod this season.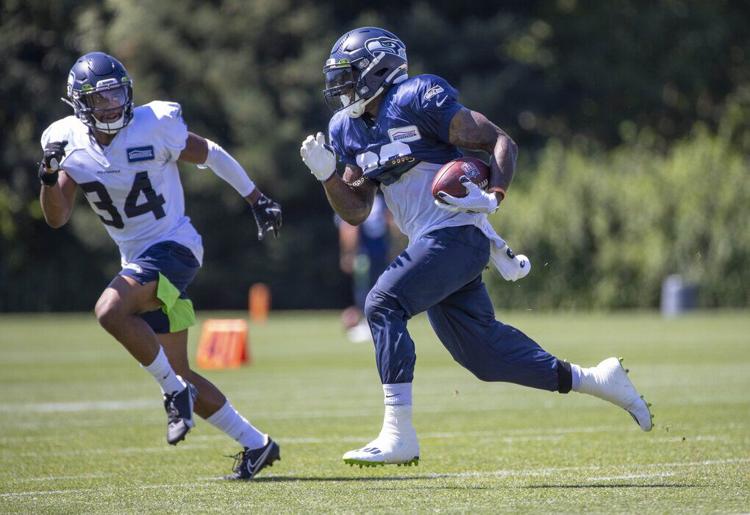 Running Backs to target for 2020
Clyde Edwards-Helaire, Chiefs: You might be thinking to yourself, who is Clyde Edwards-Helaire? But whoever scoops this rookie up in the first round has a chance to nab the steal of the 2020 fantasy season. Edwards-Helaire, soon to be CEH for short, is in one of the best running back systems in the entire league. Any back under head coach Andy Reid is a must-grab and CEH is no different. With Damian Williams opting out, CEH is going to get a ton of work and has pretty much no one pushing him for carries. He's the only SEC running back to ever finish with 1,000 rushing yards and more than 50 receptions in a season; something that plays right into the Kansas City offense. As long as he stays healthy, CEH has a chance to finish the season as the best running back in the league. I don't care which draft spot you are in or who is left on the board, if CEH is still available when it's your turn in the first round, take him.
Chris Carson, Seahawks: I'm not from Washington and the Seahawks are one of my least favorite teams in the NFL, so this isn't a homer pick by any stretch. But Carson has quietly been one of the more consistent runners in the league. He's one of only two running backs that have rushed for over 1,100 yards and scored nine touchdowns in each of the past two seasons (the other being Ezekiel Elliott). He's in a contract year, so he'll want to perform and the Seahawks are going to hand him the rock 20 times a game. With Rashaad Penny starting the season on the PUP list, Carson doesn't have anyone competing with him for carries to start the season. He's a perfect RB2.
Running Backs to avoid for 2020
Nick Chubb, Browns: Chubb had a phenomenal 2019 season and finished as a top-5 back, but his numbers dipped considerably once Kareem Hunt sniffed the field after his suspension. This is going to be a running-back-by-committee (a thorn in the side for fantasy owners) with touches split right down the middle. That doesn't sound like a first-round pick to me. Again, if Chubb is still available late in the second round or start of the third, I would snag him. But not as my No. 1 pick. He's too risky, which is the last thing you want with your first pick of the season.
Le'Veon Bell, Jets: I still believe Bell is one of the more talented running backs in the league, this is simply about location. The Jets have been a laughing stock for the past two decades, with almost nothing to show for it. Behind one of the worst offensive lines in the league, Bell averaged just 3.2 yards per carry and rushed for less than 800 yards last season (abysmal by his standards). I think he'll be able to pick that up a little because the Jets added some help on the line, but Bell can no longer be considered a No. 1 back. Let someone else draft him.
Wide Receivers to target for 2020
Marquise 'Hollywood' Brown, Ravens: Brown dominated in his debut catching two touchdown passes and going for over 140 yards. But then he didn't surpass 100 yards the rest of the season and caught only five more touchdowns. So there is some risk involved with this pick. But for where Brown is going, he could be a mid-round steal because of how explosive he is. Most of the analysts on ESPN are calling him the next Tyreek Hill because of his breakaway speed. And Brown will be the leading receiver in Baltimore this season. Any No. 1 guy on one of the best offenses in the league is an asset, so make sure you take Brown if he is still on the board in the sixth or seventh round.
DK Metcalf, Seahawks: I might be preaching to the choir here with my two Seahawks but I really like Metcalf to break out this season. He already was a deep-threat but now with a full season under his belt, I think he'll be able to showcase his route-running this season and eclipse 1,000 yards. Metcalf is such a big body, he's going to get a lot of looks at the goal-line, and with his strength, I'd like to see a defensive back try to rip the ball away from him. Good luck with that. Metcalf is an outstanding No. 2 receiver.
Wide Receivers to avoid for 2020
Amari Cooper, Cowboys: He went over 1,000 yards last season and had some great games, but there are times when Cooper just doesn't show up at all and gives you a goose-egg in terms of fantasy points. Michael Gallup emerged as a solid receiver last season and adding CeeDee Lamb into the mix doesn't help Cooper's fantasy outlook. Cooper will still be a very good fantasy option for owners this season and barring injury he'll put up good numbers, but I don't believe he is worthy of a second or third-round pick. His battering mate Michael Gallup is going five rounds later and finished with essentially the same numbers. So let Cooper go and try to snag Gallup a couple rounds later. Lamb is a nice flier pick as well in the later rounds.
Keenan Allen, Chargers: Because of his tenacity, Keenan Allen might be one of my favorite receivers in the league but I am nervous about his chances with Tyrod Taylor now serving as his quarterback after Phillip Rivers departed for Indianapolis. Taylor hasn't started a game since 2018, and even then, he was never known for airing it out a bunch. Allen should get the bulk of the targets, but it's hard to see him putting up the same kind of numbers without Old-Man-Rivers.