I pitched my tent on the side of a windy cliff, a deep curving basin falling below me with one of the most perfect twisting alpine creeks cutting through a meadow I've ever seen.
Last weekend I hiked to Spider Gap north of Lake Wenatchee and west of Holden Village. Spider Meadow, which you have to hike through to get to the gap, is a highly popular backpacking destination in Washington state.
I've never done either hike before so it was an interesting experience. Sure enough, I discovered about 40 cars at the trailhead and the meadow was jam packed with backpackers when I reached the meadow at 3:30 p.m. on Saturday.
After doing the hike I can see why it is so popular. It is only 1,220 feet of elevation gain to the meadow over six miles, a pretty easy jaunt, even if you are carrying a 35 pound pack. I was going about 2.5 mph all the way to the meadow, according to my GPS. My normal speed is about 2 mph.
The trail cuts through a fir forest, along meadows filled with fluttering butterflies and through several plentiful streams. My boots got wet more than once while crossing some of these tributaries.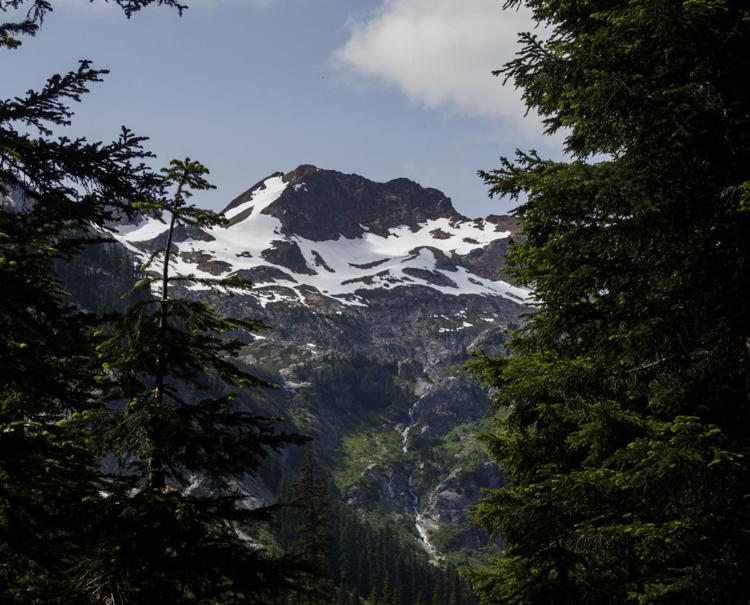 I do think it is a gorgeous hike. The views aren't astounding until you get to the meadow itself, but it is quite pleasant.
The view at the meadow sneaks up on you. I rounded a corner and it seemed like mountains popped out of nowhere on either side of me. A beautiful lush meadow stretched from one side of the basin to the other and pine tree forests capped either end.
A red-colored mountain looms along the horizon on the left hand side, cradling Spider Gap, and huge granite boulders litter the meadow. Waterfalls can be seen cascading down the face of the mountains in all directions. The meadow honestly looks fake it's so serene and perfect, like how someone would describe alpine scenery in a movie.
I thought backpacking to Spider Meadow would be a reasonable thing to do, because I injured my left foot about two weeks ago and have been trying to let it heal. Letting it heal has meant going on half as many hikes as I usually do, about three hikes a week. I'm not a very good patient.
But my hike had just begun by the time I got to the meadows.
I quickly saw that most of the camping spots had been taken before I arrived. I talked to two men with skis on their backs and a corgi about their plans. They said they were headed to the east slope of Chiwawa Mountain and recommended camping on Spider Gap. It was only a 30 minute hike past the meadows and the view was spectacular from the rock outcropping, they said.
I was feeling pretty good after the easy hike to Spider Meadow and decided to do it. My trip, though, went from very easy to more than I wanted with an injured foot.
The climb from Spider Meadow to Spider Gap was a little less than a mile and about 1,600 feet of elevation gain. The switchbacks up to Spider Gap looked like they were at 45-degree angles and we scrambled across loose shale to get to the top.
I would say it was at this point it started to feel like a real hike. The meadow dropped down below me and I could now see the creek that wound its way through it, curling upon itself like a serpent.
Birds flitted through the trees and a marmot screamed at the two men's corgi as we hiked past. I even heard a few pikas.
I was hurting by the time we reached the pass, but it was worth it. I found a beautiful, if windy, place to camp between thin alpine trees on top of a cliff. It felt like I was camping on top of the world.
The next day I woke up early and hiked out of the woods. It was almost entirely downhill on the way back and took me three and a half to go 7.5 miles. In total what was supposed to be a two-day 12 mile, 1,900-foot elevation trip, turned into 15 miles and 2,550 feet of elevation.
In truth a totally doable amount considering I've done 2,800 over 7 miles with my 35-pound pack as a day trip. But when you're not planning on a heavy-duty hike, it can throw you off guard.
I definitely recommend Spider Meadows to families wanting to do an easy backpacking trip. The trip a little farther to Phelps Basin is also quite nice. For the slightly more adventurous they can try Spider Gap, which honestly is still quite reasonable hike for those in sufficient shape.
If I had continued past Spider Gap I could have gotten to Lyman Glacier and then to Upper Lyman Lake. In fact the trail would have connected to one I took in June to Hart Lake.
A person could reasonably backpack from Spider Meadow to Holden Village and maybe one day I'll do just that.
Directions: From Coles Corner head 10 miles north on Highway 207. Turn right onto Chiwawa Loop Road and proceed two miles. Turn left onto Chiwawa River Road and head 22 miles to the end of the road. At about 10 miles in the road turns to gravel. You will reach a sign that says Phelps Creek Trailhead pointing to the right and uphill. Follow the road up a few switchbacks to the end. It is really rough at this point. You will run straight into the Spider Meadow Trailhead.
Basically once you're on Chiwawa River Road keep driving until you can't go any further.