In this day and age the absence of other humans is a rare commodity, which made my backpacking trip to Glasses Lake west of Lake Wenatchee that much more rewarding.
My friend, Whitney, and I spent only two days and one night up at the remote alpine lake destination, but while there we didn't see a single human being. The lake is clear, fresh and fed by snowmelt. Its water is beautiful shades of turquoise and emerald. Granite boulder fields surround it, as well as lush, green vegetation.
The hike to Glasses Lake is a 10-mile trip over 2,000 feet of elevation. It requires bushwhacking through an overgrown trail system, as well as climbing up cliff faces while grabbing onto roots. It is not an easy hike and with a backpack over 30 pounds it is definitely challenging.
We got to the Heather Lake Trailhead at about 11 a.m. and I saw six vehicles parked there, including our own. Considering some of the hikes I've been on lately six is a pretty low number. I was hoping that most of the hikers were headed to Heather and not Glasses Lake, which turned out to be true.
The hike started easily walking through a fir tree forest next to a small river. The first two miles are almost completely flat and it is bit deceiving.
Then you cross a bridge over a waterfall and you hit the elevation gain. The trail goes straight up over the next mile to Heather Lake and I found myself panting under my heavy pack. I had to stop several times to catch my breath.
Heather Lake is a nice destination and as a day hike fairly easy at only 3.5 miles and 1,200 feet of elevation. It's surrounded by a dense forest and the water is clear and cold.
I went backpacking to Heather Lake over a month ago and the fishing there for trout is excellent.
But it isn't as pretty as Glasses Lake, so we crossed a log jam and hit the trail again.
At this point it really started feeling like an adventure. We climbed over downed trees, trying to find the narrow trail under bushes and through the undergrowth. All the while Whitney was finding huckleberries and munching happily on them.
We didn't find many huckleberries, their prime time had passed, but the few berries we found were still enjoyable.
We made it the end of Heather Lake having only lost the trail once for a few seconds, but then the real hike began.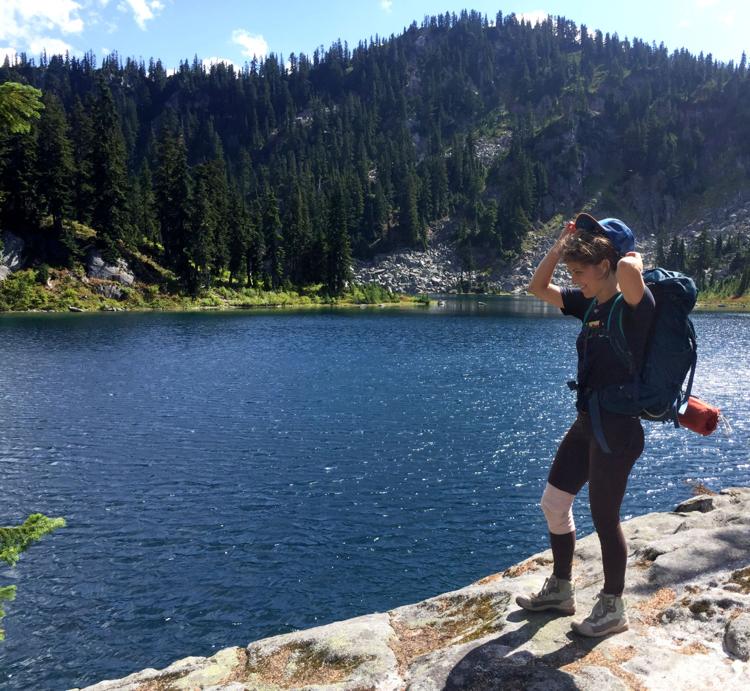 There isn't a sign for the Glasses Lake Trail, but there is a sign that says no campfires nailed onto a tree. At the sign hikers need to turn 90 degrees left and head up what looks like an old creek bed.
It's about a mile from that point up to Glasses Lake and about 800 feet of elevation gain. The trail is barely perceptible through the brush and parts of it requires walking along old logs or knowing to walk around to the other side of trees.
There are also about five points during the trip where hikers are required to climb up a cliff face using handholds in the rocks and roots. It would be challenging enough by itself, but with a 30-plus pound pack it becomes real interesting.
I started to get extremely winded at this point and my muscles began to cramp. We took several long breaks before we got to the top and were rewarded by the sight of Glasses' crystal waters.
But as we made it towards the campground I was descending down a cliff when I got a Charley horse in my left leg. The pain was so serious I screamed out loud. I've never actually done that before while hiking.
We made it to the campground, though, without further incident and my leg felt fine at that point. We jumped in the cold water and rinsed the sweat off our bodies. It was about 4:30 p.m. when we got there.
I can only describe the 18 hours we spent there as magical. The stars that night as we slept were brilliant. I swear I could see entire galaxies poke out of the dream fabric of the night.
The next day we walked barefoot around the edge of the lake. We climbed boulders with our fingers and toes, and swam through the surprisingly warm water.
Whitney even braved about a 20-foot drop off a granite cliff and into a surprisingly deep pool. I'm a chicken when it comes to heights and couldn't do it.
By the time we got back to my car the next day we were tired, but felt thoroughly rewarded.
Whitney kept on asking me how I would describe the experience when I wrote about it later and I mulled it over as we walked back. The thought that kept on returning to me was of my childhood.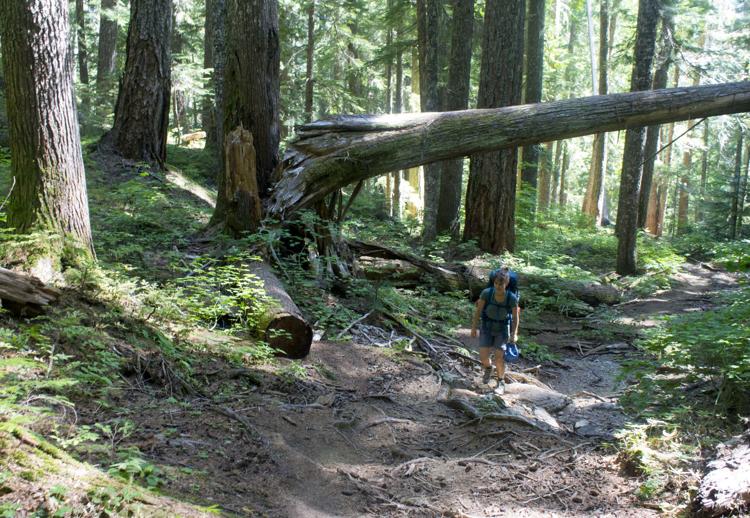 My parents owned three-acres of property and about two-acres of it were forested. I spent my childhood running barefoot through trails I'd made myself, pushing through bushes, balancing on logs and splashing through creeks.
The weekend we spent in the mountains in solitude helped me regain a glimmer of that childlike glee. It was an adventure the likes of which can only best be described through the eyes of 10-year old boy making forts and slaying dragons in his backyard. For 18-hours I got to meet him once again.