WENATCHEE — The Wenatchee Wild, winners of four in a row, begin a two-game homestand on Friday at the Town Toyota Center. As the season winds down with only five regular-season games remaining, the Wild are starting to play their best hockey.
"We've been happy. This time of year winning is not easy. The thing that is most rewarding for me is we are getting contributions from everybody, all 12 forwards, all six defensemen, two goalies. Everybody has had a hand in helping us win. Those are the wins that are most rewarding as a coaching staff," said Wenatchee Wild Head Coach Chris Clark.
Wenatchee started their four-game win streak with a 4-3 overtime win at home over Coquitlam on Feb. 1. The Wild had goals from Matt Dorsey, Hunter Hastings, Sam Morton, and Dylan Herzog, who scored the game-winner in overtime.
On Feb. 5, the Wild beat Prince George 3-2 in a shootout win. Wenatchee picked up goals from Tyler Young and Luke Ormsby. In the shootout, Brett Chorske and Morton scored, while Wild goalie Daniel Chenard denied two Spruce King shooters.
"Once you get into the overtime and shootouts, those are usually high emotion games, so when you win those, you get on a pretty big high and gives you a lot of confidence. It started with us beating Coquitlam at home after a pretty long road trip," Clark said. "Beating a team like Coquitlam gave us a bunch of confidence. Going into the three road games, I thought we played well. We minimized our mistakes. We were disciplined so we stayed out of the box for the most part."
Wenatchee continued their road trip to Surrey on Feb. 7. It was a 2-2 game in the third period as Hastings and Dorsey scored to give the Wild a 4-2 victory. The next night at Langley, the Wild won 3-2 with goals from Drew Bavaro, Harrison Scott, and Ormsby.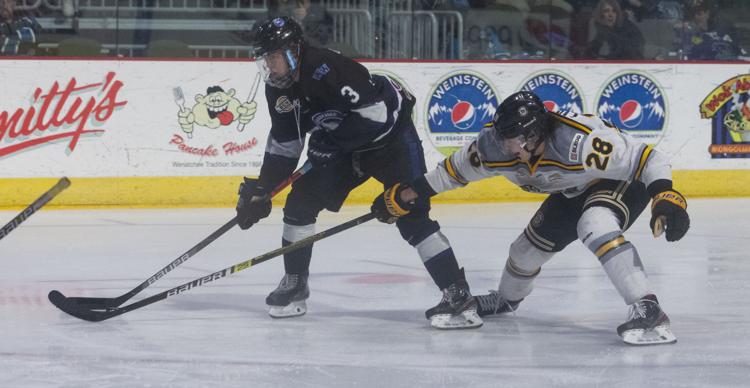 Clark said winning in those three venues is tough because it is three very different buildings.
"PG is one of the smaller rinks in the league and a very difficult place to play. We've been there many times and played many meaningful games. It's a really hard building win in," Clark said. "Then you go to Surrey, which is the biggest rink in the league. That was an adjustment for the guys. They are a team with high offensive firepower. We found a way to win.
"Then, we had to go to Langley, which was another small ring. Those games are always real physical and real demanding on the body."
Clark is hoping his team can carry the confidence over to the weekend with home games Friday and Saturday and a road game on Sunday. Wenatchee hosts Vernon on Friday, Chilliwack on Sunday. The Wild is on the road Sunday at Salmon Arm.
Clark said their final two regular-season home games are big.
"I thought we've been playing some good hockey lately. We'll need to do that against Vernon, who is just above us in the standings Friday night," Clark said. "Chilliwack is another strong team. We've played a boatload of meaningful games against them. There is always a little animosity between the two clubs. It should make for some exciting hockey."
With every team having five games remaining, Clark said there is still lots of playoff seeding to be decided. He said the Wild could finish anywhere from third, fourth or fifth in the BCHL's Interior Division.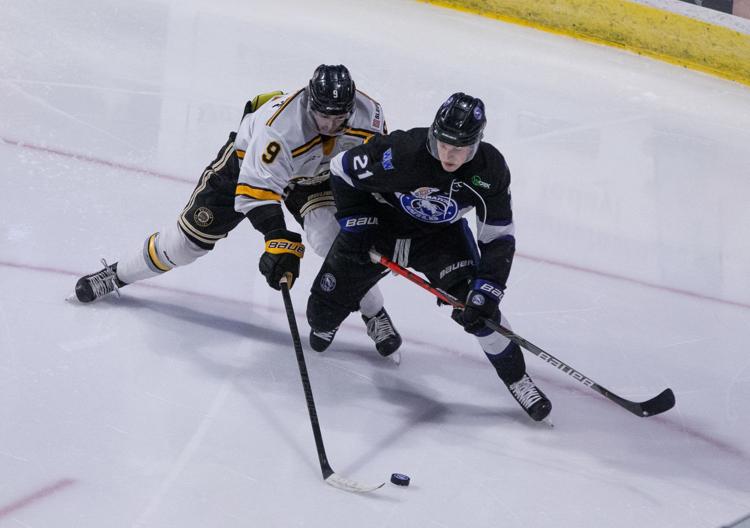 Currently, Wenatchee is in fifth place with 58 points. Penticton has clinched the division with 84 points. Trail is second with 71, Salmon Arm third with 61 and Vernon fourth with 59.
"We're doing a lot of things right. We're battling the injury bug, which everybody is this time of year. It's given other guys the opportunity to play increased minutes and a bigger role," Clark said. "When you get the opportunity, you have to make the most of it. I think our guys have. The 20 guys we have healthy right now, everyone is relishing their opportunity. We're playing some pretty good hockey but we know there is still a long way to go. We have five games left to hit our stride."
In terms of what has been working for the team lately, Clark said on a given night, it's been something different.
"Our penalty kill has been pretty good lately. There have been nights when we've needed the goaltender to stand on his head and they've done that, both Daniel and Noah (Altman)," Clark said. "Our power play has come up with goals at big times. I really think it has been a team contribution. On a given night, it's a variety of things. That's what makes it most exciting."