WENATCHEE — Just a couple weeks ago in Idaho, Wenatchee beat Eastmont 60-45 in the Avista tournament. While Eastmont Head Coach George Juarez was not there due to illness, he took some lessons from the game.
In the rematch between the two teams on Friday night in the Town Toyota Center, Juarez used those lessons to guide his team to a 56-51 victory over the rival Panthers.
"It's interesting because it was the opposite of last year where had to give up a bunch fouls at the end of the game. This year, they had to give a bunch. Our kids played well, defended well and shot well," Juarez said. "For the most part, we controlled our rebounding better than we did last time."
Wenatchee only led once in the game when it was 3-0. From there, Eastmont took control of the game frustrating the Panthers with a pesky defense and hitting some threes in transition. Eastmont bolted out to a 16-5 lead in the first quarter.
The second quarter, the Panthers could just not get on track offensively. Eastmont was paying special attention to guard Garrett Long, the Panther's leading scorer. That move paid off as they extended the lead in the second quarter.
Eastmont led 25-9 at one point, but Wenatchee was able to make a late run to cut the lead to 10 points at the half, 32-22. Long was held without a field goal in the first half and only had two points.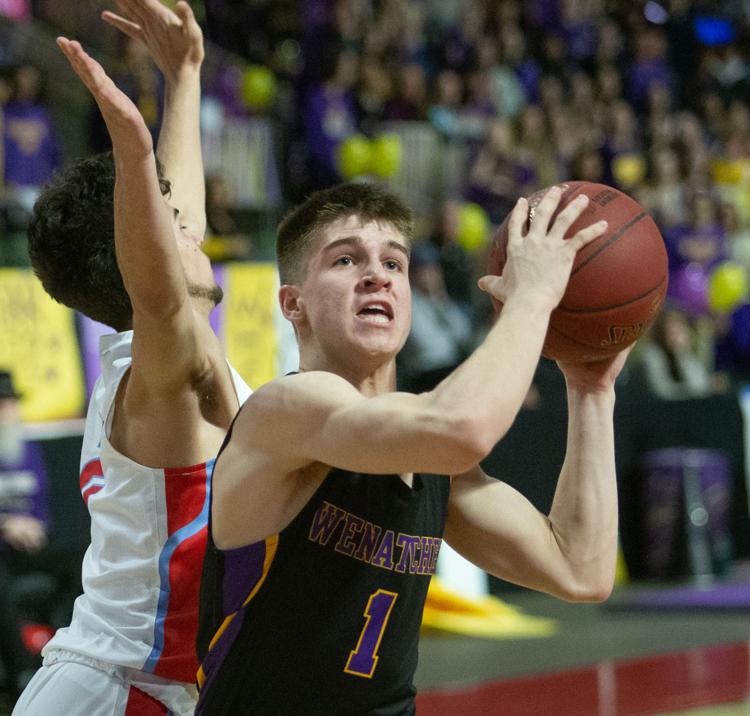 The Wildcat transition game was rolling, which is exactly what Juarez wanted.
"That all starts with being able to control our defensive rebounds. We controlled it for a while. They had over half their points on second-chance opportunities. If we can stop them and get out and run, we are going to be successful. We were tonight," Juarez said.
The Panthers cut the lead to seven in the third quarter but could come no closer. Eastmont was ahead 46-35 after three. Long started to come alive in the fourth quarter, which allowed the Panthers to cut into the lead.
Wenatchee would cut the lead to nine, but the Wildcats would always answer. Late fouls by the Panthers did not do much good. Basically, the time just ran out on their comeback. The five-point margin of victory was the closest Wenatchee had been all night.
"We did a great job defensively. We've been harping a couple of things all week, rebounding, team defense and making sure we hit our free throws when we got to the line, which we didn't do very well," Juarez said.
Senior Tre Haberlock led Eastmont with 18 points. Senior Isaac Wellborn had 10. Senior Oscar Cavillo and senior Evan Smith each had eight. Senior Nathan Blauman had 18 for Wenatchee. Junior Garrett Long chipped in 15.
Eastmont improves to 3-1 in the Big 9 and 7-4 overall. Wenatchee falls to 1-2 in the Big 9 and 5-6 overall.
"Unfortunately, I was not at the last game because I was ill. We went zone against them and it worked really well in the first half because we were ahead. This time, I said no, we're going to man up and that is the way it is. They did a good job," Juarez said.
Next up for Eastmont, a game at Davis (1-1, 5-5) on Saturday. Wenatchee hosts Eisenhower (0-2, 1-8) on Saturday.