Boys Basketball
CASHMERE — The Bulldogs took the win over the Cle Elum Warriors Tuesday night but only after overcoming a sluggish start that the Warriors, who weren't the least bit road weary, took advantage of by capitalizing early on transitions and turnovers before the Bulldogs clawed back to take over the game and finish 64-51.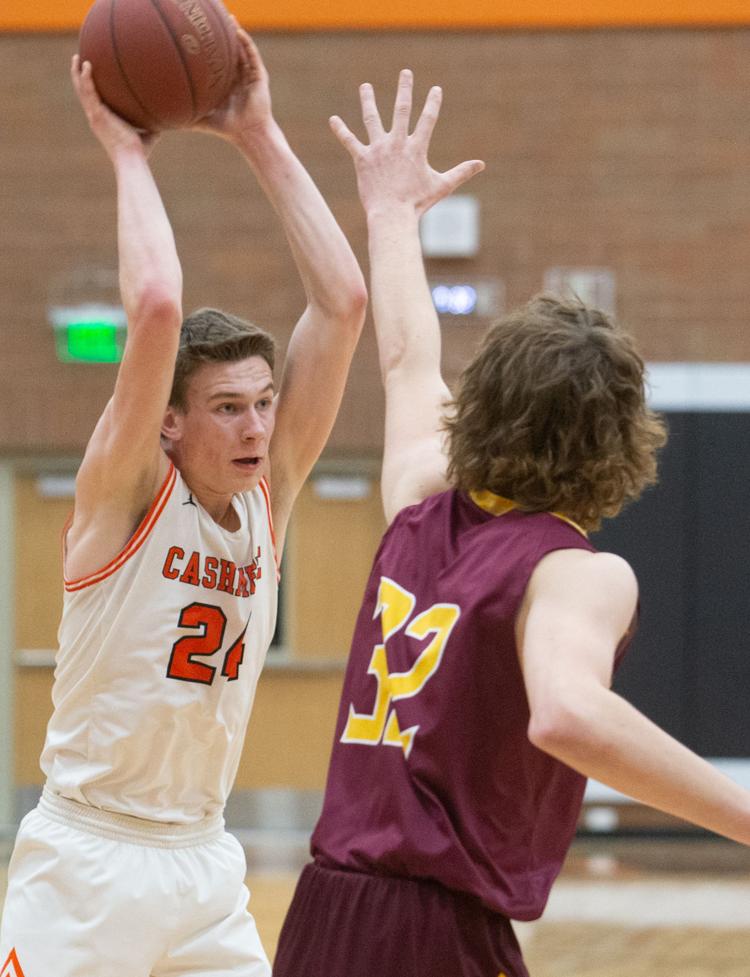 The Bulldogs began by appearing to move through what must have been a cloud of viscous air, operating at a pace that was maybe a half-second behind the Warriors. Because just 15 seconds into the game, the Warriors caught Cashmere off guard when the first bucket came after Jeff Farero stole the ball, dribbled up court, dished it to a teammate and finished the play 2-0.
"We've been having slow starts since Christmas," said Cashmere Boys Head Coach Levi Heyen. "We're trying to solve that riddle. It's more about focus, taking good shots and not turning the ball over. We just started locking down defensively in the second quarter."
This started a 4-1 run for the Warriors but it wouldn't last. When Brooks Elliott stole the ball in transition for a quick put-back, it kick-started an 11-0 run for the Bulldogs that took the lead after Sam Phillips hit an open three-pointer. At the end of the run Cashmere was up 12-4.
But Farero fueled another run for the Warriors, this time 7-0, to gain back the lead with 30 seconds left 13-12. Cashmere had an answer when Carter Alberts earned an old fashioned three-point-play just before the end of the first quarter 15-13.
The second quarter started with another lead change when 20 seconds in, Farero hit a three-pointer 16-15. But that's the last the Warriors would see of another lead. Nate Phillips not only took it back when he hit his own three to make it 18-16 but it began a sizable 13-2 run.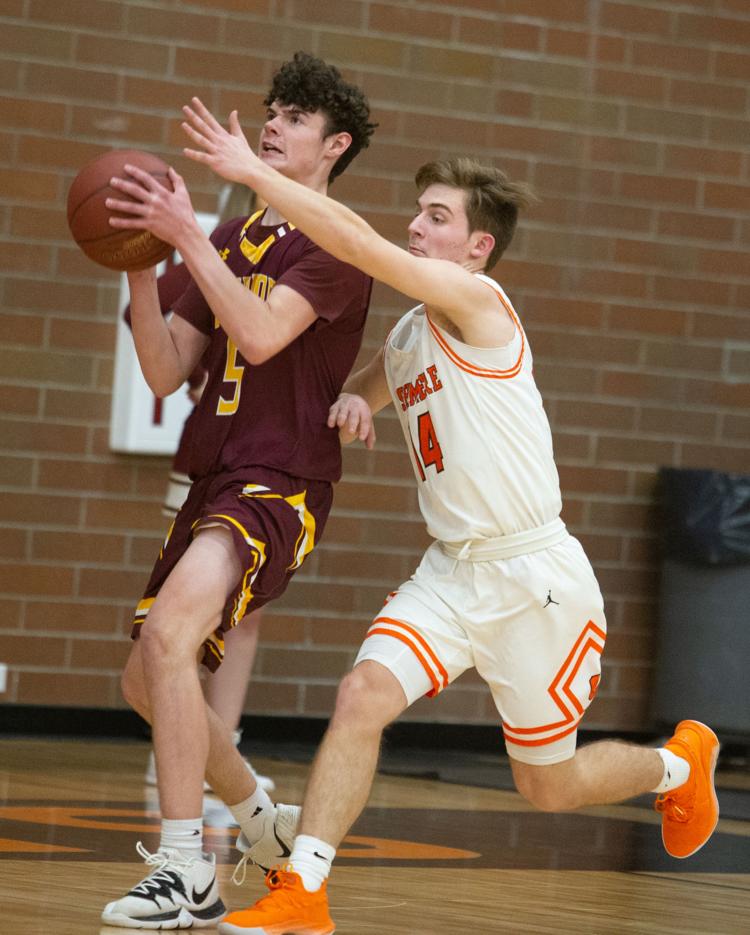 "After switching up our defense a little bit the guys got refocused. We did a good job of getting stops which got that run for us in the second quarter," said Heyen.
The Bulldogs finished the half on a positive note when Asher Neuneker jabbed left and went right around his defender and faked a pass near the basket to clear the lane for an easy lay-in 28-18.
"We scored plenty in the third quarter but we couldn't get stops," said Heyen. "We played around with a defense we hadn't tried yet but we had to get out of it when (Chafin) hit four three's."
The third quarter was high-scoring and much more balanced between the two teams. The Bulldogs started with a 5-0 run but that was quelled when the Warriors' Luke Chafin hit one of those four three's this quarter to reduce the deficit 33-21. Cashmere led by as much as 17 but the Warriors pulled it back before Sam Phillips, with just seconds left, fed Elliott a bounce pass when he cut backdoor on his defender and finished the play at the rim 53-40.
"Cle Elum came out and played hard," said Heyen. "They have a couple of kids who can shoot the ball. They shot the ball with confidence and played hard."
The final quarter was a bit of a stalemate after Cashmere put in their bench players for playing time. Both sides scored 11 but only after the Warriors went on a little 7-0 run to finish out the game.
"Our defense will keep us in it," said Heyen. "We haven't been shooting well. Not at all. We hit shots when we need them but we really emphasize the defense. They did a really good job tonight."
Sam Phillips led the Bulldogs with 18 points while Alberts added 13. Cle Elum's Farero had 15 points and Chafin added 14. Cashmere is 5-0 in league and 8-3 overall. Cashmere plays Chelan at home on Friday, Jan. 17 at 7:30 p.m.
Goats get second league win CHELAN — For the second time this season, the Chelan Goats and Cascade Kodiaks squared off. So far, Chelan's only league win this season has been against the Kodiaks and they got their second when they kicked it up a notch in the second half for a 59-34 victory.
The Goats set the tone early and quickly built a lead on the Kodiaks before ending the quarter 21-9. But the Kodiaks bounced back in the second quarter outscoring the Goats 12-6, narrowing their deficit before halftime to 27-21.
"We played with more intensity in the first half," said Cascade Boys Head Coach Paul Fraker. "I got to give credit to (Chelan's) defense. They forced us into shots and rebounded well. We didn't take care of the ball and they did whatever they wanted in the second half."
Chelan must have had a heck-of-a halftime talk because in the second half the Goats more than doubled the Kodiaks offensive production to stretch out the lead and take their second league win.
"I was proud of how our team competed on both ends of the floor," said Chelan Boys Head Coach Jeff Pearl. "We were able to hold them to under 35 points which is a great team defensive effort. Offensively we were very balanced. We continue to shoot a dismal percentage from behind the arc but our guys are figuring out that we are at our best when we attack the rim."
Nate Harding and Reed Stamps led Chelan with 13 points each and Connor Wilson added 12. Cascade's Isaac Cortes scored 12 points while Hans Schlyer and Isaiah Dayton added eight and seven respectively.
Chelan is 2-4 in league and 7-5 overall. Cascade is 0-6 in league and 4-9 overall. Chelan plays Cashmere on Friday, Jan. 17 at 7:30 p.m. in Cashmere. Cascade plays Omak at home on Friday, Jan. 17 at 7:15 p.m.
Girls Basketball Goats rout KodiaksCHELAN — The last time these two teams met, just a month ago, Chelan took a narrow victory, and even though both teams were on a bit of a losing streak there was reason to believe it was anyone's game. But the Goats made it known early that narrow wouldn't cut it this time, only a wide margin would, when they set the tone and ran away with it winning 61-18.
Chelan, from tipoff, led with their strong defense forcing several turnovers that they would quickly convert into buckets, led by Ashley Sams who scored 10 of her 14 points in this quarter alone, ending the quarter with the lead 19-4.
"We did a great job on defense," said Chelan Girls Head Coach Ron Huddleston. "We were more confident and they made a good adjustment after (Kascia) Muscutt went off in the second quarter."
Things ramped up as both teams would have their best offensive quarter fueled by a battle between Chelan's Katie Rainville, who would score 11 of her 23 points, and Cascade's Muscutt, who scored every one of her nine points this quarter. Chelan led at half 42-15.
Things slowed down in the third when an impromptu intermission took place after Chelan's Booh Huddleston and Cascade's Jocellyn Rodriguez literally went head-to-head, colliding during play. The incident left both bloody and Rodriguez with a chipped tooth. Chelan led 48-16.
"After the accident, the tone changed," said Huddleston. "Especially after watching Booh walk away like she was in a bar fight. Both girls were bloody."
Chelan held Cascade scoreless in the fourth quarter before taking the win.
"Overall, we played well," said Huddleston. "For a while, we were still figuring out personnel but I think we have the girls in the right place now."
Chelan is 2-4 in league and 6-6 overall. Cascade is 0-6 in league and 1-12 overall. Chelan plays Cashmere on Friday, Jan. 17 at 5:45 p.m. in Cashmere. Cascade plays Omak at home on Friday, Jan. 17 at 5:45 p.m.