CASHMERE — It was senior night in Cashmere on Thursday for a group of seniors that have accomplished some things that many never be repeated, at least in the near future.
Led by McDonald's All-American senior Hailey Van Lith, Grace Hammond, Grace Erdmann, and Ali Ball have gone 47-0 in the Caribou Trail League, with still one game to play.
They are 90-6 over four years. They have won four straight league titles, three straight district titles, and three straight regional titles.
"What they've accomplished is pretty impressive. I've seen a lot of basketball, boys, and girls. I don't know if that will be done again at any level by a boys or girls team around North Central Washington for a long time," said Cashmere Head Coach Brent Darnell.
Photo gallery: Cashmere girls basketball vs. Cascade
Cashmere defeated Cascade in girls basketball Thursday night in Cashmere in their last home game of the season. For more on the story, see Friday's Wenatchee World and a video on The Wenatchee World's Facebook page.
A lot of things have to happen to produce this kind of record, Darnell said.
"We graduate four really good players. We also graduate four really good groups of parents that have been really supportive of what we do. It was a tough night. That one stung a little bit," Darnell said. "Even though we won, its tough knowing that is the last time these girls will play at home."
Cashmere faced Cascade on senior night. The Bulldogs cruised to an easy 73-14 win with a running clock in the second half.
Van Lith had 27 points. Hammond had 17 and Erdmann 11.
For Cascade Head Coach Dane Lewman, the focus was trying to go out and play their game.
"Sometimes we did that and sometimes we didn't. It's tough. They are one of the best teams out there. We let that get to us quite a few times and other times we didn't," Lewman said. "They are jelling right now. I wished them luck at state. I hope they win this year. They have a great group of girls. They've been working together for a long time."
Darnell said he tried to enjoy the moment, but at the same time, he realized this was the last time he would see this group play on this floor.
"I get it. We have Hailey Van Lith, one of the best players in the country. We're going to be good no matter what we do," Darnell said. "The thing I'm most proud of is how hard our girls play, especially on defense and the energy and emotion they play with. Those girls have been the backbone of everything we have done."
Van Lith said it was a good night for the team and the seniors.
"A lot of emotions. It's obviously a legacy we're hoping to leave behind. It was emotional but exciting," Van Lith said.
Cashmere, unbeaten at 19-0, ranked number one in 1A, will no doubt be the favorite to win the state title, something that has eluded them the past three years.
Darnell said winning is fun, but sometimes the burden of winning can weigh heavily on you.
"It's different when you're expected to do something and you don't do it than when you're not expected and you go do it. A lot of teams are expected to win no matter who they play and they have so far," Darnell said. "Our focus is still one game at a time to get better, but we ultimately know, the most important game of the year is the last one. I don't think we've peaked yet. We have room to grow."
Cashmere is getting better every game, Van Lith said.
"We're right where we need to be. It's going to take a tough team to beat us if we keep this up. I'm super excited," Van Lith said.
McDonald's All American
Recently, Van Lith was selected from more than over 900 nominees from across the country to play in the prestigious 2020 McDonald's All American game in Houston, Texas. Van Lith will represent Cashmere while playing for the West team.
The 43rd McDonald's All-American game will be played at 2 p.m. on April 1.
The game will be televised on ESPN2.
Darnell said it's unbelievable, but it doesn't surprise him.
"I remember when she was a freshman, I was telling people you're going to see the greatest basketball player to come through NCW. Back then I didn't know how much she could keep improving to become the best ever out of the state of Washington," Darnell said.
Darnell said it has been an unbelievable ride for him.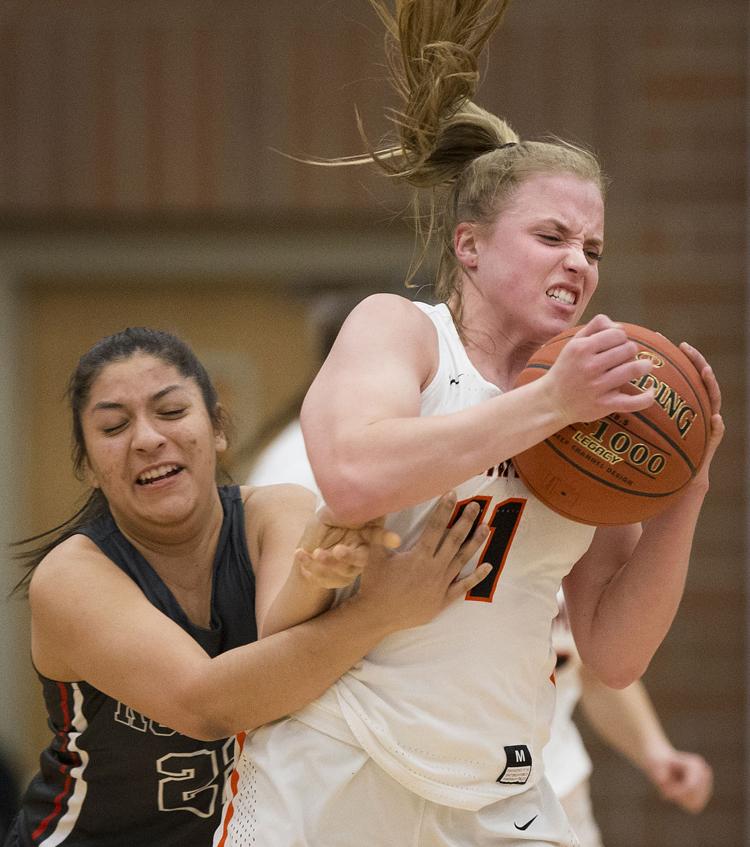 "It's something that will be talked about for years to come," Darnell said. "We're definitely going to miss her. She's been such a fun kid to coach. She's meant a tremendous amount to this program, this community."
For Van Lith, playing in the McDonald's game was something she dreamed about as a little kid.
"It was really a blessing to be named to it. It was something I expected of myself. I'm just super excited they want me to play. I can't wait," Van Lith said. "It's just a good competitive environment. I'm friends with a lot of them. It's fun but we're all trying to win too. It's a good game."
All-Time State Scoring Record
With still a handful of games remaining in her high school career, Van Lith is on track to become the all-time leading scorer in the history of the state. Van Lith has scored 2,801 points, which is third behind Brittney McPhee of Mount Rainier (2010-14) with 2,815 and Jennifer Stinson, Davenport (1991-95) with 2,881.
"Jennifer Stinson, who is the head volleyball coach at WSU, set the record in 1995. It's a 25-year old record. If Hailey keeps going like she's been going, she's going to break the record. She broke the record for the highest points in a single season," Darnell said. "To be the all-time leading scorer in the state, that's pretty special. That girl has been unbelievable and has been healthy for four years."