WENATCHEE — The Wenatchee Valley College Knights men's basketball team is off to the best start in school history. With their 85-69 victory Thursday over visiting Columbia Basin, the Knights improved to 13-1.
"The guys put in a lot of work before the season. It's well deserved. The shots weren't falling tonight but we have a tough team that can battle inside and outside," said WVC Head Coach Jeremy Harden.
Photo gallery: WVC men beat Columbia Basin
Wenatchee Valley College men's basketball beats Columbia Basin 85-69 Tuesday night in Wenatchee.
The game could not have started much better for the Knights as their full-court press and stifling defense helped them start out 19-0. The Hawks went nearly 10 minutes without scoring. Once they did get going, they started dropping some threes to get them back in the game.
Knight sophomore Malik Parsons led the charge with a couple of jaw-dropping alley-oops in the first half. Freshman forward Issac Jones was a force inside.
"We always say we want to be a team that hangs our hat on defense. The first 10 minutes, it was 19-0. They put on a little run. The guys got tired. That is the way we can play, full-court press for 40 minutes," Harden said.
Columbia Basin had four threes in the first otherwise they would have been blown out. WVC led 37-21 at the half. Harden said they did let the Hawks back in the game, mainly because the guys were tired.
"That is probably a little coaching. The guys got tired at the 10-minute mark. I didn't do a good job rotating guys in and out. That one is on me. Next game, I would like to pick up 40 minutes for the entire game," he said.
The second half, Columbia Basin kept bombing the three which allowed them to cut the lead to 17 points at 53-36, but they could not get closer. Wenatchee expanded the lead on several occasions to 20 points or more.
Last season, Parsons led the N-WAC in scoring, but this season he's settling in more as a playmaker and the results are obvious.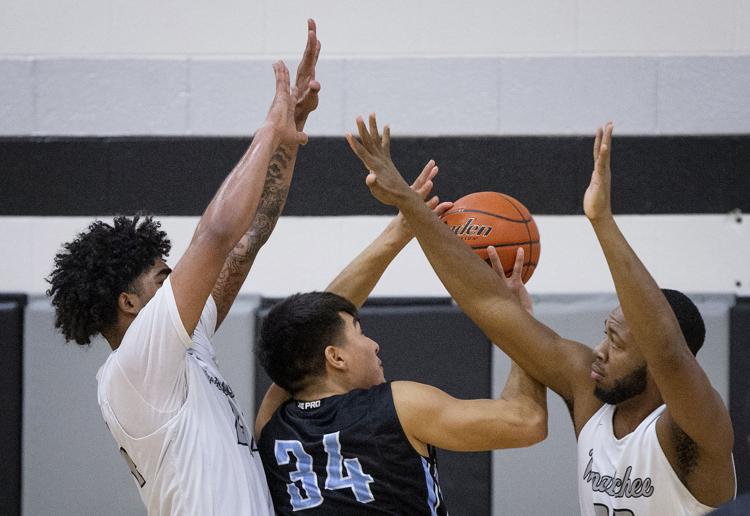 "We have a lot more guys that can score the ball this year. Last year, it was kind of his show. This year, we've added some pieces, especially on the inside. His assists have gone up and he's more of an overall playmaker than a scorer," Harden said of Parsons.
Even with the big lead, the Hawks still fouled down the stretch, which really extended the game. The Knights were led by Jones, who had 23 points and 16 rebounds. Parsons had 16 points, 3 rebounds, 3 assists, and 2 steals. Sophomore Abdul Abdullah had 10 points on 5-for-5 shooting and 7 rebounds.
"Isaac Jones is a true freshman. He's really tough down there. He's physical. The same with Abdul Abdullah, who is a sophomore transfer. If we can, we like to get the ball inside out and try to get fouls on teams," Harden said.
For Columbia Basin, Denzel Brantley and Carson Cloaninger each had 16 points. The Knights were 33-of-63 from the field, 52 percent. They had a tough night shooting threes. They were 1-for-14. WVC was 18-for-35 from the line.
The Knights outrebounded 42-35. Columbia Basin was held to 35 percent shooting from the field, 24-for-68. The Hawks were 11-for-32 from three, 34 percent. They were 8-for-18 at the line.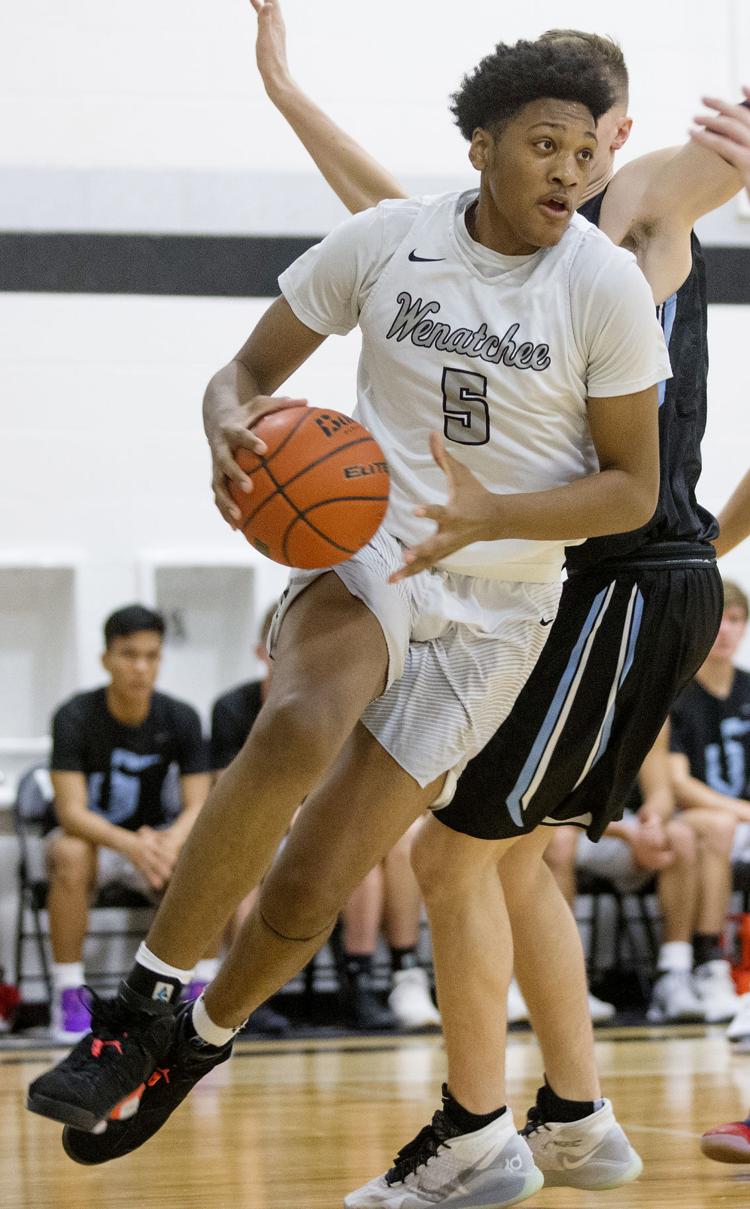 Wenatchee improved to 1-0 in conference, 13-1 overall. Columbia Basin falls to 0-1 in conference and 5-8 overall. Next up for the Knights, a game at Walla Walla (0-1, 6-7) next Wednesday.
"We have a break this weekend, then we have Walla Walla, whose record doesn't indicate how good they are. They can put points on the board in a hurry. If we don't guard on the perimeter, it could be a long night next Wednesday," Harden said.