WENATCHEE — When Kian Korfiatis was 8 years old, he asked his grandpa to take him to the new Riverfront Rock Gym, thinking it might be fun. He loved it and kept coming back. Before too long, he was asked to join the Riverfront Rock Gym Youth Climbing Team.
Since then, Kian has twice made the Youth Bouldering Nationals, going all the way to the semifinal round this year. For Riverfront Rock Gym Owner and Coach Drew Schick, Kian is just a natural climber.
"He has a natural athleticism and coordination. He is sort of a sporty kid, which plays to his advantage for sure. We do get a lot of kids with varying levels of athleticism. They may play another sport in school that translates a little bit," Schick said. "He definitely is outside of the norm."
For Kian, who is now 10, problem-solving is a best part: thinking about what you have to do in the process of getting up a climb. In a rock climbing competition, you have four minutes to compete a climb.
Climbers are not allow to see the problem until they are ready to climb.
"I look at the climb and think about what I'm going to do in certain parts of the climb, where I'm going to hold something and where I'm going to put my feet," Kian Korfiatis said. "I like just being able to be free and using my muscles in many different ways to solve the problem."
Kian's father, Korey, did not know much about climbing when Kian started. The owners of the gym started complimenting Kian's natural ability. He thought they were just being kind.
Korey kept hearing the compliments and thought, maybe there is something here.
"It just blossomed from there. It's very evident he is quite the little climber," Korey Korfiatis said. "He is very intense about it. He really enjoys it and is very competitive with it. It's a joy to watch your son excel at something."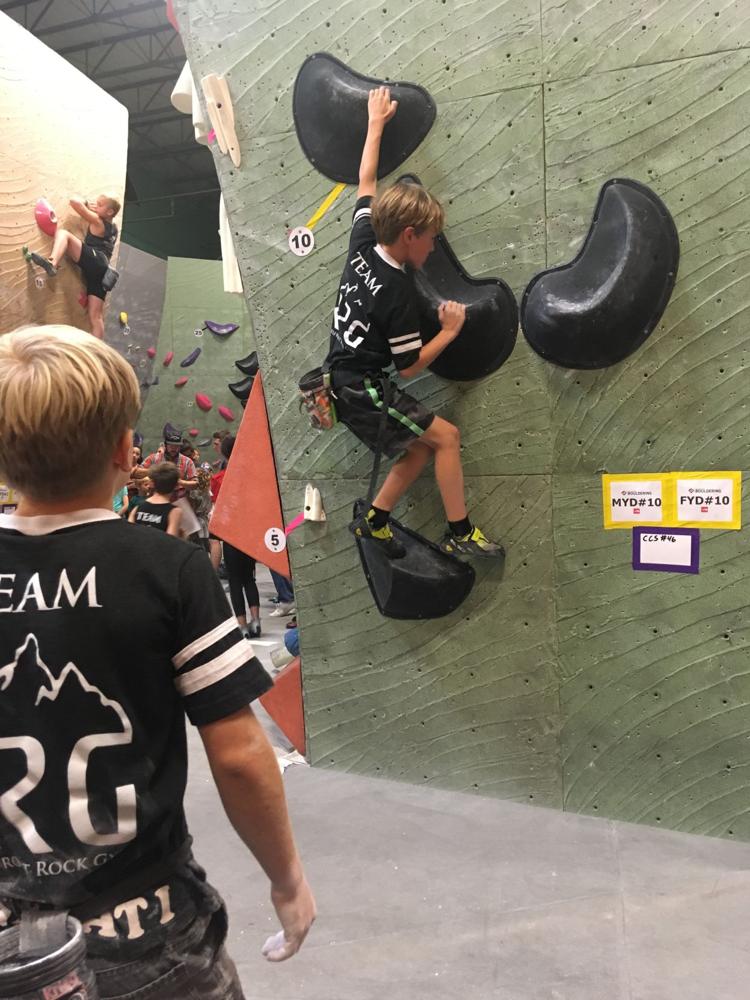 Schick said Kian is a smart, mature kid who works hard and understands climbing at a deeper level than most kids.
"He's able to decipher interesting sequences and harder climbs by having that deeper understanding. He just really loves it so that translates," Schick said.
Of course, right now everything is shut down due to the coronavirus, but normally Kian practices up to 15 hours a week. For Kian, the competitions are his favorite part of climbing. He loves excitement and adrenaline rush.
Sometimes Coach Drew gives him advice on how to complete a climb and sometimes he figures it out himself.
"It's really exciting to solve a climb all by myself and know I have the knowledge to complete it even without a coach," Kian Korfiatis said.
Watching the competitions is pretty intense, Korey Korfiatis said, especially when Kian has just four minutes to complete a climb.
"You can imagine sitting there as a parent, watching the time tick and seeing your little son's mind working to figure out how to get up the climb. It's quite exhilarating," Korey Korfiatis said.
Kian is also quite accomplished in outdoor bouldering. Schick said he has completed some of Leavenworth's classic problems including "Footless Traverse," Claim Jumper," and "Ouchies."
Really good rock climbers can become professionals, Schick said, but that applies to very few in the sport, just like most pro sports. A very small percentage can make a living doing it.
The main focus for Schick is climbing as lifetime sport.
"The takeaway from our climbing program is we want them to be good people, healthy and learn that climbing is a lifestyle sports you can do your whole life," Schick said.
While showing much promise at a young age, Kian is not interested in pursuing a pro career in climbing.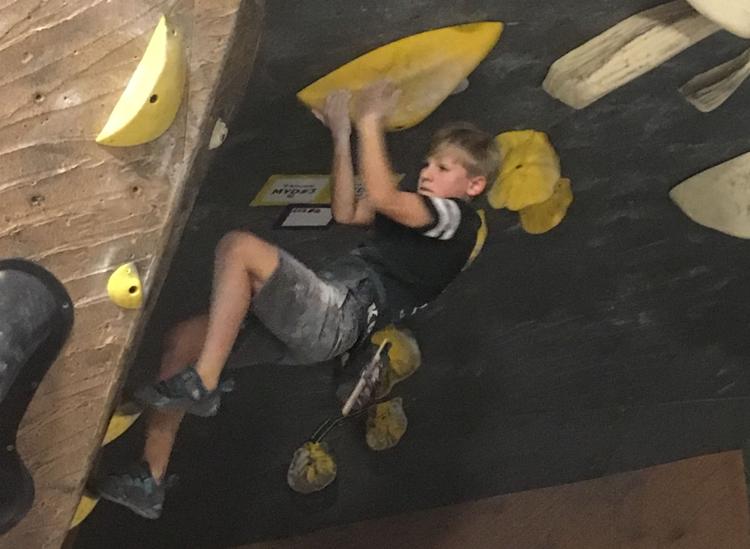 "I wouldn't really like being paid to climb. I want to have a different job and just do it as a hobby. I don't want it to be some kind of priority. I want to be able to do it freely," Kian Korfiatis said.
Korey Korfiatis said Kian enjoys bouldering to rope climbing, which suits him fine, feeling the rope climbing is more dangerous.
"I think the sport has been a tremendous benefit to Kian. He is such an intense young man," Korey Korfiatis said. "It allows him to focus his energy. He's also learned a lot about being part of a team. While it is an individualized sport, there is an immense amount of comradery that goes along with his fellow climbers. It's amazing to see them all supporting each other."