CASHMERE — Being ranked number one in the world is pretty lofty stuff for a 13-year old. For Turner Gebers of Cashmere, it represents three years of hard work continually fine-tuning and improving his craft of wake surfing.
Turner had been competing in the Junior Division of the Competitive Wake Surf Association, which is for surfers up to age 12. Now, he's competing in the Men's Amateur Surf Division and has risen to the number one ranked wake surfer in the world.
"I was blown away. To be number one at the end of the year is just crazy. I couldn't believe it," Gebers said of being ranked number one in the world.
In his first competition in the Men's Amateur Division at the Arizona WakeSurf Championship last November, Turner took first place against surfers from age 13-to-45.
His father and coach Wade Gebers, a former college football player, said watching him surf has just been amazing. Turner is now doing tricks that are on the semi-pro and pro-level, Wade Gebers said.
"The other thing that has changed about him. He's now 5-11 at age 13 and can grab a basketball hoop," Wade Gebers said. "That translates to surfing with higher airs. He's probably grown a good six-inches this past year. He has really matured physically. Mentally, he's been more competitive but still humble in the way he goes about his work and practice."
When the Coronavirus hit, all competitions were canceled for five months. Then CWSA started holding online competitions. Wade Gebers said you would think it is easy but it's harder than live competitions because you have to surf for 45-seconds with no falls.
You can do it as many times as you like — you have a week to put together a final recording, which is submitted to the judges.
"Instead of going to a live competition where there might be eight riders. With the online competition, there would 25-30 riders," Wade Gebers said. "Turner had to compete against surfers from Ukraine, Korea, Japan, Russia, Canada, USA, Brazil. The first online competition, he took third and was beat by a guy named Igor from Ukraine."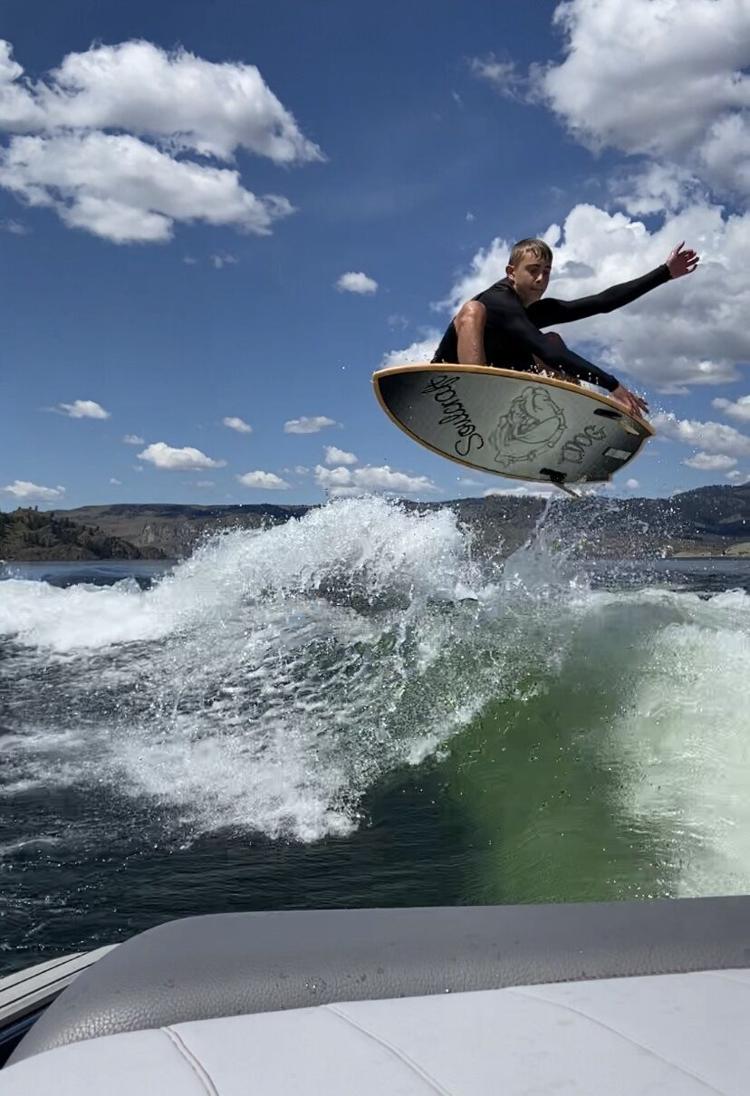 After taking third, Turner figured out the online competitions, finishing in first place three straight times. Turner learned new tricks watching the other riders online.
"Yeah, they post them on YouTube, so I can watch my competition and see what they're doing and try to do the moves. Learn from the competitors," Turner Gebers said.
Riders are scored on DIVE — difficulty, intensity, variety, and execution. Variety means you can't do the same trick twice. Turners' typical set includes seven or eight different tricks.
Turner usually scores big on intensity.
"One of Turner's advantages against the other competitors is on his airs. There is only one other surfer I've seen get airs as high as him. He gets scored very high for intensity," Wade Gebers said.
Execution means you perform all your tricks cleanly with no stumbles or falls. One of the perks of being the number one ranked wake surfer is sponsorships. He was asked to be a Team Rider for the Soulcraft Boarding Company.
Wade Gebers said getting a sponsor at such a young age is quite an accomplishment. Turner's sponsor made two custom boards just for him.
"We put a little spin on the customization of the board and had an artist redo the Cashmere Bulldog, Turners' home-town mascot, and put those graphics on his board. Even though a lot of his fellow classmates at Cashmere might not understand his sport, he wanted to feel part of the local community," Wade Gebers said.
The top three riders in the Amateur Division will be invited to move up to the next level, the Semi-Pro Division. Turner's ultimate goal is to become a professional, who competes for prize money and sponsorships.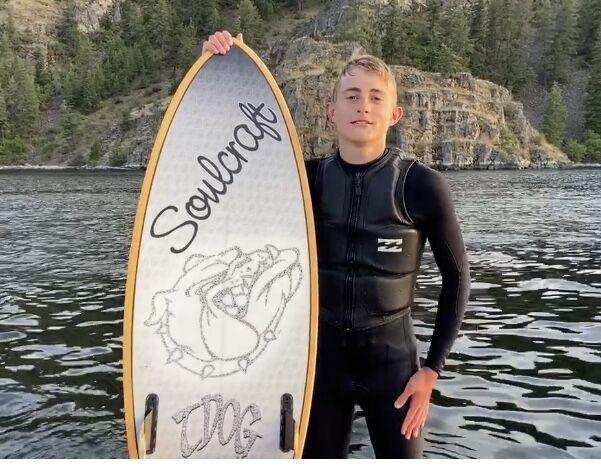 Next up for Turner, the World Championships in October.
"From what we understand, it is still on. They may be doing a different format where the American riders will go to Texas. Every country will have a venue," Wade Gebers said. "They are bringing technology into the sport. On day one, they will be recording you. The judges will score the videos. It's a live worldwide competition. It's pretty interesting."