Women's
WENATCHEE — It has been a bit of a streak, as of late, for the Wenatchee Valley women's basketball team. They'd won three straight when they met their next opponent, the Treasure Valley Chukars, on their home court Saturday afternoon and won, keeping their streak alive after a strong third quarter to make it four in a row 57-41.
I guess the bank was open for the Chukars when Lilly Kelley bounced a three-pointer off the glass for the first bucket of the game 3-0. Wenatchee's Cariann Kunkel answered a minute later when she put a post-move on her defender and hit a mid-range jumper 3-2. This began an 11-0 run for the Knights.
Wenatchee forced a turnover when Ashley Peralta drew a charge on the next play. Then, as the ball was bouncing out of bounds, Kiara Steen leaped to catch it and threw it off a Chukar to maintain possession. This play was crucial because right after the inbound play Peralta found Natalie Andreas behind the arc for a three and the lead 5-3. The Knights would hold this lead for the rest of the game.
Wenatchee stretched the lead to as much as eight in the first quarter but the Chukars had some fight in them when Kelley hit another three to reduce their deficit 11-6. Peralta answered with her own three 14-6. The Chukars hit one more three with five seconds left in the quarter to make it 17-9.
The Chukars had a better second quarter. They were finally able to find some offensive flow by feeding their bigs in the post. Wenatchee, for a while, struggled to stop them and it led to a 9-2 Chukar run.
Eventually, Wenatchee found their footing, culminating at the end of the quarter when Andreas drove baseline and released a floater, and after Wenatchee forced a turnover on the next play, Madelyn Godwin faked a pass, drove around her defender and hit a mid-range pull-up jumper 27-20. The Chukars squeaked one more in with 40 seconds left to make it 27-22 at halftime.
"We made a few adjustments at half and kept a strong defensive mentality throughout," said Wenatchee Head Coach Rachel Bromiley-Goetz.
Wenatchee dominated the third quarter. Their defense held the Chukars to just two points that only came after nine minutes of play. Wenatchee got their offense going when Chasity Spady hit her shot in the post with only seconds on the shot clock 29-22.
The Knights defense was so smothering it built the Chukars to such a boiling point that, after Andreas got two back-to-back blocks, they earned a technical foul from the referee with less than two minutes in the quarter when they were called for a blocking foul against Andreas and they slapped the floor in frustration. Andreas sunk all four free-throws 39-22.
The Chukars finally got on the board with 50 seconds left when they got a bucket in transition 41-24. But Wenatchee finished the quarter on a high note when Steen passed to Spady who hit an open three 44-24.
"The third quarter was a stand out defensively," said Goetz. "To hold a team to two or three points is amazing."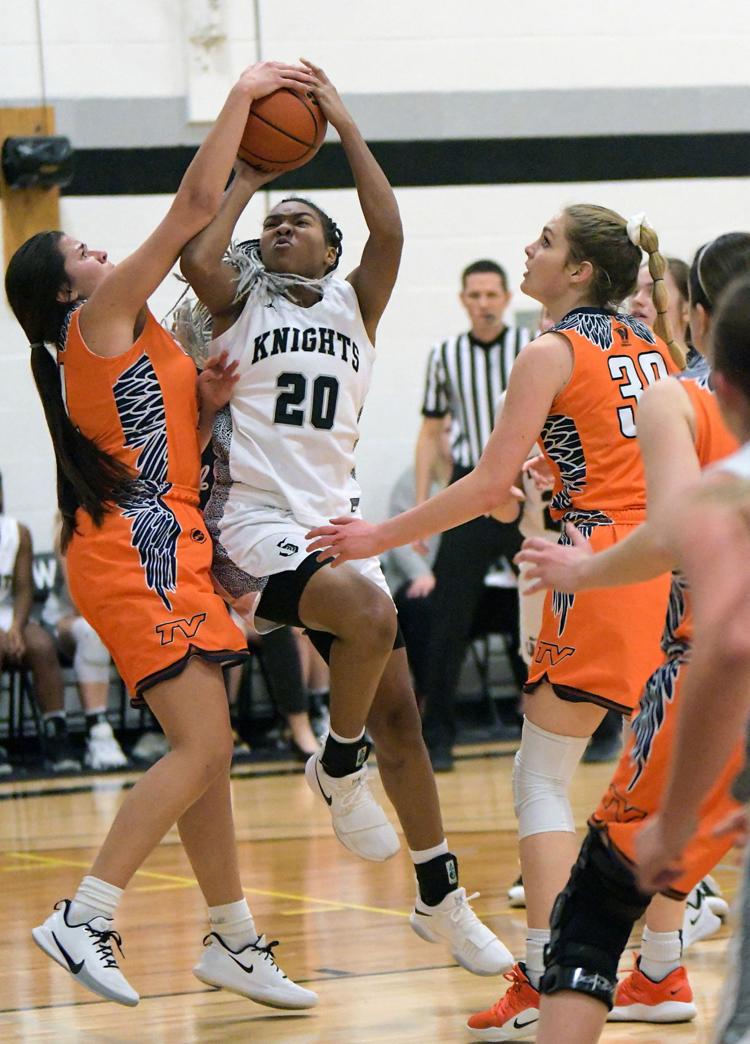 During the final quarter, Wenatchee was able to get their bench some playing time. The Knights kept the Chukars in check for the first five minutes but the Chukars kept at it and finished the last half of the quarter with a 9-3 run capped by a three from Hannah Broyles with 15 seconds left. The Knights more than held out.
"Natalie Andreas was huge today, earning a double-double," said Goetz. "Kiara (Steen) was great at point guard and unselfish the whole game."
Andreas led Wenatchee with a double-double when she scored 25 points and pulled down 16 rebounds. Spady added 12 points and 7 rebounds while Steen distributed 6 assists and pocketed 3 steals.
Treasure Valley's Kelley finished with 18 points and Maunayia Harrigfeld added 10 points, 10 rebounds, and 5 assists to get her own double-double.
Wenatchee improves to 6-2 in conference and 15-6 overall. Treasure Valley drops to 3-4 in conference and 9-7 overall.
Wenatchee plays Walla Walla at home on Wednesday, Jan. 29 at 5:30 p.m.
Men's
Chukars peck away Knight's lead in second half
WENATCHEE — The Wenatchee Valley College men's basketball team was on a two-game winning streak Saturday night when they stepped on their home court to face the Treasure Valley Chukars. This would end a long stretch where they've played five games in just 11 days. Call it fatigue, or something else, it showed, when the Knights built a lead into halftime and fought to hold on but lost it in the second half when the Chukars pecked away a win 74-58.
The Knights started the game a little flat—low on energy. This might sound odd when you realized they initiated a 6-0 run when Abdul Abdullah stole the ball and dished it to Rayquan Everett who finished in the paint 2-0. Malik Parsons got in the mix when, on their next offensive possession, he pulled down an offensive rebound and put it back for two and then immediately stole the ball and drove to finish a contested lay-in 6-0.
"I thought we got the ball out in transition pretty well," said Wenatchee Head Coach Jeremy Harden.
The Chukars, however, were chomping at the bit to squeeze through any crack the Knights left open. And there was always a large enough crack for them to chip away at. The Chukars leaned on their zone defense heavily and it paid off. If the Knights weren't scoring in transition their set plays would grind to a screeching halt when they hit the zone. It forced most of the Knights' 25 turnovers which led to 22 of the Chukars points on the night.
The zone often forced the Knights to settle for threes, which has been their Achilles heel and it was again when they hit only 5-for-28 for 17.9 percent. The Chukars weren't much better, hitting 4-for-17 for 23.5 percent.
"I think the guys were pretty worn out from the last five games," said Harden. "They zoned us and we weren't smart with our passes. We didn't have guys knocking down shots. We didn't execute well."
Wenatchee led by as much as six but the game was finally tied when Treasure Valley's Zach Phillips drove down the key, hopped over a line of defenders and hit a short jumper 18-18 with nine minutes left in the first half. They took the lead on the next play when DeVaughn Williams stole the ball and went coast-to-coast for an easy two 20-18.
Wenatchee tied the game a couple of minutes later when Chance Michels hit one of their few threes 26-26. A couple of plays later Nian Allen hit his own three to regain the lead 29-26. The Chukars tied it again when Williams drove past his defender and was fouled while he released a circus shot that landed. He sunk his free-throw to make it 29-29.
Everett regained the lead for the Knights when he hit a free-throw and Nickolas Hopkins stretched it further after Parsons stole the ball and dished it to his teammate 32-29. The Chukars took it back shortly after but Wenatchee, again, regained the lead when Michels was fouled on a three-point attempt with just a second on the shot clock. He hit 2-3 free-throws to give the Knights their lead into halftime 34-33.
The game continued like this for the first six minutes, three more lead changes and two more ties, until the Chukars took the lead for the last time when Dajon Howe sunk a three 44-41. Wenatchee tried to battle back but the Chukars forced too many turnovers and sunk enough free-throws to finish with the win.
"We knew they were going to come out and zone us," said Harden. "At the end of the day if our inside presence isn't what it needs to be and our outside guys aren't knocking down shots you can only put up 58 points."
Parsons led Wenatchee with 27 points and 6 steals. Treasure Valley's Phillips finished with 19 points, 9 rebounds, and 6 steals and Williams added another 19 points and 4 steals.
Wenatchee drops to 5-3 in conference and 17-4 overall. Treasure Valley improves to 4-3 in conference and 11-7 overall.
Wenatchee plays Walla Walla at home on Wednesday, Jan. 29 at 7:30 p.m.