Brett Chorske
It's impossible to not notice center Brett Chorske on the ice. He casts a long shadow at 6'6" but it's his play that makes him an eyesore to the opposition.
Raised in the Twin Cities suburb of Edina, MN, Chorske has become a key part of his local high school varsity team at Edina High School, averaging better than a point per game last year through the regular season and the playoffs.
There's usually a bit of a transition period as players move from high school to juniors, but Wild Associate Head Coach Leigh Mendelson sees Chorske as ready for the challenge. "Brett adds size and skill to the team. He has a very good hockey IQ, makes smart plays with the puck, and has the ability to score." Mendelson adds, "We expect Brett to acclimate himself to Junior hockey and make consistent contributions to the club at both ends of the rink."
Daniel Chenard
Earlier this offseason, the Wenatchee Wild acquired the playing rights for goaltender Daniel Chenard from the Chilliwack Chiefs in exchange for future considerations.
Chenard is a 20-year old from Waterloo, ONT and is listed as 5'11 and 172 lbs. He participated in the Wild Summer Tryout Camp and will report to Wenatchee when Main Camp opens on August 19.
His performance at the Midget AAA level in Kitchener and Halton, ONT followed by his strong season at Caledonia (Jr. B in the GOJHL) put him on the radar of junior teams all over Canada. He led the GOJHL with a 1.77 GAA and then landed with the Chiefs in the 2017-18 season, where he helped backstop the team to the RBC Championship with a 1.77 GAA and .937 save pct. in the tournament. Last season with the Chiefs, Chenard went 13-5-0 with 2.70 goals-against average and a .913 save percentage.
Wild Assistant Coach Chris Clark remarked, "We are extremely excited to add a veteran goaltender like Daniel who has played in and won a National Championship at this level. He is extremely athletic and very poised in the net. He conducts himself like a true professional."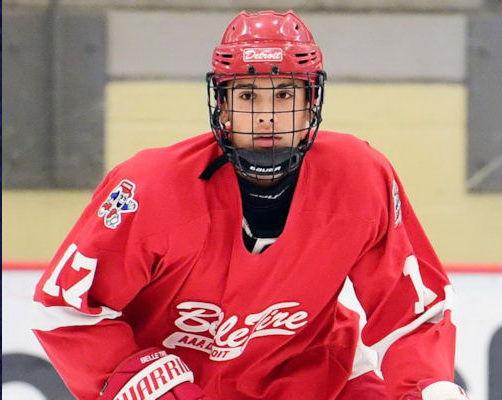 Nico Chmelevski
One of the younger players set to join the Wild this season will be center Nico Chmelevski, a 2002 birth year who will turn 17 in September.
Nico (short for Nicholas) worked through the Victory Honda program, playing games over the span of three seasons at the Bantam Minor AAA and Bantam Major AAA levels, followed by their U15 club. He also played with the Oakland Jr. Grizzlies U15 as well before joining Belle Tire's U16 squad for the 2018-19 season where he erupted for the most offensively productive season of his career. To cap it off, he moved up to play 12 games with the Belle Tire U18 club who were the winners of the Tier I Elite League.
Wild Associate Head Coach Leigh Mendelson says, "While he will be one of the youngest players this year, he will be one of our most competitive. Nico has very good awareness on the ice, will see and make a lot of plays, and also has a relentless work ethic which helps him to recover pucks."
Chmelevski will join the rest of the 2019-20 Wild squad in Wenatchee for Main Camp which opens Aug. 19.
Dallas Farrell
If you go looking for the town of Cardigan, Prince Edward Island, Canada, you probably won't find it. The fishing community that boasted a population of fewer than 400 people a decade ago has since joined with six other communities to form the town of Three Rivers. But for incoming Wild forward Dallas Farrell, Cardigan is where he calls home.
In June, the Wild completed a trade with the Surrey Eagles that will bring the 20-year-old forward to Wenatchee. Farrell never played a game for the Eagles. He played the 2018-19 season for the Coquitlam Express where he put up 16 goals and 25 assists in 51 games. He was sent to the Eagles to complete an earlier trade that saw the Eagles send Ty Westgard to Coquitlam. The 5'11 – 165 lb. right-shot forward is committed to play Division I college hockey in 2020 at the University of Maine.
As a youth, he moved his game west to Saskatchewan for Bantam and Midget hockey, then had two productive seasons with the Boston Jr. Bruins before spending last season with the Express. He attended the Wild Summer Tryout Camp and will report to Wenatchee in late August when Main Camp begins.
Wild Associate Head Coach Leigh Mendelson says, "Dallas will bring energy, passion, and skill to the team at even strength and on the power play. He fits into our style of playing fast with puck possession well and has a track record of point production at every level he's played."