WENATCHEE — With all the uncertainty surrounding high school football in the state of Washington, Wenatchee Panther senior quarterback Camden Sirmon, with aspirations of a college career, has decided to transfer to Missoula, Montana.
In Washington, due to COVID-19, football had been pushed to spring. Still, a county must be in Phase 4 in order for football to happen, so it's no certainty, outside of a vaccine coming along before then.
Sirmon, who has family in Missoula, made the tough decision to leave Wenatchee and play fall football in Montana, which he feels is important so he can maximize his opportunity to play Division 1 football.
"I've been told by many coaches at the Division 1 level that I need my senior year. Most people say, why can't you just wait until spring? I understand that. The national signing days are in December and February," Sirmon said. "Whoever college's have offered, they could just sign those kids. I really need a fall football season in order to have an opportunity to play at those schools. It was a very hard decision."
As a junior, Sirmon was a first-team, All-Big 9 selection last season. He threw for 1,893 yards and 20 touchdowns with just 3 interceptions. He also rushed for 414 yards and 5 touchdowns. Wenatchee Head Coach Scott Devereaux had planned to revolve the offense around his skills.
"We were going to give him more freedom. He's earned it. He's come a long way. We were ready to do things differently, but it is what it is. I'm not going to lose any sleep over it. Unfortunately, that is the way it is in coaching. Guys come and go. Next man up," Devereaux said. "I was looking forward to coaching him in his senior year. I think he was hoping to stay here in play, but his family decided to make a move."
Sirmon said he wishes the best for Coach Devereaux and the Panthers. He and the coach remain close, he said.
The former Panther signal-caller said his brother, a former University of Montana player, just bought a new house in the Sentinel School District, where Cam wanted to play football. Plus, his sister is going to school in Missoula.
"That was a very important aspect of this whole move. Montana's transfer rules are pretty stringent. You have to live in the school district or you can't play football for 90 days, just like Washington. It was very convenient my brother bought a house in that school district," Sirmon said. "It was a very seamless move. With the decisions being made in Washington football-wise, pushed me into the decision to move to Montana. I didn't want to make that decision because I don't want to leave my best friends and my teammates."
Sirmon said he will miss his guys in Wenatchee, but sometimes you have to do what is best for your future.
"That is what drove me to make this decision. It wasn't like I up and left because I wanted to," Sirmon said. "COVID played a massive part in this. It's really the only part. If not for COVID, I would still be back home playing for the Wenatchee Panthers. Just last week, Montana confirmed we are playing in the fall. The move turned out to the right decision."
From Zoom meetings with coaches around the state, Devereaux said there is a trend where Washington kids are going to Idaho, Montana, and Wyoming to play football. He said these families are moving because they believe their kids are Division 1 athletes and they are trying to do what is best to get them a scholarship.
You can hardly blame them considering the plight of football in this state.
"Because in our state, spring football might still not happen. So these other states are rolling. People are looking to take the leap. The WIAA rule is that, if your family unit moves and moves back, you can actually play again," Devereaux said. "If they move back, he could play in two football seasons. That is the way the rule reads."
For his part, Sirmon said he would be open to coming back to play football in the spring, but he doesn't believe it is possible.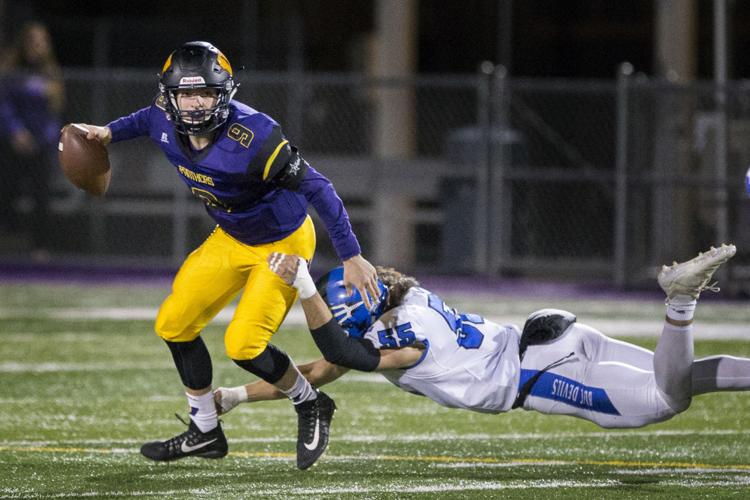 "I'm not sure how the WIAA is handling spring football," Sirmon said. "People have asked if I'm going to come back and play in spring. I heard I was not allowed to. I would love to but that is how it's going to be."
Most of the Big Sky schools have been talking to Sirmon about playing including Eastern. He's been offered by Central, Colorado School of Mines, Carroll College and Montana Tech.
He has options at smaller schools, but he's still hoping to achieve his dream of playing Division 1 football.
"This will be the best situation to help me fulfill that dream. Coaches can come and watch my games in the fall. That will be a big deal for me," Sirmon said. "The reason I moved is because I did not have a set plan like JJ (Jelsing). He committed to Air Force. I don't know where I want to be yet. He's my best buddy. All my teammates are focused on playing in spring. I had aspirations of playing at a high level. This was the right move to give me the opportunity to play."
Sirmon believes Sentinel has a chance to win state, but first, he must win the starting job.
"Sentinel is a very good program. The coach played for Montana in his day. He runs a tight ship. Very well organized program. A couple of wide receivers are Grizzly commits themselves. One of the linebackers is a Grizzly commit and one of our linemen has 15 offers including Oregon State," Sirmon said. "We have a pretty good squad. There is a quarterback here who is a senior, so trying to work out the kinks of that. Of course, I'm hoping and planning on being the starter here. That is my goal."
Next season at Wenatchee, Devereaux had plans to make Sirmon the focal point of the offense, a departure from their run-based offense. However, he must change course, which is nothing new.
Last year's JV starter junior Dawson Pike will get the first shot.
"He's a guy that got the most reps. He's a very good athlete. He'll definitely have first shot. Our offense will change a bit probably. That is not big of a deal. The good thing now is we have a lot of time to prepare," Devereaux said. "If this was a week one injury, that wouldn't be the case."
Wenatchee has competed for the league title the past couple of seasons. Sirmon said he was proud to be part of that rebuilding effort. He knows his teammates will be rooting him on and he will be rooting for them.
"I hope there are no hard feelings. It is an unprecedented situation. I was fortunate enough to have the opportunity." Sirmon said. "We had a promising year ahead of us. I wish the best for those guys."