WENATCHEE — P.E. teacher Brian Vickery has been exceedingly fortunate since he started coaching at Pioneer Middle School in 2003.
Whether it's cross-country, football, basketball or track, Vickery has never had to sweat over the extra little details that come with coaching.
That's because his father-in-law, Jim 'Papa' Parker, has it covered.
In most cases, Papa's already thought of, diagnosed and taken care of a problem or issue before it even comes to Vickery's attention.
"Jim is the detail guy," Vickery said in a sit-down interview with the World last week. "He knows what to do four days before I even think about it. For me, he is a right-hand man. I never have to worry about going to a home track meet because everything is set up and everything that needs to be there is there, laid out and ready to go. Jim will get to track meets an hour or two ahead of time and get tents and tarps or garbage set up, I mean we look like a professional getup."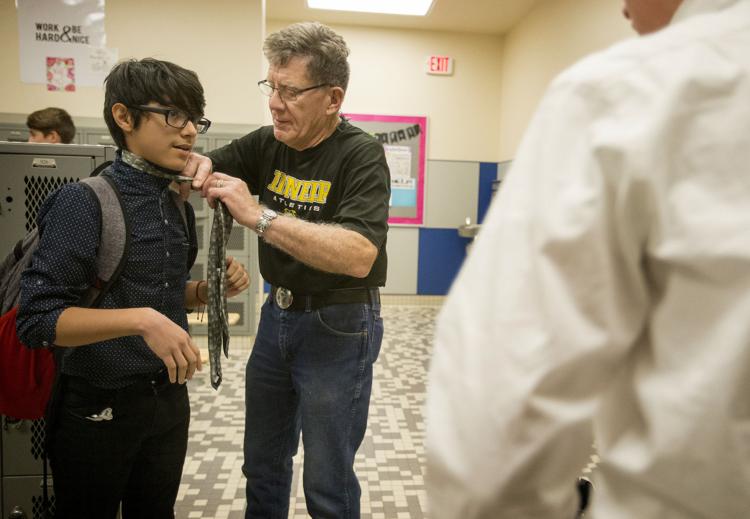 A glorified 'gopher' as Jim likes to call himself, he handles an array of tasks for Vickery and the other coaches such as constructing a portable drinking fountain for the track team; fitting kids for helmets and pads during football season; biking with the cross country runners; handing out snacks during games or serving as the team medic.
Whatever needs to be done; if a kid needs a bandaid; a drink of water or candy for a little pick-me-up or even just a little help fixing his tie, Papa takes care of it.
"They used to let me coach a little bit but now with more coaches, they just shove me off to the side and have me take care of the little stuff," Jim said. "And that is exactly where I want to be.
"I never have to worry about balls or anything and (ultimately) it takes a lot of pressure off of me," Vickery said. "For doing this since 2003, I know I couldn't do all of it without Jim being here and he is a big part of why I keep coaching."
At first, Vickery asked Jim if he could just help run the chains during football season, but that evolved over the years and as Jim ingratiated himself with the kids he became the de facto assistant coach and Vickery's go-to man for three sports a year. He's even helped Vickery out with the 6th-grade science camp every spring the past 18 years.
"I'm the luggage man," Jim said.
Once his bellhop duties are done, Jim rushes over to the rock climbing wall and helps belay for kids before coming back down to Wenatchee to help out with track.
They're long days, but volunteering is just something that Jim lives for — he's also served as Santa Claus in the community for over 40 years and called bingo two nights a week at Columbia Heights.
"I feel that I need to give back," Jim said. "It's just what I do."
Like most volunteers, Jim doesn't receive any compensation for all of his efforts — in fact, it actually costs him money — but that's also not why he helps out. He does it because he enjoys working with kids.
"Papa is definitely the one thing kids remember after leaving," Vickery said. "They might not remember how many games we won or who was coaching, but they know who Jim is and he is one of their fondest memories. Kids who we see in the community or who come back year-after-year remember Jim and he always gets yelled, 'Papa' somewhere."
"The staff calls me papa, the kids call me papa and I get called papa at the grocery store or out on the street," Jim said. "It's just been fun being here and we've had some great kids who have gone on to do good athletically in college. But I've just played a little bitty part, the teachers are the ones that do the work."
Working with his son-in-law all these years, you could see where there might be some tension. But that has simply not been the case.
Brian and Jim have worked together hand-in-glove.
"I'll put it this way," Jim said. "I have two very good sons-in-law, who are smart, and we get along."
"And Joanne (Jim's wife) wants to get him out of the house anyway," Vickery chuckled.
But as good as things have been the past 16 years, Jim, who turns 80 in May, has said this next spring will be his final season helping Vickery out with coaching. And he will be missed.
"I don't know what I'm going to do without him next year if he does decide this is his last season," Vickery said after the interview as we were walking up toward the gym.
Jim had stayed in the locker room after our interview so I asked Vickery what he was doing, "Oh, he's getting the travel bag ready for tomorrow's game," Vickery responded nonchalantly.
Interview or not, nothing was going to distract Jim from checking off his to-do list.