I climbed up the side of Chiwawa Mountain alongside Spider Glacier as the wind howled against my back and pelted me with hail.
The clouds broiled above me, an angry soup of gray, as I tried to race the impending storm. It seemed like with every step the boulders beneath my feet shifted, and I looked at the snow fields with skepticism.
I could put on my micro spikes and trudge across the ice, which had melted to the point where there were huge chasms and rivers flowed through them. Or I could climb the slick rock face of the mountain and navigate the boulder fields.
That dilemma was the third day of my 35-mile backpacking trip from Buck Creek to Spider Meadow, and it would be an understatement to say my trip was adventurous.
I knew that the weather in late September could be chancy. The report on Friday said it would rain Sunday, but Monday and Tuesday should be clear.
I immediately had a misadventure, because I left my micro spikes at home. So I drove to Leavenworth and bought myself a second pair. I got to the trailhead at 1 p.m. instead of 10 a.m., and I planned on going about 12 miles that day. It made my day a bit stressful as I raced to get to the destination by 6 p.m.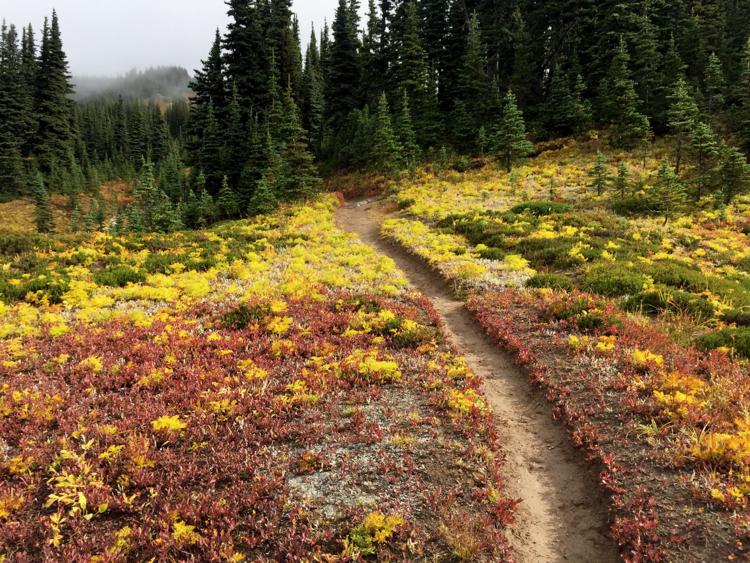 I also realized that I had miscalculated the elevation gain. I thought the first day would be about 2,000 feet, but my GPS system told me I'd climbed 2,800 feet. I crashed at about 300 feet below the Buck Creek Pass, exhausted, my left hip hurting.
The next morning I woke up feeling fine, which didn't surprise me. Sometimes all you need is a night's worth of sleep.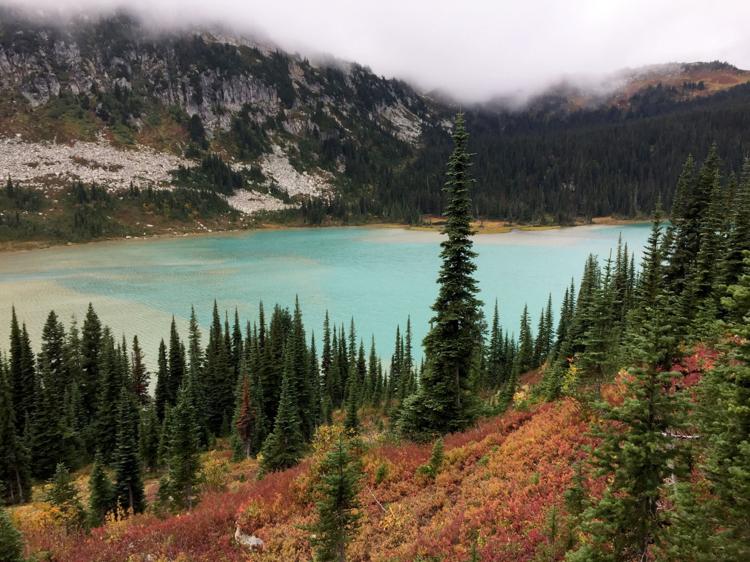 I knew it was going to rain, but was surprised at how quickly it hit. I watched a beautiful sunrise as it crested the nearby peaks. Then, minutes later, clouds rolled over the same mountains like a speeding train.
My destination was Image Lake that day, and I got to the top of Buck Pass within a half-hour. I looked out at the base of Glacier Peak and could barely see it behind a thick wall of clouds.
I continued, descending over Buck Pass and dropping 800 feet in a mile. I got to the bottom of a valley and realized I was going to need to climb 1,000 feet.
I limped up that 1,000 feet. I must have paused 50 times. I got to the top, though, and was rewarded with a view of Plummer Mountain. It is a beautiful shade of red, much like Chiwawa.
The trail dropped again, 1,000 feet into Miners Creek Valley. At this point it really started to rain.
I connected with the Pacific Crest Trail, which was kind of exciting, and passed by a creek with bright turquoise water. I'd later find out that Lyman and Upper Lyman lakes are a similar hue.
I then considered climbing halfway up Suiattle Pass to get to Image Lake, but I was tired and wet.
So, I slowly made my way up the next mountain and reached the junction with the Image Lake Trail an hour later. I paused at a nice-looking camping spot, but felt I still had a little left in the tank. I headed along Miners Ridge toward Image Lake.
I got to another junction and was looking at a third climb. I made it a little ways up, but realized I didn't have any more in me. I parked myself at a tiny camp spot, next to a trickle of stream, over a cliff edge.
I was cold and wet, so I quickly boiled some hot water and drank it like tea. Then I put up my tent, peeled off my wet Under Armour, balled the watery wad into a corner, put on a dry set of clothes and slipped into my sleeping bag. I read a book and fell asleep.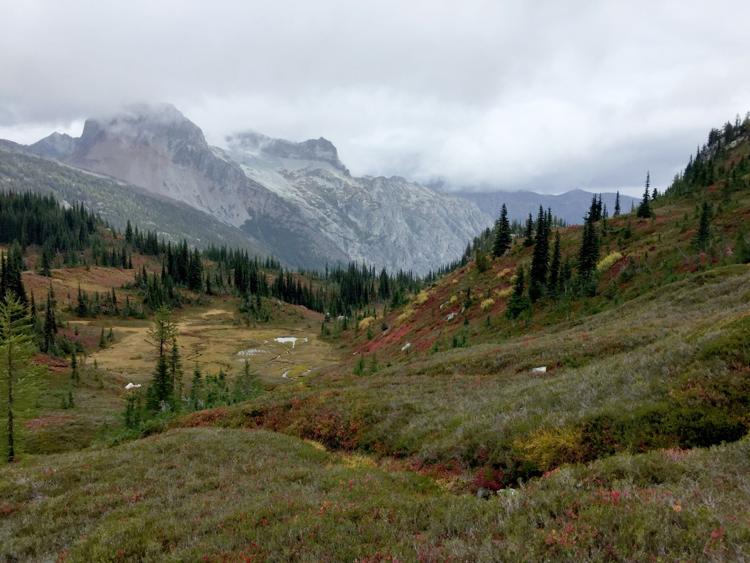 On the third day, Monday, I woke up to see the rain had stopped. It was supposed to be clear, according to Friday's weather report.
I got up and headed out in a thick fog. The destination that night was Upper Lyman Lake.
I got to the junction with Suiattle Pass and climbed the 300 feet to the top. It was slow going and I wasn't winning any foot races, but I got there and came to a rocky stretch of trail along a cliff face.
I looked down into a long valley, carved out by a glacier. The mountains curved like half of a tunnel and sunlight glanced off the peaks, creating halos over the granite tops.
A rocky set of granite steps took me straight up and over to Cloudy Pass, a winding stretch of switchbacks that quickly gained in elevation.
I huffed and puffed my way over Cloudy and ran into two U.S. Forest Service workers. They told me it was supposed to rain again at 5 p.m., news I took with a groan.
I got to the top of Cloudy Pass and was greeted by fields of golden grasses and the turquoise waters of Lyman Lake below me. Above the lake a huge, gray cloud bank swirled.
It was a quick trip down to Lyman Lake. From there I headed to Upper Lyman Lake, which was another uphill climb. Tiny creeks twisted their way between meadows touched by fall colors, below sweeping mountain views.
In an hour I reached Upper Lyman Lake and stared up at Chiwawa Mountain and Spider Gap soaring above me. It was 1 p.m. and the storm was supposed to hit at 5 p.m., so I considered my options.
My legs felt surprisingly good after three days of hiking. I knew the pass had to be steep, but I believed I had plenty of time. I decided I was sick of being wet and hiking in the rain, so I started making the climb.
Two hikers had told me the day before that the snow fields on Spider Gap had melted to a dangerous level. A forest ranger advised them to navigate the boulder field to the left of the pass and to follow the cairns. They warned me that cairns were hard to follow.
I listened to their advice and stuck to the left. Sure enough, several of the cairns had been knocked over.
At this point the winds started to pick up and hail pelted my back. I quickly realized that what I thought was the summit was just one of three false summits I would reach.
Halfway up, I began to wonder if I had made the wrong decision. The storm was moving in much faster than I expected.
The hike was slow going, just like the other passes. My right knee was starting to really get to me. With each step I took the rocks shifted beneath me. I had to scramble a couple of times to avoid mini-avalanches.
I came to the first snow field and had to make a decision. I couldn't see a clear route through the rocks around it, so I ended up climbing up and over a cliff face to get to the other side.
The cliff was slippery under my hands and felt precarious. Loose rock gave way, but I got around the snow field.
I reached the top of the pass, some 1,800 feet of elevation gain later, and was standing at 7,400 feet above sea level. The view was stunning.
I could see huge valleys plummeting away on either side of the pass. A narrow path at the top led from one side to the other between huge boulders. It felt like I was walking into Mordor.
From there I began the descent down the other side. This was when things got really treacherous.
I had to navigate three or four ice fields, but in a few places it looked safer to try to cross sections of the ice sheets. So, I strapped on my micro spikes and carefully made my way along the melting snow.
At one point my feet slid out from under me and I found myself glissading uncontrollably down a steep embankment. I managed to stop my slide and got to my feet, shaky and nervous.
An hour later I got to the bottom on the Spider Meadow side of the gap and stood triumphantly over the valley below me. The sun was shining and I had left the storm behind me on the other side of Chiwawa Mountain. I was tired, beat up and sore.
I thought about calling it there and camping for the night, but it was only 7 or so miles to the car, all downhill. My bed — and the chance to get out of my wet clothes — were calling to me.
I marched back, racing the setting sun, and made it to my car at 8 p.m. It was a nearly 20-mile day, with more than 3,000 feet of elevation gain. When I stopped at a gas station later, my legs wouldn't move when I tried to get out of the car. I almost flopped onto the pavement.
It was one of the hardest backpacking trips I've ever done. I don't think I ever want to do a 20-mile day again.
I do think I could hike a section of the Pacific Crest Trail next year if I wanted. I felt comfortable with my backpacking knowledge and felt like I knew what I was doing. I also managed to deal with the wet clothes situation effectively, and my sleeping bag and spare clothes stayed dry.
I would not recommend anyone without a lot of experience try this, but it was a fun and beautiful hike.