CASHMERE — It has been quite a year for a local wake surfer Turner Gebers. In his final year in the junior division, Turner finished the season ranked fourth in the nation. He took first at the Arizona Fall Qualifier in Phoenix in November.
In April, Turner was first at the Arizona Wake Surf Championship in Phoenix. In July, he was second at the Northwest Wake Surf Championship in Seattle. He was sixth at the Online World Series. That was something different, where he took a video of himself wake surfing. Then, he was evaluated by judges and received credit for the number of views.
In August, he was third at the Tommy's U.S. Open Wake Surf Championship in Michigan.
Wake surfing competition involves surfing behind a boat for 45 seconds doing as many tricks as you can in that time. Turner competes in the surf-style division. He typically spends a portion of the offseason in Arizona working on new tricks.
This year, it was the Alley-Oop. For the Arizona Fall Qualifier, he kept that one in the bag, choosing to stick with the basics.
"After November, we started working on hillside riding. Now, he's riding both sides of the wake," said Wade Gebers, Turner's father, and coach. "Most kids his age have just one, but he is surfing both sides. There is definitely a difference between the strong side and weak side. You would not notice it."
At the Northwest Wake Surf Championships, Turner finished second even though he did not hit any of his big tricks.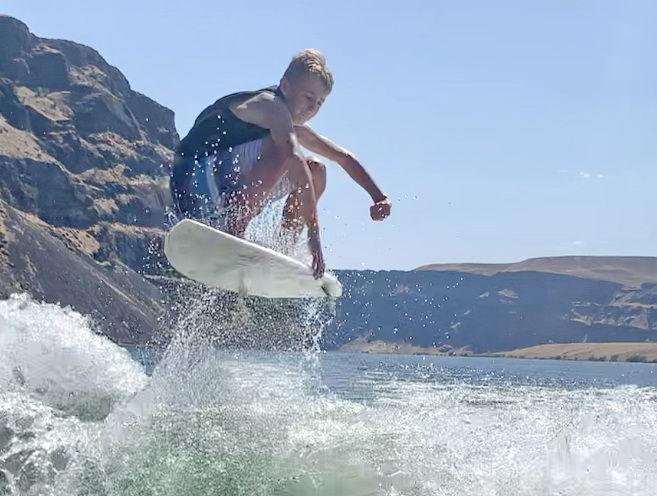 "A lot of the kids hit their big tricks. I'm just really happy I got second," Turner Gebers said.
When they work on a routine for Turner, a lot of thought goes into it. You have 45 seconds and two falls. The routine has to be diverse. You can't do the same trick over and over. You can hit the same big trick all the time, you won't score very high, Wade Gebers said.
"A lot of kids that hit big tricks, can't do what he was doing at the Seattle competition. That helped him get into second place. We had a strong strategy going into it," Wade Gebers said.
Wade Gebers has Turner memorize his routine. That way, he knows exactly what to do if there is a fall. That training came in pretty handy at the U.S. Open Wake Surf Championship in Michigan.
On the first day, he took third in heat five. That meant he had to go into the "last chance" qualifier bracket. With his back against the wall, Turner turned in one of his best runs ever, which put him into the finals.
Turner Gebers said he was able to slow things down and hit all his big tricks. On his first run, he felt like he was going too fast.
"He doesn't like when I make him memorize the run. In sports psychology, if you have a game plan and mental vision and you go through it, it's going to be easier. He has been good at adapting, knowing what moves to do and how to do them," said Wade Gebers, who was a college football player.
In the finals, he fell right out of the gate on his second easy trick.
"He had to improvise. He had to change sides and get back to his strong side," Wade Gebers said. "He hit a couple of big moves, Alley-Oop and 360. He got on the podium in third place. It was quite a testament to see him come in, go through the last chance qualifier, then end up on the podium."
Turner will turn 13 in May. He could stay in the Junior Division, but given his success, he will go into the Amateur Division next year, which has a wide age range, from 13-to-45. The plan is to next move up to the Outlaw Division, then finally Professional.
"Our goal is to continue to progress. Obviously, his physical growth is amazing. He grew six inches from last year. Eventually, his goal is to become a professional athlete, where he is getting paid to participate," Wade Gebers said.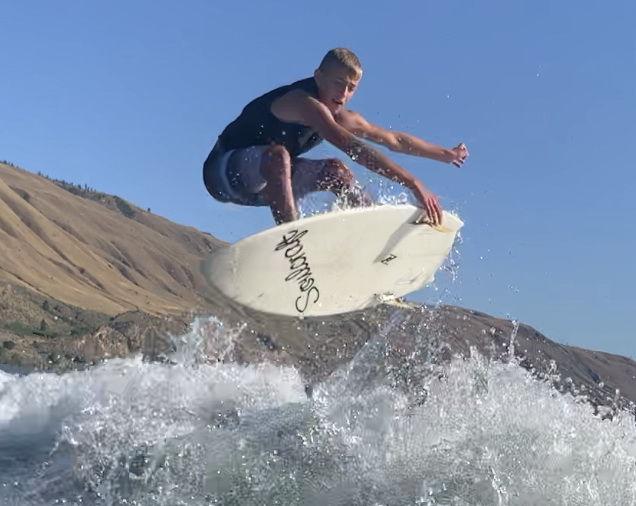 Next year, Turner will be competing against college-age kids and guys his dad's age. In fact, Wade and Turner might compete against each other. Wade, laughing, said he won't have a chance against his son.
"It will be strange. I don't think it will be much competition," Turner said about competing against men his dad's age.
His big push for next year will be learning to skim surf. In Wake Surfing, there are two styles, surf-style with has long fins, 3-4 inches , and skimboards, which have fins of 2-inches or less.
"Skim is really associated with skateboard tricks. Surf style is more ocean style," Wade Gebers said. "He wants to start skimming next year. He's been practicing on the trampoline constantly. He's interested in doing that because next year, he can do both, surf style and skim."
He'll work on that during his training in Arizona, which is essential in order to compete against the surfers from the warm weather states who can surf all year round.
Turner's idol, Parker Paine, earned $45,000 in prize money this year. Turner actually earned $200 for appearing in a Supra Boats commercial in Chelan this year. They invited Turner up to Chelan because they needed a kid. All the top pros were there.
"It was in May in Chelan. I had to wake up at 3 a.m. I had to sit on a boat in the cold wind. I also had to surf," Turner Gebers said. "I was so cold. We had 30-second breaks to get warm. It was interesting."
Wade Gebers said the water temperature was probably in the 60s. He could not wear a wet suit because they had to pretend it was summertime.