Last week, I felt sympathy toward the Tennessee Titans as the coronavirus swept through the team's facility and led to multiple players and staff testing positive — forcing the NFL to postpone their game against the Pittsburgh Steelers to Oct. 25.
It's a natural human instinct to have that immediate reaction when someone tests positive for a virus that has infected over 7 million people nationwide and killed more than 200,000. That's what separates us from the animal kingdom.
But now that it's been revealed that multiple Titans ignored NFL protocols, with some refusing to wear masks while within the team facility and others holding a practice at a local high school hours after being explicitly told not to gather by the NFL, there needs to be some sort of retribution.
Take a first-round draft pick away. Make them forfeit a game. Shame them. Just don't let the Titans skate with a measly fine because there need to be consequences when a team essentially holds the rest of the league hostage for its own selfish interest.
The Patriots played without their starting quarterback Monday night. Bill Belichick didn't complain. The Steelers were forced to take an unexpected early bye-week and now have 13 straight games. They've accepted it. At the very least, the NFL should force the Titans to field a team and play each week regardless of who contracts the virus — even if they're down to their third or fourth quarterback.
If every other team in the NFL can follow protocol, so should they.
Quarterbacks to start
Teddy Bridgewater, Panthers: Teddy Two-Gloves makes the love list this week mainly because of his opponent, the Atlanta Falcons. The Falcons have allowed over 300 yards to every quarterback they've faced and given up 13 touchdowns through the air over the first four weeks of the season. Bridgewater seems to be getting more comfortable with Matt Rhule's offense and Robby Anderson is emerging as one of the better wideouts in the NFC. I think Bridgewater is in for a huge game this week, and he's owned in just 38% of ESPN leagues. If your QB is on a bye or you have Josh Allen and are worried about the Bills and Titans game (currently set for Tuesday) Bridgewater is a solid pickup for this week.
Drew Brees, Saints: Brees has shown his age so far this season and is the No. 18 ranked quarterback in fantasy football, but he's due for a big game Monday night against the Chargers. Brees is (3-0) against his former team and has thrown for 916 yards and nine touchdowns. Michael Thomas is looking like he might suit up for the first time since Week 1 and the Saints are playing at home. Do you need another reason to start Brees? Get him in your lineup.
Quarterbacks to sit
Joe Burrow, Bengals: Burrow has proven that he can be a capable NFL quarterback, but he could be in for a tough afternoon against the blitz-happy Ravens. Baltimore got picked apart against the Chiefs but aside from that they've been stout defending the pass. With the Bengals able to get Joe Mixon involved last week, I think they'll try to run the ball a ton and keep Lamar Jackson off the field. Cincinnati is going to need to make it ugly if they want to have a chance at beating the reigning AFC North champs, which doesn't play into Burrow having a big day. Keep him on the bench.
Matt Ryan, Falcons: Matty-Ice was one of the top fantasy quarterbacks the first two weeks of the season, but the four-time Pro Bowler has looked mediocre the past two games. Julio Jones is still dealing with a hamstring injury and will likely miss this week, which hurts, but the Panthers also have the No. 3 ranked pass defense and are allowing just 6.3 yards per pass attempt. The Falcons are desperate, and this is their first division game so anything can happen, but I don't trust Ryan against a Top-5 defense without his full arsenal of weapons. Sit him if you can.
Running Backs to start
Joshua Kelley, Chargers: I might be alone with this pick considering Kelley mustered just seven rushing yards on nine carries last week against the Buccaneers, but I really like the first-year back out of UCLA. He's an excellent pass catcher out of the backfield and more explosive than Justin Jackson. Anthony Lynn might split carries at the beginning of the game but I think Kelley will eventually outperform his teammate and shoulder the load. The Saints have given up some big plays on the ground so look for the Chargers to establish the ground game early and get Kelley rolling.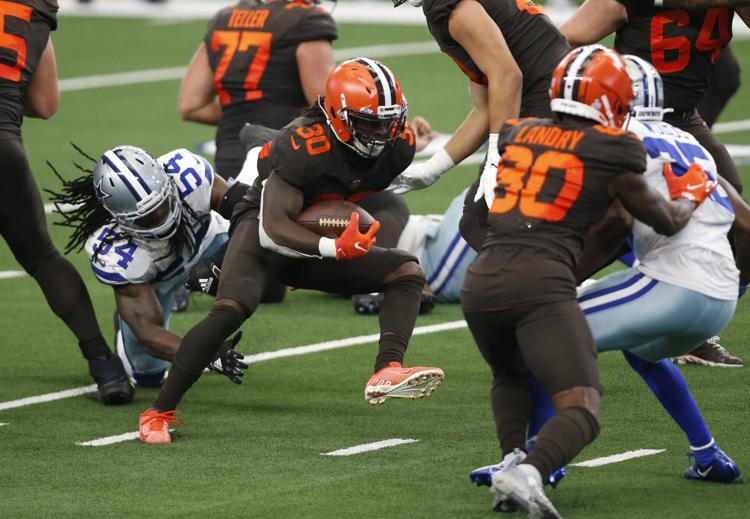 D'Ernest Johnson, Browns: Kareem Hunt might be the main beneficiary with Nick Chubb expected to miss at least six weeks, but Johnson proved that he can shoulder some of the load as well after gashing the Cowboys for 95 yards on 13 carries. He's earned some touches and with Kevin Stefanski looking to preserve his backfield, touches could be split between both backs. The Browns have a tough matchup this week against the Colts' No. 1-ranked defense but they'll need to lean on the run if they want to win. Johnson is owned in just 26% of ESPN leagues; I recommend scooping him up and starting him if you are in desperate need of a running back.
Running Backs to sit
Miles Sanders, Eagles: Sanders has played well since returning from a hamstring injury that kept him out of Week 1 and he's been one of the lone bright spots for the Eagles offensively, but it's going to be tough sledding against the rested Steelers front seven. Pittsburgh has yet to allow 100 yards on the ground and given up just one rushing touchdown so far this season. They're going to form a wall upfront and force Carson Wentz to beat them through the air, which might buoy Sanders fantasy numbers with short dump-offs, but temper expectations rushing wise.
Melvin Gordon, Broncos: Again, being a Broncos fan I hope that I'm wrong but knowing how Belichick schemes, his modus operandi is taking away a team's best offensive player. For the Broncos, who will be without their No. 1 receiver and tight end, Gordon is their best offensive player. Even if Drew Lock returns, Belichick will test that throwing shoulder and force the Broncos to complete chunk passing plays down the field. Historically, the Broncos have not played well in Foxborough and I'm just not confident in their offense will all the injuries. Rest Gordon if you have a better option.
Wide Receivers to start
Justin Jefferson, Vikings: After a quiet couple of weeks, Jefferson exploded for seven catches and 175 yards against the Titans two weeks ago. He then followed that up with another 100 yards performance against the Texans. I really like this rookie and honestly, I would start any receiver against the Seahawks' paltry pass defense. While I don't like Kirk Cousins, even he should be able to carve up the Hawks. Start Jefferson with confidence this week and expect big numbers.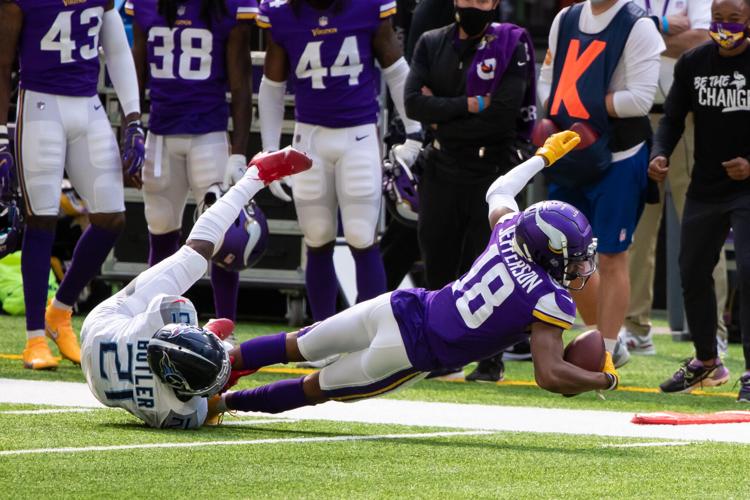 CeeDee Lamb, Cowboys: Some questioned the Cowboys in the spring when they used a first-round pick on Lamb instead of going defense, but Lamb has been the most consistent rookie through four weeks. He's scored double-digit fantasy points in every game and has supplanted Michael Gallup as the Cowboys' No. 2 receiving option. Whenever these two teams meet, it's typically a toss-up but the Giants secondary has already surrendered seven touchdowns to opposing wide receivers. I expect Dallas to throw the ball a lot, which means Lamb could be in for a busy afternoon.
Wide Receivers to sit
Diontae Johnson, Steelers: I have Johnson in a few of my leagues and I'm starting him this week, but I'm nervous. Even though the Eagles look like a tasty matchup on paper, Johnson should be shadowed by Eagles' corner Darius Slay all game considering Juju Smith-Schuster mostly lines up in the slot. Slay is one of the premier shutdown corners in the league and has been at the top of his game since coming over from Detroit in the offseason. I don't really have a better option than Johnson, so I'm starting him, but I wouldn't be surprised if he fails to put up double-digit points on Sunday.
Terry McLaurin, Washington Football Team: McLaurin has been fantastic in his sophomore season, but he's going to have his hands full this week against Jalen Ramsey. I am hesitant with Kyle Allen making his first start of the season as well after Ron Rivera benched Dwayne Haskins, who had developed a nice connection with McLaurin. It's hard to sit a guy who has been so consistent through the first four weeks, but he has no chemistry with Allen and will have Ramsey in his face all game.