WENATCHEE — When the Eastern Washington University Athletics Hall of Fame class of 2019 was announced this summer, it included football player Chris Scott, who played at Wenatchee High School.
In his senior year at EWU, he became the first defensive tackle to earn Big Sky Conference Defensive Play of Year honors in 1997. He was a first-team NCAA Football Championship Subdivision All-American and second-team All American from the Associated Press.
In 1997, the Eagles won the Big Sky championship, advanced to the national semifinals and finished the season 12-2. Making the Eastern Athletic Hall of Fame came as a big surprise.
"When Dave Cook (EWU Sports Information Director) called from EWU and wanted to talk to me, I thought maybe it was about fundraising. When I finally reached him on the phone and he said I had been elected to the Eastern Athletic Hall of Fame, it was definitely a surprise," Scott said.
Chris played at Wenatchee High School, graduating in 1993. His brother Tim was three years older and went onto play at Eastern as a middle linebacker.
The Panthers did not win much during his playing days at Wenatchee.
"It was tough. I played with a bunch of really good kids. I enjoyed playing. It's hard when you're not winning because that is a metric you use for growth. When you're not winning, it's a difficult time and can be stressful for you," Scott said.
Scott said high school is a unique time in everyone's life because of what they are going through. For him, football was part of that.
"It taught a lot of work ethic and things I needed to do. All sports did that for me in high school," he said. "I can't look back at my high school years playing football and identify any time that had a major impact on me other than just the people I played with."
When it came time to pick a college, Eastern fit the bill for a lot of reasons but mainly because it gave him a chance to play with his older brother, whom he idolized. Scott said the reason he did so well was because of him.
He said having his older brother there was huge.
"You look around and see younger brothers trying to keep up with their older brother. That's what I was. The reason I was athletically good was because of him. He was a great athlete," Scott said. "Not only that, he was a great role model. Just a great person to follow after and mimic. He was a hard worker and an intelligent, hard studier."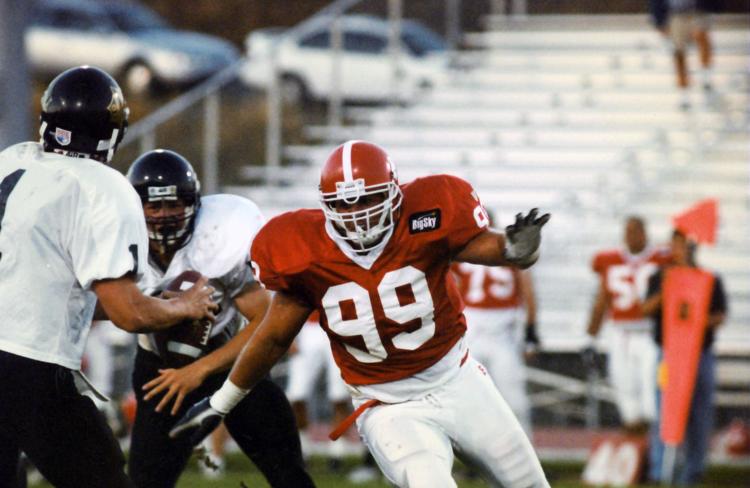 Tim Scott said it was cool to be in the same huddle with his brother, knowing that is not common, especially on the collegiate level. He was really grateful they had the opportunity to do it.
"As his older brother, he had to follow me through high school and elected to come to Eastern. That's where I was at. I had to be somewhat of an influence. I don't want to take any credit for his accolades and his performance. Those are his alone," Tim Scott said. "But I am very proud of him and proud to say he is my brother."
Playing football at Eastern were some of the best days of his life. Chris Scott said it was a great thing to play ball at the collegiate level because you are always being sharpened.
You are there with a bunch of young men all wanting to do well and you have coaches focused on your growth, Chris Scott said.
"You're constantly going through everything you can to become better. That is a huge part of all of our lives when we look back. When we're not growing, it's not a fun place to be," Chris Scott said.
Winning the Big Sky and playing in the national semifinals his senior year, show the hard work has paid off, Chris Scott said. When it's gone, it's painful.
"You realize you don't have these metrics or these people to help you grow every day. You have to try to find that within your own system. It's no longer provided on the collegiate level, you have to provide that on your own," Chris Scott said. "That's a huge adjustment. I think people are still trying to adjust to that kind of stuff."
Getting elected to the Eastern Hall of Fame was a huge emotional, humbling experience because he never went into football expecting to be elected into the Hall of Fame. He went to college to be with his brother, get an education and play ball.
When it was done, it was a tough time because he really missed football. He still does.
"The people that have been elected to the Hall of Fame, a lot of them were my mentors when I went there. There's a lot of them that went on to play in the NFL. I didn't play in the NFL," Chris Scott said. "It was cool to be a part of the whole process."
Chris Scott said it was great to have his dad there at the induction ceremony. He was actually elected on his mother's birthday, which was meaningful because his mom just passed away recently.
"It was just a real surreal moment. Just to be able to have my dad and brother there. I had 10 other people with me on that field that were just great athletes," Chris Scott said. "I can make a really good case the reason I did so well was because the other team was too busy running away from everyone else."
Chris's father Mike Scott said as a family they are so pleased that Chris got that kind of recognition. Chris was a big guy with a half-step on most other big guys, Mike Scott said, feeling that really helped him.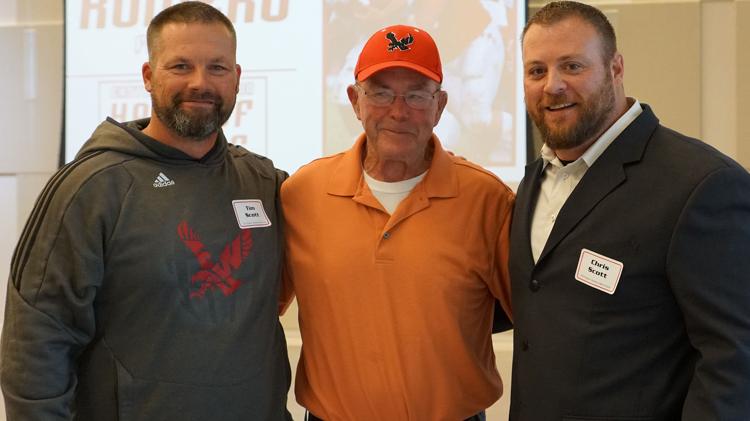 Mike Scott said they went to every Eastern football game during the time Tim and Chris played.
"With Tim and Chris, we traveled for seven years. I think I missed one game, Sac State in Sacramento. Chris was ill, which I why I didn't go. We hit all the games. We flew on the team plane. There was great camaraderie with the other moms and dads," Mike Scott said. "We thoroughly enjoyed it. Football is a big deal, but it's not the end of the world. We're happy to see our boys survive without any major injuries."
The weekend of the induction ceremony was a football weekend for the family with Cashmere playing at Cheney on Friday, then Eastern hosting North Dakota on Saturday.
Mike Scott said he thoroughly enjoyed that.
"I'm glad the kids were at Eastern. There was no traffic or difficult circumstances. We saw a lot of familiar faces. It was a small-town setting. I like that a lot," Mike Scott said.
Now 44, Chris Scott said he is a full-time disciple of Christ. He is working on becoming a better husband and father. He currently works for BAS in Quincy and Nick McLean Real Estate. He is married to Paula Lamanna and is the father of Reagan (12) and Ryder (8).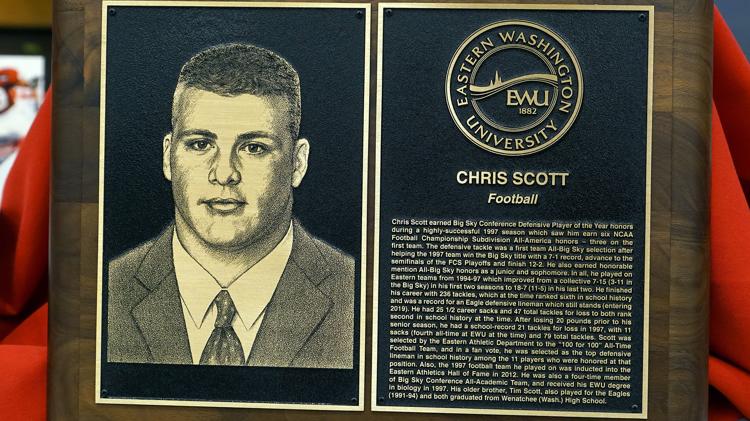 He and Paula are also raising two foster twins, S and C. Chris takes great pride in that and says it is "pretty awesome."
"I always knew he was a heck of a football player. It doesn't surprise me he would end up there (in the hall of fame). Still, it is a rare thing. I was just glad he could be thought of in that light," Tim Scott said. "I was proud not only for the football player he was but the man he's become. The wisdom and leadership qualities have obviously blossomed in him as he's become an adult that was, in part, developed on a football team."