Pear crop forecast calls for 16.1 million boxes
WENATCHEE — The Pacific Northwest's pear growers expect a bigger harvest than last year, though this year's crop is still expected to be smaller than the five-year average.
According to forecasts released Aug. 26 by Pear Bureau Northwest, this year's harvest is expected to yield about 16.1 million standard box equivalents of pears between Washington and Oregon. This represents a 5% increase from last year's 15.3 million boxes, though it is still 4% lower than the five-year average of 16.8 million boxes.
These numbers are the combined production of the Northwest's winter pears as well as the summer and fall pears. According to the PBNW, Washington and Oregon are expected to produce 11.4 million boxes of winter pears, which would be a 6% increase from last year and a 7% decrease from the previous five years.
The decrease in production is just about across the board, with only Green Bartlett pears expected to be produced at higher levels than the five-year average. Growers anticipate a crop of 4.4 million boxes of Green Bartlett pears, which would be a 5% increase from the last five harvests and a 4% increase over last year's crop.
The bulk of the crop is expected to be Anjou pears, at 8 million boxes. This is a 6% increase in production from last year's 7.5 million boxes, though it is still 5% lower than the five-year average.
The Wenatchee district, which stretches from Chelan to Cashmere and Leavenworth, is expected to be the largest grower of Anjou pears, at 3.75 million boxes. In total, Wenatchee is forecasted to grow about 4.75 million boxes of winter pears. Additionally, the district will grow just over 2 million boxes of fall and winter pears.
Heat, wind, labor take a toll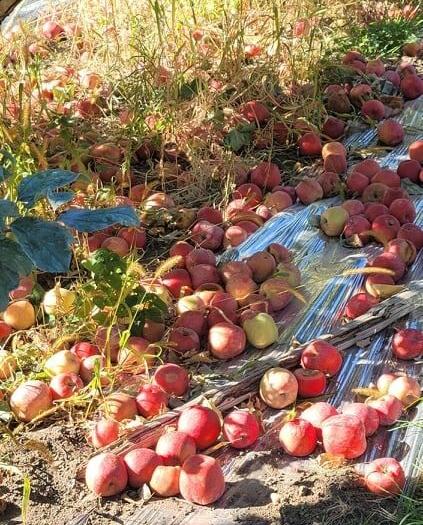 CHELAN — Ed Schaplow's pear harvest was nonexistent this year. He picked about a third of the Honeycrisp apples he normally would and had a crew about one-tenth the normal size. His Golden Delicious crop, though, is the best he's ever seen.
It wasn't the harvest he expected. He's likely not alone, but it's still early for big picture numbers.
Tim Kovis, spokesman for the Washington State Tree Fruit Association, said anecdotally he's heard that this year's apple harvest is about on par with what the association forecasted in August — 124.8 million 40-pound boxes of apples, a 2.3% increase from last year.
The region's pear harvest was also predicted to increase from last year. According to an Aug. 26 forecast from Pear Bureau Northwest, this year's harvest will produce 16.1 million boxes, an increase of about 5%.
Not for Schaplow. His pears were small, low quality and inundated with mites.
"This was a big surprise to us. Usually, we thought that pears handle heat pretty well. This year, they didn't," Schaplow said. "First time in 20 years where we didn't have a pear crop."
In a typical year, Schaplow's pears have a value of about $80,000. This year it will be around $8,000, with the money coming from federal crop insurance or selling the crop for juice.
Schaplow said finding pickers also was a challenge and the labor he was able to attract was more expensive. He paid $20 an hour for workers to pick Honeycrisp apples — the most he's ever paid. He offered $35 for a bin of Golden Delicious apples. In the past, he paid between $28 and $30.
It typically takes a crew of 30 about three days to pick Schaplow's Goldens. This year, a crew of three picked the apples for more than a month.
While it's taken longer to pick Golden Delicious apples, Schaplow said the fruit itself is large and of high quality.
"We expected to have pretty much a crop failure, and it's turning out to be our best crop ever because of the heat," Schaplow said.
The outcome for his Honeycrisp apples was just the opposite. Schaplow expected a large crop this year, though the heat dashed that hope early on. He typically produces about 200 bins of fruit in a given year, but ended the harvest with 67 bins.
Just as the fruit ripened in early September, winds blew the fruit off of the tree.
"The one thing good about Honeycrisp is the pricing has been high," Schaplow said. "So what apples we have been able to pick and pack, we have gotten a decent price for. But the volume's way down."
Farm lender says extreme weather dampened ag profits
SPOKANE — The quarterly market report from Northwest Farm Credit Services, an agricultural lending cooperative, is forecasting reduced profits for the region's crops as a result of extreme weather. Most commodities are expected to break even or show a slight profit, including apples, cherries and pears.
For individual growers, it depends on how hard they were hit by the weather. Dairy is expected to show a loss because of increased feed costs. Forest products, though, are expected to be profitable because of the surge in pricing.
The report is based on reports from Northwest FCS teams throughout Idaho, Montana, Oregon and Washington who monitor conditions and outlooks for commodities financed by the co-op.
Wheat farmers face tough conditions for winter crop
NCW — Washington's wheat growers are planting their winter crop in the worst conditions some have seen since the 1970s.
These conditions come on the heels of a harvest that's among the lowest in the same period.
Glenn Squires, CEO of the Washington Grain Commission, said in mid-September that the collective wheat harvest of Washington, Oregon and Idaho this year is the worst since 1977.
"The lack of rain has resulted in this year's crop being the lowest crop output since 1973 for Washington," Squires said.
The five-year average for wheat production in Washington is 152 million bushels of wheat. However, this year's crop is only 93.6 million.
Conditions don't look any better for next year's crop.
An early summer heat wave coupled with an ongoing drought left subsoil moisture at 99%, leaving farmers to decide whehter to plant their winter crop and hope that rain would follow, or hope a rainstorm would moisten the ground enough to allow for planting.
Wade Troutman, a wheat farmer in North Douglas County near the Columbia River, referred to planting seeds in dry dirt as "dusting it in."
"Basically you're setting the seed in dry dirt, not too deep, and hope that you get some subsequent rains that will germinate and come up," Troutman said. "You don't want it to germinate and hit dry dirt below it."
It will take time for the ground to fully recharge.
"A lot of our problems came from that 115-degree week, or whatever we had," Troutman said. "We're used to having 100-plus temperatures in August. But June? That was just a heartbreaker there."
Troutman said moisture over the winter, and a melting snowpack next spring should help the ground heal.
"You never know what next June will bring, and that's part of farming. You can't predict the weather," Troutman said. "If the weather's favorable to us, we can make some money. And in years like this you know, we just tighten up the belt and suck it up until the weather changes."
Workers win $3 million settlement from Stemilt Ag Services
WENATCHEE — A federal judge has approved a $3 million settlement between Stemilt Ag Services and employees who were uncompensated during down time.
The lawsuit was filed in October 2020. U.S. District Judge Salvador Mendoza Jr. approved the settlement on Sept. 9.
A quarter of the $3 million settlement will cover attorney fees, while the remaining money will be divided between those employed by Stemilt AG Services.
Eligible workers were employed as hand harvesters, pruners, pickers, thinners or farm workers from 2015 to 2018. The money will be allocated based on the number of hours they worked during the three year time period.
Money from the lawsuit that goes unclaimed will be distributed to the Northwest Justice Project, which provides legal services to low-income families in the state.
WineVit 2022 | Washington Winegrowers relabel trade show, convention
KENNEWICK — Washington Winegrowers Association changed the name of its annual convention and tradeshow this past February to WineVit.
Pandemic conditions, though, pushed the event, previously called the Winegrowers Convention and Trade Show, to a virtual platform.
The plan for 2022 is for an in-person educational and networking event Feb. 7-10 at the Three Rivers Convention Center in Kennewick. Registration opens in November.
The three-day WineVit is designed to provide participants with a look at the latest industry research and educational sessions on sustainability, efficiencies in wineries and cost saving on labor. It also includes recognition of industry leaders and a keynote address by Will Bowen, founder of the Complaint Free Movement.