WENATCHEE — Brandon Montgomery's father needed to service his motorcycle and Montgomery saw a business opportunity.
"My dad was looking to get his Harley serviced, just looking for an oil change," Montgomery said last month. "And come to find out he would have had to drive all the way to Yakima to get it done, but he lives right here in Wenatchee. That got the wheels turning."
Just a few months later Montgomery purchased Wenatchee Powersports, an offroad vehicle dealership in Olds Station. He plans to build a service shop on the lot and expand the dealership's offerings.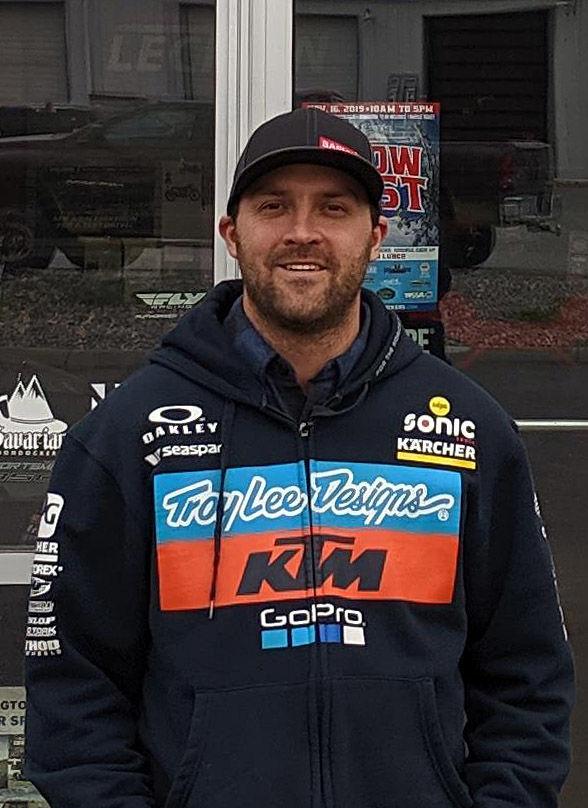 Montgomery has been looking to own a small business and had always been interested in powersports, so the opportunity was a perfect fit, he said.
Several motor vehicle dealerships in the Wenatchee Valley are expanding or under new ownership.
It's an industry known for its razor-thin margins and susceptibility to economic swings, but, overall, it's seen significant growth in the area.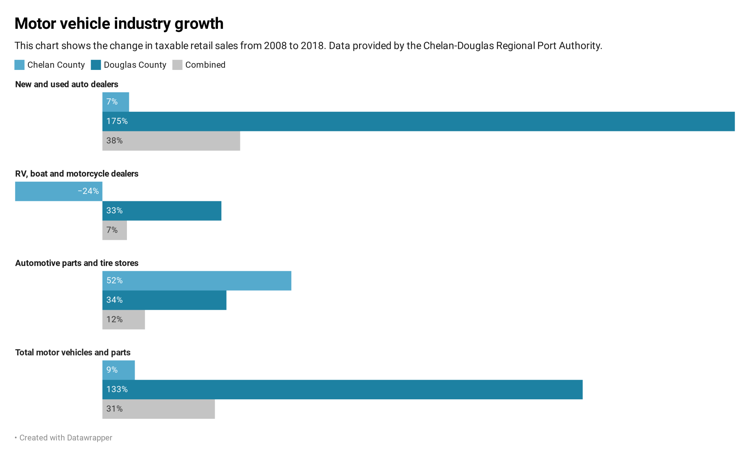 The motor vehicle and parts industry, which includes new and used car sales and offroad vehicles, increased 31.1% in Chelan and Douglas counties over the past 10 years, according to Chelan-Douglas Regional Port Authority data.
The sector recorded $260 million in sales in 2018, the last full year with available data.
The state Department of Revenue lists 21 licensed motor vehicle dealers in Chelan County and 10 in Douglas County.
"It's definitely one of the big dogs when it comes to taxable retail sales," said Ron Cridlebaugh, the port's director of economic development. "That's why there's always a concern when a dealership moves from one side of the river to the other."

Over the past decade, that exodus has largely been west to east. The ad hoc auto row on Third Street in East Wenatchee has grown significantly. Motor vehicle sales followed — up 133.2% in Douglas County since 2008. In Chelan County, they've increased 8.9% in that time period.
Wenatchee still has several big players — including Cascade Autocenter, Sangster Motors and Leonard Evans Cars — who contributed to $150.8 million in sales in 2018, according to the data.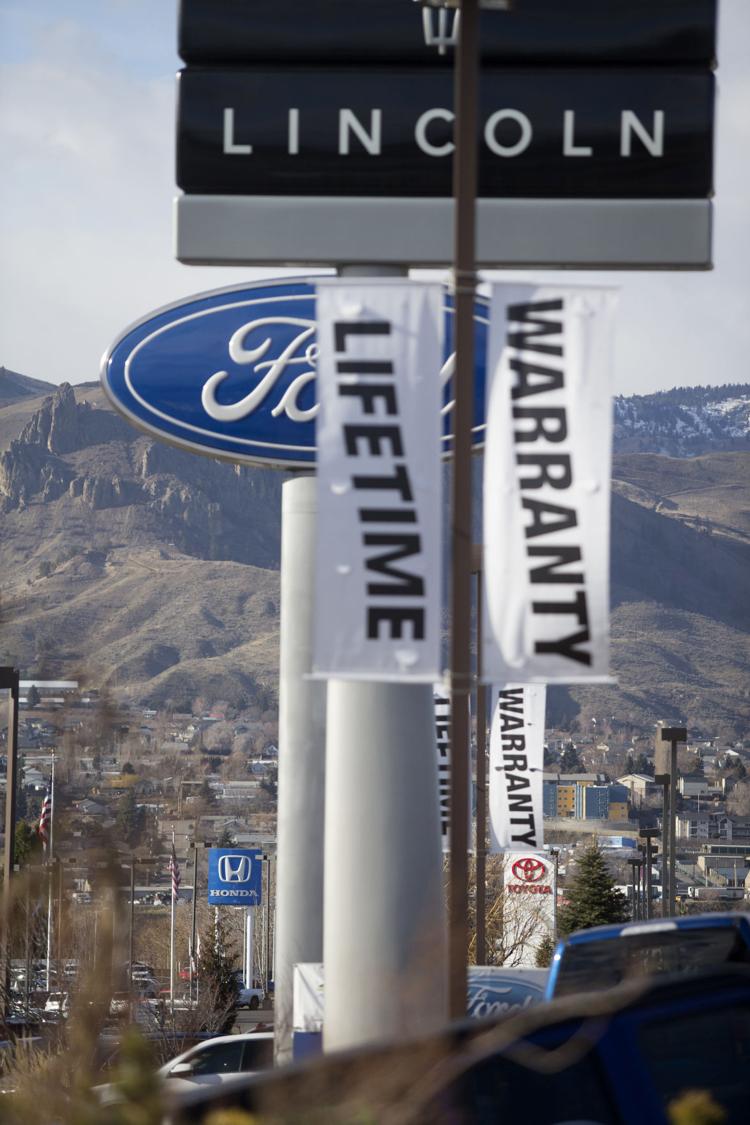 The exodus all began when the late Tom Barros, an iconic figure of the local auto industry, moved his Town Auto Group to East Wenatchee.
"It's been quite a shift because all the dealerships were over there on the main avenue. Everybody thought Tom was nuts to move over here away from all that. It was just the opposite," Pat Armstrong said last month.
Armstrong owned a portion of the Town Ford Lincoln dealership since Barros bought it in 2008. He took over full ownership early last year, just before Barros passed away in March. The rest of Barros' dealerships are now owned by his family.
The auto row filled out when Apple Valley Honda moved from north Wenatchee in 2015. That dealership was also purchased recently, by the Nelson Family Automotive group in December.
General manager Tod McLaughlin, who's been in the post for 19 years, said the dealership will soon grow from 52 employees to close to 60.
"We're going to expand. We kept every single employee following the ownership change with the idea that we probably need to expand with more employees too," he said.
A strong economy, hot housing market and rising population are all likely contributors to the industry's growth, local dealers said.
Chelan and Douglas counties have seen around 1% population growth over the past few years, according to Chelan-Douglas Trends data.
"Our outlying areas are growing too. Crescent Bar is now very big. Up the river in Chelan there's people everywhere up there," Armstrong said. "People have discovered our area."
The key is marketing to those potential customers, which has become a much different game for dealerships, Armstrong said.
"Now it's gone to a lot of emails and you don't see as many people at first. Most of their inquiries and information-gathering is done online," he said. "Hopefully you get a chance to chat with them and show them it's not an online-only type of purchase."
The changing consumer habits of younger generations likely plays a factor in that, said Mick Fabian, sales manager for Wenatchee's Town Chrysler Jeep Dodge Ram, on the corner of Miller Street and Chelan Avenue.
"When I first started, it was all about relationships. Everybody from town stayed in town," he said. "If they bought a Nissan, they stayed with Nissan. They built those relationships with dealerships. Today, the younger generation buys all online."
His dealership, which is also still owned by the Barros family, is also preparing for a major expansion. Over the next few years the building will be torn down and rebuilt.
Its temporary home will be the former Department of Transportation lot on North Wenatchee Avenue, which it's renting from the city of Wenatchee.
One of the dealership's main issues is parking. It typically has about 225 vehicles on just a couple acres.
"We don't even have any place to push the snow," General Manager Clayton Walker said. "Unlike the other stores, we have to give up like 10 parking spots."
But a new building is also an important marketing tool, Fabian said.
"Sometimes it becomes the building that attracts the customer because they're in their car. You might spend a third of your day in your car, driving back and forth to work, to lunch, to get coffee, out on errands," he said. "Then you see those buildings with new signs."
That's why Montgomery, the new Wenatchee Powersports owner, is putting his new lot and service shop on the highway-facing side of his dealership.
With the area's rising population and the abundance of recreation opportunities in the area, Montgomery expects the growth to continue.
"More people are getting to see how beautiful it is in the valley here, and then Chelan and all the outskirts around here. It's just growing and we don't see it stopping," he said. "We just saw a potential gold mine here. Me being as young as I am and in it for the long haul, I'm hoping it's something my kids can take over too."