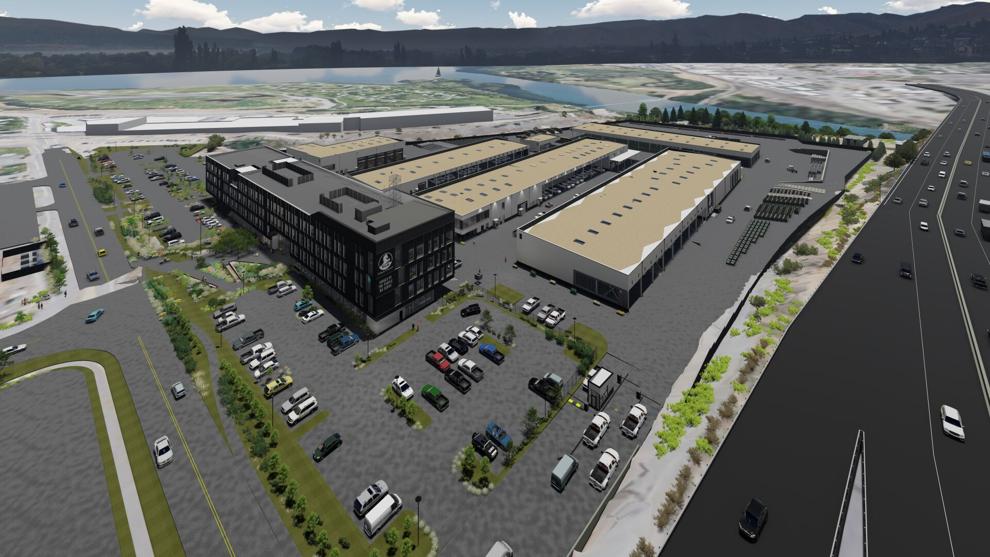 Chelan PUD breaks ground on new headquarters in Olds Station
WENATCHEE — The Chelan County PUD broke ground in early August on its new service center in Olds Station, a $140 million project that will consolidate many of its services onto one campus.
Project construction is expected to continue through 2022 with a gradual move-in planned for late 2022 or early 2023, according to a PUD news release.
Many of the PUD's services are based at its Fifth Street and Wenatchee Avenue campus. The existing headquarters, which was built in 1955, will be redeveloped.
The PUD is working with the city of Wenatchee, Chelan Douglas Regional Port Authority, Wenatchee Valley Chamber of Commerce, the Wenatchee Downtown Association and a citizen advisory committee to explore development options.
The new 19-acre location in North Wenatchee will better position crews to respond to other areas of the county, according to the PUD.
Lake Chelan Community Hospital closes Sanctuary program, cuts clinic operations
CHELAN — Lake Chelan Community Hospital is closing its addiction recovery program, Sanctuary, and is planning cuts to its health clinic.
The Lake Chelan Community Hospital Board made the decisions, prompted by COVID-19 and other issues, during a special session on July 24.
LCCH spokesman Agustin Benegas said after considering public input, the board decided to close the Sanctuary program completely.
"The Sanctuary serves about 10% of our population," Benegas said. "Most people who enter rehab go outside their community, so a lot of these patients were coming from different states. With COVID-19, it wasn't looking to be open for another year. As a department of the hospital, financially it did fine but the reimbursement would be diluted among other programs in the hospital. It wasn't as profitable."
The LCCH Hospital Board also decided to "right size" services at its Lake Chelan Clinic, 291 E. Johnson Ave., which it purchased in 2015.
"The board decided to look at the number of physicians we have in the clinic, resizing that to the number of patients we have established at the clinic," Benegas said. "We're getting to the point where we're going to have more physicians than patients in the valley.
Wenatchee could lose $1.5 million in sales tax
WENATCHEE — The city of Wenatchee is projecting a $1.5 million shortfall in sales tax revenue for this year, according to Mayor Frank Kuntz.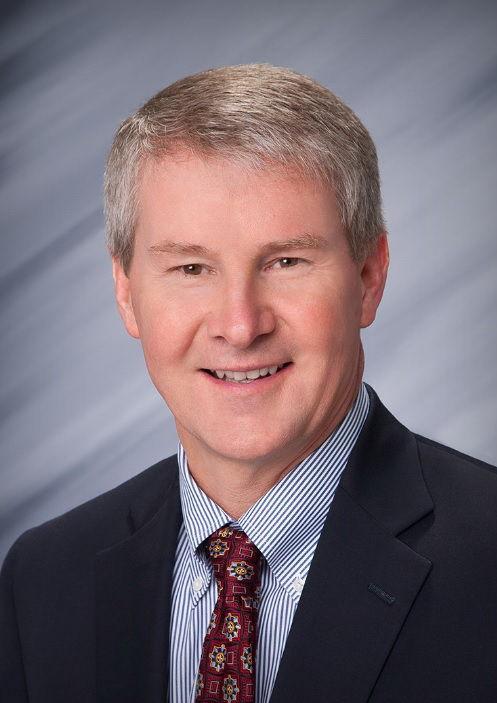 Kuntz said the March sales tax was down 22% from the previous year and the April sales tax was down 24%. However, the city broke even in May.
The city doesn't see sales taxes until about two months later anyway, Kuntz said, and this year the state extended payment deadlines because of COVID-19.
"Then in May a whole bunch of sales tax came in," he said. "A lot of that was from transactions that took place in February. ... What you can't tell is, are we really 22% and 24% down or are we break even?"
He said the city's finance director expects revenues to be down 15%, which would amount to $1.5 million. Hotel/motel and fuel taxes are also down, so the city could face about $2 million total in lost tax revenue, he said.
With about $5 million in reserves and $1.5 million in the rainy day fund, the city should be able to make it through the year, Kuntz said.
"This is going to be a slower recovery than some think," he said. "I hear speculation that it may be a year or so before we're back to whatever normal is."
Wenatchee seeks funding for Confluence Parkway project
WENATCHEE — After an unsuccessful attempt at a federal grant, the city of Wenatchee is $700,000 short of what's needed to get the Confluence Parkway project going.
The project would create a bypass to North Wenatchee Avenue, and another bridge across the Wenatchee River, to help relieve the traffic congestion that has long plagued that stretch of road. The city is currently working on a required analysis to determine potential environmental impacts.
Wenatchee had applied for $122 million through the federal Infrastructure For Rebuilding America grant program, but found out in June that it would not be awarded the money. Mayor Frank Kuntz said the city planned to put that funding toward the environmental analysis.
Now, Kuntz said, the city is facing a $1.5 million shortfall in sales tax revenue due to the COVID-19 shutdowns and doesn't have the money to fund the analysis on its own.
"Do you just walk away and say you're not going to do it or do you keep plugging away at it?" he said. "The issue in front of us today is we're about two-thirds of the way through our environmental process and, in order to complete it, we're about $700,000 short. ... Once environmental's done it's good for a 10-year period. It seems to make sense that you want to try to get that finished."
The city has committed $2.2 million to the process, Kuntz said in a July 23 email to Chelan-Douglas Regional Port Authority CEO Jim Kuntz. He asked the port authority to contribute $175,000, a request the board approved Aug. 18.
The city has also asked Chelan County PUD and Link Transit for help. Both requests are still being evaluated.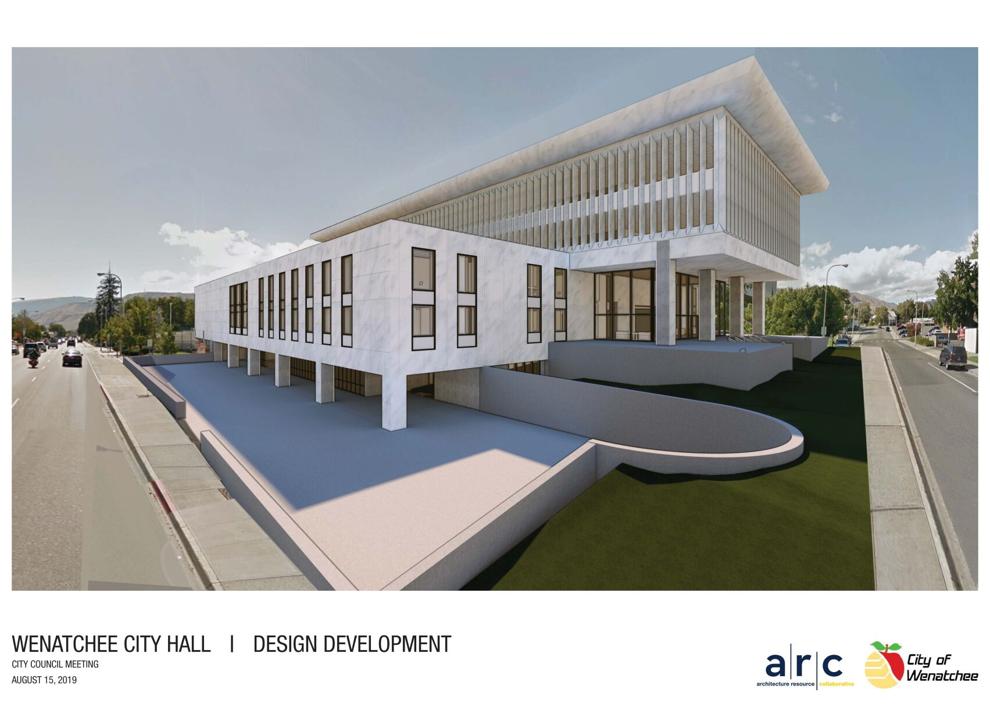 High bids delay Wenatchee City Hall remodel
WENATCHEE — After the lowest bid came in at $3.5 million more than was budgeted, a remodel of City Hall is being delayed.
The city had budgeted $7.8 million for construction. However, after the project went to bid in July, the lowest of five offers was over $11.3 million.
The City Council voted Aug. 13 to reject all bids.
Mayor Frank Kuntz told the council that the city would probably have to wait until the second quarter next year to go out for bids again. COVID-19 appears to have had an impact on the process.
"You're finding that labor costs are OK, but there's no materials or material costs are off the chart," Kuntz said.
The city is also facing a $1.5 million shortfall in sales tax revenue this year, he noted.
Wenatchee moved its City Hall operations into the old Federal Building at 301 Yakima St. in November 2018 after buying part of the building from LocalTel Communications. The council chambers are on the second floor and offices are on the third, though eventually staff will work on the main floor.
Facilities Manager Elisa Webb told the council that the project will be reevaluated to see if the scope and costs can be reduced.
Housing authority to buy Leavenworth apartments
LEAVENWORTH — A $1.6 million grant is allowing the local housing authority to buy the Bavarian Village Apartments, which serve low-income families.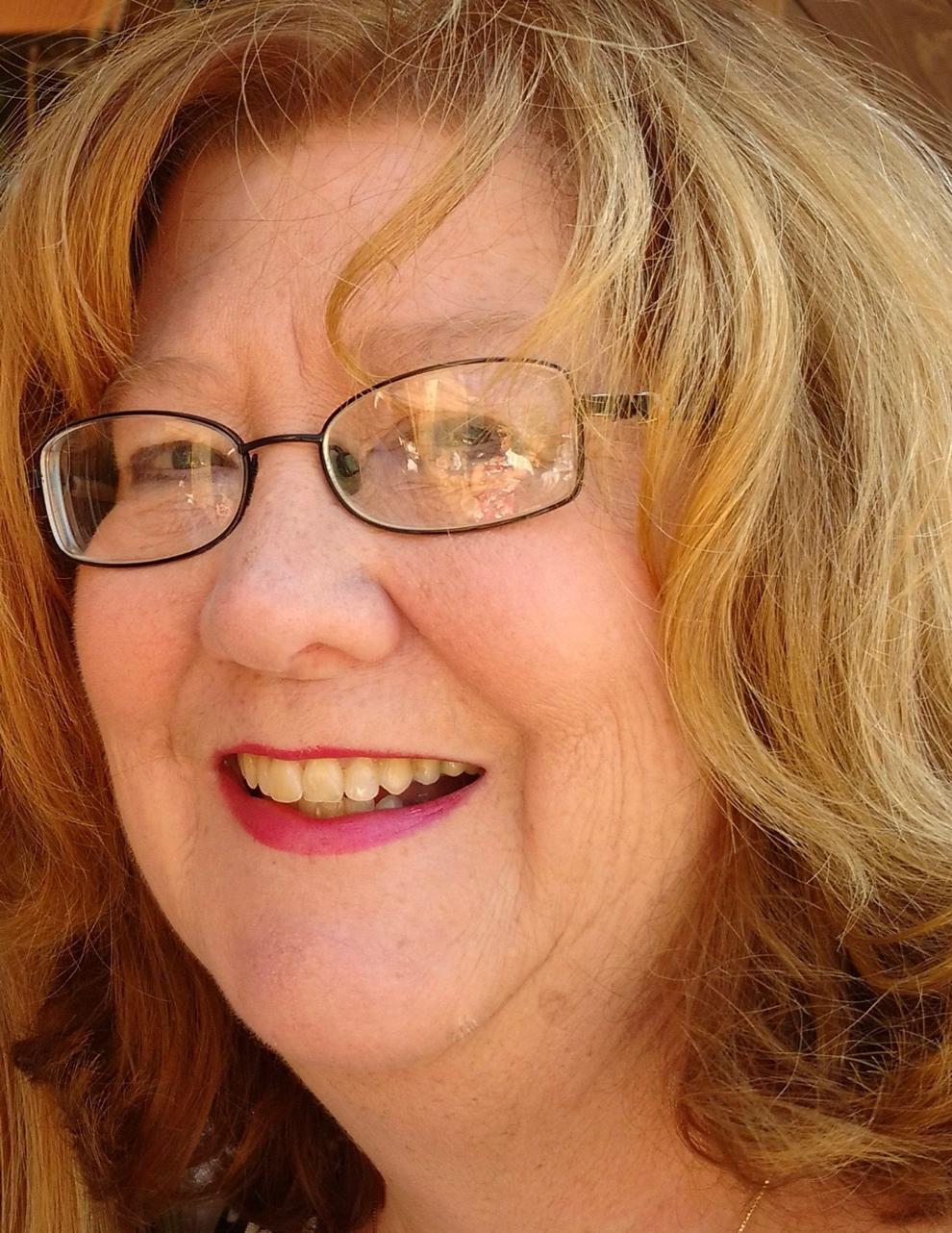 The Housing Authority of Chelan County and the City of Wenatchee will complete "health and safety rehab" on the 24-unit Prospect Street complex, Executive Director Alicia McRae said.
The facility is currently privately owned, she said, but a purchase and sale agreement has been accepted.
The state Department of Commerce awarded the grant, with money coming from the state Housing Trust Fund. A total of $12.5 million was provided to support affordable housing in rural communities.
McRae said the property purchase was $1.5 million, plus a debt assumption of $676,000.
According to information provided by the state Department of Commerce, 13 of the units serve people at 31-50% of the area median income and 11 are for people at 51-80% of the median income.
The Bavarian Village Apartments offer the only general-occupancy affordable housing in the city, which is also home to Der Garten Haus for low-income senior citizens.
Chelan PUD considers speeding up roll out of fiber internet network
WENATCHEE — The Chelan County PUD is considering speed up its fiber internet rollout.
The proposed plan would extend the utility's fiber optic network to 5,800 homes by 2024, around 1,200 more than previously planned.
The PUD has spent years expanding high-speed fiber availability in Chelan County. Currently 76% of the county is on the network.
In 2016 it committed $25 million to increase coverage to 85-90% of the county.
Access to the network is a common request from residents, General Manager Steve Wright said in the release.
"Accelerating the fiber build-out was the number one issue we heard about during our strategic planning process," he said. "Now more than ever, this is something highly valued by our customer-owners."
The shift to online education during the pandemic has also reinforced the need for high-speed internet, Commissioner Dennis Bolz said.
"Getting this expansion done as rapidly as possible is in everybody's best interest," he said. "We need to do our part."
Commissioners are set to have a final discussion on the plan at their Sept. 8 board meeting.
Nonprofits receive funds left from homeowner lock-out settlement
CASHMERE — The Northwest Justice Project and Chelan-Douglas County Volunteer Attorney Services have received checks for $208,825 from a class-action lawsuit over homeowners who were wrongly locked out of their homes during foreclosure.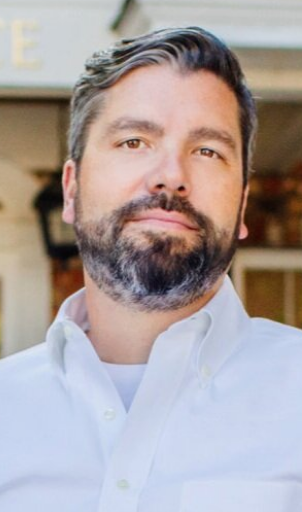 Attorney Clay Gatens, who worked for a Wenatchee firm at the time and is now an owner at Cashmere's Gatens Green Weidenbach PLLC, served as the lead counsel in Rhodes v. Wells Fargo N.A., representing 4,000 homeowners locked out in the years following the 2008 financial crisis. The case is one of several Gatens pursued involving homeowners whose locks were changed by lenders and mortgage service providers prior to foreclosure, claiming the properties were abandoned. The original case against a different lender, which has not yet been fully settled, started in 2010, with a client who lived in Wenatchee.
The class-action case against Wells Fargo was filed in 2016. About one-third of the plaintiffs in the case were from North Central Washington or Eastern Washington.
The U.S. District Court of Eastern Washington in December 2018 awarded the plaintiffs $26.3 million in a common fund settlement structured to make sure any unclaimed funds were not returned to the defendant.
Four nonprofits were identified to receive any remaining funds, two selected by Wells Fargo and the other two by the plaintiff attorneys.
The two nonprofits named by Wells Fargo are Rebuilding Together Seattle and Housing Hope.
Traffic circles, bike lanes coming soon to First Street in Wenatchee
WENATCHEE — Traffic circles and bike lanes should start showing up on First Street in August as the city looks to improve bicyclist safety and slow down vehicles.
The traffic circles will be installed at the intersections of Garfield, Franklin, Emerson, Delaware, Cleveland and Buchanan. They are similar to roundabouts, but smaller, and people can't drive on them.
Two 5-foot bike lanes will be added between Chelan and Wenatchee avenues, along with two 3.5-foot buffers to separate bicyclists from other traffic. Parking will be removed from the south side of the street but remain on the north side.
Engineering Services Manager Jacob Huylar said the project is expected to begin early August and be completed in September.
The total project cost is $379,800, including a $342,800 state Department of Transportation grant through its Pedestrian and Bicycle Program.
The City Council approved a $283,054 construction contract with Rudnick and Sons of Wenatchee. Rudnick's bid was 1.1% below the engineer's estimate, but 11% over the grant funding because of design revisions.
The council approved $37,000 in city funding to cover the additional costs.
The city will also add street marking in a few spots to indicate where people should cycle. At Miller Street and Wenatchee Avenue will be bike boxes, which are painted spaces before an intersection to allow bicyclists to cross ahead of other traffic.
Leavenworth officials want opinions on parking plan
LEAVENWORTH — The Leavenworth Parking Advisory Committee held a virtual open house Aug. 20 to get feedback and answer questions on the city's paid and timed downtown parking program.
The city plans to roll out the paid parking program "in the near future," according to a news release.
The open house included information on parking meters, proposed rates, permits for parking in residential areas and employee parking options.
The city has not yet made any decisions about parking rates, residential parking or employee parking, the news release said.
Short-term rental group sues Chelan County
CHELAN — A short-term rental organization has sued Chelan County alleging it violated state open public meeting laws.
The Short Term Rental Alliance of Chelan County (STRACC) filed the lawsuit in Douglas County Superior Court, alleging county commissioners used emails to craft a vision statement for short-term rental regulations, according to the lawsuit. The commissioners should have discussed the vision statement during their regularly scheduled meetings, the lawsuit argues.
The rental organization wants a judge to rescind the vision statement and final regulation recommendations by the Chelan County Planning Commission.
The lawsuit includes three individual plaintiffs: Zelda Holgate, Justin Gere and Gordon Whitaker.
Mobile ski-making lab a budding business for students
WENATCHEE — Ski building has been a part of Doug Merrill's Auto-Cad (pre-engineering) class at Wenatchee High School for the past seven years.
Typically, it takes his students months to complete a pair of skis — from the initial design work to sawing them out of their vacuum-pressed mold and buffing the edges.
This winter, students will be able to complete a pair of skis (or snowboard) in a fraction of the time it took those in years prior thanks to a recent $85,000 purchase the Career and Technical Education program made for a self-contained fifth wheel Merrill has deemed "The Lab."
The equipment is set to arrive in December. Instead of two months, skis can be built in eight hours.
Aside from shaving off a few months of class time, Merrill is hoping the mobile lab will allow students to become instructors, and potentially, turn their work into a self-sustaining business.
"I would like to have it so customers could come in and work with the students designing their own graphics on the computer Friday night," Merrill said. "On Saturday, the kids would take them through the whole process of building the skis and vacuum press them down. And then they could ski on them on Sunday."
County contractor starts two-month roadwork project
WENATCHEE HEIGHTS — A contractor hired by Chelan County started a two-month roadwork project Aug. 10 on Wenatchee Heights Road.
Selland Construction is the general contractor hired to widen and rehabilitate Wenatchee Heights Road from Squilchuck Road to milepost 1.32 and it will cost about $2.4 million. The work should be completed around mid-October.
The construction crew will be using a recycling technique called full-depth reclamation, according to the news release. The flexible pavement section and a portion of the underlying material are crushed, pulverized and blended into a base. Then crews place a mat of asphalt on top.
Eastmont Lanes in trouble unless it receives financial assistance
EAST WENATCHEE — Unless Eastmont Lanes, a staple in the Wenatchee Valley since the mid-1970s, can raise some money over the next few months they are facing the possibility of closing their doors for good.
Though owner Michelle Baugher hasn't said as much specifically, Eastmont Lanes has been closed since the end of May and is staring at the very real potential of not opening back up until 2021 — depending on how the region/state progresses with the coronavirus. Indoor family entertainment centers, like bowling, are not permitted until Phase 4 of Gov. Jay Inslee's "Safe Start" guidelines.
Weekly leagues, which typically start in September, run for 32 weeks and make up three-quarters of the bowling alley's annual revenue, are all on hold.
Baugher said she tried to weather the storm and retain core management when the pandemic first started by offering takeout food, but ultimately, it didn't generate enough money to warrant keeping the lights on past May.
Baugher wrote a heartfelt message on the bowling alley's Facebook Page, asking for help from the community. Crystal Keen and Zach Weston, a former employee and one of the best bowlers in the area, set up a GoFundMe page over the weekend. So far, the fundraiser has generated $2,325 from 29 donors.
Jennifer Thacker, president of the local USBC Bowling Association and an avid bowler herself, organized a fundraiser on Facebook over the weekend as well and is putting together a community BBQ and yard sale on Aug. 22.
Council approves purchase of Springwater extension property
WENATCHEE — The City Council on July 23 approved a purchase and sale agreement for 2.23 acres from the Wenatchee School District for an extension of Springwater Avenue.
The price is $140,000 plus closing costs. The Wenatchee School Board approved selling the property last year and agreed on the price in June.
Construction of the road is part of the city's long-term plan to provide added access to homes in the foothills and is one of the access requirements for a proposed 167-acre, 450-lot housing development on adjacent property to the north. A subdivision application for the proposed development is under review by the city.
The developer of the Triad Subdivision would pay for the construction of the road, both the Springwater Avenue extension across the school district property and the improvements to Maple Street from Gabriella Lane to the canal. The Springwater extension would not be constructed until after the first 100 homes in the subdivision are completed; the proposed development schedule anticipates those to be ready by 2022.
WRAC adjusts to new COVID fitness environment
WENATCHEE — When WRAC general manager Evy Gillin was forced to shut down the non-profit fitness center for two weeks in mid-March because of the coronavirus, she anticipated it lasting a while.
"But as far as expecting it to be going on five months, definitely not," Gillin said Aug. 14.
Even so, at least from the outside, the WRAC appears to have adjusted nicely with the new COVID fitness environment. While indoor operations are still not permitted, they've moved stationary bikes and equipment outside, began offering fitness classes — by appointment only and held at a 5-to-1 member to instructor ratio — live-streamed yoga and RIP classes, opened the tennis/pickleball courts for reservations, and within the last month, started offering private swim lessons.
Lap and recreation swim is open at various times throughout the week by reservation only and with a capacity of 24 members.
"It's a learning process every day, but thank goodness we have outdoor facilities to function on," Gillin said. "That's all we're limited to for now but we've made use of all the space we have. We're hanging in there, we've had pretty good support from members and there is a good percentage who are continuing to pay dues."
No major changes planned for Wenatchee postal facility
WENATCHEE — The U.S. Postal Service is planning no significant changes to the Wenatchee postal facility, according to a spokesman for the USPS.
Postal Service spokesman Ernie Swanson said Aug. 18 the Postmaster General Louis DeJoy's announcement to suspend all cost-cutting and efficiency measures until after the election had some impact statewide, but really none on Wenatchee.
"We weren't removing collection boxes in Wenatchee. We weren't laying off anybody. We weren't closing offices. We weren't reducing hours. None of that stuff. I would say the impact on an area like Wenatchee is not that great," Swanson said.
Rumors are the Postal Service is removing a mail sorter from Wenatchee, but Swanson said even if that were the case, it would not affect mail service in the Wenatchee area because there is more than one sorter.
Streateries' OK'd in downtown East Wenatchee
EAST WENATCHEE — A new pilot program will allow restaurants along Valley Mall Parkway to extend seating out into the parking spaces.
The City Council on Aug. 18 approved allowing these "streateries" to operate until Nov. 13. Community Development Director Lori Barnett noted that the valley typically starts seeing snow in November.
Streateries will only be allowed on Valley Mall Parkway between 6th Street Northeast and 9th Street Northeast. Permits are required, but there is no additional fee.
A streatery must be operated by the adjacent restaurant, which can use up to three parallel or diagonal parking spaces. There must be a barrier between seating and traffic, and a curb stop between the seating area and adjacent parking.
Clearwater Saloon & Casino is the only business that has shown interest in participating so far. Clearwater shareholder and general manager Michelle Peters said she expects to get the outdoor dining going in the next week and a half. The business has undergone layoffs amid the state restrictions, but she hopes at least half of her staff will be able to return.
Peters said she thinks streateries could be an asset to the downtown.
East Wenatchee's program is effective immediately, but a public hearing will be held in September.
New name, same service: NCW Libraries
NCW — In an effort to more accurately reflect the geographic area in which it serves, the North Central Regional Library (NCRL) changed its name to NCW Libraries, district spokeswoman Michelle McNiel announced Aug. 17 in a blog post on the libraries' website.
"This name change is an important part of our ongoing efforts to best serve the communities of North Central Washington," McNiel wrote. "While our name and logo are changing, our services are not. You can still access our online services in the same way. Curbside Pickup has started in Okanogan, Ferry and Grant counties and we are working hard to provide access to curbside pickup in Chelan and Douglas counties."
Founded in 1960, NCW Libraries has 30 branches that service communities from Mattawa to Oroville. They are headquartered in Wenatchee.