Downtown for sale: 12 buildings for $13.6 million
WENATCHEE — Lineage Logistics, a food storage and transportation company, is selling 12 buildings in downtown Wenatchee for $13.6 million, opening the door for redevelopment in the city's core on an unprecedented scale.
The 12 buildings total 320,039 square feet and are split between two building groups. The north group is on the corner of Worthen and Fifth streets. The south group sits on both sides of Orondo Avenue at the intersection with Columbia Street.
The collective $13.6 million works out to $42.49 per square foot of building area. They sit on 12.3 acres.
The area is zoned as waterfront mixed use, so a future owner could implement a variety of recreational or professional uses for the property, said city Executive Services Director Allison Williams.
"The waterfront-mixed use just looks for waterfront-oriented uses," she said. "So you think of what that could be. It could be office, housing, hotel, tech space, recreational space."
Kidder Mathews, a large West Coast commercial real estate firm, is representing Lineage. The firm put together a 46-page "offering memorandum" of marketing materials which outlines the properties, as well as demographic and economic information about Wenatchee.
It was unclear why Lineage is selling the properties. Representatives from Kidder Mathews and Lineage couldn't be reached for comment on April 16.
The buildings are currently configured as mostly freezer and cooler facilities, according to the memorandum, which was provided to The Wenatchee World by the Port of Chelan County. One of the south group buildings also houses Badger Mountain Brewing.
"I guess we will see what happens. Right now there is a lot of interest in our community and it is in an opportunity zone, which I think is an attraction."
Investors receive tax incentives for funding businesses in opportunity zones, according to the Washington Department of Commerce website. Most of downtown and south Wenatchee are covered by a pair of zones.
Lineage's north building group is across the BNSF Railway tracks from the current Chelan County PUD headquarters, which will also likely be redeveloped when the utility consolidates its operations in Olds Station in a few years.
The city, port and PUD are involved with studying potential uses for the PUD headquarters but nothing has been decided yet, Williams said.
For now, the future of both properties is uncertain, she said.
PUD moving to Olds Station
WENATCHEE — The Chelan County PUD is heading north.
A unanimous PUD board voted April 15 to consolidate its Fifth Street headquarters with other operations on 19 acres in Olds Station.
The move follows the population growth of the county. "With most of our meters now north and west of Olds Station, downtown Wenatchee is no longer the center of our service area," said Board President Garry Arseneault. "We need to be in the physical location that allows us to gain efficiency. We would be fiscally irresponsible not to do it."
The move won't happen quickly. The board is expected to approve a construction price for the project sometime in 2020. In the meantime, PUD staff "will keep working with the community to address comments about impacts of the move on downtown Wenatchee," a PUD statement released after the vote said. The utility is working with the city of Wenatchee and the Port of Chelan County to study potential uses for the headquarters at Fifth Street and Wenatchee Avenue.
The move to Olds Station has been years in the making. The PUD recently concluded a round of community meetings to gather public comment about the move that, PUD officials have said, would make operations more efficient and put its crews in a better position to serve the county.
According to the PUD, work now begins on a detailed design for the center, and choosing the project's general contractor.
Wenatchee's Brewers Row adds another
WENATCHEE — "No. 14 Nut Brown" is a non-traditional, dark beer with a rich history.
The formula was born nine years ago in Grant Stoebner's home-brewing operation in Monterey, Calif., and has been evolving since.
"It's the 14th iteration of the recipe. We've refined it that much," he said.
Stoebner's evolved a lot since then, too — He went from active-duty Army to brewing beer full time. He bought Fresh Burger Cafe in Leavenworth five years ago and co-owned Blewett Brewing from 2016 to last year, when he decided to start a brewery of his own.
His new brewery, 509 Bierwerks, opened last month in Wenatchee's historic Wells & Wade Building. It's the fourth member of Brewers Row, a growing coalition of local beer houses along the town's waterfront corridor.
509 Bierwerks had a soft opening St. Patrick's Day weekend and a grand opening on April 5. The brewery is family friendly and offers a full menu with burgers and wings, Stoebner said.
Stoebner began brewing in February, starting with No. 14 Nut Brown. Now he has half a dozen original beers on tap and plans to add several more.
He hopes to pump out 4,000 kegs a year with 509 Bierwerks' 20-barrel brewing system, which is the largest in town.
The brewery is also selling kegs on the wholesale market to bars and restaurants in town. So far business has been good — they've had eight new clients in a week, he said.
The operation is housed on South Columbia Street, in an 11,000-square-foot building which used to be home of Superior Fruit Manufacturing, Stoebner said.
509 Bierwerks is the most southern spot on Brewers Row, which also includes Badger Mountain Brewery, Columbia Valley Brewery and Wenatchee Valley Brewing.
35-home development planned for the heart of Fancher Heights
EAST WENATCHEE — A 10-acre property in the heart of Fancher Heights, previously owned by the Eastmont School District, will likely be turned into a 35-home subdivision.
The developer, Oregon-based Springwater Homes, expects to begin work on the three-phase project on Fancher Field Road this summer, according to Douglas County records.
Springwater Homes submitted its application to the county on Feb. 1, according to property records.
The county has received letters from people who oppose the project, citing concerns about the number of units and increased traffic in the area.
The company purchased the land from Eastmont School District in June 2018 for $623,000, according to Douglas County Assessor records.
The school district initially purchased the parcel in 2002 for use as a future school site, board member Chris Gibbs told The Wenatchee World in September 2017.
At that time the district projected that a school would be needed in the area in the future. But the district has been growing east rather than north since then.
It's one of several large residential developments planned around the city of East Wenatchee.
The Maryhill Estates division, which is under construction now, is expected to bring 198 units to the south side of Grant Road.
A developer also filed an application in December 2018 to build 99 homes on Rock Island Road near South Nile Avenue.
City says townhouse developer needs to revise application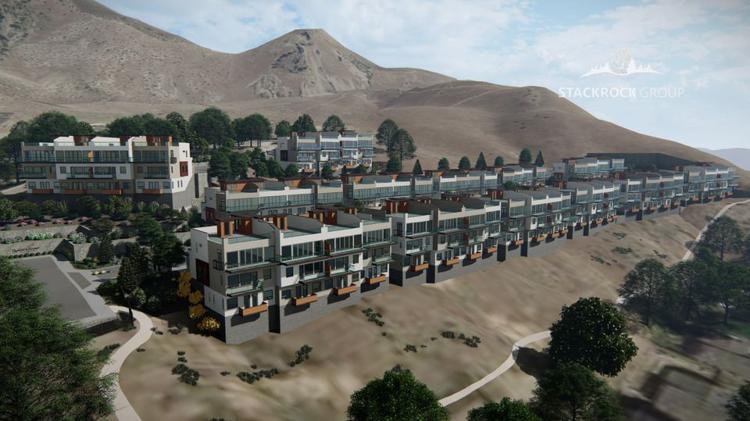 WENATCHEE — A developer planning to build 52 townhouses in No. 2 Canyon will need to revise the public benefit and unit density sections of his application before the project can move forward to the hearing examiner.
The city sent a letter to the developer, Darren Schamuhn of Castle Heights Holdings, on March 22 with feedback from its planning division and several other local agencies, which is a standard part of the application process.
The city received about 70 letters of opposition from the public and an 18-person petition calling for the project to be denied. Those were also sent to Schamuhn.
In the letter, the city's planning division requested clarifications about how the project, called Queens Court Villas, would benefit the public and be "harmonious" with the surrounding area, both of which are required by city code.
"We're looking for them to clarify their public benefit," said Community Development Director Glen DeVries. "Any development that comes through has a requirement to meet a public benefit standard."
Schamuhn also needs to address the project's dwelling-unit density, DeVries said. The project is currently at 8.4 units per acre but the area is zoned to allow for a maximum of six units per acre.
"There is a way that density needs to be calculated and there were some errors in the application on how that was calculated," DeVries said. "They need to rework that. They have some options and it really depends on how they move forward."
The application was submitted Jan. 23 and called for the 52 townhouses in 13 buildings on 6.19 acres at the end of Kings Court road.
The Washington Department of Fish and Wildlife is concerned the project may result in the loss of mule deer and shrub-steppe habitat due to its proximity to the foothills.
"The conversion of wildlife habitat to residential development contributes to the cumulative adverse ecological impacts to the mule deer herd at this location," part of the WDFW letter said.
WDFW suggested the Schamuhn create a mitigation and management plan to offset these potential impacts.
Schamuhn will need to address these concerns before the application review process is completed, DeVries said. When the review is complete the city will schedule a public hearing on the project.
PUD powers Microsoft campuses
WENATCHEE — The Chelan County PUD is now the sole electricity provider for all of Microsoft's campuses in the Puget Sound area, including its headquarters in Redmond.
As part of the arrangement, Microsoft will consult with the PUD on the utility's broadband expansion across Chelan County. The new relationship will also help the PUD break into a new market of large businesses, PUD General Manager Steve Wright said April 12.
"We certainly expect to make some money off of this and we see this opportunity to be able to work together on broadband to solve a problem that troubles us ... and then expanding markets in any business creates more choices and more choices generally leads to more value," he said.
The five-year contract provides Microsoft with 50 average megawatts, which is around 4 to 5 percent of the PUD's annual hydro-power generation capabilities. The PUD began supplying power to Microsoft on April 1.
The contract is protected by a non-disclosure agreement, so it's unknown how much Microsoft pays for the power. Wright said the secrecy will allow both entities to better negotiate other contracts. Microsoft and the PUD "will be entering into other contracts with other companies and we'd rather not release our pricing, and they'd rather not release the pricing as well, because it puts you in a more difficult negotiating position," Wright said. "Everything we generate comes back to benefit our ratepayers so we are always out there trying to get the best possible value for our ratepayers."
The PUD sells about 80 percent of the power generated by its three dams on the wholesale market, subsidizing rates for local customers. The power provided to Microsoft will also come from the utility's wholesale supply and be priced similarly to other wholesale contracts, Wright said.
Most of the utility's other wholesale agreements are with other utilities, but a contract this size with a private company is "unusual," Wright said. The relationship began in 2017 when Microsoft sent out a request for proposals looking for power suppliers.
Many large companies have chosen to invest in wind and solar instead of hydropower. The PUD submitted a bid to Microsoft to break into that market, Wright said.
"We saw an expanding market of Fortune 500 companies who were committing to 100 percent renewable and not including hydropower as a renewable," he said. "So, when you're a hydropower utility, you begin to look and say 'Wow, the market share is getting smaller here.'"
Microsoft is looking to buy either a wind or solar project in the next few years, so the deal may change after that, Wright said, but for now the PUD is the sole provider for its headquarters in Redmond.
"This is an exciting day for the state of Washington and especially for residents of Chelan County," Gov. Jay Inslee said in a Friday news release from the PUD. "This agreement between Microsoft and Chelan PUD is a perfect example of how Washington's renewable, reliable hydropower resources will continue to play a central role in driving innovation, supporting rural economic development, and transitioning our economy to 100 percent clean energy."
Microsoft to partner with PUD on broadband
WENATCHEE — The Chelan County PUD and Microsoft also plan to collaborate on expanding the PUD's broadband initiative.
Roughly 75 percent of the county has access to broadband but the PUD wants to see that number pass 85 to 90 percent. The last 10 to 15 percent without coverage is in very rural areas that are very expensive to serve, PUD General Manager Steve Wright said.
Microsoft has an "Airband" initiative that provides broadband to rural parts of the world, so it was a natural fit, Wright said. "We feel like they have core competency in new technologies that we don't have that we'd like to have access to," he said. "They have an interest in trying to build this program for rural broadband. I'm not exactly sure why, it's not a money maker for them, but it seems to be an initiative that's important to the company. So what we just said is lets put these two things together."
Microsoft and the PUD will complete their initial evaluations of the buildout within the next year, according to an April 12 PUD press release. The collaboration is expected to last over the next five years.
PUD hopes hydrogen fuels the future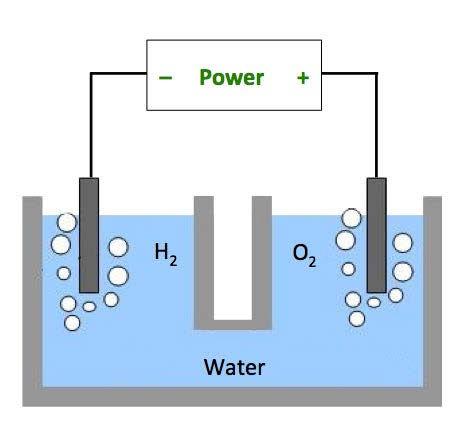 EAST WENATCHEE — Two wires placed in water with an electric charge passing through them can separate the liquid into hydrogen and oxygen.
The hydrogen produced in that process can then be collected and turned into a fuel source that can go into gas lines and power vehicles, said Ken Dragoon, executive director of Portland-based Renewable Hydrogen Alliance advocacy group.
"The main advantage is that when hydrogen burns, it doesn't release carbon dioxide into the atmosphere, it only releases water," Dragoon said. "These hydrogen vehicles that are running around, the only effluent from their tail pipe is clean water."
Douglas County PUD is in the exploratory phase of looking into hydrogen production, said Gary Ivory, the utility's general manager. The state Legislature passed a bill to allow PUDs to start pursuing hydrogen production. Gov. Jay Inslee signed the bill April 17.
Douglas County PUD will spend the next few years creating a design and implementing a pilot project, he said. It will cost $2 million to $5 million to create.
"We think it is starting to become more cost effective, and carbon has become a big issue at the state level," Ivory said.
Vacancy, price and building permits all holding steady
WENATCHEE — Inventory is down 6 percent, but by nearly all other metrics Wenatchee's housing market is very similar to this time last year.
There were 91 active listings on the market in March, compared to 97 last year, according to a Snapshot report from Pacific Appraisal Associates released April 17. The report covers Wenatchee, East Wenatchee, Orondo, Malaga and Rock Island.
The vacancy rates for single-family homes increased from 1 to 2 percent, but the multifamily and overall rate each showed no change, both holding steady at 2 percent.
The year-to-date median price for a house in the Wenatchee area is up 7 percent from last year, according to the report. It's now $336,500, a slight drop, 0.4 percent, from February.
Single-family building permits are also nearly identical, 55 this year compared to 51 the year before.
There haven't been any apartment building permits yet this year, while there were 144 this time last year.
The number of houses on the Cashmere market increased 325 percent in the first quarter of 2019 from last year.
There were 17 listings in the Cashmere area, which also includes Dryden and Monitor, compared to just four at this time in 2018, according to the Pacific Appraisal report.
The median sales price of those homes also increased from $270,000 to $345,000 in the same time period.
The number of home listings in Leavenworth also increased, but at a more modest pace. It was 42 in 2019's first quarter and 34 in 2018, according to the Snapshot. That also includes Peshastin.
The median sales price dropped 15 percent there, from $441,000 to $373,298 this year.
Link Transit adding new diesel buses
NCW — Link Transit rolled out a fleet of 12 new buses last month, the first phase of a replacement effort that will see 75 percent of its buses replaced by the end of 2020.
These diesel-powered buses will replace 2007 and 2008 models of a similar bus, according to a press release. Some of the previous buses have more than 700,000 miles.
"These new vehicles mean renewed assurance of reliability," Link General Manager Richard DeRock said in the release. "Our aging fleet of commuter coaches has reached the point where breakdowns were becoming more and more frequent, and impacts to service are an inconvenience to our guests."
The new coaches were manufactured by Livermore, California-based GILLIG buses and cost $526,000 each, according to the release. They were funded by Link Transit's 0.4 of 1 percent sales tax in Chelan and Douglas counties.
Link Transit serves 17 communities across the region.
Mission Ridge part of land swap study
MALAGA — State officials are looking at a potential land swap between Mission Ridge Ski and Board Resort and the state to allow the resort to add a fifth ski lift.
The proposal to study the land swap was brought before the Stemilt Partnership during a meeting March 27 in Malaga. State Rep. Mike Steele, R-Chelan, wanted the Stemilt Partnership's opinion of a $70,000 state budget amendment over two years to study the potential land swap, said Shiloh Burgess, Wenatchee Valley Chamber of Commerce executive director.
The 54 people at the meeting were asked if they wanted to kill the provision. No one voted against the study and a local committee was formed to look into the matter.
Steele said the amendment to the state operation's budget was then passed out of the state appropriations committee later that night. It was passed unanimously by the committee.
The idea is preliminary at this point, Burgess emphasized at the meeting. No one knows what land could be swapped or whether it would even be a good idea.
The conversation started over Mission Ridge's need to replace one of its lifts, The Liberator, said Jim Brown, Fish and Wildlife Ephrata regional manager.
The agency and the ski resort then discussed the resort's eventual plans to add another ski lift, Brown said. The problem is a new ski lift would need to run through a corner of Fish and Wildlife property and that property has restrictions, which might not allow such construction.
"You can like it or not like the proviso from representative Steele, but I like one thing about it," he said. "It is a proviso that came with money."
Chelan County Natural Resources Director Mike Kaputa said he did have some concerns about how this proposal originated.
"It was probably fair to say that it was a little unsettling just in the way it unfolded," Kaputa said. "When we have a large community group and they've all been working together for 12 years. Ordinarily we would identify needs and we would go to the Legislature."
The goal of bringing this proposal to the Stemilt Partnership was to prevent any feeling that this was being slipped past anyone, said Josh Jorgensen, Mission Ridge general manager.
The possibility of a land swap has been brought up in the past, said Dave Gimlin, Wenatchee Sportsmen's Association board member. But first an analysis needs to be completed on where and how wildlife use the Stemilt-Squilchuck Basin, before an exchange is proposed.
Norm Gutzwiler, Beehive Squilchuck Irrigation District member, said he didn't like how fast this proposal came about and was concerned about how it might affect the watershed for irrigators.
"Anything that is going to cause any kind of problem with that water coming into our districts — if we have to, we'll go to court," Gutzwiler said.
Little Red's takes over Pybus Airstream
WENATCHEE — Little Red's Espresso & Bakery, which operates a popular coffee shop near Lake Wenatchee, has taken over the Airstream coffee stand at Pybus Public Market.
The stand opened in late March with seven-day-a-week service.
"We plan to build on the success we've created at Lake Wenatchee with the Airstream location at Pybus Market," owner Aubrey Dickinson said in a March 18 news release.
Little Red's was voted Best Roadside Coffee Stand in KING 5 Evening Magazine's 2017 Best Northwest Escapes, according to the release.
The business was selected from a dozen other applicants to fill the Airstream opening, according to Pybus Executive Director Steve Robinson.
Hot Rodzz Espresso ran the trailer until October. Pybus began looking for a new tenant in January.
Charter Spectrum moving into Winnie's Hallmark space
WENATCHEE — A Charter Spectrum store is moving into the Valley North Shopping Center space that was the home of Winnie's Hallmark for the last 50 years.
Charter Communications is relocating one of its current stores on Easy Street to the new location, spokeswoman Danielle Dunn said April 1.
Construction is underway and Charter plans to open in the second half of 2019, Dunn said.
The retail space will offer product demos and an inventory of mobile devices and accessories, she said.
Winnie's Hallmark was one of two remaining original tenants of the shopping center. Its owners announced in November that the store would be closing.