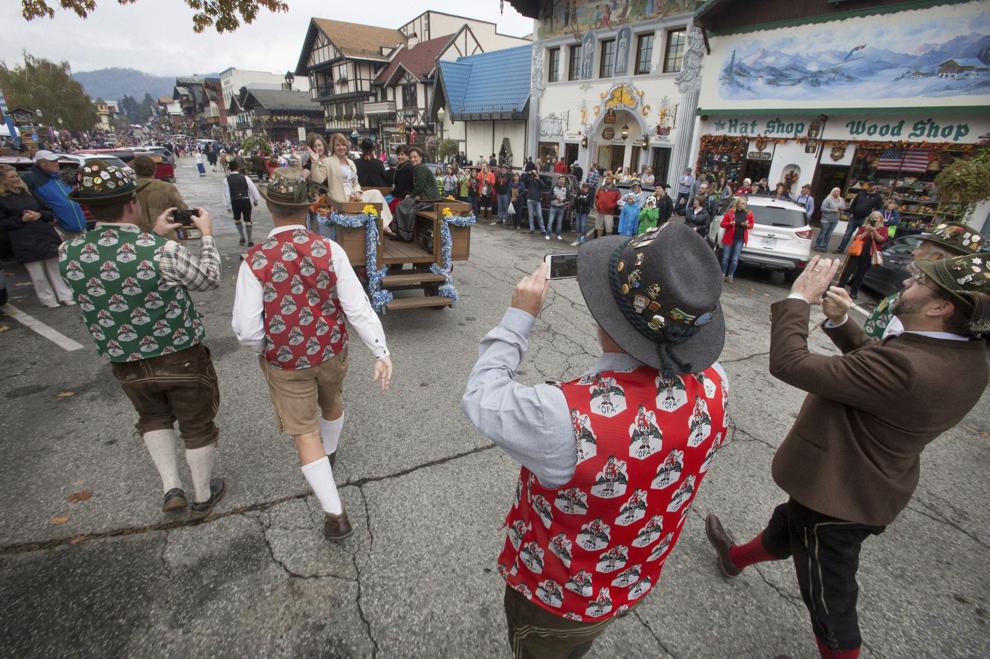 Leavenworth's Oktoberfest canceled for second year
LEAVENWORTH — Organizers have canceled the 2021 Leavenworth Oktoberfest due to COVID-19 state regulations and issues with the city of Leavenworth.
This would make the second year in a row without an Oktoberfest in Leavenworth. Projekt Bayern, which has run the festival for 24 years, canceled the 2020 festivities because of statewide restrictions. This year's cancelation took the city by surprise, said Mayor Carl Florea. The 2021 contract between the city and festival organizers has not yet officially been disbanded and the city is still trying to get clarification.
Projekt Bayern's decision came after the city of Leavenworth discussed plans to reopen and potentially change the festival contract, which has been in place for the past decade.
Florea said he would like to see the annual event to focus less on drinking and more on family friendly activities at local businesses. Visitors who come down for Oktoberfest are generally just dancing and having fun most of the time, but there are those who "take it to an extreme and then cause problems," he said.
Projekt Bayern's Oktoberfest committee chairman Steve Lord said he believes the City Council and mayor want to take over the event.
Apple Blossom Festival coming in June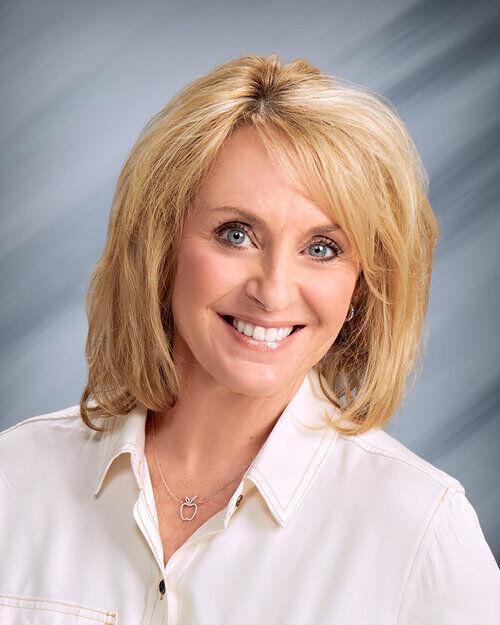 WENATCHEE — The Apple Blossom Festival, canceled in 2020 due to the COVID-19 pandemic, is returning in 2021 with a festival planned later in the year than normal, June 3-13.
"The Apple Blossom Festival has always been a sign of new beginnings and our community is so ready for a new beginning and a celebration, and we are excited to give it to them," said Festival Administrator, Darci Christoferson in a March 16 press release.
Christoferson said, after meeting with the Chelan Douglas Health District, she felt it would be safe to march on with a June festival. She said the food vendors, arts and craft vendors, entertainers and volunteers are ready to do their thing.
The Chelan Douglas Health District will provide feedback to the planning committee on updated phase guidance for planning purposes, said Chelan Douglas Health District Administrator Luke Davies.
For all updates and information go to www.appleblossom.org or go to the Apple Blossom App sponsored by Crunch Pak.
Wenatchee applies for $140 million transportation grant
WENATCHEE — The city of Wenatchee submitted a grant application on March 19 for $140 million that, if awarded, would help complete the Apple Capital Loop road project.
The project, which includes a new bridge into Olds Station, a revamped North Wenatchee Avenue, a new road into a burgeoning development near the Highway 2/Highway 97 interchange in East Wenatchee and a widened Sunset Highway in East Wenatchee, is estimated to cost $285 million total. More than half of that has already been secured.
The grant is through the Infrastructure for Rebuilding America program offered by the U.S. Department of Transportation. INFRA has $889 million to disburse nationwide, with winning projects announced in June 2021, the release said.
This is the fourth time the city has applied for the grant.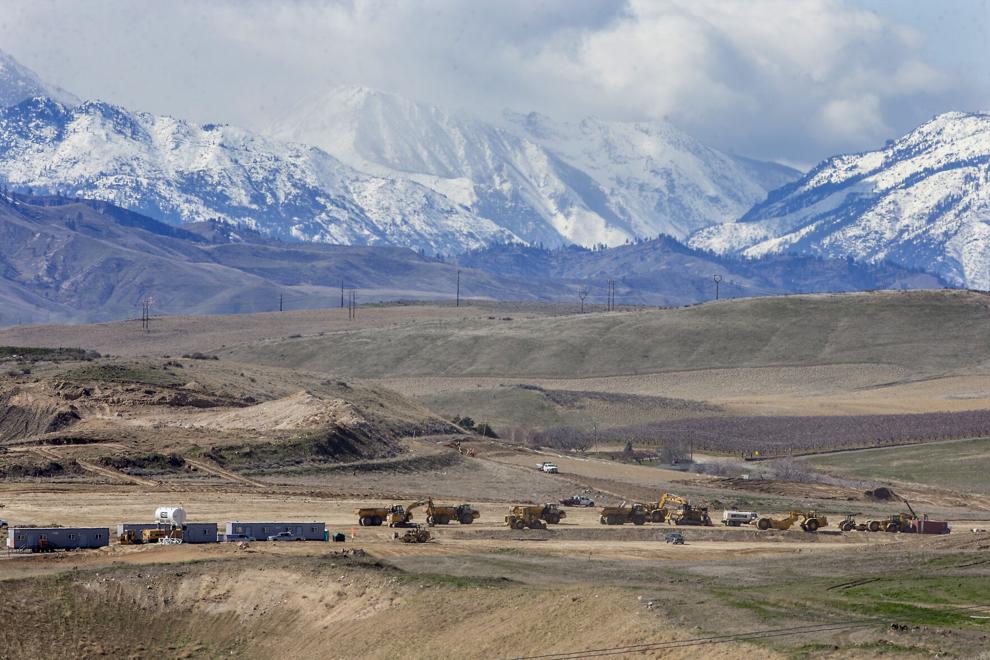 What we know about Microsoft's $409 million arrival in East Wenatchee
EAST WENATCHEE — Microsoft has spent $19.3 million to purchase 170 acres of undeveloped land north of Pangborn Memorial Airport.
But that's just the beginning of what could be an investment of more than $1 billion over the next five years to construct a multi-phase data center campus. If completed as proposed, that would make it by far the most valuable property in Douglas County.
Microsoft has begun leveling its construction site at the end of Urban Industrial Way and has applied to the county for a building permit for the first of three proposed structures. The building will be more than 244,000 square feet and is valued by the company at $409 million, according to the building permit application.
Building permits for the next two buildings have not been filed, but architectural renderings show them to be roughly the same size as the first. A company spokeswoman said the company couldn't comment on the project for this report.
The first building alone would be worth twice as much as Douglas County's second-most-valuable property: the Sabey Corporation's data center down the street, according to assessor records. Microsoft's data center campus in Quincy is valued at $1.8 billion, according to Grant County Assessor records.
Now the area's utilities are preparing to serve the East Wenatchee project by building out water and power infrastructure — though Microsoft is expected to cover most of those costs as well.
The company has agreed to pay for a substation, transmission line and other improvements to support its vast power needs. That project is expected to cost $24.9 million and should be completed by May 2022, Douglas County PUD spokeswoman Meaghan Vibbert said.
The PUD has not signed a power contract with Microsoft yet and didn't provide an estimate of how much power the company has requested, but the substation will have the capacity to provide up to 180 MW, General Manager Gary Ivory said.
The East Wenatchee Water District is using the project as an opportunity to make much-needed upgrades to its water infrastructure in the Pangborn industrial area.
It successfully applied for financial assistance from the state Department of Commerce's Community Economic Revitalization Board, or CERB, to build a pump station and reservoir.
CERB awarded the district a $2.25 million low-interest loan and $750,000 grant for the project. Microsoft will be kicking in $12.5 million toward the construction, District Manager Vince Johnston said.
The improvements will provide extra redundancy to the water supply system and ensure there's enough flow to support firefighting efforts for the commercial structures, if it's ever needed. The 2 million-gallon reservoir will also allow for future growth in the area, Johnston said.
The water district will have to repay the loan portion of the CERB assistance, but the program's grant and the contribution from Microsoft mean that the water district's expense for the project is all but eliminated.
Wenatchee council votes yes on new sales tax for homeless shelter, services
WENATCHEE — The Wenatchee City Council on March 25 voted in favor of imposing a sales tax to fund a low-barrier homeless shelter and expanded services for the homeless.
The council unanimously approved a one-tenth of 1% sales and use tax that, combined with a partner tax in East Wenatchee, will raise about $1.6 million a year for a sleep center-style shelter and programs to help homeless transition into housing.
The tax is expected to begin July 1 with the two cities receiving their first monies in September.
The city of Wenatchee initially believed the tax would raise $800,000 to $900,000 a year, but updated its projections before the city council meeting to $1.2 million.
East Wenatchee expects to bring in $400,000 with the tax.
East Wenatchee City Council approved the ordinance earlier in March, contingent that Wenatchee approve the tax as well before it goes into effect.
Lakeside Surf makes May 1 debut, with waterpark starting Memorial Day weekend
CHELAN — Slidewaters is gearing up for its 2021 season next month after spending most of last summer fighting against restrictions set in place due to the COVID-19 pandemic.
The Chelan-based water park will introduce its new wave pool attraction, Lakeside Surf, on May 1. Lakeside Surf was still under construction when the pandemic hit last year. The main water park will open on May 29, continuing a Memorial Day weekend start tradition of nearly 40 years.
The pandemic delayed and cut short last year's season. When the waterpark did open, it was after confusion over a Chelan-Douglas Health District inspection they believed cleared them to do so. They then fought to remain open in defiance of state Department of Health restrictions. They closed a month later after being fined $9,639 by the state Department of Labor & Industries and receiving stop orders from the state Department of Health, all of which they appealed.
Both Slidewaters and the new Lakeside Surf will reopen under guidelines from the Department of Health that limit the capacity of the park, according to a Slidewaters press release.
Investors sue Salcido Enterprises, claim funds misused; Salcido denies accusations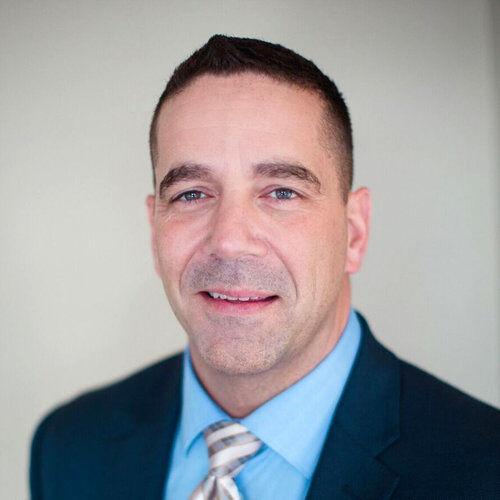 WENATCHEE — Investors in a local cryptocurrency mining company say they were swindled out of millions of dollars by Salcido Enterprises.
The plaintiffs allege in a lawsuit filed March 1 in Chelan County Superior Court that Salcido Enterprises "improperly used, misappropriated, embezzled and converted" more than $2.4 million for the personal benefit of Malachi Salcido and Salcido Enterprises.
Salcido denied the accusations and said costs charged to the investors, which they perceive as too high, were necessary during what was a down market.
"It is unfortunate that the investors' representatives have chosen to make accusations that are either blatantly false or the twisting of facts in a deceptive manner," Malachi Salcido said in an April 1 statement to The Wenatchee World.
Salcido and co-defendants Salcido Enterprises, Nick Warner, the chief operating officer of Salcido Enterprises, and their spouses filed an answer to the civil lawsuit on March 31 and denied wrongdoing. Salcido entered the cryptocurrency industry in 2013 and Salcido Enterprises now has several facilities in the region, including Cashmere and East Wenatchee. They've managed StepChange since January 2018.
The plaintiffs are: StepChange Data Sidecar Fund, Seattle Angel Fund III, Shellcap SA, Hestia Finance SARL, Karl Anders Aidanpä and Sven Hemmingsson.
The group invested $8.5 million into StepChange Data, a cryptocurrency mining company managed by Salcido Enterprises, in 2017.
A hearing scheduled to be heard by Judge Lesley Allan on April 2 was pushed to late April.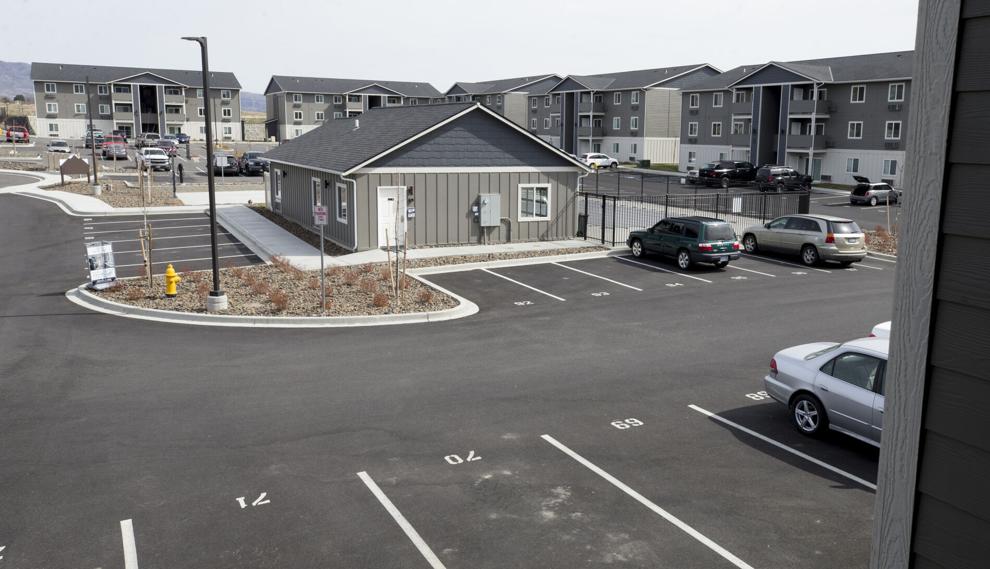 Seven offers lead to $20.5 million deal on Maryhill Apartments
EAST WENATCHEE — The new 96-unit Maryhill Apartments at 2272 S. Nevada Court sold on March 22 for $20.5 million.
That works out to $213,542 per unit, a new record for the Wenatchee market, according to Summerfield Commercial, a Mercer Island-based company specializing in larger multifamily assets throughout the Pacific Northwest that brokered the deal.
The seller, Maryhill Plaza Apartments LLC, were the original builders of the apartments. The company's governing officers, according to state records, are Brad Selland, Jason Gaul and Adam Brizendine. The new owners, according to county records, are Altitude Wenatchee 96 LLC. Governing officers are not listed. The registered agent is based in Bellevue.
The sale was completed during the initial lease-up phase and the apartments were about 50-percent occupied at the time of closing, according to a press release from Summerfield. The property includes 72 two-bedroom and 24 three-bedroom units, averaging 1,128 square feet of space. It also includes a clubhouse, swimming pool, barbecue area, sports court and 182 parking stalls.
Ryan Kidwell, managing broker for Summerfield Commercial, said the property was on the market for about 30 days and received seven offers, indicating a "very strong" interest in the Wenatchee Valley market.
"Wenatchee, and other Eastern Washington markets, have received greater interest from investors over the last three or four years as they search for yield that is not as readily available in the larger markets west of the mountains," he said.
Prospective buyers, he said, were groups who already owned in the market and investors looking for turnkey assets, he said. It's unusual, but not unheard of to sell a property that's not fully leased.
Lake Wenatchee Fire and Rescue looking to buy new property
LAKE WENATCHEE — Lake Wenatchee Fire and Rescue may buy property near Highway 2 to improve fire and emergency services.
The Washington Survey and Rating Bureau recently graded the fire district a 6 out of 10. Four is the highest rating obtainable for residential areas.
The rating bureau provides insurance ratings to fire departments and communities in the state. These rates affect insurance premiums within the given area.
The rating bureau told the fire district it can't improve the rating until the emergency response distance was decreased on the portion of the Stevens Pass corridor that is within the district's boundaries, the district said in a news release.
The fire district says it found a property that fits their needs and has begun negotiations with the property owners. The land includes a structure that could be used to house a fire apparatus.
The fire district recently paid off two fire stations purchased in 2010 and Chief Dave Walker believes they're in the position financially to buy the property.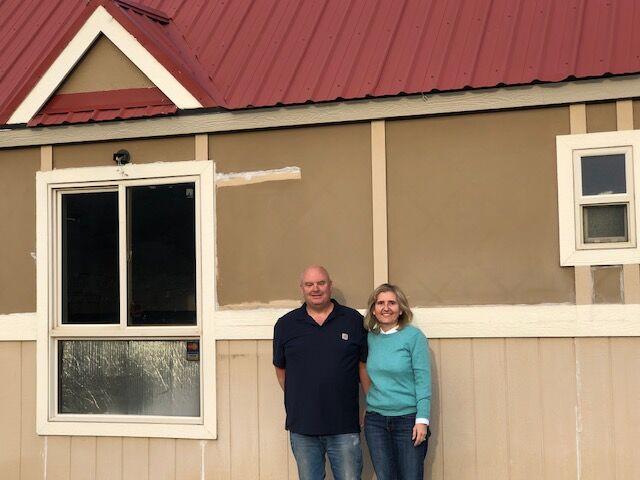 Martins bring Maui food truck alley model to Entiat 
ENTIAT — Kim and Matt Martin are bringing a taste of Maui to Entiat, though not necessarily in the form of pineapple and coconut.
They are turning their near 1-acre vacant commercial lot in the 14500 block of Highway 97A into a central location for food trucks — Tulla's Food Truck Alley.
"We saw this idea when we were in Maui on vacation several years ago," Kim Martin said. "We saw a food truck lot that was a vibrant community gathering place with great food and beverage options."
A year later, they came across the highway frontage property that sits between North Cascades Heating & Air Conditioning and the Shell gas station and decided to give it a try.
That was in 2019, before the pandemic prompted restaurateurs to get innovative with curbside, takeout and outdoor dining options.
Last fall, after noticing a host of business licenses being issued for food trucks across the region, they decided the timing was good to put the plan into action.
The food truck alley will be anchored by Tulla's Sweet Retreats, a bakery stand operated by Sarah Stenberg, expected to open in late April. The bakery and its Facebook page also will provide information on the food truck lineup at any given time.
The first two food trucks — Blue Skies Food Shack, from East Wenatchee, and Frickster's BBQ, from Yakima — are expected to start on Mother's Day Sunday.
For information on Tulla's Food Truck Alley, call Martin at 509-387-3112, or check out Tulla's Sweet Retreat's Facebook page.
Chelan PUD may waive hookup fees for affordable housing
WENATCHEE — Chelan County PUD commissioners are considering an affordable housing proposal that would waive electrical connection fees for qualified applicants.
The PUD began offering waivers to non-profit, affordable housing trusts in 1995 and about one home qualified per year. About 20 to 25 would qualify for the $1,900 fee waiver under the expanded program, the PUD said April 5 in a news release.
Community housing trusts have developed 42 affordable homes in North Central Washington, a figure that is expected to grow by 10 to 20 homes each year over the next five years: Three homes in Leavenworth by 2022, five homes a year in Wenatchee starting in 2022 and up to 10 homes a year in Chelan.
Staffers were directed by the commission to continue developing eligibility criteria.
Community land trusts taking part in the process are the Chelan Valley Affordable Housing Trust, Common Ground Housing Trust in Wenatchee, and Share Community Land Trust in Leavenworth.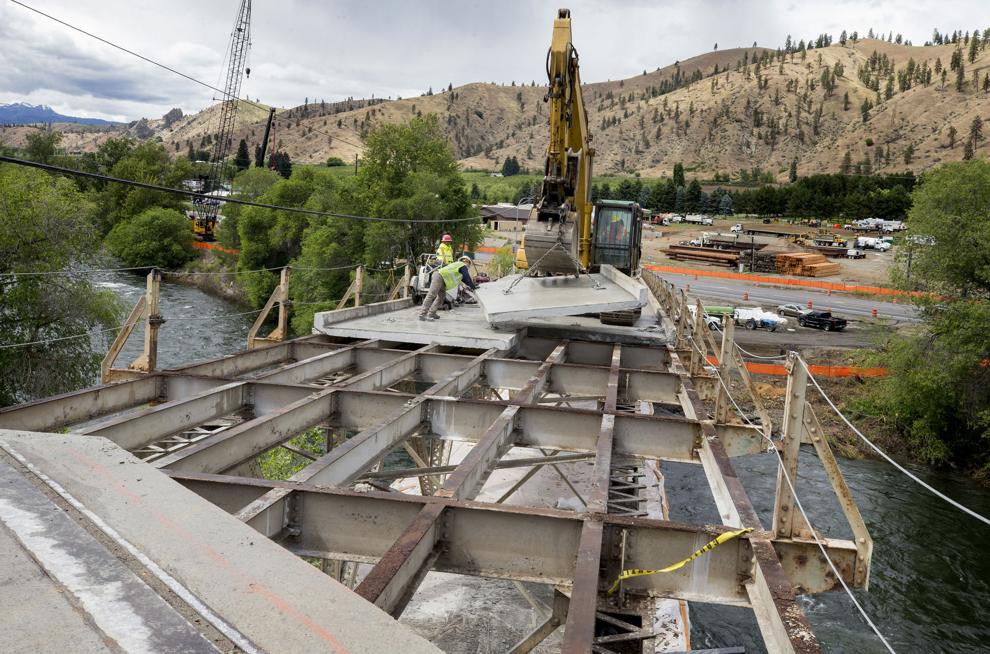 Crunch Pak contributes $150,000 to the West Cashmere Bridge replacement project
CASHMERE — Crunch Pak, the sliced apple company in Cashmere, recently contributed $150,000 to the West Cashmere Bridge replacement project.
The $25.5 million bridge will connect Cashmere and Highway 2/97. Freight will be able to more efficiently through the area while alleviating traffic from Cashmere's historic residential zone and school zones for residents, according to an April 6 Chelan County news release Tuesday.
Job losses in Chelan and Douglas counties slow as reopening takes hold
WENATCHEE — Losing 2,400 jobs between last February and this February doesn't sound like good news.
It's all about perspective, says Don Meseck, a state economist. The 2,400 fewer jobs noted in the February numbers released in late March mean Chelan and Douglas counties are up 600 jobs from the 3,000 average annual job loss for all of 2020. In January's month-over-month comparison of numbers from the state Employment Security Department, the region was down 3,200 jobs.
"Relatively speaking, if the estimates are true, it means we're starting to improve. It's unlikely we'll have a dramatic turnaround in March or April, but it's heading in the right direction," Meseck said.
shopping, for instance, might change how brick and mortar retailers operate, Meseck said.
50 companies compete for $200,000 at Flywheel Investment Conference
WENATCHEE — More than 50 companies from across the state are competing for a now $200,000 investment fund as part of the 2021 Flywheel Investment Conference May 20 in Wenatchee.
The Flywheel Angel Network, which funds the investment offering that goes to the winning company, has increased the award to $200,000 this year. The top prize last year was $150,000 and was $100,000 in 2019.
The Flywheel Conference is designed to bring together entrepreneurs, investors and community members to cultivate momentum for growing companies. It is organized by NCW Tech Alliance (formally named GWATA) and hosted in partnership with the Flywheel Angel Network, a group of angel investors passionate about supporting economic development in North Central Washington.
In addition to the $200,000 investment award for the selected winner, one finalist will also be voted as audience favorite and awarded a $5,000 cash prize. A separate $50,000 relocation prize will also be offered to the first place winner if they relocate their company to either Chelan or Douglas counties. Should the winning company already be locally based, or decline to relocate, the relocation offer will be extended to the runner up.
The investors are in the process of selecting the top six finalists to compete live for the investment award during the Flywheel Conference on May 20, which will be a hybrid event, with in-person attendance limited to speakers, presenters and investors due to COVID restrictions. Past winners include: Cartogram, 2018; Beta Hatch, 2019; and Agtools, 2020.
Douglas PUD Commission passes power delivery rate policy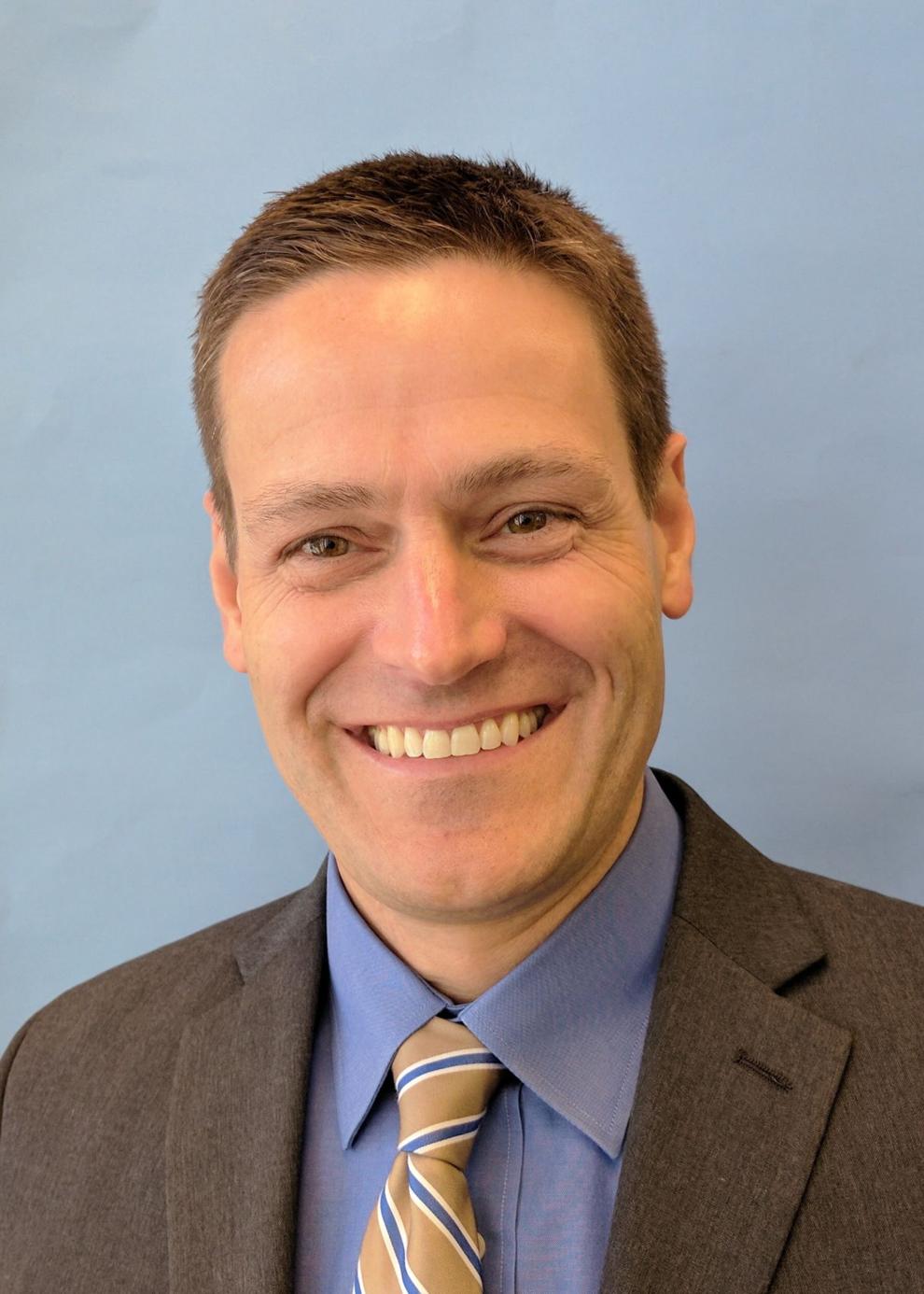 EAST WENATCHEE — The Douglas County PUD Commission on April 12 approved a new rate structure that governs the cost of bringing power from external sources into the county for new large customers.
The approval comes after several meetings with local elected officials who expressed concern about the power delivery rate's potential effects on economic growth in the county.
In a short discussion before the rate was approved, Commissioner Ron Skagen and General Manager Gary Ivory both said the rate will be fair and beneficial to customers.
The power delivery rate policy stems from a change the PUD commission made last year that said any new large power users in the county would have to get their power from the wholesale market, rather than the PUD-owned Wells Dam.
The power will be purchased from external sources, brought in across the PUD's transmission lines and delivered to the user's facility in Douglas County.
The cost of that service, also called a wheeling rate, takes effect May 1, Ivory said.
The rate is a complex formula that includes several fixed and variable factors. The net cost would be around $0.046 per kilowatt hour, including power costs, the PUD said. It will also increase around 2.3% a year to keep up with the utility's inflating labor and material costs.
The commission opted for an 11% rate of return, which the utility would apply toward future infrastructure improvements or other unexpected costs, officials said.
The policy will apply to a customer in any industry who uses more than around 1.5 megawatts. It wouldn't affect an average residential customer's rates.
The rate wasn't developed for any specific customer, but much of the conversation around it has been focused on Microsoft's planned data center. That's partly because the company has already begun filing building permits.
It's also due to the project's scope: Building permits show the first of three proposed buildings to be valued at $409 million.
And while the facility's power consumption hasn't been finalized, Microsoft has asked the PUD whether a 180 MW load could be accommodated. The rest of Douglas County's power usage totals around 130 MW.
Since Microsoft would have to buy power on the wholesale market, its load won't cut into the Wells Dam capacity that powers the rest of the county.
Douglas County targeted in international cyberattack
EAST WENATCHEE — Douglas County's servers were among thousands of computers targeted in a cyberattack on March 2 by a group out of China.
The attack exploited a weakness in Microsoft servers, said Brad Hudson, Douglas County management information systems manager. The county didn't lose any data.
The attacks came from a Chinese-sponsored actor called Hafnium, according to a Microsoft news release. The group usually targets groups in the United States, such as research labs, law firms, higher education institutes, defense contractors and others.
In January, Okanogan County experienced a cyberattack that compromised a large portion of its computer network, according to previous reporting. It caused all the county's phone systems to stop working as well.
The two events are not related as far as Hudson can tell, but it does speak to the increase in cyberattacks overall, he said.
"This year it seems there are more hacks now than I have ever seen," Hudson said. "I mean I've been in the IT industry for going on almost 24 years now and I've never seen this many."
The number of attacks and the frequency of them happening seems to be increasing, and it is getting more and more difficult to stop all of them, he said.
Our Valley, Our Future launches outreach program
WENATCHEE — Our Valley, Our Future — the nonprofit that aims to unify the Wenatchee Valley in planning for a better future — is looking for the community's help in creating its next five-year plan to help the area recover from the pandemic, and more.
It kicked off the process April 7 with a press conference about, in part, the accomplishments of its first five-year plan. Our Valley, Our Future reported that 94 of the 161 projects and programs outlined in the 2017 to 2021 action plan were completed.
Find the full list of projects and contributors in the 2017 to 2021 action plan at wwrld.us/project.
More than 40 organizations in Chelan and Douglas counties have signed on as project partners for the new action plan for 2022 to 2026 titled, "Our Valley, Stronger," according to a Our Valley, Our Future press release.
Much of the work this year will focus on preparing steps to take as the region emerges from the pandemic, according to the press release.
People can fill out an online survey to contribute to the new action plan here in English: wwrld.us/en. And in Spanish here: wwrld.us/spa.
Upper Valley locals work to create a community radio station
LEAVENWORTH — A group of musicians has started a fundraiser to create a nonprofit community radio station based in the Upper Wenatchee Valley.
Their idea began as a vision to bring small-town radio into the homes of a socially distanced community and return artists to the stage, which disappeared during the pandemic.
The Leavenworth Community Radio board includes Cali Osborne, who is the board president, along with Seth Garrido, Kate Kelly, Rob Newsome and Chuck Egner. The fundraiser started March 7 and, as of April 6, has reached roughly $9,500.
Their next funding goal is $15,000. The money will be used to rent a space in town for the radio station and start streaming. Money is also being raised to purchase sound equipment.
The station will start with internet streaming, but setting up an FM radio in the future does have definite interest, she said. The hope is to get at least a morning and evening show streaming by mid-summer.
CAFÉ joins state's Small Business Resiliency Network
WENATCHEE — CAFÉ (Community for the Advancement of Family Education) will receive $50,000 to help in its outreach efforts to provide translation, assistance and education to Hispanic-owned businesses dealing with COVID-19 impacts.
The Wenatchee organization is one of a dozen added to the state Department of Commerce's Small Business Resiliency Network through a partnership with BECU Foundation, allowing access to an additional $2 million in CARES Act funding, according to a March 30 press release.
Commerce formed the network a year ago to make sure all business owners have access to government and philanthropic aid programs to help promote an equitable economic recovery. Initially, it included 19 organizations statewide, with some organizations providing services in their area, while others serve businesses statewide. The additional 12 brings the total to 31 organizations serving communities in nearly 40 languages.
CAFÉ has worked as a contractor for Latino Community Fund to provide technical assistance and outreach to Latino-owned small businesses under previous Network contracts.
Planners hoping for in-person Fourth of July festivities
WENATCHEE — Organizers are planning to host a full day of gathered events July 4 in Wenatchee, including a fireworks display.
The activities at Our Valley's Independence Day Celebration are planned to take place at Walla Walla Point Park, event host Impact Events said March 30 in a news release.
Currently planned are live performances, food vendors, kids activities, the Wenatchee Valley Symphony Orchestra and fireworks.
Organizers added that if the park isn't open due to COVID-19 restrictions, fireworks will still be displayed over the Columbia River as in 2020.
Work set to begin on Hay Canyon Road in Cashmere
CASHMERE — Work started in early April on Hay Canyon Road as part of the West Cashmere Bridge project. Expect extra construction traffic through the year.
Traffic will be shifted around the work area as the road is torn up. Part of the project includes building a roundabout north of Vale Road.
The roundabout will handle anticipated increased traffic at the Highway 2/97 intersection when the new bridge is completed, according to a Chelan County Public Works news release.
Local duo create documentary film to reflect diverse outdoor community
WENATCHEE — A Wenatchee Valley duo has made a documentary film in an attempt to expand what people see as being outdoorsy.
"Expedition Reclamation," found at bravespaceproject.org/, is the collective brainchild of Chelsea Murphy and Erin Joy Nash.
Nash has a background in visual journalism and nonprofit work. She has worked with Icicle Center for the Arts and Voortex Productions in Leavenworth and in 2019 directed the short film "Fail Forward Fast."
Murphy is an activist, speaker and writer with a focus on nature. She has helped fundraise for the Colville Confederated Tribes Children and Family Services and spoke in front of roughly 2,000 people at Leavenworth's largest Black Lives Matter march in June.
Their 20-minute film focuses on reclaiming belonging in the outdoors for Black, Indigenous and women of color communities.
Nash and Murphy also touch on the importance of giving back to the environment and using tribal names of locations, such as the P'Squosa, also known as the Wenatchi, as a way of honoring the land. Their goal is to shift away from thinking about what one can take, but rather how one can give back.
In their words, "we're redefining outdoorsy."
Icicle Fund awards $2 million in grants to NCW nonprofits
LEAVENWORTH — The Icicle Fund has awarded $2 million through a series of grant programs in the arts, environment, and cultural and natural history.
Like many nonprofits this year, Icicle Fund has experimented with ways to best play its role in the regional ecosystem of organizations that aim to enhance the quality of life in North Central Washington. The Fund's board of directors, comprised primarily of nonprofit representatives, decided to more than double the grant funding available in 2021 and provide creative new grant programs to meet the needs of our communities.
Through the Operating Support Grant Program, 32 organizations received unrestricted operating support, allowing them the flexibility to be strategic, nimble and sustained during a year of high uncertainty while preparing for being viable and impactful post-COVID.
In partnership with Icicle Creek Center for the Arts and Methow Arts Alliance, Icicle Fund also provided 130 COVID relief grants as direct support for working artists in Chelan, Douglas, Grant and Okanogan counties.
A list of grant award recipients
Cascade Fisheries, $15,000
Cascadia Methow Music Association, $10,000
Central Basin Community Concert Association,$15,000
Classroom in Bloom, $15,000
Columbia Basin Allied Arts, $7,500
Confluence Gallery and Art Center, $15,000
Conservation Northwest, $15,000
Douglas County Historical Society, $15,000
Holden Village, $7,500
Leavenworth Summer Theater, $15,000
Little Star Montessori School, $15,000
Mansfield Museum & Historical Society, $8,000
Methow Recycles, $15,000
Methow Valley Interpretive Center, $15,000
Mountain Sprouts Children's Community, $15,000
Numerica Performing Arts Center, $15,000
Okanogan Land Trust, $15,000
Okanogan Valley Orchestra and Chorus, $15,000
Stage Kids, $15,000
Sustainable Wenatchee, $1,500
The Merc Playhouse Society, $15,000
The Ripple Foundation, $7,500
Upper Valley Connection, $9,500
Upper Valley Historical Society, $15,000
Washington Association of Land Trusts, $15,000
Washington Trails Association, $15,000
Washington Water Trust, $12,000
Washington Wildlife and Recreation Coalition,$10,000
Washington's National Park Fund, $7,500
Wenatchee Valley Symphony, $15,000
Wenatchee Valley YMCA, $15,000
Wenatchee Valley Museum & Cultural Center, $15,000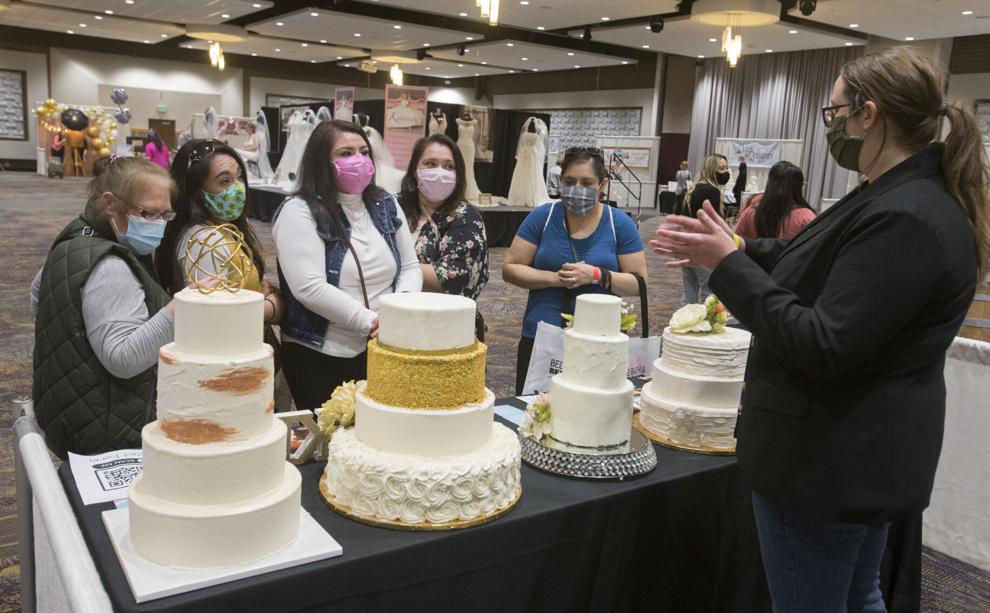 Planning a wedding this year?
WENATCHEE — Wedding planning has changed in the past year, said NCW Bridal Premiere organizer Katrina Anderson, who owns Katrina's Wedding Boutique and Limos by Katrina.
"The focus has shifted to what's important — family. I think that's the biggest thing," she said. "Weddings aren't stopping, they're just being done differently."
Some of the changes, though, are likely to create ripple effects.
Anderson said many of this year's March 27 bridal show vendors — which include dress and tuxedo shops, photographers, venue owners and others who help couples plan their big day — are looking at a busy couple of years.
Last year, some people downsized their weddings and are planning receptions this year.
Others postponed the nuptials in the hopes that conditions would improve.
"I've talked to quite a few brides who are planning for fall. And 2022 is going to be big," she said.
This year, more than ever, couples are thinking outside the box, considering mid-week weddings, outdoor venues and streaming video services for guests who can't be there in person.
The continued changes in COVID-19 restrictions this year could create opportunities for those planning ceremonies this spring and early summer.
"Typically, June would already be booked up," she said, but this year, that might not be the case.