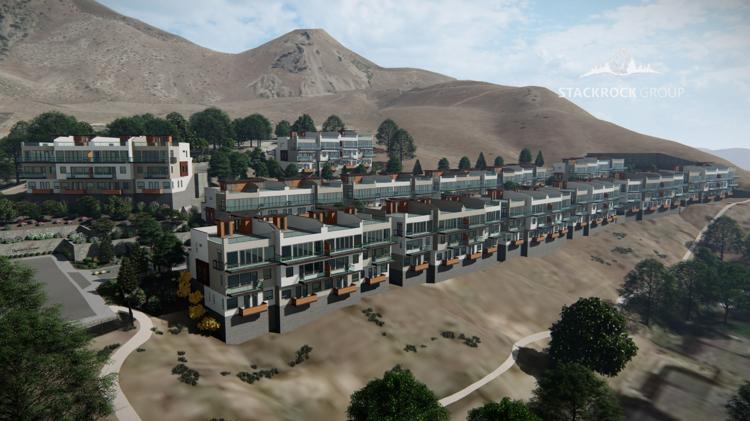 Townhouse development proposed
WENATCHEE — A development with dozens of townhouses may be coming to the foothills of No. 2 Canyon.
The city of Wenatchee received an application for a 13-building, 52-townhouse development on Jan. 23, according to city records. The development, which is being called Queens Court Villas, will sit at the end of Queens Court road, off No. 2 Canyon Road.
The townhouses will be about 2,100 square feet with four stories and two-car garages, according to the records. The developer is Castle Heights Holdings Inc.
The project will be built in three phases on six acres of a 22.57-acre lot, according to the records. It's unclear what the other acreage will be used for.
Since the project has more than 20 units, the city is required to review its environmental impact to the area under the state Environmental Policy Act, said Planning Manager Stephen Neuenschwander.
The city expects to issue a determination of non-significance, according to the records, unless adverse environmental impacts were identified during an earlier public comment period.
The development is in a zoning district that would normally allow for four units per acre, according to the records.
But the development applied for "bonus density credits" from the city in exchange for preserving natural features, offering parking and building a trail system, according to the records.
The development is roughly half a mile from the site of the Black Rock Terrace Estates development. That project is currently pending in Chelan County Superior Court after appeals were filed by residents and the Department of Fish and Wildlife over mule deer habitat protection.
Tasting rooms coming to PAC alley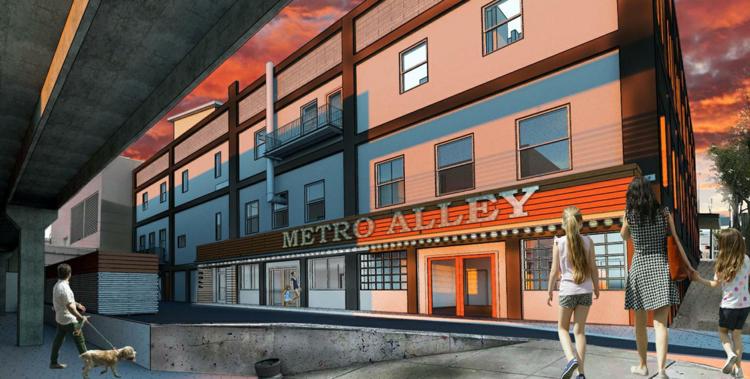 WENATCHEE — The alley behind the Numerica Performing Arts Center is about to get a big facelift — once they figure out where to put the Dumpsters.
It's part of a complete remodel of an adjacent building on Wenatchee Avenue and Second Street owned by local developer Rory Turner and a group of other investors.
Turner is hoping the space behind the building, which has a working name of Backstage Alley, will turn into a gathering place with wine tasting rooms for patrons to visit before or after shows at the arts venues.
"It could be part of anything going on at the convention center or the Performing Arts Center," he said.
The owners are working with the PAC and city officials to design the space, which may include overhead string lights and new landscaping.
Horan Estates Winery will take one of the two tasting rooms, Turner said. Crayelle Cellars plans to take the other spot but hadn't officially signed the lease yet, as of late February.
Both will have glass storefronts that open to the alley and one will have a small venue for live music or events, Turner said.
When the building remodel is complete this summer, it'll also be home to a restaurant, massage therapist and jiu jitsu studio.
Goodfellow Bros. Construction purchased the top floor for office space and the Wenatchee Valley Chamber of Commerce has its offices and a visitors center on the main floor.
Four hotels planned for Wenatchee
WENATCHEE — Developers are planning to build four separate hotels in Wenatchee, including a 127-room Marriott hotel next to Walla Walla Point Park.
That's in addition to two area hotels that are already in construction: the Hilton Garden Inn near Pybus Public Market and the Fairfield Inn & Suites near McDonald's in East Wenatchee.
If all six are completed, that would bring 616 new hotel rooms to the valley. That's an increase of 46 percent from the valley's current stock of 1,335 rooms, according to Wenatchee Valley Chamber of Commerce data.
Plans for the four new projects have been filed with the city. One has a building permit in review and the other three are in various stages of the planning process, Public Services Supervisor Josh Osborne said in late February.
One of the four is expected to open next spring, but construction timelines for the other three are not clear.
Residence Inn by Marriott
The largest proposal is for a 102,000-square-foot Residence Inn by Marriott hotel near Walla Walla Point Park, which would have 127 rooms on five stories. The city received an environmental review for that development on Feb. 11, according to city records.
The application also included plans for an apartment complex with up to 100 units that would be built on a neighboring parcel in the future.
If approved, the combined project would require the demolition of a dog park, a landscaping company, a coffee stand and four single-family houses on River Park Avenue, according to the records.
The proposed site is owned by the family of former state Sen. Linda Evans Parlette, but the applicant listed on the records is Seattle company River I Wenatchee LLC.
Evans Parlette said in February that she wasn't ready to speak in detail about the project. She said she's working to sell the property to "another party" and doesn't plan to be involved with the operation of the hotel.
Wenatchee Avid Hotel
Another set of plans filed with the city calls for the demolition of the Value Inn, at 1640 N. Wenatchee Ave., and the construction of a new hotel in its place.
The new venture will be called the Wenatchee Avid Hotel. It'll have four floors and 95 rooms, according to city records.
Value Inn owner Sean Verma wants to redevelop the property to bring in more clients and offer them a better stay.
Verma, who also runs the Travelodge in Wenatchee, purchased the Value Inn about five years ago, he said.
Last summer he also bought a vacant house on a half-acre parcel on the north side of the Value Inn, he said.
That house will also be demolished and the Wenatchee Avid Hotel will be built on both properties, he said.
Sleep Inn
Another local hotel owner looking to expand is Steve Tramp, owner of Comfort Suites in Olds Station.
In February he filed a building permit and purchased a franchise license to build an 89-room Sleep Inn next door to his existing hotel on Penny Road, he said.
Tramp hopes to start construction this spring and open the property next year, he said.
My Place Hotel
National chain My Place Hotels has met with the city about expanding to Wenatchee, said Osborne.
The chain also provided preliminary floor plans to city officials, which call for 64 rooms on four floors.
The plans indicate the hotel will be built on a vacant lot on the corner of Ninth and Piere streets in Wenatchee, next to the Riverside 9 apartments.
That lot was purchased by company Wenatchee 8 LLC in June 2018 for just over $1.1 million, according to Chelan County Assessor records.
The project hadn't been approved by the city as of late February, but My Place Hotels is already taking "reservation inquiries" for a Wenatchee location on its website, which it says is coming soon.
Trustee takes over Giga Watt
SPOKANE — Cryptocurrency miner Giga Watt — now under the control of a bankruptcy court trustee — will soon restart its mining operation and is looking for a buyer.
Giga Watt, which is based in East Wenatchee, filed for Chapter 11 bankruptcy in November. It has several cryptocurrency-mining facilities in Douglas and Grant counties in various stages of completion.
Tacoma attorney Mark Waldron was appointed the case's Chapter 11 trustee in January and has operational control of the company, he said March 13.
His primary goal is to sell the company and pay the company's creditors, he said.
The company's owners still hold their equity shares and would be paid after the other creditors following a buyout, he said.
"The trustee becomes the owner, the manager and the person responsible for that enterprise until it's passed along," he said. "The goal here is simply to get the facilities that make sense reopened and then package up the assets … and try to find the best buyer we can pass it along to."
Several companies have shown interest in buying Giga Watt, he said. He hopes to have the business ready to sell in six months.
"We have a lot of interested folks across the country and world. We've been approached by quite a few buyers," he said. "I think I can see there will be light at the end of the tunnel."
New port director looking at future of Chelan County
WENATCHEE — Jim Kuntz, the Port of Chelan County's new executive director, says he uses three metrics when deciding whether a project is right for the port:
Does the project create jobs? Does it attract new investments to the region? Does it add to the region's tax base?
"The bottom line is: Is it maintaining the economic viability of Chelan County?" Kuntz said. "My hope is the port and commissioners will use that lens to sort through how you allocate capital. That's what ports should be doing."
Kuntz moved up from his deputy director post to executive director at the start of the year, replacing Pat Jones. Kuntz is from Wenatchee but spent the last three decades working for ports across the state.
Ports promote economic development through business programs, tourism and infrastructure investments. Washington's 75 ports make up the the largest locally controlled public port system in the world, according to the state's public ports association website.
As the executive director of Chelan County's port, Kuntz works with elected commissioners to guide the port's vision. He's already identified a few major goals for his first year at the reins.
One of the first — and the most prominent — goals will be to reexamine Pangborn Memorial Airport, Kuntz said.
The ports of Chelan and Douglas counties co-fund the airport in a 70/30 split, with the Port of Chelan paying the larger share. The agreement has caused tension over the past few years as the Port of Douglas has said it can't afford its share.
"What's in place now is a joint agreement with the two ports. It's not working, it's not a long-term solution. Both ports recognize that," Kuntz said.
The ports hope to assemble a committee of community members and stakeholders in the coming months to brainstorm solutions, Kuntz said.
"One of the things that I think both ports agree with is we don't want a long, drawn-out process," he said. "I think this task force can get to the basic issues very quickly and come with some recommendations for long-term funding and governance."
The task force would work with an outside facilitator to identify some possible solutions, Kuntz said. Those would then be presented to each port's commissioners.
The renegotiation comes at a busy time for Pangborn. The airport in 2016 completed a $30 million runway expansion and is currently soliciting airlines to provide a direct flight to the San Francisco area.
Looking past the airport, one of the port's biggest priorities will be increasing its real estate footprint, Kuntz said.
Ports can purchase land or industrial buildings and then offer leases to prospective businesses, Kuntz said.
"We don't have the inventory to be able to show new businesses effective, ready-to-go buildings," he said. "I just feel that's really important for us, the port, to look at getting some additional capacity."
It's currently constructing a pair of 16,500-square-foot buildings in Cashmere which are scheduled to be complete this summer.
But beyond that, their inventory is low, so it'll likely be in the market to buy new space in the coming months and years, Kuntz said.
Kuntz also hopes the port can play a bigger role in helping small businesses get off the ground, he said.
"In today's economy small businesses are creating the majority of the jobs," he said. "... I think progressive economic development agencies should look at entrepenurialship as something that's important and valued."
60 apartments planned for Maple Street
WENATCHEE — A developer is planning to build 60 apartments on Maple Street, across from Foothills Middle School.
The city of Wenatchee received plans for the development, called the Sagecrest Apartments, in late February. The apartments will be contained in two buildings on 2.42 acres, according to city records.
All 60 units will be have a "mid-market and low-market rate," according to the records.
One single-family home will be demolished to make way for the construction.
It's the latest in a series of developments that promise to bring hundreds of apartments to the Wenatchee Valley. Permits have been issued for 220 apartment units in 2018, up from 28 the year before.
Homes more expensive, less available
WENATCHEE — Homes in Wenatchee are getting more expensive and harder to find, according to a February report from Pacific Appraisal Associates.
The median house sale price was $338,000 last month, up 10 percent from a year ago, according to the monthly Snapshot report. It increased by $14,000 in just one month.
The number of homes on the market, meanwhile, dropped 10 percent from 2018. There were 111 this February and 123 the year before.
Construction has also slowed — 16 building permits have been issued so far in 2019. This time last year that number was 26.
"We probably have the same amount of buyers that we did a year ago but we do have, clearly, less listings than we did a year ago," said JoAnna Holland, the communications director of the NCW Association of Realtors.
Those buyers are quickly snatching up any lower-priced home, which is driving up values, she said.
"There's not as many (affordable homes) coming on that market and the ones that do come on the market are going to be priced higher than they were a year ago because of the supply and demand," she said.
And the affordable houses that are available have been caught in a tug-of-war between first-time buyers and people looking to downsize, Holland said.
"We need affordable housing both for new home ownership and baby boomers that want to downsize," she said. "We have two demographics of shoppers that are now in that lower price point."
Ridge to replace chair lift
WENATCHEE — Mission Ridge Ski & Board Resort plans to replace Chair No. 2, known as The Liberator, before the start of next season.
The new chair lift will have retractable plexiglass "bubbles" that lower down to protect riders from the cold, Mission Ridge General Manager Josh Jorgensen said.
The resort hopes to start taking down the old lift and installing the new one as soon as the winter season ends in April, Jorgensen said.
Before starting the project the resort will need approval from the U.S. Forest Service and Washington Department of Fish and Wildlife, Jorgensen said.
The old lift is more than 6,200 feet long and was built in 1986. It was used in Colorado until Mission Ridge bought it for the 2005-06 season, Jorgensen said.
The new lift was originally built by Austrian company Doppelmayr in 1988. Mission Ridge purchased it from a company in Europe, Jorgensen said. He declined to say how much it cost.
"That might not sound like much of an upgrade from '86, but it is," he said. "It's going to be quite a bit different."
This upgrade is separate from the ambitious expansion the resort is currently pursuing, Jorgensen said. If completed, that project could bring cross-country skiing, new retail shops and housing accommodations in the future.
Confluence Health awarded for leadership
WENATCHEE — Two Confluence Health officials received awards for their leadership in health care.
Dr. Mitch Garrison, Wenatchee Valley Medical Group chairman, and Glenn Adams, Confluence Health senior vice president of ancillary services, earned awards Feb. 28 from Seattle Business Magazine.
Mitch Garrison received the "Outstanding Medical Group Executive" award for his work helping patients fight cancer, as well as helping hire 50 doctors in two years.
Glenn Adams received the "Community Outreach" award for spearheading Confluence Health's Opioid Take Back Program and working to address the opioid epidemic in Central Washington.
Pybus Public Market to get plaza
WENATCHEE — The area just south of Pybus Public Market is being turned into a plaza that officials hope will make it more enticing to visitors.
Pybus Executive Director Steve Robinson said construction costs are estimated at about $380,000.
The city of Wenatchee is putting $240,000 in state Local Revitalization Financing toward the plaza. The Pybus Market Charitable Foundation will put up the rest and is responsible for constructing and maintaining the plaza.
The city will maintain the underground utilities. The city and South of Pybus LLC will provide a pedestrian easement between Worthen Street and Riverfront Park.
Robinson said he's heard many complaints about the potholes, rocks and mud in that area, and the plaza will resolve that. It'll also be an access point for the Apple Capital Recreation Loop Trail.
The area could also be closed off for outdoor events, he said.
Architect Brad Brisbine with MJ Neal Associates designed the plaza.
"We are very excited to get this project commenced and completed this summer because we think it further adds to the development of the waterfront," Robinson said.
Work begins on new Gateway Park
EAST WENATCHEE — Work began March 11 on the new Gateway Park, which will serve as a community plaza and entrance to downtown.
Earlier this year, the City Council awarded a $533,102 contract to East Wenatchee-based KRCI for the project, which should completed by the end of May. The amount includes sales tax.
The city purchased 20,000 square feet of property at 88 9th St. N.E. in 2015 and demolished an old service station to make room for the park.