Gov. Jay Inslee's Oct. 13 announcement that Chelan and Douglas counties would advance to Phase 2 of the state's "Safe Start" plan was welcome news. Like many COVID-19 milestones noted since the pandemic started in March, it was received with mixed reaction.
Too little too late, say some. Two steps forward and one step back, say others … or, for those less optimistic, one step forward and two steps back.
At the least, the guidelines for Phase 2 provide more clarity than the limbo of Phase 1.5. Plus, it means potential trips to the library, the movie theater and, maybe, the bowling alley.
Getting schools open is the next big step. 
The push continues to figure out how and when to get students back in classrooms — which would help soothe the nerves of working parents whose lives have been turned upside down as they further split their focus between family and career. Confusion abounds over testing, test results and what it all means as the Chelan-Douglas Health District balances efforts to gather needed data while explaining why people should be willing to, first, stick a swab up their noses and, then, answer a host of personal questions about who they've been spending time with should the test come back positive.
All of that angst, of course, is heightened in these final days leading to the Nov. 3 General Election that has turned wearing a mask into a political statement.
Despite all that, business owners and community leaders continue to work their way through the pandemic-driven obstacles to find ways not only to reopen, but to thrive.
Here are some of the recent stage-setting COVID-19-related developments:
Sunday, Sept. 20
The state Department of Health releases a report that shows a decline in COVID-19 cases, overall, in western Washington, and a leveling out in eastern Washington, but the numbers vary widely from county to county. The report shows an increase in cases in children and those from age 25 to 39.
Monday, Sept. 21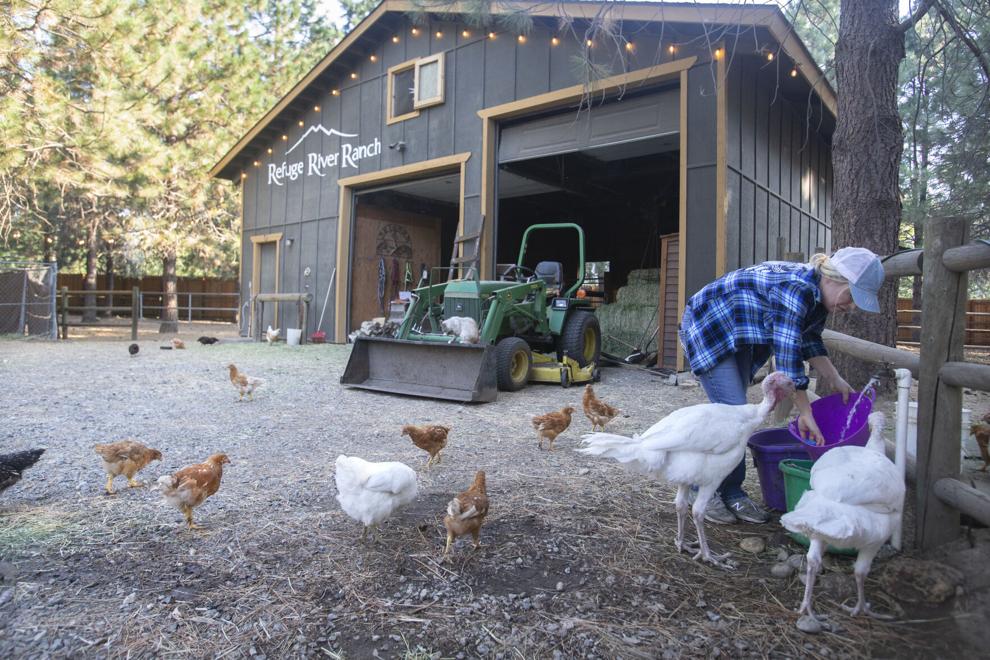 Agritourism allowed after all
Gov. Jay Inslee updates guidance for agritourism operations, allowing counties in modified Phase 1, including Chelan and Douglas, to operate under Phase 2 rules. An Aug. 28 announcement had set guidelines for Phase 2 and Phase 3 counties, but none for the five modified Phase 1 counties.
The latest guidance comes as a relief to operations offering wagon rides, animal viewing, pumpkin farms and corn mazes.
COVID-19 positives in Chelan, Douglas in decline
The presence of COVID-19 in Chelan and Douglas counties is on the decline, Health Officer Malcolm Butler reports, but still has a long way to go.
Of the 1,971 tests taken throughout the two counties from Sept. 7 to 13, 123 were positive, a 6% rate. That's lower than the 18% positive rate from July 27 to Aug. 2.
One concern is the trend nationwide is for case numbers to increase once people grow too comfortable.
Masking compliance in both counties has dropped to about 70%, Butler said. People in Douglas County are masking up more often at closer to 80% than people in Chelan County at about 66%. People in smaller towns are also far less compliant with masking, he said.
Health district staff stretched thin
The Chelan Douglas Board of Health approves hiring additional Incident Management Teams to help Chelan-Douglas Health District staff with needed community-wide testing.
The teams stay for two weeks at a time, providing some relief for district staff who have accumulated more than 400 hours of overtime since the pandemic started.
The other big task on the Board of Health's agenda is hiring a permanent health district administrator. Nathan Weed, who started as interim administrator Sept. 9, is set to leave in early December.
Tuesday, Sept. 22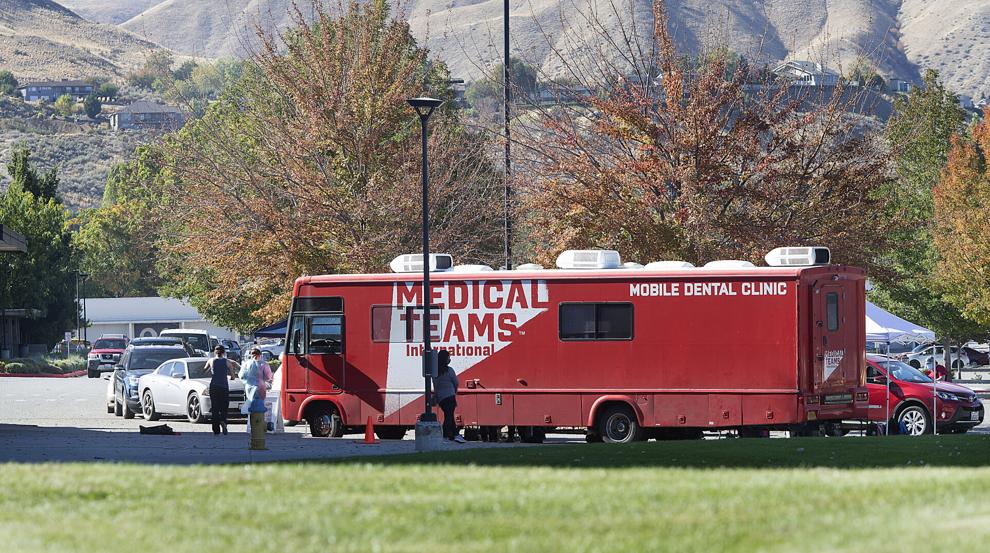 COVID-19 testing plan targets school openings
Chelan-Douglas Health District officials, looking at safety measures needed to reopen schools, say they will need 800 COVID-19 test samples per school district, rather than a previously discussed 10,000 throughout the Wenatchee Valley.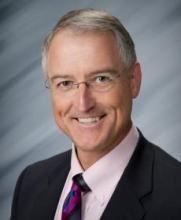 The 10,000 tests aren't feasible because of manpower and costs, said Dr. Malcolm Butler, the district's health officer.
"The difficulty is, you know, to get a statistically valid sample," Butler said. "So that we can feel it's safe to reopen classrooms."
The more targeted testing would be conducted differently than was done at Bridgeport and in other communities, which would improve the sampling, Butler said. Epidemiologists, including five from the U.S. Centers for Disease Control and Prevention, are helping design a study that would be more random.
Butler believes the health district will have an easier time testing minority groups this time, because of the school district's support, he said, and because people trust school districts.
Festival of Trees is a go
The Numerica Performing Arts Center announces it will host the annual Festival of the Trees this year from Nov. 30 to Dec. 6. Attendees will be asked to reserve times to view the decorated trees in small groups, meeting COVID-19 guidelines.
Classic trees, mini trees and wreaths will be displayed in the lobby while the grand trees will be on the main stage.
Other fundraising events usually associated with the festival, though, will go virtual.
Thursday, Sept. 24
Leisure, hospitality hardest hit by job loss rates
Recently released data shows COVID-19-related job layoffs have nearly doubled unemployment rates this August in the Wenatchee area compared to 2019.
The August 2020 Wenatchee Metropolitan Statistical Area Labor Area Summary, which covers Chelan and Douglas counties, shows that unemployment rates in April reached 15.8% after the COVID-19 shutdowns. Those rates slowly improved, moving to 14.2% in May, 9.8% in June, 9.9% in July and 8.3% in August.
Leisure and hospitality, such as hotels, restaurants and recreation, have taken a hit this year. Jobs fell from 7,400 in 2019 to 4,900 in 2020, according to the report.
Chelan County man in his 40s dies from COVID-19
The Chelan-Douglas Health District reports a Chelan County man in his 40s has died from COVID-19, the first pandemic-related death reported in the two-county region in someone under the age of 50.
It brings the number of dead from COVID-19 up to 16 in Chelan County and seven in Douglas County.
Health district statistics show a rate 162.5 positive cases per 100,000 people over a two-week period, the first time in about two months the rate of positive cases is below 200 per 100,000 people over two weeks.
Friday, Sept. 25
Is Trick or Treat on the Avenue, Wenatchee's annual downtown Halloween candy giveaway, canceled?
Not exactly, but it will be modified to meet social distancing guidelines, say organizers.
On Oct. 31, volunteers with Candy Cruz, will pass out goodies to trick-or-treaters in drive-thru fashion at Pybus Public Market, in downtown Wenatchee and the Town Toyota Center.
Trick-or-treaters will stay in their cars and must wear masks.
CDC epidemiologists on the scene
Epidemiologists from the U.S. Centers for Disease Control and Prevention, who have been working in Chelan and Douglas counties since early September, are conducting a Community Assessment for Public Health Emergency Response (CASPER) survey, with plans to interview 200 people who tested positive for COVID-19 to try and figure out where they contracted the disease. The epidemiologists also are conducting focus groups to see how effective messaging about COVID-19 has been in the community.
Monday, Sept. 28
Eastmont welcomes select students back to the classroom
Under bright sunny skies, some students return to Eastmont elementary and secondary schools.
Those students — 3% to 5% of those considered most vulnerable — are part of the school district's phased plan for returning students to school. That means more than 1,500 people, including more than 400 students, are coming to Eastmont campuses on a daily basis.
Phase 1C, set to start Oct. 5, would return more small groups of students to school, including athletic training. Phase 2A would bring K-4 elementary students back to school, but it is dependent on COVID rates in Douglas County. If rates are not below 75 per 100,000 people, the district would need a waiver from the health district, said Superintendent Garn Christensen.
Tuesday, Sept. 29
Second man in his 40s added to COVID-19 death list
A Chelan County man in his 40s who died from COVID-19 on July 30 is added to the death list after a mix up on the lab report that did not have an address associated with the test. It changes the demographics of the reported deaths to two in their 40s.
Chelan County Coroner Wayne Harris expresses concerned about the accuracy of the health district's data based on the delayed report.
This death makes the count 17 deaths from COVID-19 in Chelan County and seven in Douglas County.
Wednesday, Sept. 30
The state Department of Health announces that new antigen test kids, which can provide results in 15 minutes, will be distributed in the next five to 10 days.
Thursday, Oct. 1
Free testing offered across Wenatchee Valley
The Chelan-Douglas Health District announces more free COVID-19 testing events over the next few weeks at locations in Entiat, Wenatchee and East Wenatchee.
People do not need to provide ID, but do need to provide basic information. The tests are minimally invasive and pain free, using a nose swab that is self-applied. Results will be provided in 24 to 48 hours for those who test positive and five to seven days for those who test negative.
The health district data shows the two-county area has 114.4 positive cases per 100,000 people over two weeks. The goal to move to the next phase under the governor's pandemic rules is 25 people per 100,000 over two weeks.
CDC survey shows trust is an issue
The response to the COVID-19 pandemic in Chelan and Douglas counties has been hampered by a lack of trust and communication with the area's most vulnerable communities, federal officials say.
"Many groups expressed a lack of trust," said Hannah Lofgren, a member of the U.S. Centers for Disease Control and Prevention team sent to Wenatchee.
Lofgren said the reasons for the lack of trust varied.
"Occasionally it was a medical system, more often political leaders and other factors as well," said Lofgren, a CDC community mitigation specialist.
The team also pulled together six focus groups, talked to key stakeholders in the community and, Lofgren said, discovered:
Confusion about whether people should get tested for COVID-19 if they weren't showing symptoms.
A perception that reports in data or the phases for reopening were inconsistent.
A disconnect between access to free testing sites and the awareness that those sites and opportunities existed.
People strongly believe churches and church leaders should get more involved in supporting compliance with safety measures.
People don't like to be told what they have to do..
Systems are needed to notify those who test positive and for conducting contact tracing.
Friday, Oct. 2
Schools prepare for hybrid model
The Chelan-Douglas Health District notifies the Wenatchee School District that based on the declining rate of COVID-19 cases — now at 116 positive cases per 100,000 people over a two week period — it should start planning for hybrid instruction — a mix of remote and in-class learning.
Schools will be able to partially reopen when numbers reach between 25 to 75 people per 100,000 over a two-week period, said Diana Haglund, Wenatchee School District spokesperson.
The Wenatchee School District's preschool through second-grade classes would be the first to return to schools, with other grades being phased in gradually.
To help move schools toward reopening, the school district and health district plan on testing to get statistical data on the prevalence of COVID-19 in the community. The health district plans a community-wide test and a separate test specifically on kindergarten through second-grade families and staff.
Tuesday, Oct. 6
Gov. Jay Inslee leaves Chelan and Douglas counties in Phase 1.5, but announces new guidelines for a few activities in Phase 2, which applies to Grant and Okanogan counties. It means libraries in those counties can open, for one. NCW Libraries embarks on a plan to do just that, while continuing to provide mail order and curbside service in Chelan and Douglas counties.
Communication concerns continue
People do not feel that the Chelan-Douglas Health District and school districts have a solid plan to reopen safely, says Karina Vega-Villa, co-chair of the Latinx Advisory Group. The group also is concerned about a lack of communication from the school districts.
Outreach efforts by the health district and schools usually involve technology that some members of the Hispanic community don't have access to, Vega-Villa said.
The Latinx Advisory Group was created in July to help advise the health district on how to communicate with the Hispanic community. It will soon be dissolved and replaced by a new group that will advise the Chelan-Douglas Board of Health. Members of the Latinx Advisory Group will serve on that new committee.
Wenatchee High School hosts testing location
Four days of COVID-19 testing begins at Wenatchee High School as the Chelan-Douglas Health District tries to gather more data on the prevalence of COVID-19 in the community and the Wenatchee School District.
The school district is looking for data that will allow it to move to a hybrid model for reopening classrooms for kindergarten through second grade for hybrid instruction (a mix of classroom and remote learning) by mid-October. Health workers will ask to test randomly selected families with students in kindergarten through second grade as part of that effort.
The high school also is hosting the testing site for community members at large.
Thursday, Oct. 8
Woman in her 50s dies from COVID-19
The Chelan-Douglas Health District reports that a Chelan County woman in her 50s has died from COVID-19, the 18th death in the county since the pandemic started in March. Douglas County has reported seven deaths, for a total of 25 in the two-county region.
The health district also reports the case rate has climbed from 114.4 positive tests per 100,000 over a two week period at the end of Sept. 30 to 136.8 cases per 100,000 people this week.
WVC stays online through winter quarter
Wenatchee Valley College announces plans to continue with a mostly online schedule into winter quarter.
"We are definitely not alone," WVC spokeswoman Libby Siebens said. "Not all of them (colleges) have been announced yet, but most are continuing online for winter. Another thing playing into the decision (to stay online) is the flu season coming and that type of thing."
Monday, Oct. 12
Health district extends free COVID-19 testing
The Chelan-Douglas Health District extends community testing efforts in Wenatchee and East Wenatchee for another week, hoping to add to the 1,553 COVID-19 tests administered during the first week.
"The community testing is very much about identifying cases, getting them isolated, finding their contact, getting them quarantined and boxing in the virus," said the district's Interim Administrator Nathan Weed.
Tuesday, Oct. 13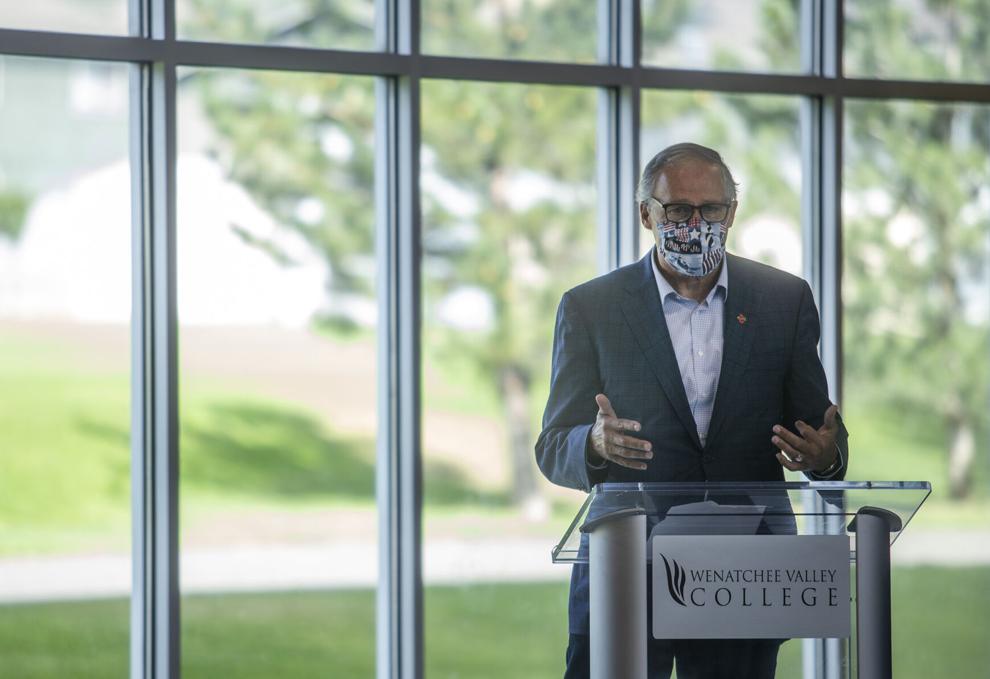 Gov. Jay Inslee announces that all counties in a modified Phase 1 — Chelan, Douglas, Benton, Franklin and Yakima counties — will make the move to a full Phase 2, bringing with it some new allowed activities.
Allowing remaining manufacturing to restart
Allowing in-home, domestic services like nannies and house cleaning
Libraries and museum at 25% capacity
Movie theaters at 25% capacity
Agritourism
League-play bowling
Pet grooming
Bars with no indoor seating unless they meet a minimum food requirement
Drive-in events
Limited indoor fitness and training with 300 square feet per person and up to 25% capacity
Some adult/youth sports
Some outdoor recreation with more than 12 participants
Gatherings of no more than five people outside a home
State group plots COVID-19 recovery
The Washington Recovery Group forms. It's a statewide effort to help communities recover from social and economic damage of dealing with the pandemic.
Housed at the Office of Financial Management and partnering with the Emergency Management Division of the state's Military Department, the effort is designed to help state agencies coordinate with local governments, higher education and the private sector, developing and implementing recovery solutions and pathways.
The areas of focus include:
Community and social services
Education and childcare
Employment and jobs
Equity and social justice
Health and health care
Housing
Infrastructure and energy
Support for small business
The group is led by Dan McConnon, previously the state's assistant director for technology services and facilities planning.
Wednesday, Oct. 14
Museum announces reopening plans
The Wenatchee Valley Museum & Cultural Center says it will reopen to the public with a new exhibit on women's suffrage come Nov. 3.
The opening allows for 25% capacity and comes after Gov. Jay Inslee approved Chelan County's move into Phase 2 of his Safe Start plan.
The museum has been working on what reopening would look like since it first closed its doors in mid-March, said Ashley Sinner, the museum's outreach coordinator.
Given the challenge of opening with 25% capacity, the museum has changed how it takes in guests, introducing a new system for timed entries. Visitors can book slots online. Once at the museum, signs and staff will help remind people to wait before entering an area if building capacity has been met.
The museum has social distancing markers on its floors, plexiglass at its guest services area, touchless entry and hand sanitizing stations throughout, she said. The usual state guidelines, such as mandatory masking, will be in place as well.
All libraries will reopen Nov. 2
NCW Libraries planned to open its 19 branches in Grant, Okanogan and Ferry counties on Nov. 2, but the 10 libraries in Chelan and Douglas counties would have to remain closed because those counties were still in Phase 1.5.
Now that the two counties are in Phase 2, all the library branches Nov. 2.
NCW Libraries locations have been shut down since spring, though many opened for curbside service and mail order on Sept. 14.
Thursday, Oct. 15
Butler hosts video series
Dr. Malcolm Butler, the health officer for the Chelan-Douglas Health District, begins hosting a weekly video series called "Community Update" to talk about COVID-19.
The video is posted on the health district's Facebook page each Thursday. Butler speaks in English for the first half hour and in Spanish for the second half hour of the video.
A report by a team of epidemiologists from the Centers for Disease Control and Prevention on Oct. 2 cited concerns about communication and a distrust of public officials. Butler was listed as one of the few sources people in the community across ethnicities trusted.
Test results: Gebbers Farms employees have low COVID-19 rate
OKANOGAN — Recent testing of one of the largest employers in Okanogan County, Gebbers Farms, reveals a very low rate of COVID-19 amongst its employees.
Washington Secretary of Health John Wiesman on Aug. 19 ordered all Gebbers Farms employees to be tested for COVID-19. Results show 0.7%, or about 22 of Gebbers Farms' 3,100 employees, were positive for COVID-19, according to the Okanogan County Public Health department.
Public Health Director Lauri Jones said she thinks the low rate surprised state officials and that the focus on Gebbers Farms had become a political issue.
Gebbers Farms got a lot of attention in July when three of its employees died within a month from COVID-19.
Okanogan County is doing better now than it was in July when there was a spike in positive cases, and schools have started moving to a hybrid-learning model, Jones said. The county has had 14 cases in the past 14 days, a rate of 37.4 cases per 100,000 over a two-week period.
The Chelan-Douglas Health District, by contrast, is reporting about 138 positive cases per a 100,000 person population.
Community testing shows 1.7% positive case rate
Mass COVID-19 testing in communities across Chelan and Douglas counties since mid-August found 77 positive cases out of 4,500 tests conducted, a 1.7% positive case count rate.
The positive case rate has been around the 1% mark consistently since September, except for one outbreak in Leavenworth the health district identified where it jumped to 3.4%.
The 1.7% rate is about where the statewide average is likely at, said Dr. Peter Houck, a Chelan-Douglas Health District epidemiologist. People should be careful drawing conclusions using this data, though, he said, because the testing events in the 13 communities wasn't meant to estimate the percentage of people with the virus.
"The real reason is to find as many people, who are infected. Isolate them so they don't transmit the infection to other people. Find their contacts, quarantine their contacts to see if they develop disease. And keep any of the contacts who develop disease from spreading it to someone else," Houck said. "That's the real reason for doing the testing."
The problem with the data from the mass testing events is it's a convenience sample, he said. To accurately figure out the rate of infection in the community health officials would need to take a random sample.
Health district officials are using the test results to notice spikes that can identify outbreaks, Houck said.
The health district plans to continue testing communities throughout the two counties.
Friday, Oct. 16
Wenatchee moves up plans to bring students back to school
Early results from the community-wide COVID testing prompt officials in the Wenatchee School District to move ahead with plans to bring back the district's 1,500 preschool through second-grade students starting Nov. 2.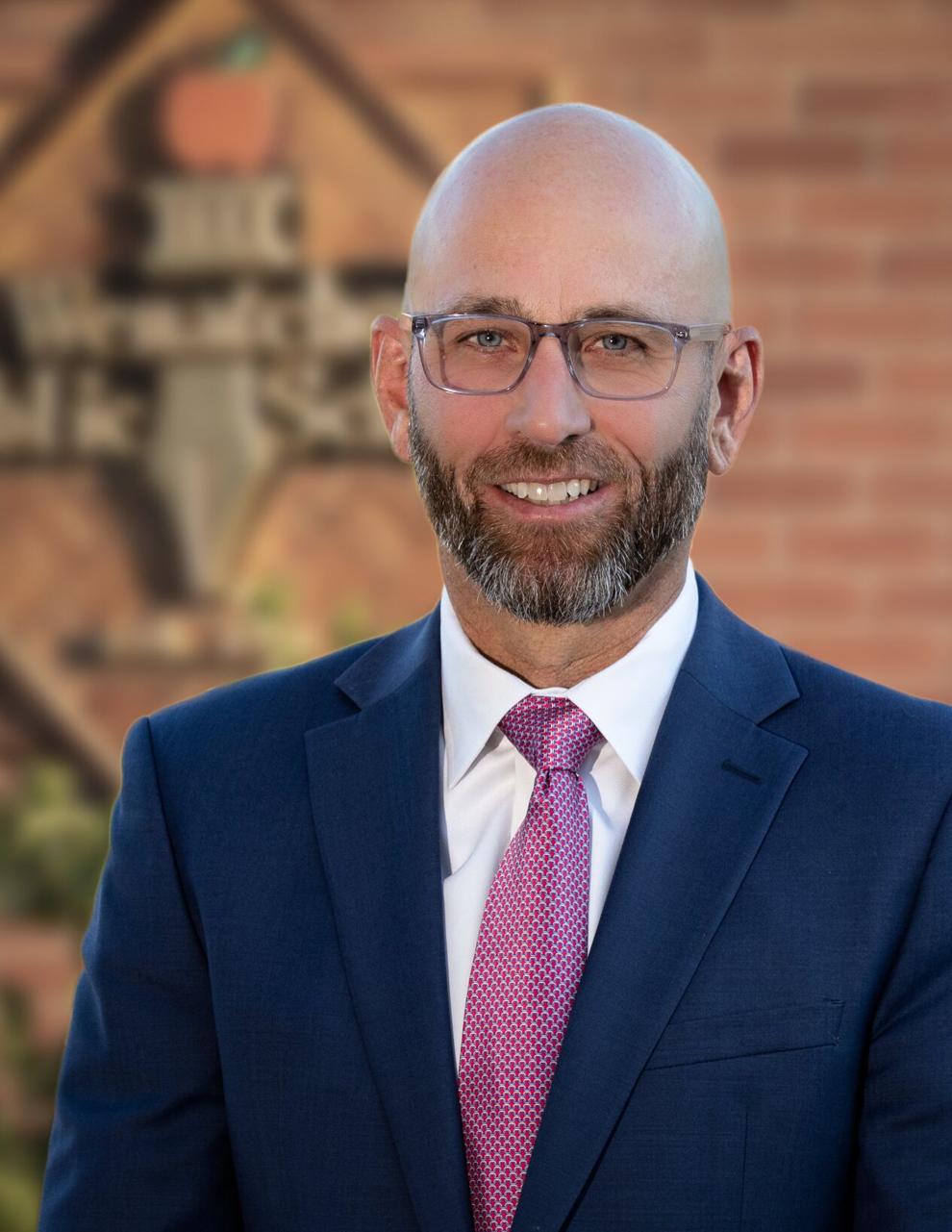 "The first week's results indicate there is a roughly 1% infection rate within the community, which gives us better confidence in opening our school doors for our preschool through second-grade students," Wenatchee Superintendent Paul Gordon said. "We do that with the knowledge we are going to be following all of the health district recommendations around safety protocols, masking, social distancing, washing hands."
Gordon said the district hoped the test results would provide the data needed to move up its plans.
When Gov. Jay Inslee moved Chelan County to Phase 2 on Tuesday, that meant school districts no longer needed approval from local health districts to move forward with plans, Gordon said.
Monday, Oct. 19
The number of COVID-19 cases per 100,000 person population over two weeks is hovering over 170 now, compared to a low of 110 in late September, Health Officer Dr. Malcolm Butler reports to the Chelan-Douglas Board of Health.
The percentage of positive cases compared to the total number taken remains consistent at about 1% to 2%, which is good, he said. At this point people appear to be safer out in public than in their homes, he added.
"I'm going to recommend that we refocus our efforts on personal choices at home," Butler said. "And we're about halfway through this marathon, believe it or not. So, we need to celebrate some wins and I think we need to fortify ourselves for the second half of this race."
Masking in public is starting to become normal with about 90% compliance, which is up from about 70% in September. The focus now needs to be on normalizing masking indoors, he said.
"So if transmissions are not happening in the schools, and not happening (very much) at work sites, where must it be happening?" Butler asked. "It must be happening in private homes, or private gatherings, or rallies, or churches, or parks, or somewhere that masking and other safety measures may be relaxed."
Area hospitals also haven't seen sharp increases in the number of people hospitalized despite increases in positive cases, he said. It could be, though, that the community is two to three weeks off from feeling the effect of the recent spike.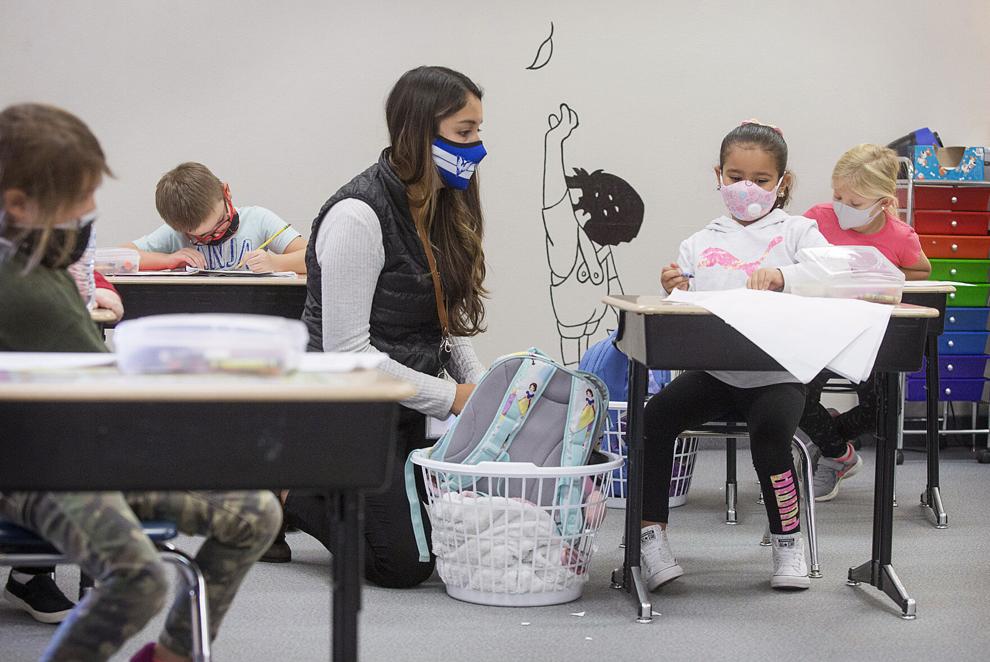 Eastmont plans next step in bringing students back
A decision to move forward with plans to bring students back to school is made following a meeting between regional school district superintendents and Chelan-Douglas Health District interim Administrator Nathan Weed.
Eastmont Superintendent Garn Christensen said the plan is to "proceed slowly and very deliberately in small increments. The CDHD will continue to monitor all the indicators in the valley."
Eastmont had planned to bring K-4 students back to school on Oct. 26. Christensen said they will move that to Nov. 2 to align with Wenatchee.
Tuesday, Oct. 20
Chelan schools change course after staff member tests positive
Lake Chelan School District delays bringing second-graders back to school for three weeks after a staff member tested positive for COVID-19.
The district will continue with plans to bring back students in preschool, kindergarten and first grade.
"We felt it was a matter of safety that we quarantined the second-grade team, which would mean we would have to delay our start for the second graders," said Chelan Superintendent Barry DePaoli.
The district worked with the Chelan-Douglas Health District to do some contact tracing.
"This is just how it is going to be. We're going to have to pivot and work through this and live with the virus. It's certainly not what we want or what we ask for but we've got to do our best to ensure student and staff safety and find that balance between the risk of having students in the building," DePaoli said.