Business owners statewide this past month turned up the volume on the debate of the necessity of continuing the shutdown to prevent the spread of COVID-19.
Flattening the curve on the health care side, they said, had averted the crisis and it was time to focus on reviving the economy.
The initial "Stay Home, Stay Healthy" orders issued in March shifted to a four-phased Safe Start plan in May that Gov. Jay Inslee described as a "careful approach for emerging from the pandemic."
The first phase, which extended at least through May 31, allowed more construction and outdoor recreation and guidance that would allow a host of others to start June 1. That included drive-in religious services and curbside retail sales. Businesses had to comply with guidelines specific to each industry.
Counties had to meet specific criteria to enter the second phase, with an option to apply early.
Chelan and Douglas counties applied in mid-May, but the request was turned down as test results showed outbreaks of the novel coronavirus, particularly in the agriculture industry. Reports at first were in worker housing and then in processing facilities.
Just as Wenatchee Valley Business World was heading to press last month, Inslee announced that about one-third of the counties in the state would be eligible to move to Phase 2 on June 1. Chelan and Douglas counties were not among them.
That same day — May 22 — lawsuits were filed in Chelan and Douglas counties seeking to end the state's shutdown orders and asking for a return of the decision-making authority to local officials. A month later, those proceedings were still making their way through the system.
Here's a look at the other developments in the past month as the COVID-19 pandemic continues to evolve.
Friday, May 22
A group of 39 community leaders, business people and private citizens sue Inslee to force him to end the COVID-19 state of emergency in Chelan and Douglas counties. The plaintiffs say the emergency is over and fear the local economy will collapse if non-essential businesses aren't allowed to reopen soon. The lead plaintiffs are Jose Cuevas, a Wenatchee city councilman, in Chelan County and Dan Sutton, a Douglas County commissioner, in Douglas County, all acting as private citizens.
Saturday, May 23
Pybus Public Market reopens as open-air market
Pybus Public Market reopens its concourse as an open-air market, allowing customers access to businesses from inside the building for limited shopping time and take-out.
Sitting, lingering and eating inside the concourse are not allowed under the guidelines approved by the Chelan-Douglas Health District.
"Each shop/restaurant is managing their capacity, based on their occupancy permits," said executive director Leslie Freytag. "Since we are still in Phase 1, the idea is to get in and get out — no lingering. We ask our guests to maintain social distancing, no seating/eating in the concourse, limit shopping time and face masks are encouraged."
Tuesday, May 26
Hearing canceled in local Inlsee lawsuit
A local coalition suing Gov. Jay Inslee to force him to end his state of emergency declaration sees its first court hearing canceled.
The case was to be heard in Chelan County Superior Court by Judge Travis Brandt, but he was disqualified at the state attorney general's request. The case was reassigned to Judge Kristin Ferrera, who was diagnosed on May 22 with COVID-19.
Board of Health has a plan
The Chelan-Douglas Board of Health passes a resolution that would institute a phased reopening of both counties if Inslee's COVID-19 orders are overruled in court.
"You know, with all the frustration about the governor's order, sometimes that gets mixed up with what we should do about COVID," said Chelan-Douglas Health District Administrator Barry Kling. "In my opinion, those are two different things. However frustrated people may be with the governor, we still need to think about COVID and a safe way to respond as a community."
Unemployment rate hits 15.1%
The unemployment rate in Chelan and Douglas counties hit 15.1% in April, with 4,302 jobs lost, according to data released by the Employment Security Department. The March rate was 5.4%.
The most-affected industry in Chelan and Douglas counties was leisure and hospitality, which dropped 3,400 jobs — 54% of its workforce.
Chelan County's individual unemployment rate was 15.4% in April. Douglas County's was 14.3%, Grant County hit 12.6%, and Okanogan County came in at 14.5%.
Across Washington, 622,779 jobs were lost in April, driving the statewide jobless rate up to 15.8%a.
Faced with the torrent of legitimate claims, the state Employment Security Department struggles to parse out fraudulent requests, with activity traced to a Nigerian fraud ring known as "Scattered Canary."
Fraud reports also balloon locally. The Wenatchee Police Department received around 100 suspected fraud reports related to the unemployment system. Eastmont School District alone had 90 employees report fraud cases as of May 15.
Enforcement authority clarified
Inslee announces emergency rules that give the Department of Labor & Industries the authority to cite businesses for being open or for operating in a way that is purposely defying his phased-in approach to reopening the state. Businesses could be fined $10,000 or more.
Recovery Council plans random COVID-19 sampling of 250 households
A random sampling of 250 households in Wenatchee, East Wenatchee, Leavenworth and Cashmere is part of the Wenatchee Valley Recovery Council's efforts to prepare for a safe reopening of the community.
The proactive testing data would help set a baseline to more accurately identify spikes in virus once a restart is underway.
The council also introduces a business toolkit with guidance for businesses that includes a business safety plan worksheet, with instructions on how to figure out things like maximum capacity for social distancing. 
Wednesday, May 27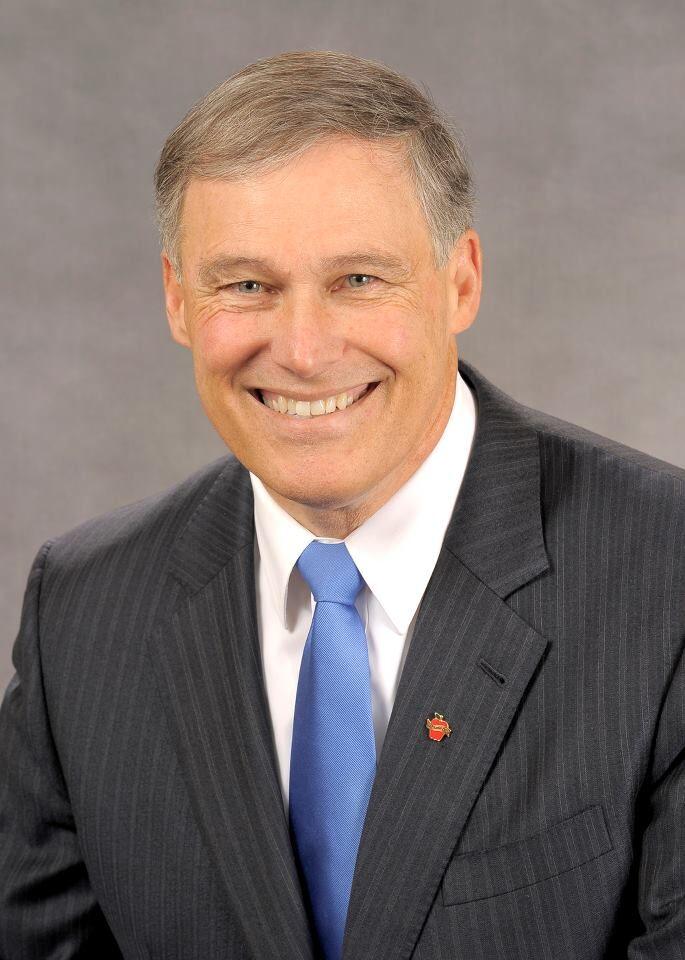 Inslee: In-person religious services can resume
Houses of worship in counties under Phase 1 of Gov. Jay Inslee's Safe Start plan can now hold outdoor services on their property with up to 100 people.
Houses of worship in counties under Phase 2 can hold indoor services at 25% capacity or with up to 50 individuals — whichever is less. They can also conduct in-home services or counseling with five people or less, excluding staff needed to run the service.
Chelan, Douglas and Okanogan counties are currently in Phase 1, while Grant County is in Phase 2.
Inslee said the guidelines cover worship services and religious study classes, ceremonies, holiday celebrations, weddings and funerals. They can be held multiple times per day.
Choirs are prohibited to help avoid the spread of COVID-19, Inslee said, and congregations should still practice physical distancing, wear facial coverings and sanitize frequently.
As of May 27, 24 counties in Washington had moved to Phase 2.
The Windmill doesn't open
Wenatchee's Windmill Restaurant decides not to defy the state's shutdown orders after getting a call from the state Liquor and Cannabis Board about the impact on its license.
"We have been forced to close," is the message on The Windmill's Facebook post. "We will be back and we are fighting back! This is not American, we have a right to work. Operating a restaurant should not be illegal."
Republican gubernatorial candidate Tim Eyman visits Wenatchee, he says, to rally support for The Windmill and residents of Chelan and Douglas counties who  filed lawsuits against Inslee, demanding he end his COVID-19 state of emergency order.
Eyman, joined by about two dozen people near The Windmill, streams the event on Facebook Live.
Food banks report steady demand
Food banks in late May continue to supply food boxes to about 1,700 families a week.
"Right now, we are seeing everybody across the board" come by to pick up food, said Britany Meiklen, distribution program director at the Chelan-Douglas Community Action Council.
Some are agricultural workers, some people who have been laid off and people on fixed income and senior citizens. It is, she said, "just everybody."
Thursday, May 28
Tests ordered for long-term care facilities
Inslee announces that residents and staff at all nursing homes in the state will be tested for COVID-19 by June 12. Those in assisted living facilities with memory care units will be tested by June 26.
Inslee said the state will provide test kits and personal protective equipment for residents and staff and cover laboratory costs for staff.
Guidelines issued for ag worker protection
Guidelines are issued to protect agricultural workers. Employers must implement physical distancing and provide handwashing stations, PPE, workplace disinfection, worker education, access to testing and a virus response plan.
The proclamation applies to fields and orchards, produce packing houses and employer-provided transportation.
Employers that provide housing for agricultural workers should form cohorts of no more than 15 people who live, work and travel together.
"This will help us, if there is an infection, to very quickly trace the source of that infection, isolate that person and this cohort," Gov. Jay Inslee says in a press conference. "We think this is a tremendous strategy for breaking the causal chain of this infection."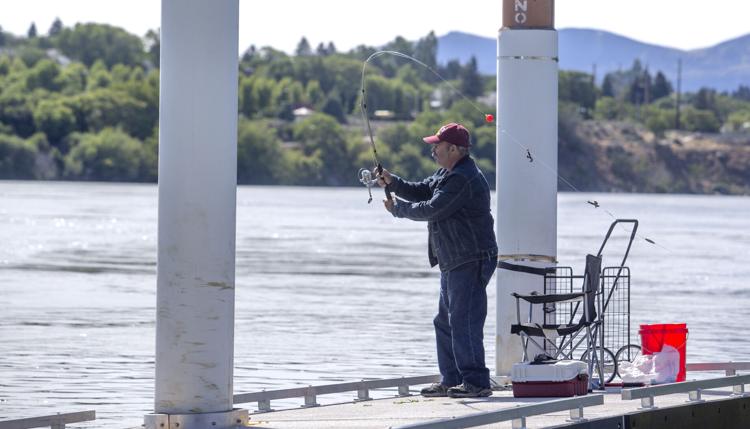 Friday, May 29
The governor announces that counties in Phase 1 of the Safe Start plan can apply, starting June 1, to move to a modified version of that phase, which could allow more businesses and activities to reopen.
The same option will be available for counties in Phase 2.
The requirements for counties to be eligible to move to Phase 2 include requiring an average of less than 25 new cases per 100,000 residents over 14 days. Previously the requirement was less than 10 new cases.
To date, 26 counties have moved to Phase 2, including Grant County.
Monday, June 1
Health district to submit restart application
The Chelan-Douglas Board of Health votes to submit a new proposal to the state to start reopening both counties under the governor's new state of emergency order.
The board voted to have Chelan-Douglas Health District Administrator Barry Kling and Health Officer Malcolm Butler form a committee of six business, health and elected officials to draft a new proposal in about one week.
Butler also endorsed both counties to start reopening, saying that while the counties' transmission rate is high, the number of people hospitalized from the disease is low.
The markers that counties are going for to reopen are fewer than 25 cases per 100,000 people in the last 14 days and a flat or decreasing rate of infection.
As part of his recommendation, Butler said counties need to have plans in place to shut down parts of the economies if the outbreak surges again. Streets may need to be shut down to allow for outside restaurant service and law enforcement should investigate businesses to make sure they're complying with the governor's order.
"We must agree that in our professional capacities, we may not violate the governor's proclamation and may not appear to endorse acts of civil disobedience against that proclamation," he said.
Plaintiffs combine Inslee lawsuits
With new plaintiffs looking to join the case, a ruling is postponed in a lawsuit filed by Chelan County residents challenging Inslee's "Stay Home, Stay Healthy order."
Joel Ard, attorney for the plaintiffs, motioned to combine the case in Chelan County Superior Court with a nearly identical case filed in Douglas County Superior Court. 
L&I makes first contact with businesses on COVID-19 enforcement
No Wenatchee Valley businesses are being fined — yet — for violating the governor's orders designed to help keep workers safe and prevent the spread of COVID-19.
That could change, said state Department of Labor & Industries spokesman Tim Church, though the hope is businesses will voluntarily comply once they are made aware of the guidelines.
Workplace safety citations could carry a fine of nearly $10,000 or more.
Letters outlining the violations, Church said, follow initial contact about a workplace health or safety complaint.
Several Wenatchee businesses adjusted operations after learning they were not in compliance.
Wenatchee Valley Chamber of Commerce spokeswoman Sasha Sleiman said businesses are trying to comply.
"What businesses continue to need is clear guidance from regulatory bodies as well as elected officials and the support of their community as we continue to navigate through this trying time," she said. "Businesses are concerned about surviving through this crisis. The new threat from L&I of fines are especially detrimental as they barely have enough liquidity to survive to Phase 2, let alone pay a fine. We believe the businesses being contacted by L&I are acting out of confusion not defiance."
Friday, June 5
Okanogan County approved for Phase 2
State Secretary of Health John Wiesman approves Okanogan and five other counties to move to Phase 2.
Chelan and Douglas are among five counties remaining in Phase 1, but the Chelan-Douglas Health District is applying to move to a modified Phase 1.
Friday, June 5
71 small businesses receive emergency COVID-19 grants
The Chelan Douglas Regional Port Authority will soon be cutting checks to 71 small businesses across the two-county region to help offset costs incurred by the COVID-19 shutdown.
The reimbursements, totaling $333,052 and ranging from $1,000 to $5,000, are part of the $10 million in Working Washington Small Business Emergency Grants offered statewide by the governor and the state Department of Commerce. The port authority is distributing the money.
The local grant recipients include 17 restaurants, 14 retail stores, 10 salons, three fitness facilities, three beauty/personal services, three manufacturing facilities, three childcare businesses, two agricultural businesses and other small locally owned establishments.
Monday, June 8
Face coverings required for workers, encouraged for customers
New requirements for face coverings go into effect.
Workers must wear face coverings unless they have no in-person interactions, Employers must provide face coverings, though workers can also wear their own if they meet minimum standards.
Businesses are required to post signs encouraging customers to wear face coverings, but they won't have to refuse service to those not wearing them.
Wednesday, June 10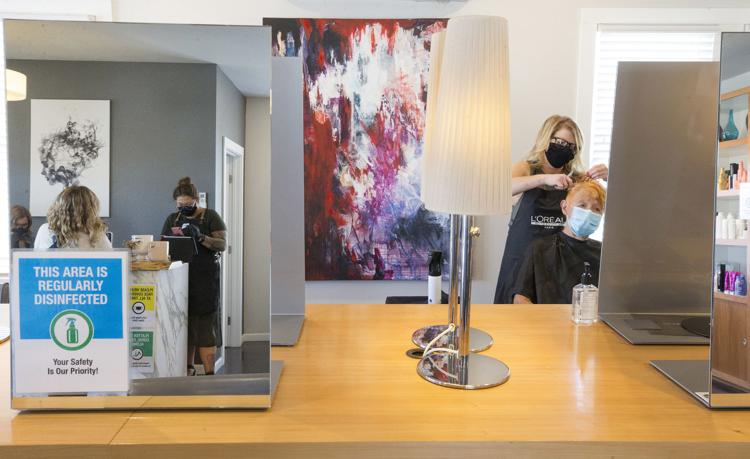 State OKs Phase 1.5 for Chelan and Douglas counties
Chelan and Douglas counties are approved to move to a modified Phase 1, allowing some businesses and activities to resume with restrictions.
Businesses allowed to reopen in Phase 1.5 include restaurants, retail, personal services and pet grooming, all at reduced capacity and with social distancing in place.
The Chelan-Douglas Health District must submit a plan to the state Department of Health for increasing the use of face coverings where social distancing is impossible and increasing testing for agricultural workers. It must also monitor the virus in the community and submit reports to the state department.
Chelan-Douglas Health District Administrator Barry Kling said businesses can reopen now if they can implement state guidelines. They should also read any guidance that applies to their specific operation, he said.
"It's not just a matter of businesses," Kling said. "Individuals, I believe, still have a basic civic responsibility to wear masks when around other people except at home. That's the best way to control COVID and continue reopening."
Thursday, June 11
Five ag workers test positive for COVID-19
The Chelan-Douglas Health District reports that five workers in an agricultural housing unit near Chelan Falls were found positive for COVID-19.
All five agricultural workers are in isolation, according to a health district news release. It is "agricultural congregate housing," but the health district did not say who operated the facility.
Friday, June 12
Slidewaters denied restraining order
Slidewaters owners Robert and Burke Bordner put plans to open the popular Chelan water park in defiance of state orders on hold after a federal court ruling.
The Freedom Foundation, an Olympia-based nonprofit anti-regulatory group, on June 9 filed a 14-day temporary restraining order in Chelan County Superior Court on behalf of the Bordners that would prevent fines being imposed if the park opened as hoped. The case was moved to a federal court in Spokane. On June 12, the court denied the request.
Monday, June 15
Isolation shelter shifts to house ag workers
An isolation shelter program funded by Chelan and Douglas counties is pivoting to provide up to 100 rooms for agriculture workers affected by COVID-19.
A 50-room facility in East Wenatchee was contracted in early April to provide isolation for people who are homeless, unsheltered or are unable to adequately isolate in their residences. The need for that shelter has so far been low, said Thom Nees, director of Serve Wenatchee Valley, which is managing it.
It has served a total of nine people since April and was empty as of June 15. The contract for that shelter was extended through the end of June with a reduced room capacity of 25, Nees said.
The shelter was originally launched to support people with housing instability, but its threshold for admission has now been expanded to allow agriculture workers.
By early May, about 180 workers had tested positive for COVID-19, according to Chelan-Douglas Health District data. Those workers have so far been able to isolate within their own residences or in company-owned housing facilities, Chelan County Economic Development Director Blake Baldwin said. Chelan County is managing disbursement of the funding.
Tuesday, June 16
Link Transit delays full expansion due to economic slowdown
Link Transit announces it will start some new weekend bus service in July, but the full planned expansion is likely to take two years because of the economic slowdown.
The agency expects about a 25% reduction in sales tax revenue, due to COVID-19. Sales tax revenue makes up 82% of Link's budget, which was set at $21.8 million for 2020.
Wednesday, June 17
State budget cuts, furloughs coming
With forecasts in hand that project a $4.5 billion gap for the 2019-2021 budget, Inslee directs state agencies under his authority to cancel a scheduled 3% general wage increase for many of the state's highest-paid general government employees and to begin furloughs for most state employees.
The canceled pay raise will affect nearly 5,600 general government employees.
Also, starting no later than June 28, more than 40,000 state employees will be required to take one furlough day per week through July 25. After July, employees will be required to take one furlough day per month at least through the fall.
Employees will also be allowed to take voluntary unpaid furloughs.
The two actions — cancelling the general wage increase and instituting furloughs through November — together will save the state about $55 million over the next year, according to preliminary estimates.